The Merrell Hydro Moc is a very comfortable footwear option for both wet and dry conditions when performance is not a priority. The simple design allows for these shoes to be easily put on and taken off in moments. The heel strap provides for that shoe-like fit, or one can simply flip it up to have a sandal-like sensation. The designed holes throughout provide for both plenty of breathability and fast-drying ventilation, allowing for all-day comfort.
Pros
Super comfortable
Great for wet/dry transitions
Lightweight
10/10 breathability & drainage
Easy on and off
Plenty of grip
Great for everyday errands
Doubles as a sandal
Extremely durable
Cons
Not a performance shoe
Minimal support
Merrell Hydro Moc review
The Merrell Hydro Moc is a great shoe that can easily navigate wet conditions. But let's face it: many users are not floating down rivers every day. In fact, my observations have demonstrated that most people I speak with who wear similar shoes do so because they provide all-day comfort in just about any environment, and the Hydro Moc is no exception!
In regard to this hiking shoe being designed with the outdoors in mind, I find the Hydro Moc to perform well in most conditions, especially when bouncing back between wet and dry
Who should buy it
This is a fabulous shoe for anyone who wishes to have a comfortable lightweight option within their footwear arsenal. This hiking shoe is also great for walking in the mall, driving in cars, gardening in the yard, on their feet at work, or simply lying around the house.
Who should NOT buy it
The Merrell Hydro Moc is not for you if you:
are looking for high-performance hiking sandal, then have a look at the KEEN Newport H2
are looking for a hiking shoe that feels like a soft and featherlight trail shoe and is perfect for activities that include water - than check the Xero Shoes Aqua X Sport out.
The Merrell Hydro Moc is for performance
This shoe is a wonderful hybrid to easily transition between wet and dry conditions. Planning on floating down a river all day? This is a great option! Did I mention that these shoes can float if they do get separated from the wearer? Desiring a comfortable camp shoe to wear around after a day of hiking? Yes! Would I wear these shoes out for a longer hike? Nope.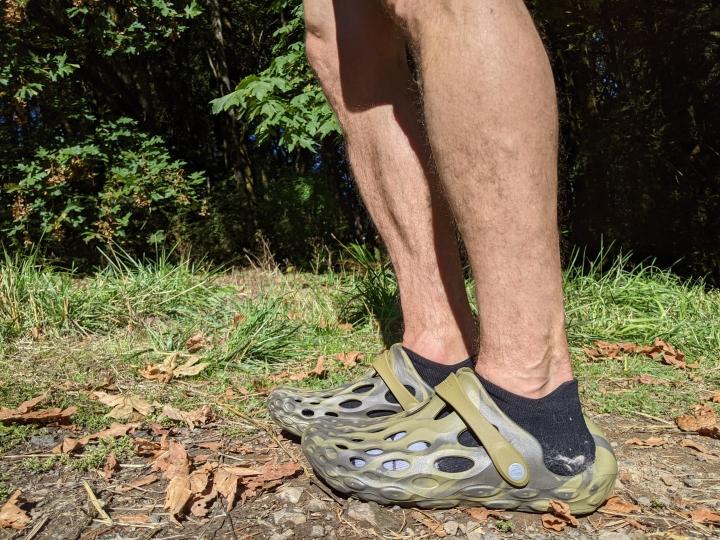 While the heel strap does allow for a very comfortable shoe-like fit, I don't find these shoes to be super agile in performance-oriented situations. Running and navigating crossings on rocks and boulders all led to the understanding that while this shoe is great to relax in, there are better options when it comes to performance footwear, perhaps hiking sandals or hiking shoes.
Leisurely fit
One thing I really enjoy about the Merrell Hydro Moc is that they fit just about everyone. Pay attention to the sizing; they may fit bigger than your shoe size. I decided to order a size smaller than running shoes, and that turned out to be perfect for me.
There are no laces to help adjust the tightness of the shoe on the fit, so be sure to pay attention to foot length first and foremost. I have worn these shoes with both socks and barefoot, and they remain relatively comfortable throughout the day.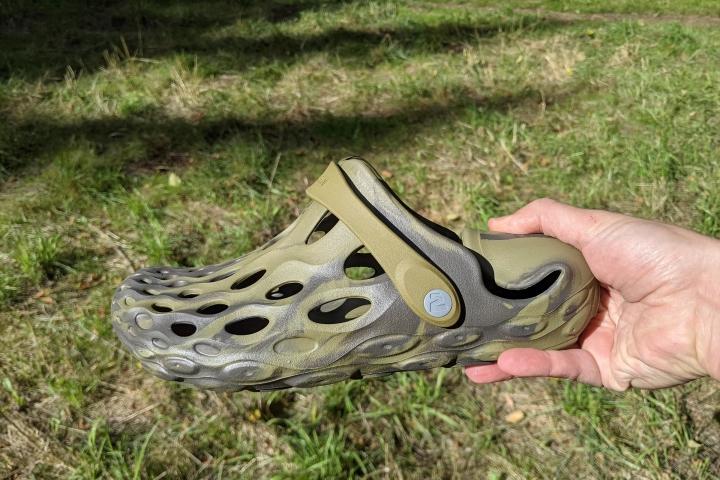 One thing, in particular, I enjoy about the Hydro Moc is that there is an optional heel strap to use that will flip up and out of the way if you desire more of a sandal fit. This is a great option when you do not need the extra security of a shoe-like fit.
All-day comfort in the Hydro Moc
One nice change for me has been the absence of hot spots or blisters developing from chaffing after a day on the trail and in the water that inevitably comes with other sandals and even hiking boots. My toes do scrunch up from time to time, but otherwise, these shoes provide for all-day comfort.
Should you decide that hiking and playing in the water is not your desired activity, I have found these shoes to be super comfortable throughout the day when driving, wearing around the house, and walking in the neighborhood.
You are ready to go!
The Hydro Moc is not a performance shoe. That being said, they are super easy to start wearing right out of the box. No laces to adjust, no straps to tighten; just slip these shoes on your feet and you are ready to go!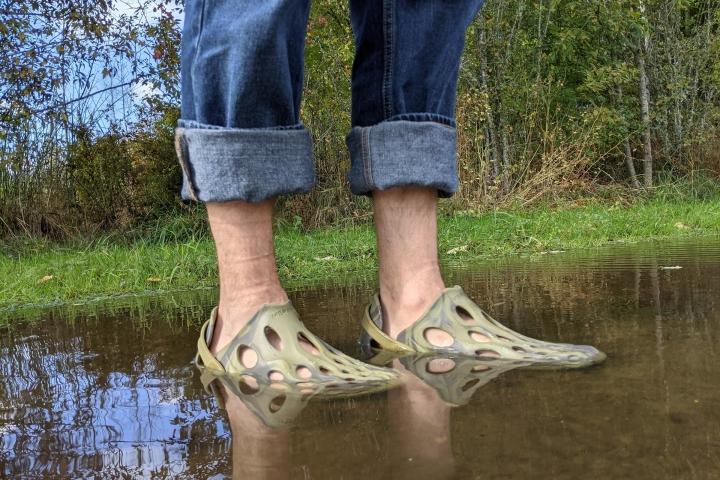 As with most new footwear, I always recommend wearing them for small segments of the day at first so your feet can adjust, but I experienced only comfort when putting these on for the first time.
Good support for sandals; Not supportive as shoes
Just how supportive are the Hydro Mocs for those who are looking for that extra help along the way? Well, as I mentioned previously, I would not recommend these shoes as a performance hiker. Yes, they are well constructed, with what Merrell describes as a "contoured arch for support," but there is a limit to this shoe after all.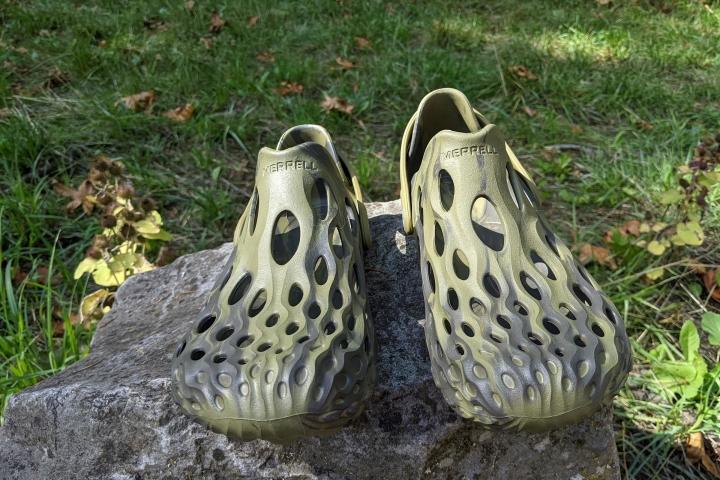 I will happily include these shoes as an option for a day of fun on the water, but I will not be backpacking with them anytime soon. One great thing regarding support is that I have experienced more support from the Hydro Mocs than traditional sandals, and certainly flip-flops.
Durability is not an issue
Merrell describes the Hydro Moc as more durable than others of its kind because of the construction techniques used to design this shoe. That being said, I have experienced plenty of toughness from this shoe so far. I have been able to go on smaller hikes on trails, plenty of water crossings and wading in streams, and general daily use at home and even work.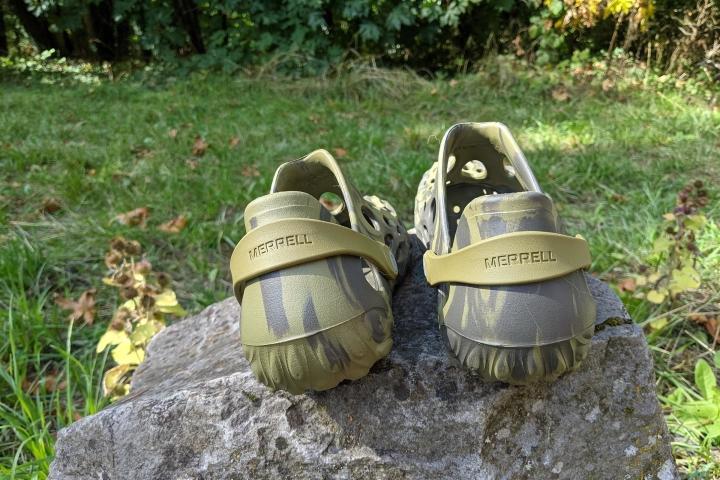 I have walked and scampered over rocks, gravel, through mud, and certainly water, and the Hydro Moc has performed really well! There are no tears, punctures, or holes to report, and my feet have felt secure throughout such experiences.
The Hydro Moc provides plenty of grip
The Hydro Mocs are designed with 2mm lugs on the outsole, which is a great outdoor feel for these shoes when one does decide to take on the outdoors. I have found the outsole to provide plenty of grip and durability both in wet and dry conditions. For everyday use, the outsole performs fabulously, providing much more support and grip than most other casual sandals.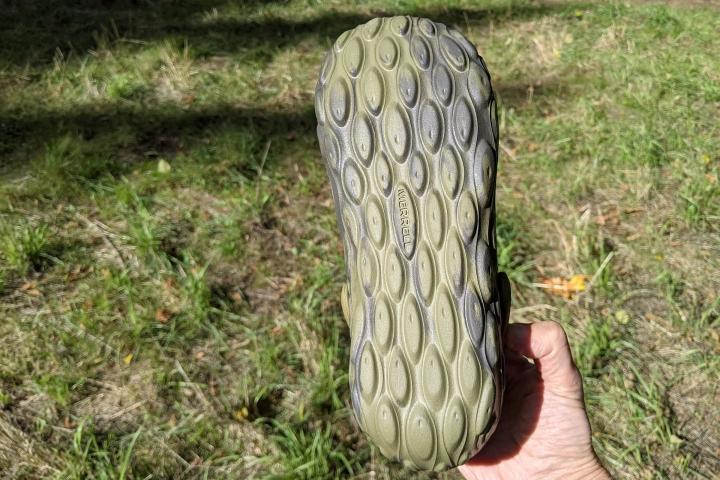 Conclusion
The Hydro Mocs are not necessarily performance-oriented, but boy are they comfortable! Looking for a nice alternative at camp or days on the water? The Hydro Moc is a wonderful choice! Prefer to wear something around town, at work, or in the house that will keep your feet happy? Here you are! Merrell has produced yet another great addition to the footwear arsenal for those seeking comfort and options throughout the day.