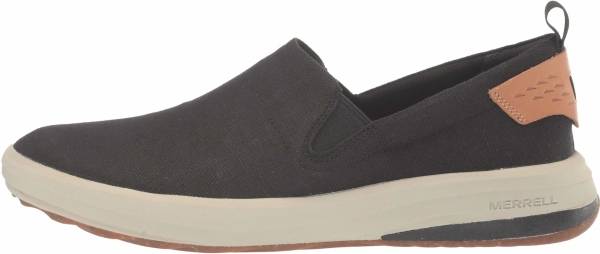 The Merrell Gridway Moc slip-on is a breath of fresh air as it shies away from the usual hiking-inspired footwear that the brand has been known for. Included in the Merrell brand's lifestyle sneaker catalog, the Gridway Moc is deemed stylish and more trendy because of the knit upper. These sneakers are sure to turn heads without compromising comfort.
---
Verdict from 100+ user reviews
9 reasons to buy
Many of the users praised the Merrell Gridway Moc for the comfort it provides.
Some satisfied customers bought or were interested in purchasing a pair in another colorway.
A high number of users find that these are supportive and stable.
Several of those who commented were delighted with the stretchy and form fitting upper for accommodating wide feet.
Being a quality product is a description that some of the users used on the Merrell Gridway Moc reviews.
This shoe is an excellent choice for traveling as it has a quick on and off feature that is useful when going through airport security.
Those that are keen on fit can be guaranteed that these fit true to size and there's not a bit of looseness on the heel, as mentioned by a couple of buyers.
Its versatile style brought bliss to quite a few wearers as it can be taken from casual to casual business events.
One particularly liked these low-top sneakers because they are easy to maintain.
1 reason not to buy
One noted that the thin material tends to show feet imperfections.
Best price from 49 shops
We earn affiliate commissions at no extra cost to you when you buy through us.
70% say it's true to size.

Size and fit
The Merrell Gridway Moc is a slip-on shoe that allows a quick on and off wear. The flexible upper and pull tab allows easy wear that can be done in a whiff. Those interested should note that they are offered in men's and women's sizes, 7-15 Medium and 5-11 Medium respectively. Even though it is a drastic difference, 86% of women claim that it is true to size, while the men's have a smaller percentage of 67%.
Merrell Gridway Moc Style
True to the minimalist trend, almost every element of the Gridway Moc contributes to its style and functionality. The textured upper promotes breathability while not weighing the shoe down and the leather trim on the back delivers stability.
Boys and girls will surely have a knack dressing up these sneakers as almost any item of clothing can be paired with these. Ladies can pair breezy outfits like summer dresses, leggings, shorts, and skirts to match the airiness of these moccasin-style sneakers. Men, on the other hand, can do the same with shorts and khakis.
Notable Features
Seemingly a fitting name, these sneakers are skewing off the grid while promoting sustainability. Most of the components of the shoe are constructed of recycled materials like the upper, removable EVA footbed, and midsole.
Merrell Gridway Moc History
When it comes to shoemaking, Randy Merrell ultimately knows best. Equipped with the knowledge of creating high-quality cowboy cleats, he got inspired and tried making hiking cleats. Soon after, he teamed up with Clark Matis and John Schweizer, both boasting a level of expertise in sports and business, to create a company.
Launched in 1981, Merrell was later on known to produce not only high-quality cleats but footwear that was also offered at cost-effective rates. It became almost easy for the brand to reach success that by the year 1986, only five years after Merrell's inception, they have already sold 25000 pairs of shoes.
Since then, it expanded its catalog to include lifestyle sneakers, as well as work and training shoes. The Merrell Gridway Moc, specifically made for casual wear, is among the brand's eco-friendly, sustainable footwear that is made of 100% recycled yarn knit upper.
Additional Info
The Merrell women's Gridway Moc is offered in colors black, brindle, and glacier grey while the Merrell Gridway Moc in men's has black, boulder, and turbulence colorways.
The outsole utilized on these sneakers is the Vibram EcoDura which is constructed from 30% post-manufacture waste.
Popularity
The current trend of Merrell Gridway Moc.