Who should buy the Mammut Kento Pro High GTX
The Mammut Kento Pro High GTX is a tough-yet-versatile B2 boot. Purchase it if:
You prefer to wear just one pair of boots for hiking approaches and ascending elevations.
Mountaineering boots with Gore-Tex are what you prefer.
You're looking for a pair that needs little-to-no break-in time.
Who should NOT buy it
With no bad rap about its overall climbing performance, the Mammut Taiss Light Mid GTX is a better pick than the Kento Pro High GTX. And if you want a pair that locks in the laces securely, opt for the Charmoz from Scarpa.
Top-tier stickiness in the Kento Pro High GTX
Reviewers applaud the grip level of the Mammut Kento Pro High GTX. It's "great for the bog, wet rock, and sloppy snow I tested them on," says a professional tester among them.
Regular commenters also adore the Vibram outsole of the featured boot. Take a look at some of their rave remarks:
"The sole grabs on rock and ice!"
"Perfect grip even on wet rocks."
"The sole provides significant security."
Its collar is a strong tower
The Kento Pro High GTX, based on reviews, has beefed-up ankle support. "My expectations were exceeded," said a mountaineer about the supportiveness of the shoe's high-cut shaft. "The ankle cuff is high and supportive, ideal on rough ground and in deep snow," said a professional gear blogger.
That said, the support it provides doesn't decrease lower leg mobility. The same expert says that it's "soft and quite forgiving," making the shoe more flexible than most B2 mountaineering boots out there.
Mammut Kento Pro High GTX equals comfy hikes
Mountaineers find this Mammut offering impressive on hikes and base-mountain walks. It's "spot-on for winter walking," says a footwear pundit. "Feels like heaven," says another.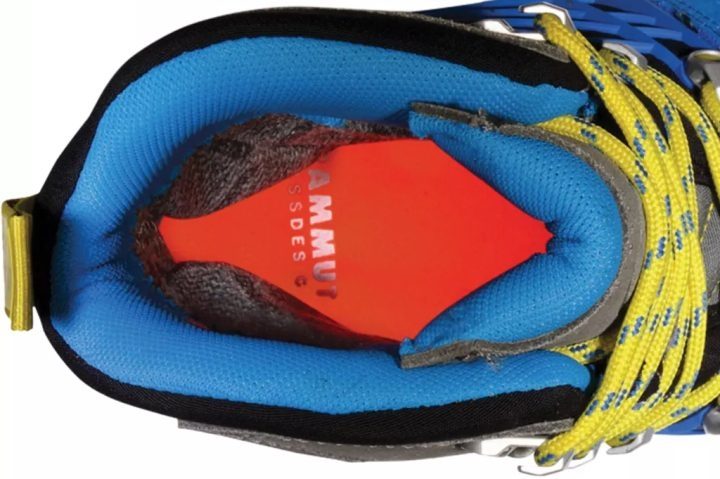 A glove-like fit from the box
"These boots fitted me perfectly straight away," a gear maven says. "These are like gloves, with no hot spots," another commenter says.
Inexplicable lightness
Despite its 810-gram weight per shoe, the Mammut Kento Pro High GTX is considered light by several climbers. Comments such as "super light," "light yet sturdy," and "extremely light" back their observation.
Wanted: Lace-locking top eyelets
One of the featured boot's misses lies in its closure system. An experienced mountaineer has this in his review: "If I'm making a small negative criticism, it would be the absence of a lace-locking system at the very top."
Your wetness-blocking companion
There are those who are quite stoked about the featured kick's high moisture protection. "I went through a torrent with them today, and they are completely waterproof," says a commenter about his Kento Pro High GTXs.
Accuracy is not its strongest suit
It's been reported that this boot could use a bit more precision on certain climbs. "The external profile is surprisingly chunky, which makes them less precise as a climbing boot," says an expert.
But its durability is on-point
When it comes to longevity, the Mammut Kento Pro High GTX doesn't disappoint. A long-time mountain climber says that it has "high resistance to mechanical damage."
Compare popularity
Interactive
Compare the popularity of another shoe to Mammut Kento Pro High GTX: