Verdict from 2 experts and +100 user reviews
5 reasons to buy
Air mesh and abrasion resistant microfibers make up the main components of the upper unit.
Many reviewers appreciated the inclusion of the GORE-TEX membrane to ensure breathable and waterproof support for the feet.
The MEMIex compression molded mid-sole component responsibly carries the foot and protects it from impact.
The outsole unit of the Ultra Raptor GTX features the FriXion®, a sticky rubber material with gripping lugs, which assumes control over the various surfaces when running.
The Impact Brake System was well-received because more traction is given to the runner though gripping lugs that face multiple directions.
4 reasons not to buy
There were runners who noticed parts of the sole unit getting peeled off after a few months of use.
Some reviewers felt that the Ultra Raptor GTX was a bit too tight.
It has high price tag.
It has a very heavy weight.
Bottom line
The Ultra Raptor GTX from La Sportiva is a well-known trail shoe that offers reliable protection for many runners. It is a neutral shoe that can be used on a daily basis for adventures or running activities. The shoe received both positive and negative feedback but the negative ones are not enough to overshadow the positive comments. Overall, the Ultra Raptor GTX is a dependable waterproof trail shoe.
Tip: see the best trail running shoes.
Our reviews
I tried on at least ten pairs of shoes before deciding on the La Sportiva Ultra Raptor GTX as my first pair of trail runners.
After running for years on road, dirt, and gravel trails, I felt I needed something that could handle long days in Yosemite and the Sierras.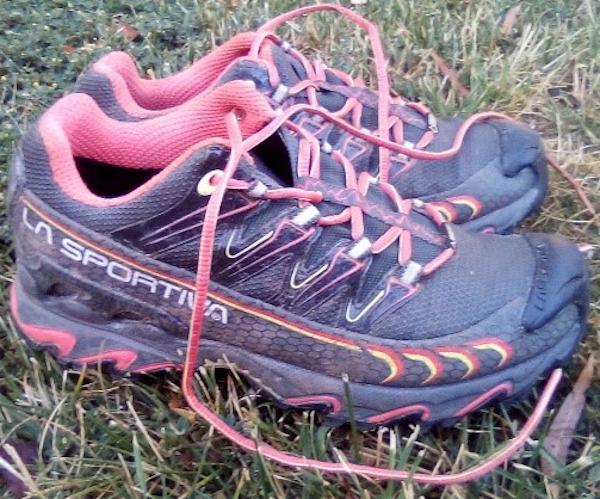 Additionally, it should withstand the mud and snow of spring to the ice of late fall. Ultra Raptor has incredible traction, excellent protection even for the klutziest hiker, and bomb-proof GoreTex.
It has everything needed for any trail. The problem has been the 'running.'
Traction and Stability
It is not surprising that the Ultra Raptor offers excellent friction on rock, wet and dry. This shoe comes from the brand with the largest market share in climbing shoes.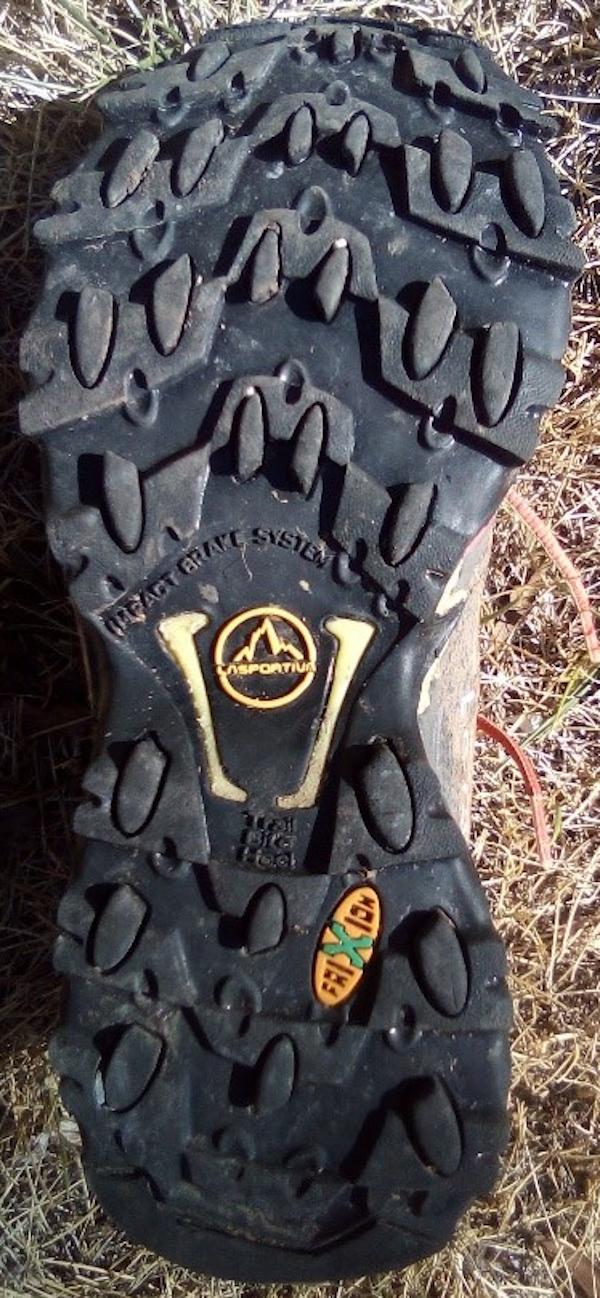 Dirt, mud, and gravel are also no problem, thanks to the lugs pictured below. The firm ankles have felt very stable and supportive when I've hit unexpected divots.
In a lesser quality shoe, I might have resulted in a rolled ankle.
Bomb Proof
The sole provides plenty of protection against protruding rocks and other pointy things. The robust toe piece forgives every clumsy or tired misstep multiple times.
The rock plate is very effective. It caused no soreness underfoot after 12+ hours of Yosemite trails. Meanwhile, my friends loudly and frequently bemoaned their fatigue of stepping on rocks.
The waterproofing is also excellent. My runs in these shoes have been exclusively in high-quality mud. I have also hiked in them in hard spring snow and puddles.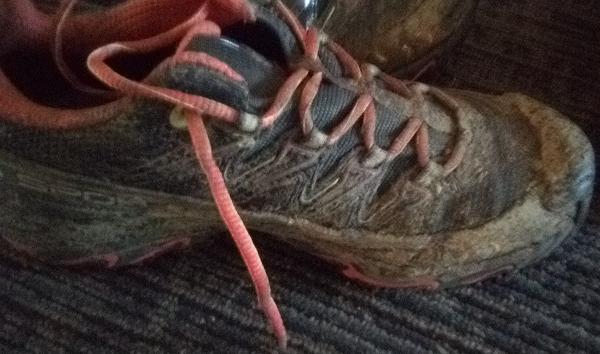 I did not punch through much into the snow. But, when I did, the shoes picked up some snow.
Until the water goes over the top of the ankle, my feet have stayed dry. I now actively seek out mud because these shoes make it so much fun.
Fit
Unfortunately, the Ultra Raptor and I were not meant to be. They felt great when I tried it out at the store.
The shoes also passed the very exciting 'toe-bang' test. This test involved running steep downhills, but my toes did not hit against the front of the shoe.
However, after several runs, I realized the surprising soreness I was getting in my outer hamstrings was not just from the hills. The heel-toe drop on these shoes is very aggressive.
While everyone feels nice when they first put on a pair of high heels, the feeling gets old fast. Combine this scenario with the relative stiffness of the shoes is how they feel like to me when worn.
Coming off-road runners with a typical 10-12 mm drop, I am surprised that these, advertised as 10 mm, feel so different. Perhaps it is because of the stiffness of the shoe.
It is probably closer to a boot or maybe the drop is larger than reported. I have tried on many shoes with a 10+mm drop, such as the Salomon Speedcross, and the Ultra Raptor still feels high.
The toe box is roomy. Overall, the shoe fits my foot quite well from a shape standpoint at the start of a run or day hike.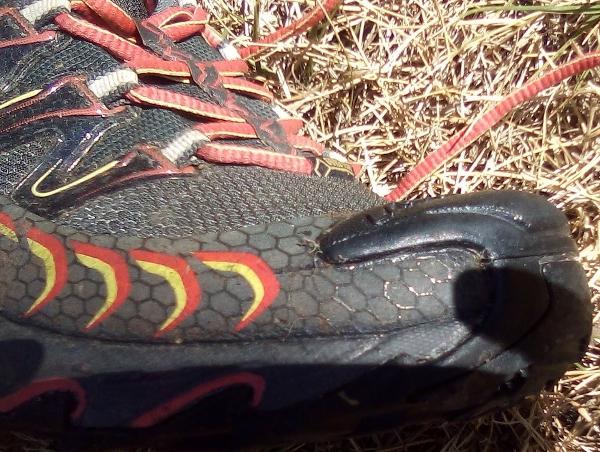 However, its size leads to agony after more than a day on the trail, when my foot has swollen. I would say this shoe runs a tad small.
The exterior offers stability, firmness, and protection for those not always watching where they step. However, it is also unforgiving when your foot swells as compared to a mesh shoe or lighter shoe.
The stiffness of the shank feels a bit too stiff for long runs (over 17 miles or so), leading to fatigue.
Meanwhile, it is very useful for shorter ventures (around 13 miles and under) on technical terrain. These shoes could provide a worry-free cruise over rock, water, snow, mud, and more.
It spares the runner from concern over rolling an ankle or stubbing a toe. However, the aggressive heel-toe drop is not for everyone.
Summary
I've had a decent number of enjoyable runs or very long hikes in these shoes in varied conditions and terrains. I benefited significantly from their waterproofing and fool-proof protective exterior.
Unfortunately, I've realized that the sizing, stiffness, and most of all, heel-toe drop do not suit me. I will be giving them to a friend to be used as hiking shoes.
Good to know
The La Sportiva Ultra Raptor features a waterproof and breathable Gore-Tex membrane that delivers excellent protection against moisture, keeping the feet dry while running on wet condition.
It also comes with an enhanced outsole where the sticky rubber compound is strategically located, delivering impressive traction and grip on technical and rocky terrains.
This shoe also features the new La Sportiva Gore FLEX technology that provides added flexibility for a more responsive ride. This is more efficient than traditional GTX shoes.
The Ultra Raptor GTX from La Sportiva is true to its size. The heel, midfoot and forefoot areas are of standard measurements, giving a snug and comfortable fit. The men's and women's version is available in medium and wide widths.
The Ultra Raptor GTX features the brand's FriXion XF outsole that delivers durable traction specifically for rocky and technical terrain. This functions with the aggressive impact lugs engineered to lessen landing impact for a more stable and responsive ride.
This shoe uses the injected molded EVA that gives enough amount of cushioning needed for a comfortable, long-lasting ride. The Flex Transfer Shank is designed for torsional rigidity.
The La Sportiva Raptor GTX features the Gore-Tex lining that is waterproof in nature. It keeps foot dry and without affecting its breathability feature. The upper is also made from a flexible air mesh material that delivers a breathable and comfortable coverage. The Salomon Sense Ride 2, in contrast, utilizes a stretchable mesh material that offers a customized fit.
The upper also gives an amazing fit due to the flexible upper material and lacing harness that secures the midfoot for a snug fit.
The microfiber mudguard offers excellent protection from mud and trail debris, allowing runners to experience a well-protected and comfortable running experience.
Rankings
How La Sportiva Ultra Raptor GTX ranks compared to all other shoes
Popularity
The current trend of La Sportiva Ultra Raptor GTX.