Who should buy the La Sportiva TX3
The La Sportiva TX3 has greatness up its sleeve, and owning one translates to enjoyable hikes and light climbs. It is a solid option if you:
Prefer an approach shoe that helps you get to your favorite climbing spot with as much breathability and comfort as possible.
Prefer an approach shoe that provides surefootedness over rough terrain.
Prefer an approach shoe that gives users a sense of security while performing twisting maneuvers.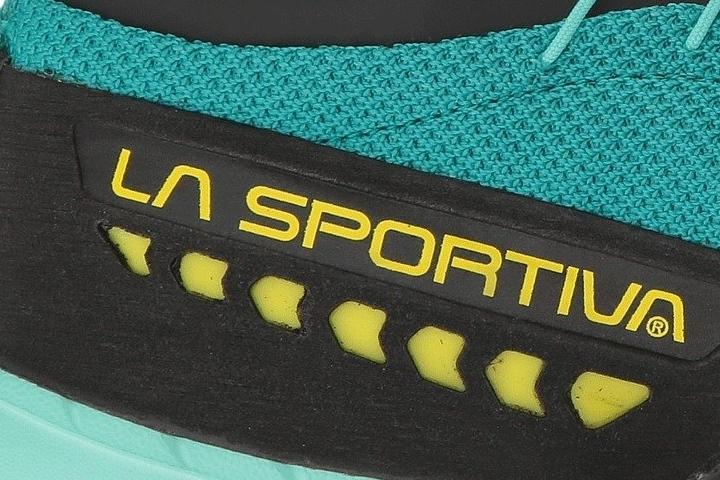 Excellent surface traction
Giving approach hikers sufficient terrain grip in the La Sportiva TX3 is the Megagrip Traverse outsole from Vibram. As it comes imbued with Trail Bite and populated with grippy lugs (those circular and multi-sided protrusions), users are navigating loose-soiled surfaces with enough slip and skid resistance.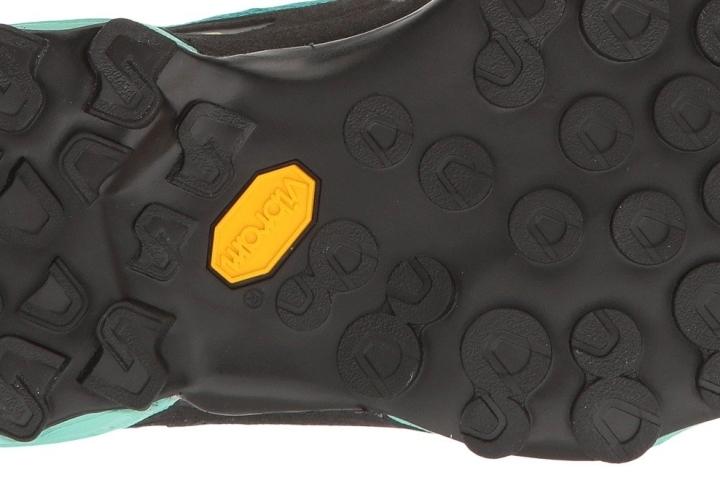 Excellent edging and smearing performance
Two other technologies are part of this component: IBS (Impact Brake System) and Climbing Zone. The former improves its braking power by 20%, yet reduces impact force by roughly the same percentage. The latter, on the other hand, allows adventurers to edge and smear with more sticking power.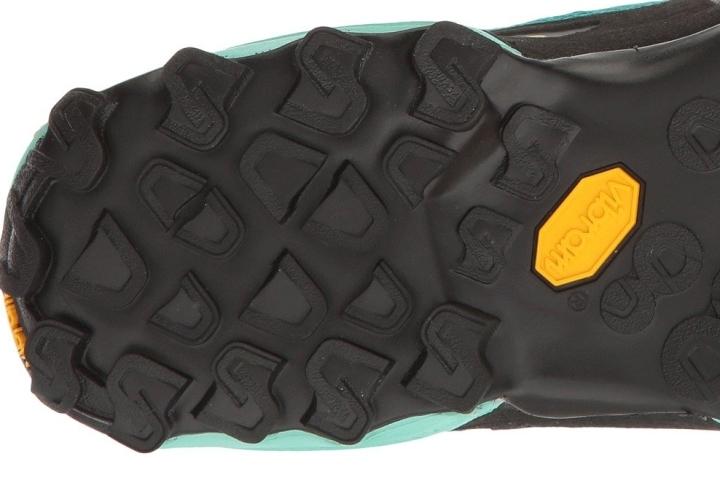 Provides adequate stability and underfoot protection
The La Sportiva TX3 grants adequate stability and underfoot protection thanks to its MEMlex midsole with STB Control System. It also supplies hikers with a helping of flexibility and shock mitigation with its springy yet segmented construction.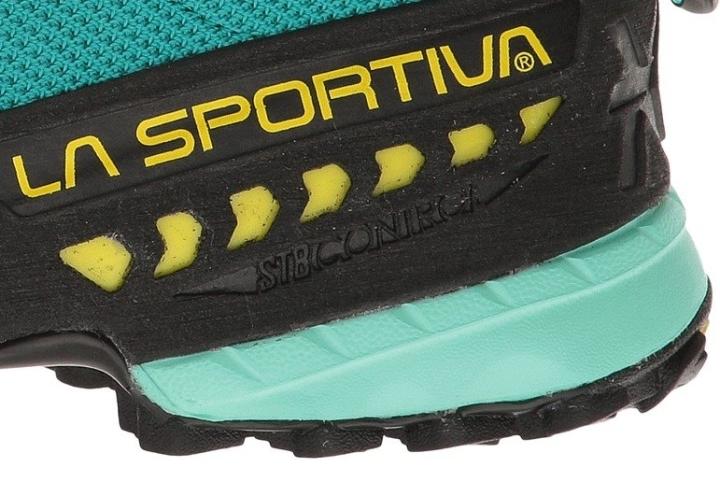 Comfortable and supportive underfoot cushioning
Atop this cushy component is a 4-mm thick approach-centric insole from Ortholite. Its inclusion translates to extra comfort and support underfoot.
Breathable
The low-top upper of the La Sportiva TX3 approach shoe is made of PolyMesh, a breathable synthetic material. It comes with a non-slip liner made of mesh.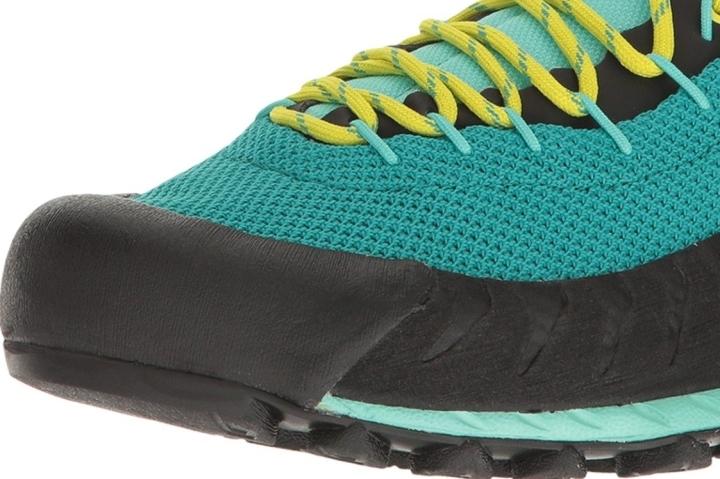 Offers protection against abrasive elements
Its lower perimeter is fully wrapped with a 1.5-mm thick polyurethane (PU) rand called TechLite for protection against abrasive elements and increased climbing security. Its front end also has a rand, but it is made of rubber courtesy of Vibram instead of PU.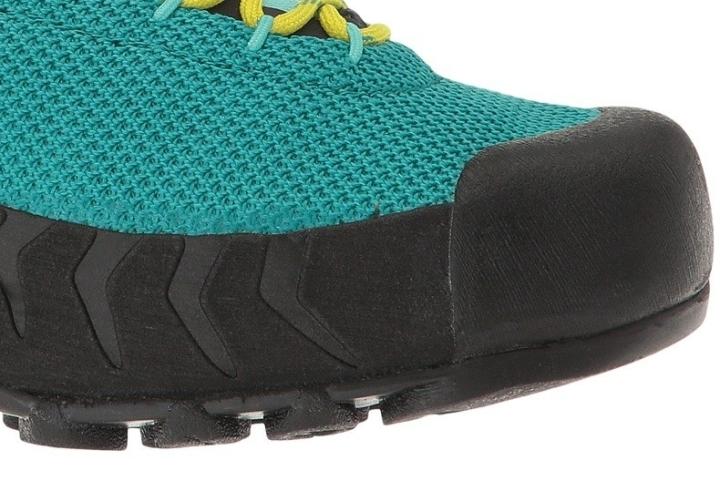 La Sportiva TX3 vs. TX4
The TX3 is one of La Sportiva's highly sought-after approach kicks. Those who have it value it for the performance it offers over rugged terrain, on which donning a pair of rock climbing shoes would be overkill. It also provides a level of comfort and versatility rivaling that of a pair of high-quality hiking shoes. The TX3, however, has competition in yet another La Sportiva product: the TX4. Although the two have striking similarities, they do possess aspects that set them apart. Know their differences in the following:
Weight. For wearers who prefer to stay as nimble as possible, the La Sportiva TX3 appears to be the better choice. This is because the featured shoe is lighter than the TX4 by approximately 10 g.
Upper. The two products in this comparison are both below-the-ankle approach shoes engineered with the same non-slip mesh liner. However, there is a difference in the material used in their uppers. The TX3's main shell is made mostly of mesh, while the TX4's upper consists primarily of genuine leather.
Asking price. On this front, the La Sportiva TX3 takes the cake. Yes, compared with the La Sportiva TX4, the TX3 is $5 cheaper.
Frequently asked questions about the La Sportiva TX3
Is the La Sportiva TX3 hiking-friendly?
While this La Sportiva piece can be mistaken for a regular hiker, its utility is intended mainly for the approach. That said, some people use it on short trails and routes where rocks and mini boulders are present.
Where is the best place to buy the La Sportiva TX3?
There is no published information as to the best place to buy the TX3. That said, a brick-and-mortar store is recommended, as being able to try on shoes first before a purchase is ideal.
Compare popularity
Interactive
Compare the popularity of another shoe to La Sportiva TX3: