La Sportiva Miura review
I bought my first pair of La Sportiva Miura sometime around 2013, and they have been my go-to climbing shoe for almost every situation ever since. From hard single-pitch sport climbing, multi-pitch trad routes, crack climbing in Moab, bouldering in West Virginia, or an afternoon in the climbing gym, the La Sportiva Miura is my constant companion.
Very few climbing shoes are as capable, as comfortable, and durable as the Miura. If you climb outdoors or are serious about getting into climbing outdoors, then you should strongly consider trying on a pair of La Sportiva Miura.
Who should buy the Miura
This climbing shoe is for climbers who:
climb outdoors
want an exceptional all-around climbing shoe that can perform on any terrain
are looking for a shoe that excels in pockets, face climbing, and crack climbing
are seeking a shoe that is comfortable enough to wear all day without sacrificing much performance
Who should NOT buy the Miura
The La Sportiva Miura is not suitable for climbers who:
The new Miura is the same as the old
The only reason I bought new shoes was that I had to get my Miura's resoled and didn't have other good shoes for climbing! So the highest praise I could give these new Miura is that they are essentially the same as the old one.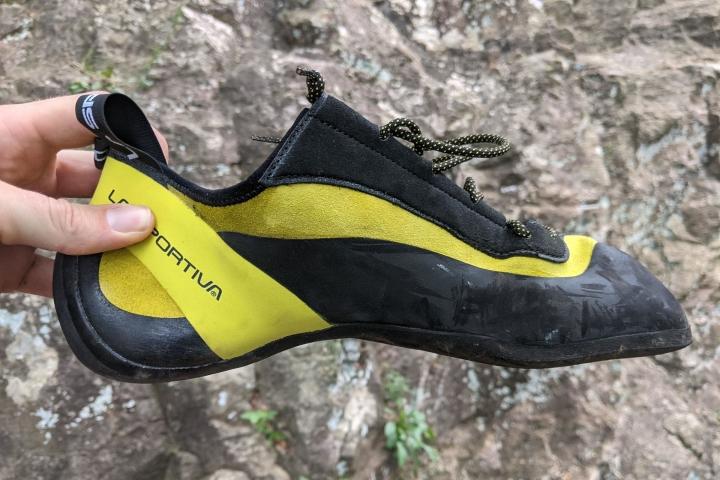 But that's not a bad thing! If you go to a Blink-182 concert, you expect them to play "All the Small Things", and you're going to sing your heart out when they do. La Sportiva got it right when they designed this shoe over 20 years ago, and it still can hold its own against even the most modern shoes.
In the picture below, you can see my 2012 Miura (which just got back from their second resoling) alongside the 2021 Miura. Same size, same fit, same functionality. Other than the yellow rubber used on the heel and a much more pleasant smell, I can't find a single difference in these shoes!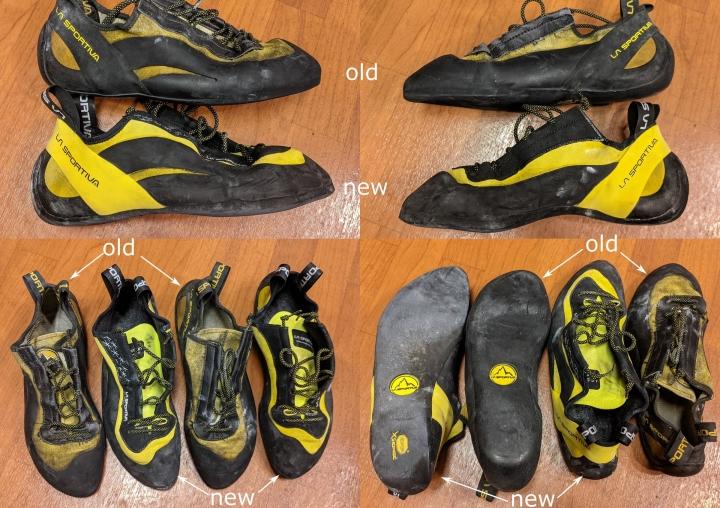 La Sportiva Miura: A Jack of all trades
The versatility is really what makes the shoe special. You can truly take them just about anywhere and do just about anything with them. Like I mentioned in the intro, I've climbed pretty much every style in these shoes and never felt held back by them.
Comfortable enough for all-day multi-pitch
Most climbing shoes that deliver this kind of performance can't be worn for much more than one pitch of climbing at a time. The Miura somehow manages to be comfortable enough for all-day multi-pitch adventures with minimal sacrifice on performance when you need it!
Traditional fit for climbing
I think the ideal fit for these shoes is the "traditional" fit for climbing, meaning that after break-in, your toes will be mildly curled. I wear a size 12 US men's in most shoes, and a 45.5 EU Mens is perfect for me. These will stretch a little less than a half a size after they break in, which typically takes a few climbing sessions. The fit is actually so good, that I will often wear them without tying the laces!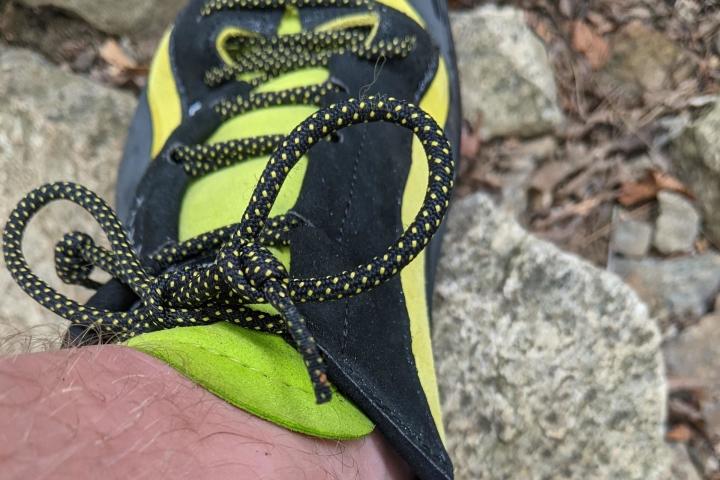 The only complaint I have about the fit is that the heel cuff is not that snug, and even if I really crank the laces down, there's usually still a small gap. Although, this is an extremely mild complaint, as it doesn't affect the performance or feel of the shoe.
Built to last, then rebuilt to last some more
In the 20 years since La Sportiva introduced the Miura, they have essentially perfected the build quality of these shoes. Assuming you have passable footwork, you can expect the Miura to last through many, many pitches of climbing; and after the soles are nearly worn through, you can resole them from a La Sportiva Authorized Cobbler (for around $60 per pair) and have essentially brand-new perfect fitting shoes!
The right kind of stiffness
The stiffer, 4mm thick Vibram XS Edge rubber means that you don't have much feel for the rock in your toes, but they do allow you to confidently stand on absolutely miniscule features for the 90 seconds it takes to try placing a #0.5 cam, realize you actually need the #0.75 cam you used 30 feet below, and then desperately place a pink tri-cam instead.
Sure, your toes will go numb after those 90 seconds, but you'd bow out after 10 seconds in most other shoes. These shoes not only excel in edging, but they do so without the typical discomfort and effort associated with softer shoes.
The Miura eats up cracks
Like most climbers, I hated my first experience with crack climbing and tried to lay back every crack I came across rather than suffer through the initial pain associated with learning proper crack climbing techniques. However, the Miura eats up cracks and makes the pain much more bearable due to their stiffer, thicker rubber.
Money well spent
At a retail price of $165, the shoe is a premium climbing shoe, but I think well worth it due to the performance, versatility, and how long they last.
The Miura is not great with sweat
Due to the full leather slipper style, as well as the moderate amount of padding in the tongue, my feet will completely sweat through these shoes when it's warm and I'm wearing them for an extended period of time.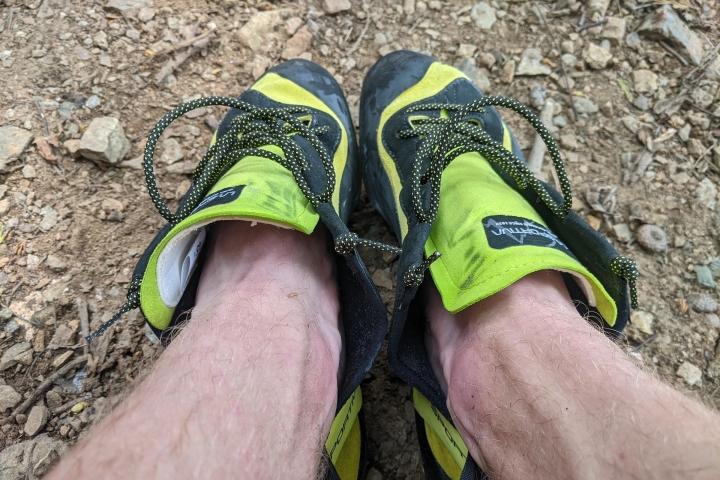 Additionally, it typically takes more than one day for them to dry when they get that soaked, which makes it mildly annoying if you want to use them two days in a row on a climbing trip to The Gunks or another area with a lot of excellent multi-pitch climbing, However, these shoes will still climb just as good if the leather is soaked through with sweat or water.
Issue with aging
The longevity of the shoe is excellent, however, with that and my sweaty feet comes leather stiffening. My old pair of the Miura is very stiff when you put them on and don't feel remotely comfortable until my feet have warmed up the leather somewhat.
I've read that there are ways to clean and soften the leather, so this is ultimately a mild complaint that only exists because the shoes are so well made.
The La Sportiva Miura is beloved by many
I'm in good company when I heap praise on these shoes. Alex Honnold wore them when free-soloed Half Dome, Beth Rodden loves them, and Olympic gold medalist Janja Garnbret wore the Miura before being sponsored by Five Ten. My wife even bought a pair recently after years of us climbing together, and she loves them too!
Compare popularity
Interactive
Compare the popularity of another shoe to La Sportiva Miura:
La Sportiva Miura video reviews