Verdict from 12 experts and +100 user reviews
5 reasons to buy
Majority of users noted that the La Sportiva Kaptiva is a great trail running shoe that is ultra-lightweight.
Plenty of the wearers also liked that the Kaptiva's outsole offers great traction and grip.
Much of the shoe's testers have mentioned that the shoe's sock-like tongue offers much comfort when worn.
Appreciated by some users is the shoe's slipper design which ensures a very close fit and offers a solid feel and performance.
Also, like by a lot of runners is the shoe has excellent ventilation, making it breathable even for long mile runs.
3 reasons not to buy
Disliked by most purchasers with wider feet is that the shoe tends to be quite narrow.
A number of runners were not that impressed with the Kaptiva's midsole support, saying that it could be made better.
Most users wanted the shoe to offer water resistance features as most trail runs have unpredictable terrains.
Bottom line
Whether used for trail runs or more significant objectives, the La Sportiva Kaptiva will deliver good results. It is an overall great running shoe that can be used on a variety of trail surfaces. It is lightweight, flexible and over protection from the natural elements. Although it comes a bit narrow and in smaller sizes, the La Sportiva Kaptiva is still an excellent neutral trail running shoe for high-performance racing that offers good responsiveness and traction on all types of terrains.
Tip: see the best trail running shoes.
Our reviews
If you are looking for a smooth and fast ride to tackle technical terrain, then look no further. With a mid-range stack height of 17mm-11mm (6 mm drop), the La Sportiva have designed a unique shoe.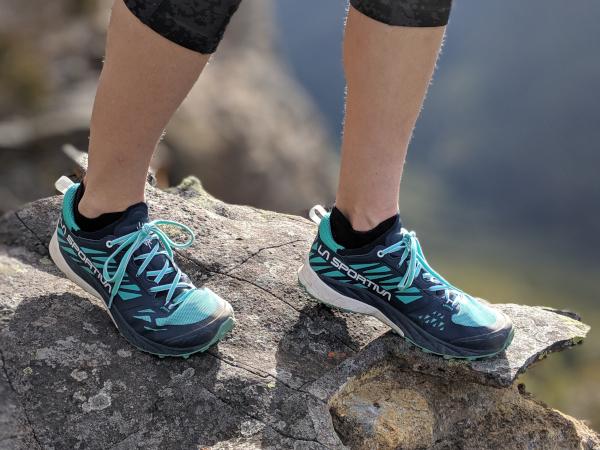 With little break-in required, I found the Kaptiva's an all-rounder, and here's why:
Ladies rejoice
I love that these shoes don't conform to the norm—pink, purple, or floral. Brands that offer women more colour choices, other than those mentioned above, get my attention.
The Kaptiva comes in two colours: Opal/Aqua (pictured) and a blue/deep orange combo that I think looks great.
Sizing for women
These shoes are racing shoes. Often with this shoe style, it is difficult to find a decent size range for smaller feet in the unisex size offerings. La Sportiva offers sizes starting with a US 5.5.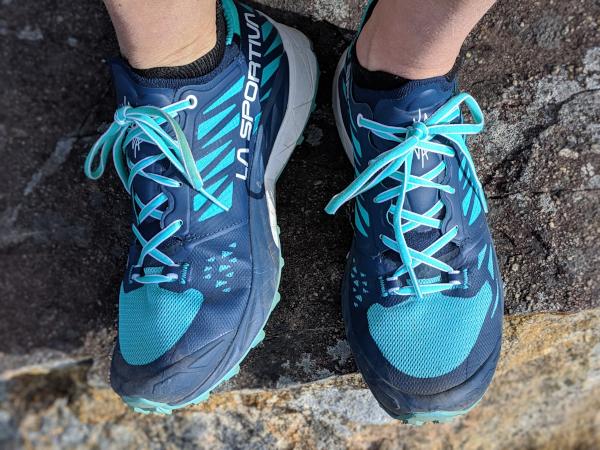 A note on sizing: I am usually a size US Women's 7 in Salomon shoes. But in these, I fit a size 8 with the right amount of toe room. They are definitely a smaller size in comparison.
Comfort & fit
These shoes are on the narrower side yet have room for a slightly wider forefoot and mid-foot compared to my go to's the Salomon S-Lab Sense.
I find these similar to the Salomon S-Lab Sense but offering a little more wiggle room, arch support, and just a bit more comfort underfoot for tackling those longer distances.
While being narrow, as mentioned, they still have a roomier toe-box than most other unisex technical/racing trail shoes that I have tried.
The arch support was what I loved, adding extra hold for the foot but not adding bulk.
The upper is snug and breathable with a sock-like tongue, absolutely zero bulk. Even the laces felt good—go figure!
Support
I instantly noticed the subtle arch support when these first went on. It is often hard to find a shoe that offers some form of stability or support without being bulked up with high stack height or heavy materials.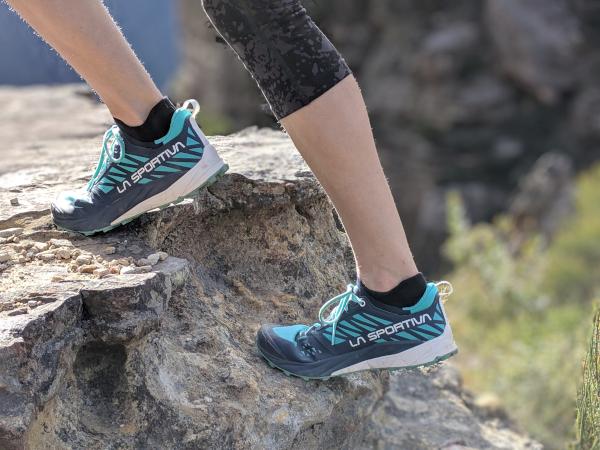 With a solid heel cup, support and comfort are enhanced with a snug hold offering further stability. As mentioned above, these shoes are a maximum height of 17mm.
When compared to other "comfort" or long-distance shoes, this height is quite low. If you like a low profile, close to the ground feel then, this ticks the box.
Protection
A 1.5mm EVA rock guard is found in the forefoot and the heel. I can vouch for its existence after a 10km run on extremely rough and rocky terrain (see pictures) with zero "ouch" moments.
The front of the toe-box offers further protection from any toe stubs, rocks or debris with a flexible yet firm TPU toe cap. The cushioning is firm and forgiving, not too hard and not too soft, just right.
There's enough cushioning to offer comfort up to ultra-marathon distance and still flexible and fast enough for 10km races and fun tearing up speedy trails.
Materials & durability
Kaptiva is a no leather/vegan shoe. Its upper consists of breathable mesh and durable rip-stop material from heel to mid-foot.
It has an adhesive overlay, which the laces feed through giving the option to cinch the laces in for a tighter fit. It is a flamboyant design with more than enough to perform and keep you tech heads happy!
I did have an issue on the first very short run with the welded material parting from the sole in the crease of the forefoot. Hopefully, this goes no further. I can't comment on the lifespan of the shoe yet.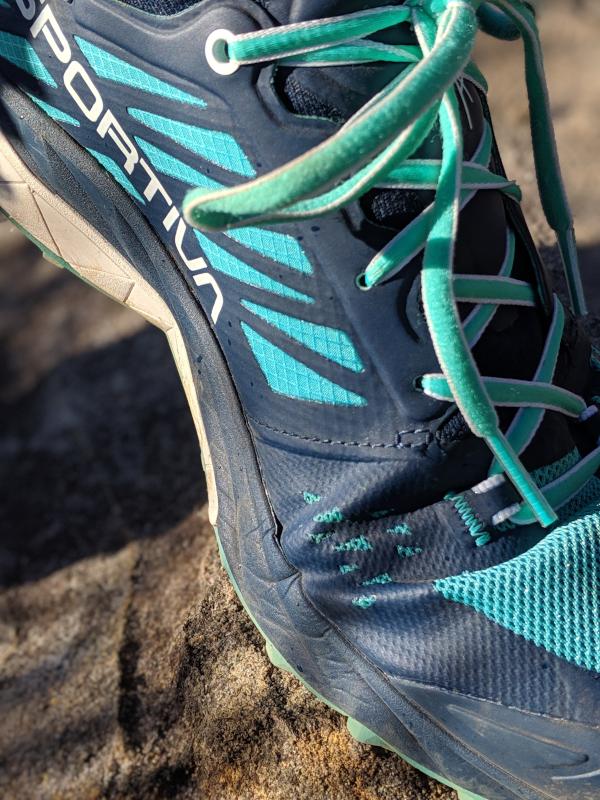 Performance
La Sportiva has designed and Impact Brake System that allows for fast downhills on varying terrain. Loose gravel and scree were no issue, and I felt confident in every step while flying down my local fire trail.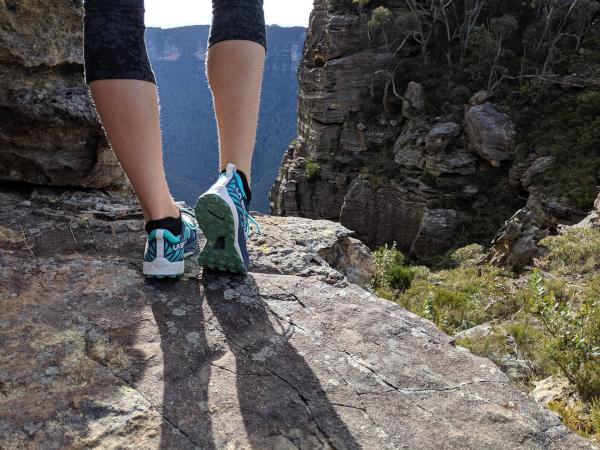 The lugs (spikes) are specifically designed to assist with braking with a hexagonal shape offering more surface area grip. I had no issues with the upper. I barely noticed it was there.
The added elastic on either side of the tongue means you can lace them up tightly but still have some give. The forefoot is flexible, enabling a fast toe-off and ease running/climbing uphills. I felt a good spring in my step.
In summary
The Kaptiva is, no doubt, a shoe for all occasions. I am confident to use these on my longer runs of 2 hours and up while still being able to play hard on my favourite technical trails at speed with confidence.
It is a good addition to anyone's repertoire if you're missing something fast yet supportive.
Happy trails!
Good to know
- The Kaptiva is the latest member of the La Sportiva family, and just like the Merrell Trail Glove 5, it is certainly built with trail racing in mind. It features an excellent build and ultra-lightweight when it comes to trail running shoes. Sporting a unique design that allows the Kaptiva to deliver the right balance of protection, stability, and traction.
- The shoe features a slip-on construction made of knit fabric that reduces the overall volume of the shoe offering a better performance-oriented fit. It is also built with the TRUST-FIT shape that cradles the foot for a precise and comfortable fit while reducing any chances of slipping. This is then complemented by the Flex Grooves in the outsole which facilitates the shoe's perfect flex.
- Also utilized in this running shoe is the EVA rock guard in the forefoot and heel to protect the foot from trail hazards like rocks and roots, while the STB control inserts provide torsional stability regardless of the technical terrain the runner may encounter.
The La Sportiva Kaptiva shoes are built on European half sizes which means that if the usual sizing used by a runner is based on the US sizing chart, they should consider going a half size bigger. Men's sizes are available in US 2.5+ until 16, while the women's sizes are US 2.5 until 14. The shoe's toe box is a medium width, and the slip-on construction allows for a snug and comfortable fit.
The Kaptiva's outsole features the FriXion XF 2.0 rubber compound and bold lugs that are aimed at providing traction on any type of surface.
It also uses the Impact Brake System lugs which are varied in height, and it grips well on loose terrains such as rocks, roots, and especially dirt, due to its different level of placement and slightly irregular shape. This makes chances of experiencing any slipping in the shoe very minimal.
The Flex Grooves found on the shoe's outsole offers a smooth ride and a better heel to toe transitions, without making the shoe too flexible or too soft.
In the shoe's forefoot and rearfoot area is the 1.5mm EVA rock guard which has optimal protective properties and offers excellent cushioning without losing the ground feel.
The midsole of this lightweight trail shoe is engineered with Compressed Molded dual density MEMlex and a TPU stabilizer, which is a pure-plastic shaft that offers added support and structure to the runner's foot without sacrificing the natural gait of the runner. It offers great cushioning which many high-performance mountain running shoes lack.
On top of the Kaptiva's midsole unit is the 4mm Ortholite Insole that offers cushioning and softness. It increases the overall comfort of the shoe without making it too supple, given that this shoe is meant to endure long distance runs on technical trails.
The La Sportiva Kaptiva's modern knit upper material wraps around the foot comfortably, and its Sock-Like Compression provides better shoe ventilation and also acts as a built-in gaiter to prevent bits of dirt from getting inside the shoe. It also uses thermo-adhesive overlays that helps regulate the overall breathability.
This trail running shoe uses what La Sportiva calls the TRUST FIT. It is designed to cradle the feet for a precise and comfortable fit. This works well together shoe's slip-on construction which gives it a feeling of an aquatic running shoe.
The shoe also uses rubberized materials for some areas of the upper. This is for additional support and strength in the shoe build. The rubber material is particularly soft and flexible which means it does not create any unnecessary pressure points; instead it softens and molds into the feet the longer it is worn. This is complemented by the padding around that heel area which is soft and comfortable. The padding on the side walls is just the right height amount giving the shoe more flexibility in the ankle heel areas.
Also making the Kaptiva's upper more remarkable is the shoe's Knit Wraparound Tongue with debossed flex line. It is sleek and slim and is made from an elastic material, but has enough padding in the right areas on top of the feet.
The Kaptiva's upper is finished off with a traditional lacing system, and the shoe's clean structure prevents the forming of unwanted hot spots and blisters which increases comfort and better performance.