The Akasha II is a trail running shoe from La Sportiva that lives and breathes ultras. Taking protection up a notch, it can tackle just about any mountain terrain that is demanding and unpredictable. Even better, it's a much-improved ride from the first version, delivering a livelier, more responsive performance that's plenty enjoyable.
Pros
Grippy on wet, dry, and loose trails
Lighter than the Akasha I
No slips on uneven terrains
Lively ride
Mutes out impact
Excellent heel hold
Tongue stays in place
Roomy toe box
Protective toe bumper
Sustainable upper
Also for hiking
Cons
Not for fast runs
Lacks breathability
Who should buy the La Sportiva Akasha II
Don't pass on the Akasha II from La Sportiva if you wish to get a:
running shoe that's perfect for long hauls and shines at ultra distances
stable trail shoe that can also double for hiking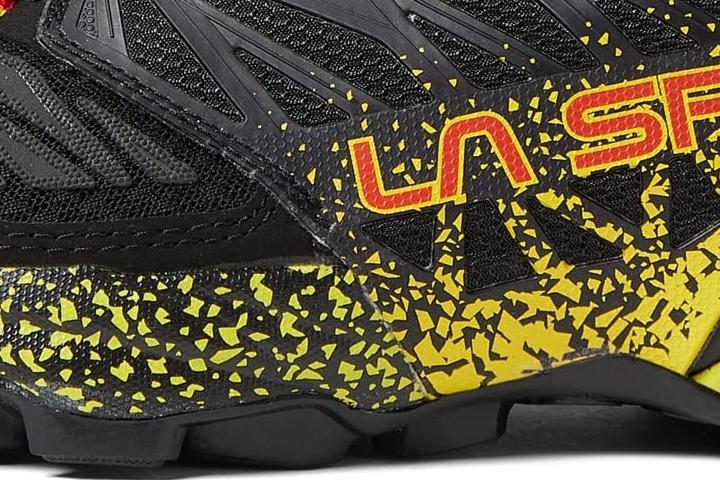 Who should NOT buy it
If you're looking for a lighter and faster race-ready option, going for the La Sportiva Kaptiva (260 g/9.2 oz. in US M 9) is a much better choice. And if it's a breathable shoe you're after, go for the breezy La Sportive Mutant.
Akasha II vs. I
Delivering a more precise foot wrap is the updated lacing system of the Akasha II
Recycled materials are used for the upper, promoting more eco-conscious efforts.
The same environmentally friendly materials are used in creating additional TPU in the toe bumper, which also enhances durability.
Amping up the shoe's strength further is the shoe's new heavy-duty outsole.
Bringing a stable ride is a 3-mm EVA liner that prevents the foot from rolling too far to the sides.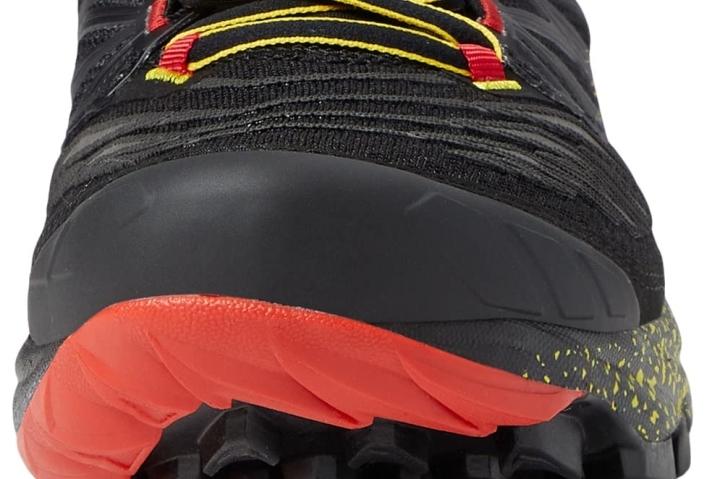 Glues you to the ground
Whether it's on wet or dry trails, mountain terrains, rocks, grass, mud, ice, snow, steep rocky technical trails, off-trail surfaces, and dirt roads, this running shoe's grip doesn't fail. It latches so well; testers say its traction is the highlight of their runs.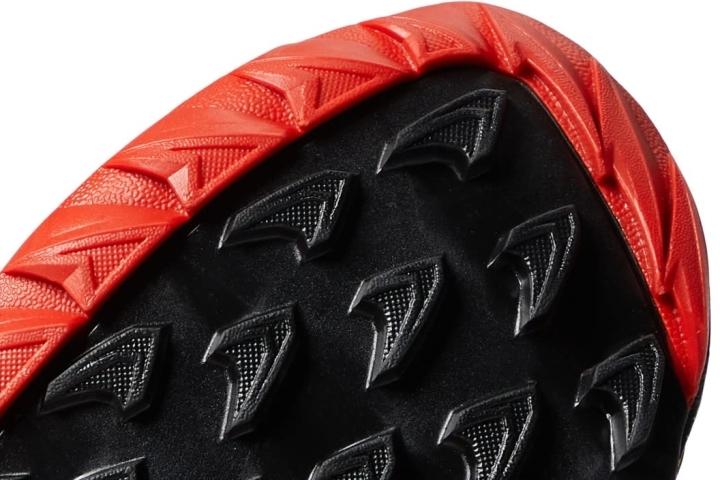 Less weight always means better
Another update with Akasha II from La Sportiva is it also sees a drop in weight. Although not a world of difference, in the world of running, less bulk is always good news. From 330 g/11.6 oz. in US M 9, the Akasha drops to 310 g/10.9 oz.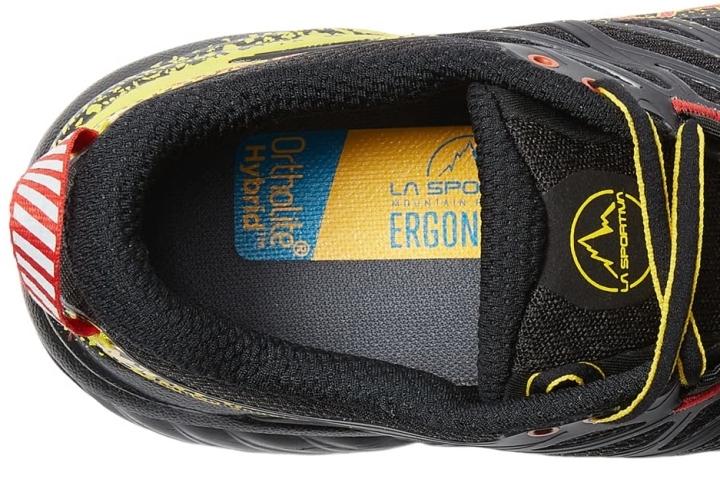 Not your typical trail shoe
Typically, trail shoes are often firm and stiff. With the second version of the La Sportiva Akasha, this is not the case. Experts even compare it to the Jackal and Karacal, saying that it's a much more energetic version that balances both softness and rigidity well.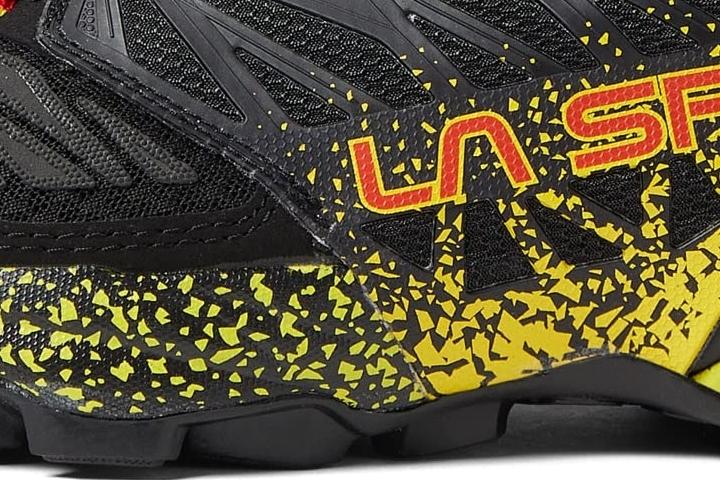 However, if you're looking for something fast to race in, the Akasha II won't make the cut. As per avid runners, there are just "far better, lighter, and more responsive options" on the market that are better suited for such an effort.
The Akasha II doubles down on protection
Contrary to the past iteration, trail runners find this version "more protective" on the forefoot. This is thanks to the shoe's updated toe bumper. Even when hitting rocks and roots, they have not reported stubbed toes.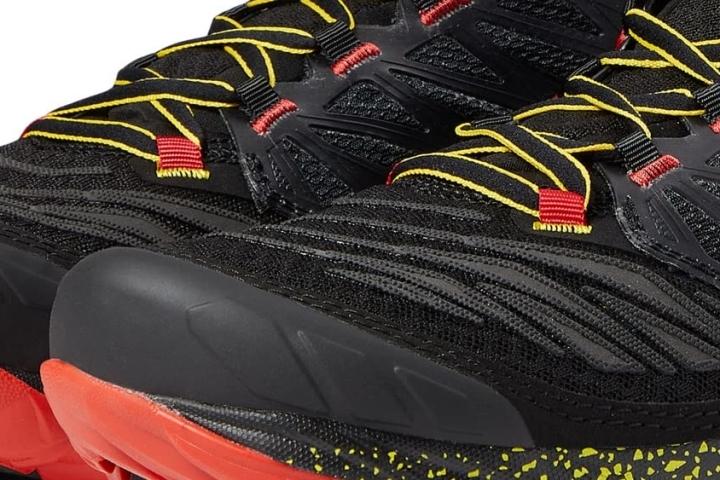 On top of this, the shoe's midsole is also very protective. There's plenty of it, and it's a darn good impact dampener; long miles in this shoe are pain-free.
Breathability is so-so
The price to pay for the insanely durable and protective forefoot is breathability. With the TPU covering fortified, some critics feel a tad toasty in this iteration.
Eyes on sustainability
This is especially true for the La Sportiva Akasha's upper. So much so that runners who want to keep their carbon footprint to a minimum really love it. But what's more, it does a great job of locking the foot in place.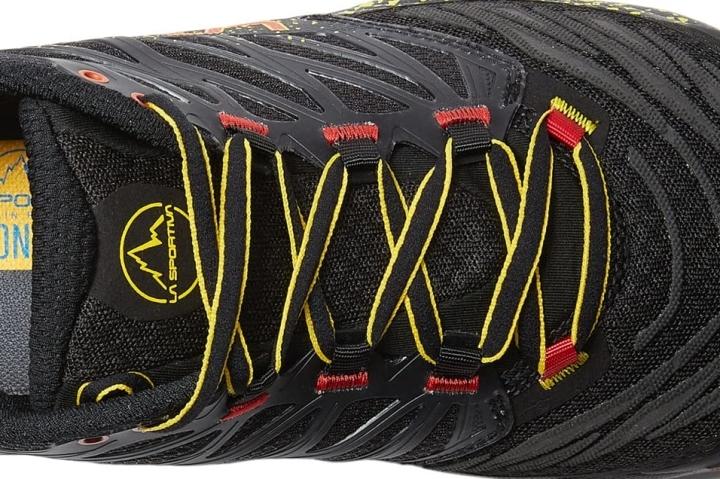 The upper mimics the shape and size of the foot, and it's complemented by the gusseted tongue (attached to the sides) that steps up the shoe's overall lockdown.
Overall, the upper works wonder in securing a non-tippy ride even on the most challenging rugged terrains.
No heel slips
The heel lock in this shoe is amazing. The heel collar is neither too high nor low, and it's padded just enough that it maintains a very comfortable, slip-free rear fit.
Just enough space for the foot to swell
It's not as roomy as Altra trail shoes, but multiple runners find this shoe sufficiently roomy, especially when the foot starts to swell. According to them, they feel NO discomfort whatsoever in the forefoot.