Our reviews
As Keen states on their website: "Hiking in the heat? No sweat. For our fans in warmer climates, we added breathable mesh to our men's lightweight hiker for added venting. Because who wants to let a sunny day go to waste?"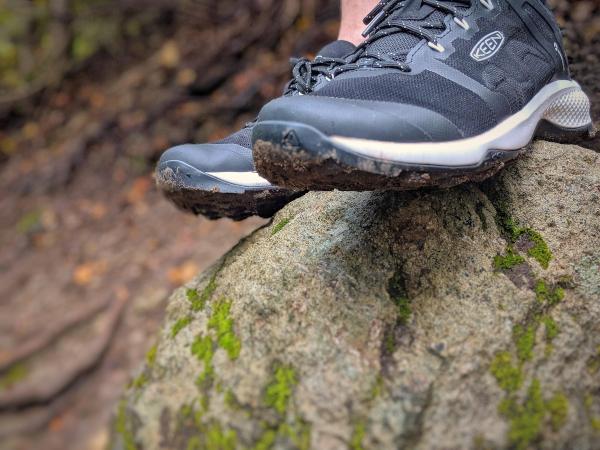 This is a killer summer hiking shoe. I'd even go as far as to classify it as a multi-season shoe. Whether you are on hard pack dirt, loose gravel type dirt, slickrock, multi-use paths, or pavement, this shoe won't let you down.
If you are a Keen aficionado, the Explore Vent has the Keen traction that you have come to know and love. If this is your first foray into the world of Keen, you should be excited—very excited.
The midsole is stiff and capable, the heel is snug and hugging, the toebox is wide and comfortable, and the outer is durable and tough.
The size 10 fits perfectly. I often wear a 9.5 – 10 and would safely put this in the 'true to fit' category. I read a review where the writer complained that the shoe is too narrow. I disagree completely. Maybe we finally found the elusive Bigfoot?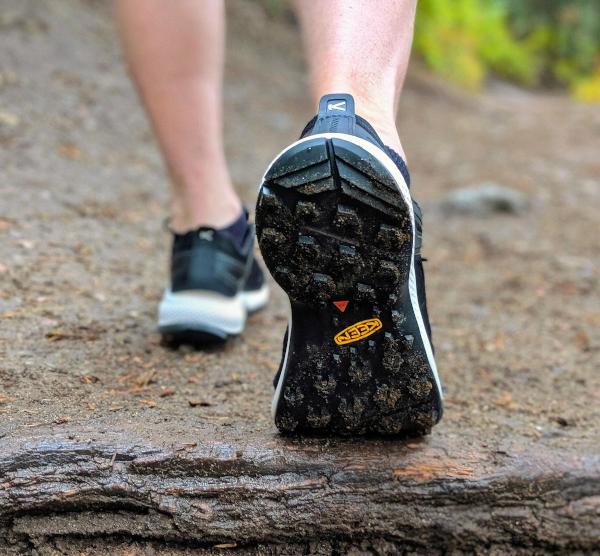 Keen offers a "connect fit" system that snugs up around the heel and mid area and gives the support that you need. The toe box has plenty of room for your foot to splay the way nature intended. No ballerina toes here.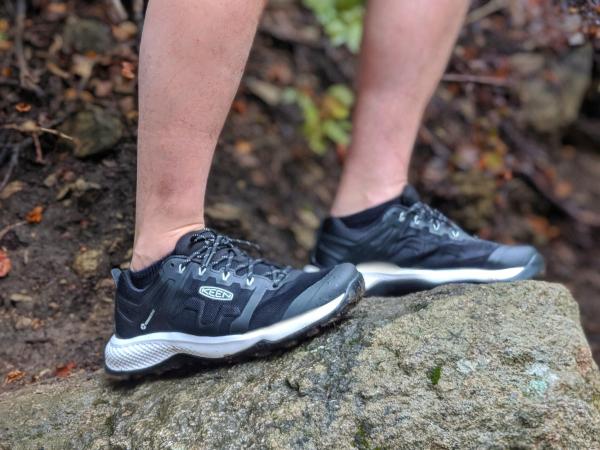 Not to be confused with the recently released waterproof version, this Black and Star White colorway is a super clean looking shoe. There's nothing flashy or extra—just business.
I recently put about 50 miles in the mud, puddles, dirt, dust, and rock. The all-terrain 4-millimeter lugs offer extraordinary traction with their multi-directional pattern.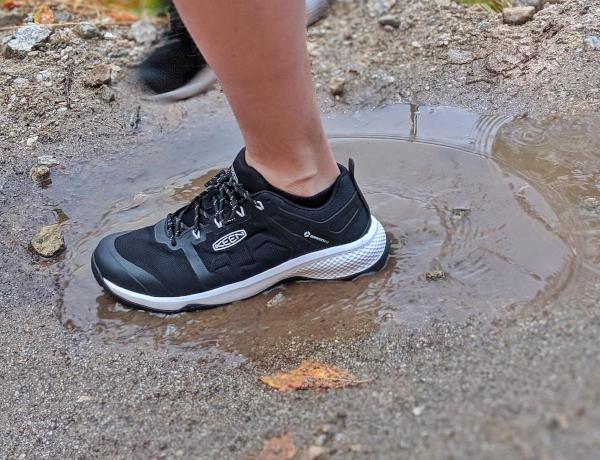 You can see pictured below, the heel protrudes quite a bit, so that would keep the shoe from entering the running category, but its a lightweight hiker all the way.
I even tried using these on my mountain bike, but the heel was getting in the way. It could double as an all-day walking shoe, as I have a co-worker in IT who wears these to work each day.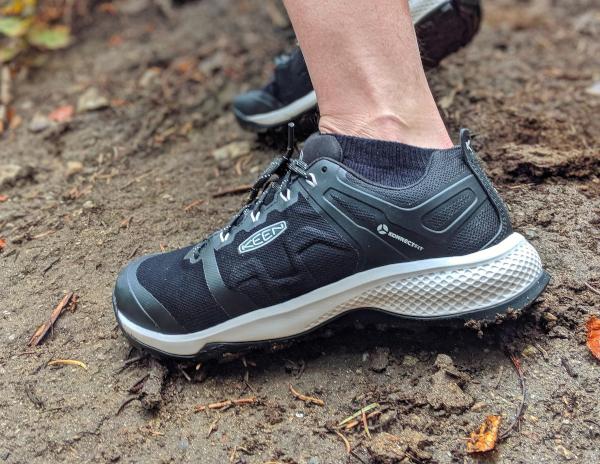 The rubber around the toe works as a toe protect and keeps your toes protected from rocks and roots that may be in your path. It even blocked out a little water even though the shoe isn't the waterproof version.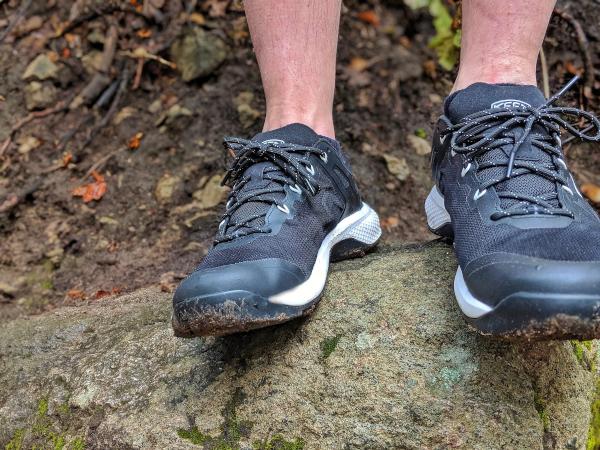 The vent material kept my feet dry and cool, but on the rainy days, they didn't seem to take on water, and my feet remained comfortable in both extremes.
Inside the heel, you will be blessed with an extra layer of padding to keep your foot comfortable as you stomp around chasing the dogs.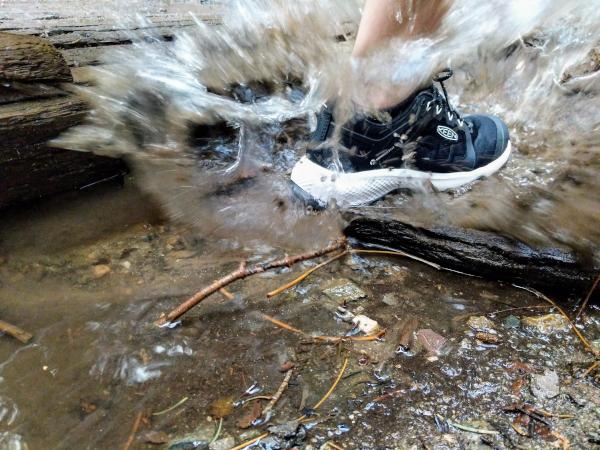 If you are looking for a great 'grab and go' shoe that is comfortable and can take a beating, this is a great shoe to fit that mold.
Overall, great shoe, great fit, and I highly recommend it.
Pros
Lightweight
Incredible traction
Stable
Wide toe box
Quality materials
Cons
Heel protrudes and can be a bit intrusive
To know more about Keen Explore Vent, visit Keen's official page!
When it comes to lightweight distance hiking shoes, I am a bit of a self-proclaimed newbie. So when I had the chance to try what many consider to be the best brand of hiking shoes available, I was excited to give them a try.
This is where I start with my review of the Keen Explore Vent lightweight hiker. On a first impression, this is an excellent beginning hiking shoe.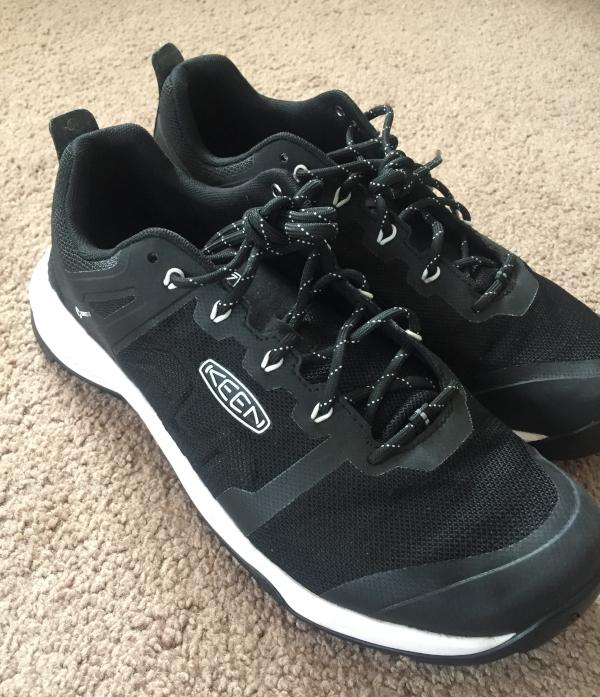 As my first true hiking shoe, I am impressed with the combination of durability/protection with how comfortable this shoe fits. This shoe is marketed as a hiking shoe that is breathable and designed to handle summer hiking or warm climates while still providing ample protection.
Features
4mm multi-directional lugs
Stability shank
Konnectfit heel-capture system
Radial support system
Tech specs
Keen all-terrain rubber outsole
Eva midsole
Breathable mesh lining
Removable PU footbed arch support
Performance mesh upper with TPU overlays
Fit
The sole of the shoe is thick, padded and provides plenty of foot support. The rocker creates a comfortable ride on any terrain.
The Konnectfit heel-capture system locks the foot in and gives the ankle plenty of support. This heel system works in combination with a simple 4 eyelet lacing system that certainly makes the ride feel snug and locked in.
The rubber outsole utilizes Keen all-terrain technology to handle any surface. I have used this shoe on technical trails as well as wet trails, and the grip is sticky and doesn't wear down over time.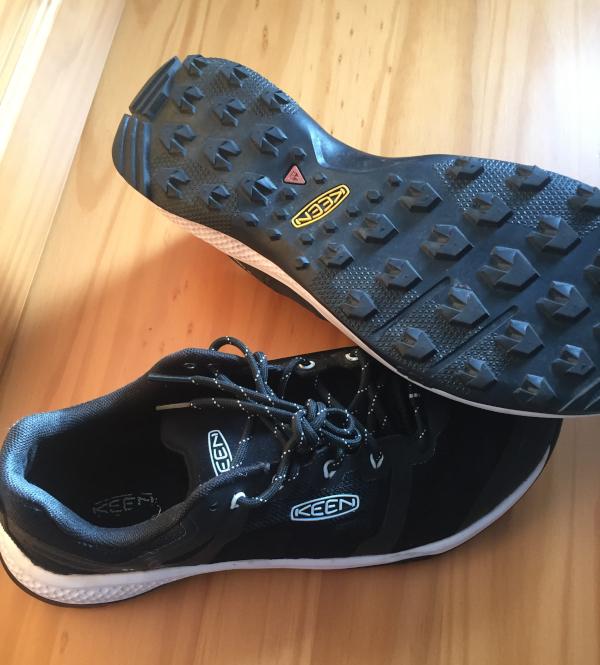 The lugs are rather large at 4-mm thick, and the crescent design allows hikers to dig into loose terrain and feel secure moving over loose trail. The outsole features ridges on the forefoot and heel to provide added grip and protection.
Materials
The midsole is sufficient and made of ethylene-vinyl acetate (EVA). The midsole provides plenty of support and enough cushioning and shock absorption for long hikes!
The shoe features multiple design elements to increase the smoothness of the ride, notably including a lightweight shank to increase support in the shoe. A simply designed radial support system improves stability when moving up or down angled terrain.
The cushioned foot bed provides an extra layer of cushioning for added support. The 4mm multi-directional lugs give plenty of grip on any surface.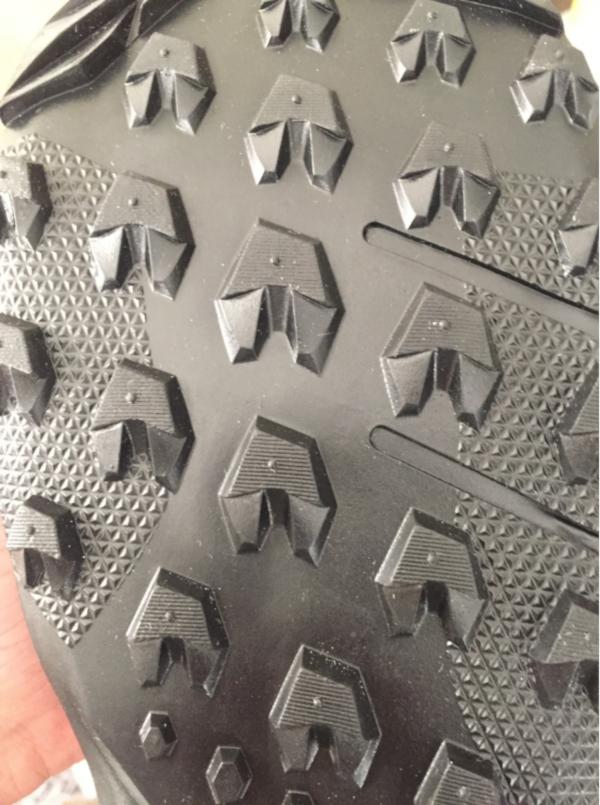 The upper is constructed of mesh with protective overlays added. The liner is also made of mesh. Both the tongue and ankle collar have plenty of padding, which makes the shoe very comfortable to wear on long hikes.
Sizing
The shoe really wraps the foot, providing comfort and cushion where you need it most. An eyelet-based lacing system and thick stretchy laces work great within the shoe.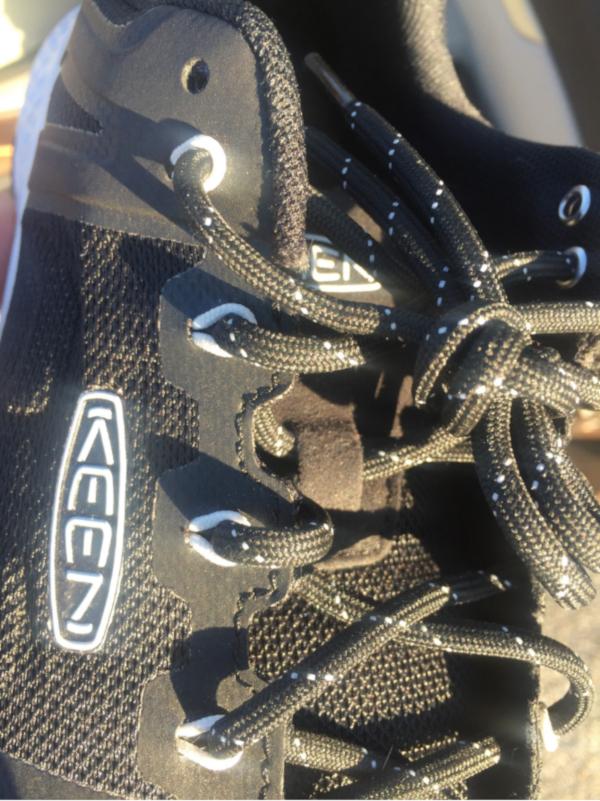 The traction has been impressive. I have rarely slipped in these shoes and only on wet paths. As a trail runner used to taking slips and falls on occasion, I really like how locked in and stable I feel when moving around in the Keen Explore Vent.
These shoes are waterproof throughout, which makes for a comfortable and dry hiking experience. These shoes are not designed to be completely submerged but handle dew, frost, and occasional stream crossings with ease.
I find that this shoe fits true to size. I normally wear 11, and these fit great at the normal size.
Cushion
The Keen Explore Vent has plenty of cushion underneath, but I should mention that it is not a shoe that handles extremely rocky terrain all that well. The bottom sole of the shoe is soft and somewhat flexible.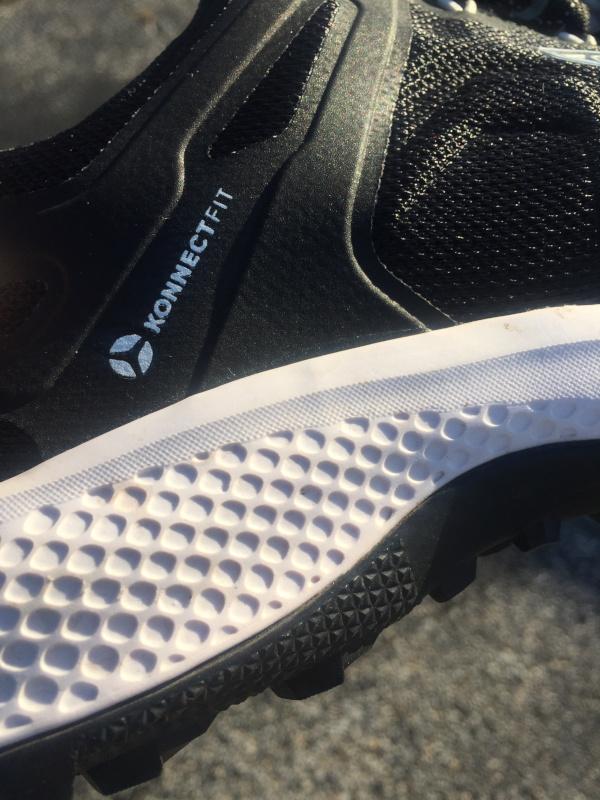 Pointy and sharp rocks are noticeable underneath. With a heavy pack, I feel that this would be even more relevant to the overall experience.
The toe protection is sufficient, but there is not a ton of extra toe room. With that said, the shoe has plenty of protection and cushion to help protect the front of the toes.
Pros
Very comfortable
Plenty of durability/protection
Tacky/grippy ride
Looks great
Handles moving up and down hills well
Cons
Not very much toe box room
Relatively narrow throughout
Heavier than expected
Not recommended for running
Summary
All in all, the Keen Explore Vent hiking shoes are very comfortable while providing a ton of support and traction on the trails.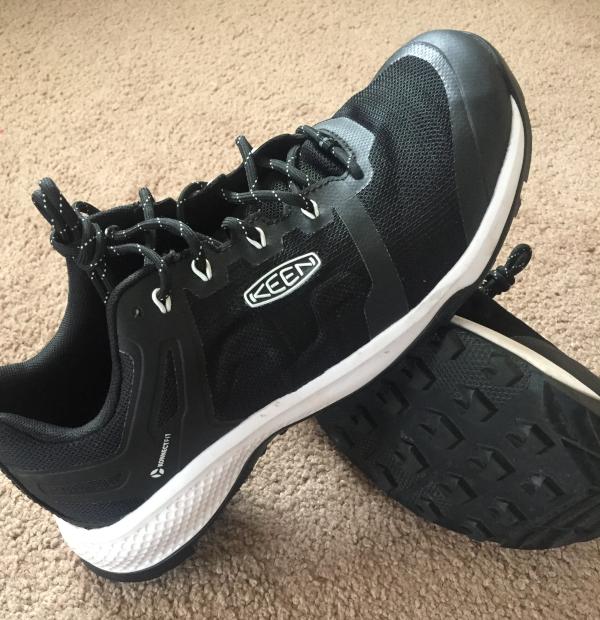 The comfortable fit and protective elements add together to create a hiking experience that is lightweight and enjoyable. I especially recommend this shoe for warm climates or summer hiking months.
While this shoe is not extremely lightweight, it certainly feels very light when compared to similarly protective hiking boots. The overlays and simple design create a hiking shoe that will work for many, especially those looking for something.
To know more about Keen Explore Vent, visit Keen's official page!
KEEN Explore Vent notable features
-The KEEN Explore Vent is designed for wearers who need to cover trail miles with as much agility as possible. As its name suggests, the shoe comes with a combination of technologies that put breathability front and center, making it a competent companion for hikes done in the summer months.
-It is furnished with a heavy-duty sole unit for underfoot protection and security. It is adequately rockered front and back to give users extra walking comfort, particularly on level terrain.
Size and fit
A below-the-ankle KEEN hiking shoe for men and women is the Explore Vent. It is engineered with the Konnectfit heel-capture system which, as its name implies, locks the heel in place for a more secure fit. Owners may achieve a customized lockdown in it using the hiker's lace-up closure.
Outsole
With the Explore Vent's rubber outsole (a.k.a. KEEN.All-Terrain technology), trail explorers can navigate slippery and tricky surfaces with sufficient sticking power. It can produce ample traction over loose soil, thanks to its 4-mm thick crescent-shaped lugs. The outsole in the men's version has grippy ridges at the heel and forefoot for additional traversal security during descents. Aside from traction, this component also grants additional forefoot protection.
Midsole
The KEEN Explore Vent is equipped with a stout midsole made of EVA or ethylene-vinyl acetate. On it, owners can expect to remain stable on rugged terrain with sufficient cushioning and shock absorption underfoot. Its engineers slipped in it a lightweight shank to enhance its supportiveness. They also armed it with a radial support system to bolster the shoe's lateral (side-to-side) stabilizing capability.
Completing the equation of the Explore Vent's midsole is a removable footbed made of polyurethane (PU). It provides not only extra cushioning but also added support. It is imbued with an anti-odor technology to fight off stink.
Upper
Enveloping the foot in the Explore Vent is the shoe's mesh upper with TPU overlays. It has a breathable liner which is also made of mesh. The Konnectfit technology with which the hiker is engineered adds to its structural integrity, especially around the heel. Both its tongue and ankle cuff are generously padded to give the wearer an even more comfortable in-shoe experience. What helps the user expedite on and off, on the other hand, is the hiker's heel pull tab.
The KEEN Explore Vent's lace holes consist of synthetic loops and non-plated eyelets. They work in conjunction with the footgear's hard-wearing lace (synthetic) to lock the foot in place.
Compare popularity
Interactive
Compare the popularity of another shoe to KEEN Explore Vent:
KEEN Explore Vent video reviews