Verdict from 16 experts and 100+ user reviews
8 reasons to buy
The KEEN Clearwater CNX withstands everything from hiking, biking, walking to boating, a couple of users have commented.
A good number of testers approve of its stability when they have tried using the pair across uneven grounds.
A favorite feature of the majority is that this KEEN sandal is washable.
Numerous shoppers have noted that they got their money's worth on this Keen sandal.
The minimalist feeling when wearing the sandals is praised by some of the testers.
The rubber toe rand gives excellent protection, several wearers have remarked.
Some hiking enthusiasts are delighted about its traction which was tested in various ground conditions.
A majority of users admire the comfort they have received from the KEEN Clearwater CNX sandal.
3 reasons not to buy
A group of testers with high-arched feet walked for miles and found out that the arch support is lacking, an expert reviewer reports.
A small number of disappointed consumers have width issues, noting that the sandals are too narrow for them.
A couple of wearers do not like that the stitching fell apart quickly.
Bottom line
The KEEN Clearwater CNX is a reasonably priced sandal that provides stability, comfort, and ample traction. Users admire the shoe for being lightweight and versatile for various activities. The thin PU midsole lets users have a good feel of the ground. The toe protection and traction of the sandal in various ground conditions are exceptional.
Buyers are, however, disappointed with a few mishaps. Overall, its benefits overshadow its disadvantages.
Tip: see the best hiking sandals.
Our reviews
I am fortunate to live in a part of the United States where the coast is right nearby, and beach-access trails abound. Since I spend a lot of time by the water, I wanted to get a shoe that could handle being submerged but could also get me across the trails that lead me to the shore.
I also wanted to feel sure-footed when exploring tidepools with my children. This is why I purchased a pair of Keen Clearwater CNX sandals.
I tested the Keen CNX across some undeveloped terrain and lots of seashore walking throughout the warmer months in San Diego, CA. Throughout this article, you will see pictures of the type of terrain on which these shoes were tested.
My experience with the Keen CNX was overall fairly positive. While I enjoyed the fit and durable nature of the shoes after many soakings, I found the support a bit lacking and the tread a little underwhelming.
Below explains why I give this shoe model a qualified recommendation for beachgoers but not for any serious outdoor activity.
What should you look for in a water-friendly hiking sandal?
I am one of those who enjoy outdoor activities that take me in and out of the water as well as hiking-friendly terrain.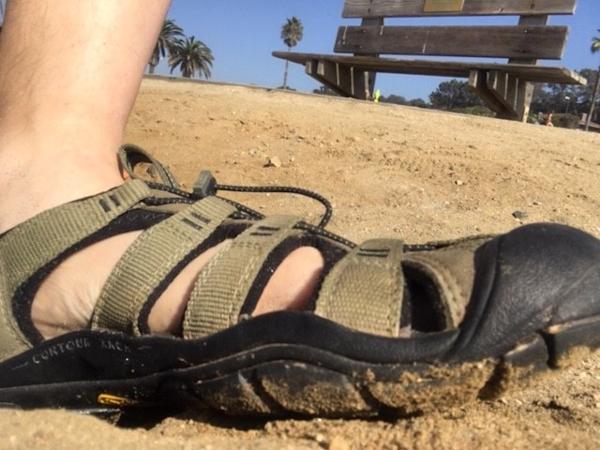 Thus, there are some particular features that I look for in a water-friendly hiking sandal to ensure that I am as safe as possible from injuries.
1. A rugged outsole. The outsole must offer some grip on the terrain to minimize slips and falls. I also like to make sure that the outsole works on wet rocks. This requires some kind of lugging or raised bumps that offer traction across multiple surfaces.
2. A supportive footbed. A sandal doesn't need to be as rigid as a hiking boot since I am not going to use it as my regular day-hiker, but some support around the midsole is helpful.
I always buy water-friendly hiking sandals that have some contoured footbed with a cupped heel and raised arch. The ones that are completely flat (and that's many of them!) tend to hurt my feet after only minimal wear.
3. A protective, adjustable, waterproof upper. It's easy to scrape a foot when crossing wet rocks or hiking on loose dirt or gravel. The sandal upper should be made of a rugged material that will offer proper protection from the elements.
I like to pick a model with a toe bumper to minimize the all-too-frequent toe injuries that come from trekking near the water. I also like to make sure that the upper is waterproof to keep the shoe from becoming too waterlogged throughout a day by the shore.
Finally, the upper must be adjustable for a proper fit.
4. A sufficiently roomy toebox. Pinched toes are no good! I always make sure that my outdoor footwear (of any kind) offers ample room for my toes to flex and bend.
Now that you know what to look for when choosing a water-friendly hiking sandal, it's time to see how the Keen CNX measures up.
Product Features
Overall aesthetic
The Keen CNX is a traditional fisherman's sandal with a rubber toe bumper and an upper that is comprised of straps connected by an adjustable bungee-style lacing system.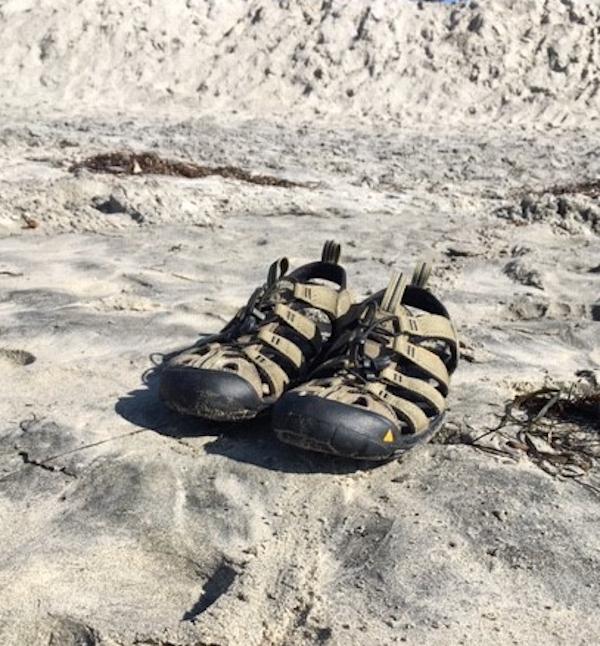 The shoes look rugged and practical, which they are. Wearing these probably won't win you any style awards, but that's not the point of these anyways.
Fit
The Keen CNX fits my average width feet excellently in my normal athletic shoe size of 9.5. These sandals don't pinch my toes, nor do my toes bump against the rubber bumper.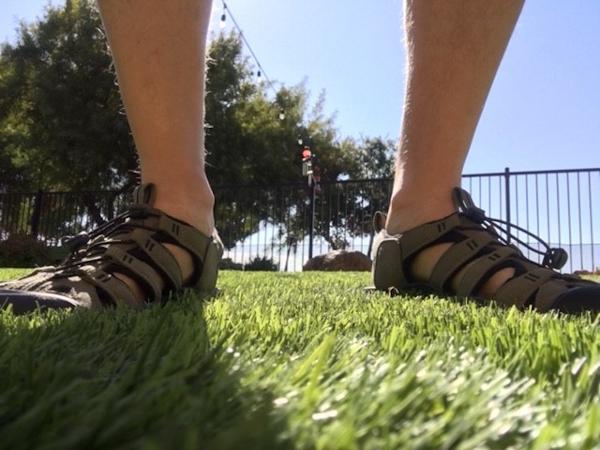 I have tried other Keen models, such as the Newport H2, and found some of them to be too bulky and roomy in my size for a secure fit. These have a sleeker profile, which I appreciate.
Weight
One of the best features of Keen CNX is that it is very lightweight. In the past, I have found other types of fisherman's sandals to be too heavy. The Keen CNX feels very light and won't weigh you down at all while exploring the shore.
Upper
The upper is made of synthetic, waterproof material with a little bit of suede around the heel area and right above the toe bumper.
The shoes are well-ventilated with strategically-placed openings right near the rubber bumpers. This keeps my toes from getting too hot.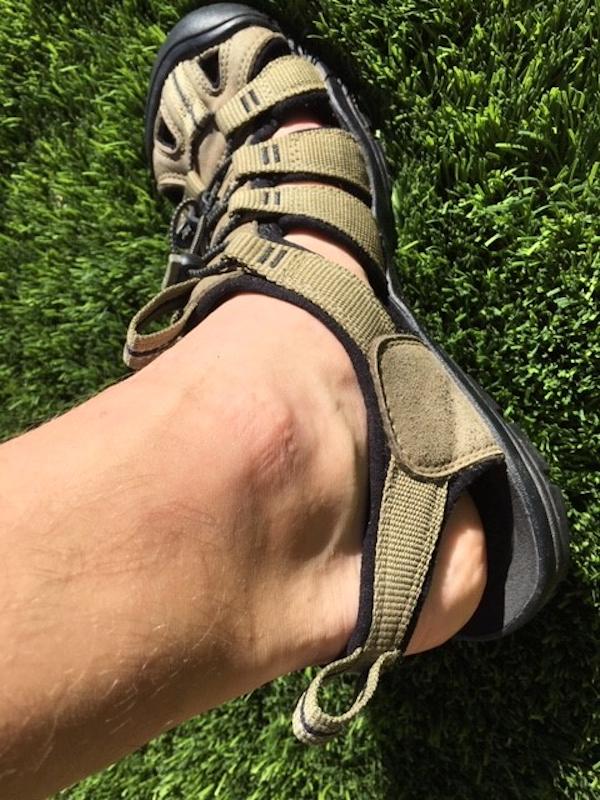 I also like the heel strap and adjustable entry, although I do find that putting them on at first can be a bit of a tight squeeze. However, once these are on my feet, they do not feel too tight. The upper material also dries very quickly when wet.
Footbed
The Keen CNX does include a somewhat contoured footbed, but support in this shoe is lacking compared to other similarly-styled sandals I have tried in the past.
The soles are a bit thin and minimalistic. This allows the shoes to be very lightweight, but for me, it's not enough support for any serious hiking.
Outsole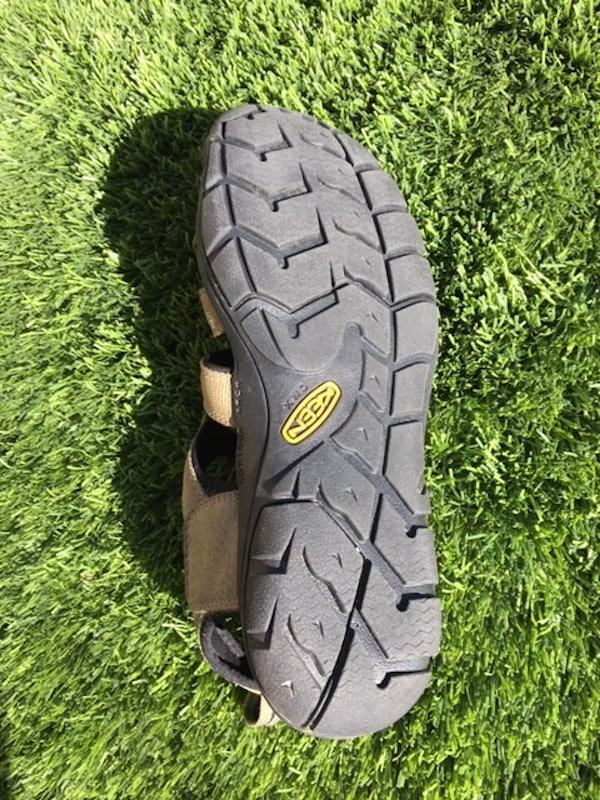 The outsole is where the rubber hits the road for any adventure shoe. I have a mixed opinion about the outsole of the Keen CNX, which I would describe as decent, but not outstanding.
There is some light lugging, as you can see from the picture above. However, I did not feel like I had a sure grip on rougher terrain when I tried hiking in these (see pictured below).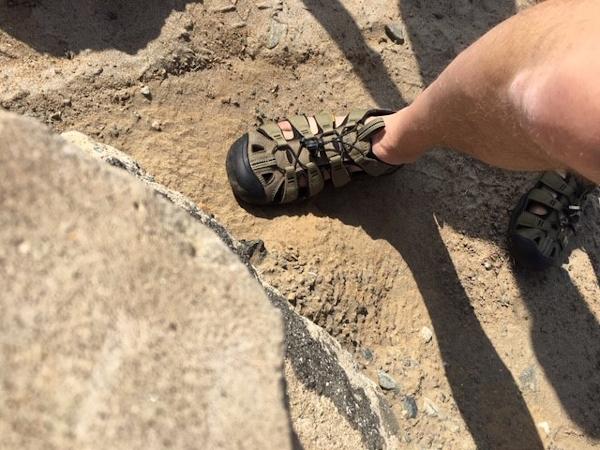 These outsoles are ok for wet rocks, and will perform adequately on loose terrain, but if you are planning to go any further than a few miles on rocks or dirt you'd do better sticking with a true hiking shoe.
Pros
The Keen CNX is designed with some handy features:
A lightweight feel, especially compared with other similar sandals.
A durable, waterproof upper
An excellent fit, eliminating excess bulk
A semi-contoured footbed, which does provide some arch support
A semi-rugged outsole, which grips well enough on wet rocks
Cons
The shoe does some drawbacks:
The outsole is not sturdy and grippy enough to handle more than a little hiking.
The midsole/footbed is somewhat thin and does not provide enough support for day hiking more than a short distance of a few miles.
The price of these shoes can be a little hefty for the features you are getting.
The bottom line
The Keen CNX is a great shoe for regular beachgoers who enjoy activities like beach walking, kayaking, and investigating tidepools. It is also decent for light hiking, especially if you need to follow a trail to the shore.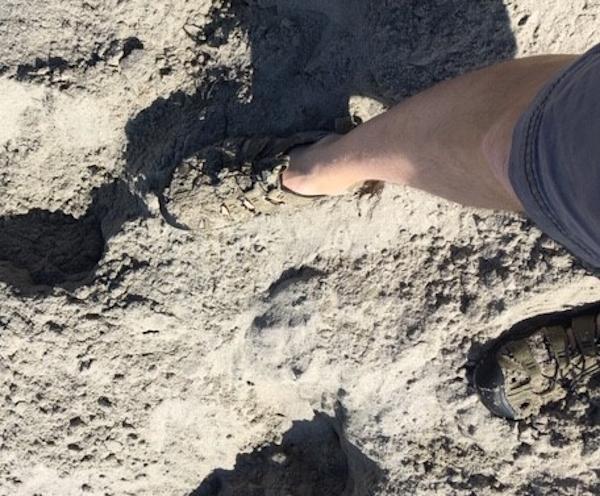 However, I would not recommend buying the Keen Clearwater CNX for use as a day hiker unless you prefer a minimal shoe without a whole lot of support.
If you are looking for a more solid hiking sandal check out the Teva Hurricane. The Hurricane provides much more support and a more rugged outsole at a very wallet-friendly price.
But overall, if you are looking for a general water-friendly all-rounder for beach activities, the Keen CNX is a good option.
Good to know
CNX by KEEN provides lightweight protection to the wearer's toes. Marketed as "addition by subtraction," this technology cuts down the weight of CNX products by 10 oz. while delivering support and comfort.
KEEN's signature toe protection, KEEN.Protect, is also featured in this hiking sandal. It is designed to protect toes from accidental stubbing and striking.
Cleansport NXT is a technology applied to various products and footwear to control odor. The Clearwater CNX uses this component to keep the foot fresh during perspiration.
The KEEN Clearwater CNX sandal is for men and women. Its toe box is generous enough for adequate movement of the toes without pinching. The lacing system allows the sandal to conform to the shape of the foot without any pressure points.
The natural flexibility and enhanced ground contact of the Clearwater CNX come from its multi-directional flex grooves. It also has a non-marking rubber outsole for traction. Further improving its grip for tackling wet surfaces is its razor siping. As a continuation of the outsole, the Clearwater CNX features KEEN.Protect–a toe cap that encloses the sandal's front end to safeguard the foot against accidental stubbing and injury.
The Clearwater CNX uses KEEN's proprietary lightweight PU midsole compound that creates long-term comfort and support. PU midsoles are known for their resistance to constant compression and impacts.
The durable TPU shank in this sandal enhances foot stability and provides additional support. It is lightweight and flexible. It flexes just enough for a natural movement of the foot without sacrificing support.
KEEN Clearwater CNX has a 4mm midsole drop. This low-drop sandal has less interference on the natural mechanisms of the foot. Each stride is more efficient because the foot has more sensory information.
The contoured arch serves as additional midfoot support. It also features a metatarsal ridge configuration to further support the underfoot area.
The anti-odor capability of the footbed is care of the Cleansport NXT. Every square inch of fabric has selected microbes. They are bonded to the surface and lay dormant in the fibers until activated. Once activated through contact with an organic substance (sweat), the microbes will work to reduce odor by breaking it down.
The traditional KEEN style plus washable polyester webbing comprises the upper of the Clearwater CNX. It is made of a hydrophobic mesh which repels away water, dries quickly and is lightweight. The washable polyester webbing allows breathability to a great extent.
KEEN Clearwater CNX maintains a low-profile look with its bungee lacing system and pull-on tabs. The lacing system which uses a 2mm cord allows the user to easily adjust and get the right fit in the upper and midfoot area. Pull-on tabs located on the top of the heel and tongue allow for easy on and off.
KEEN has a wide selection of sandals for hiking and those who are interested in getting a pair may find themselves struggling on what to choose between the Clearwater CNX and the Newport H2.
Upper. Both hiking sandals are designed to offer versatility and comfort on the trails. The brand's engineers use a polyester webbing to encapsulate user's foot without compromising durability and protection. Also, to enhance comfort on and off the trails, both the Clearwater CNX and the Newport H2 come with a hydrophobic mesh lining.
Upper protection. The brand-owned KEEN.Protect is incorporated into both models. Those who are likely to traverse challenging and rocky trails may opt for the Newport H2 with its burlier toe cap. The Clearwater CNX is styled with less pronounced toe protection.
Lacing system. The secure fit lace capture system—present on both models—permits easy on and off which also enables hikers to customize the fit. It is comprised of an elastic cord with a lock that secures the desired tension.
Stability. These lightweight multi-sport hiking sandals from KEEN offer stability through the incorporation of a TPU shank underfoot. It supports the foot on bumpy terrain while still giving it a decent amount of flex.
Midsole. The Clearwater CNX is equipped with a polyurethane (PU) midsole. It has a high level of resilience; thus its ability to provide cushioning is longer lasting. Its 4 mm midsole drop allows hikers to feel more connected to the ground for enhanced sensitivity. On the other hand, the Newport H2 employs a compression-molded EVA midsole which is a lighter material than PU.
Outsole. These sandals from KEEN use a non-marking rubber outsole. The Newport H2 comes with a thicker material than the Clearwater CNX. Both units are designed with razor siping to optimize the footgear's grip on most types of terrain, especially on slick surfaces.
-Clearwater CNX is a washable product. Users can just toss it in a machine on a gentle cycle with cold water and mild detergent. Allow the sandals to air dry.
-KEEN Clearwater CNX has a leather version for both men and women.
-Low-drop footwear is the preference of minimalists.
-Clearwater CNX sandals are PFC Free. PFC or Perfluorocarbons are found in many common household items and Durable Water Repellent (DWR) outdoor gear. PFC is an enemy of the environment. Studies show that exposure to PFC can cause testicular and kidney cancers. It can also lead to a decreased response to vaccines.
-The pair was awarded "Best in Test" by the Wanderlust Travel Magazine.
Rankings
How KEEN Clearwater CNX ranks compared to all other shoes
Popularity
The current trend of KEEN Clearwater CNX.