Jordan Why Not Zer0.4 review
Russell Westbrook's fourth signature shoe comes with a strong forefoot cushioning and traction that is best for explosive guards & forwards. With the soft rubber outsole, the basketball shoe plays best on indoor hardwood gyms.
Who should buy it
Do buy this shoe if you are an explosive guard/forward who handles the ball, drives, and needs to stop on a dime.
Who should NOT buy it
Do not buy this shoe if you are:
a heavy post player who needs significant support and maximum heel cushioning (in this case, consider the Nike Lebron 18)
primarily an outdoor basketball player (the Adidas Dame 7 has a durability that is really good for outdoor courts)
The Jordan Why Not Zer0.4 is true to size
As a slightly wide-footer, I went true to size and it is a strong fit - no noticeable extra space anywhere.
Great lockdown
Lockdown for me was very good with no glaring flaws. I had no noticeable heel slippage nor extra space in the toebox all while avoiding any tightness or rubbing in any area. There is a plastic heel shank in the back of the shoe that was helpful for stabilizing the back of the foot.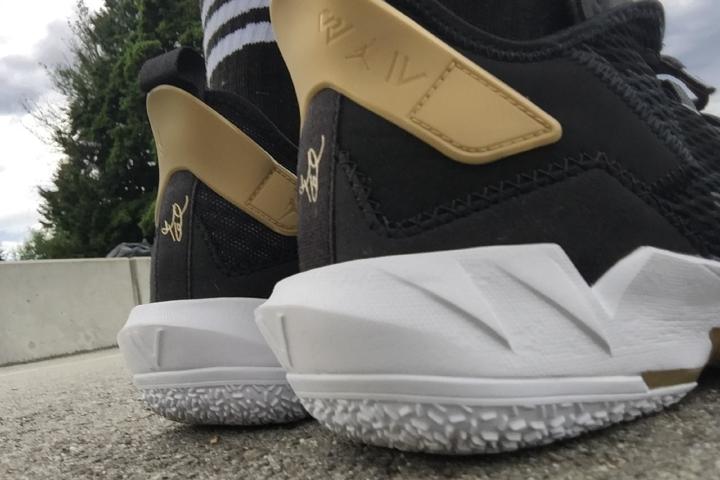 Good lateral stability
Lateral stability was good with no sliding on the footbed. The shoe could possibly benefit from an outrigger but this was not something I felt the shoe especially needed.
Great cushioning, except in the heel
The cushion on the Why Not Zer0.4 is excellent. The double-stacked Zoom technology in the forefoot was abundantly felt in each step and gave a dominantly cushy but also stable ride when running down the court.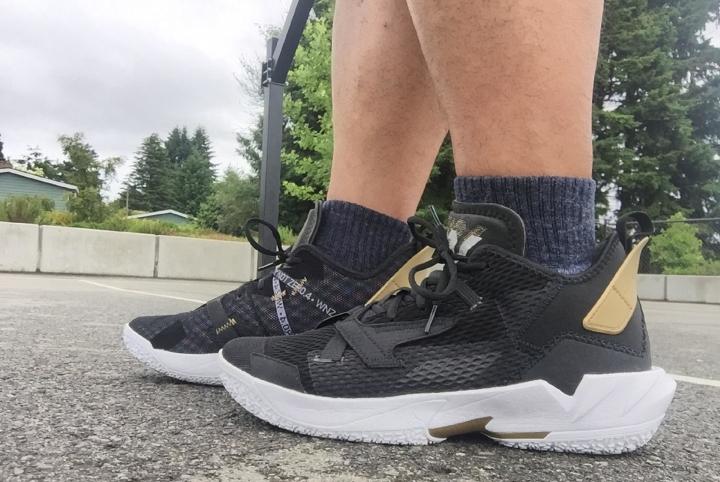 The Phylon in the heel was sufficient for me, but may not be for those who want a maximally cushioned ride.
Propulsive-feeling ride
The ride on these was a springy, responsive step, being well-cushioned but also decently low to the ground where each step is intimately felt. After playing in an intense hour-long pickup run, my feet still felt supported and energized by the setup of the shoe. The one small nit I will comment is the ride feels slightly high in the forefoot, but is not a big issue and was still overall a smooth design for me.
No break-in time needed
The traction, cushion, and fit were all solid straight out of the box as I took them right to an indoor pickup run. In some shootarounds after that, I never noticed any difference in any of those attributes. Comfortable, stable, and supportive from the first wear - a delightful attribute.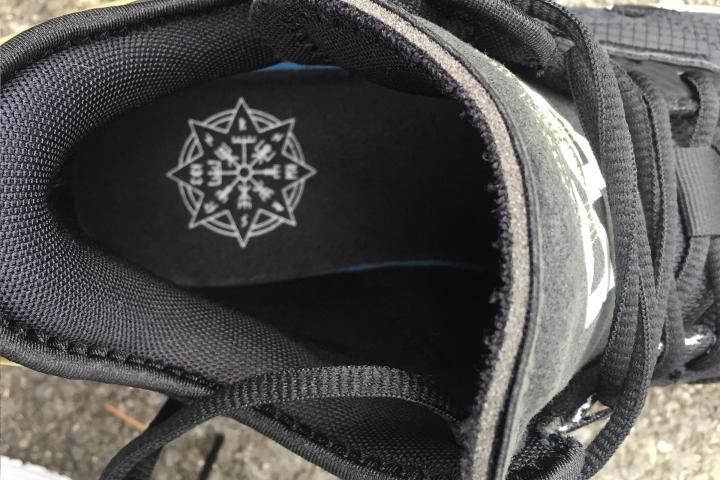 Lighter than it initially feels
Midtop basketball shoes, on average, weigh 396 grams. The Jordan Why Not Zer0.4 weighs 334 grams, which is on the lighted end for basketball shoes. When wearing the shoe, it initially felt heavy with the plush cushioning and support but after getting up and down the court a few times it had no sense of bulkiness. Its weight is just about the same as the popular Nike Kyrie, Nike PG, Nike KD, and Under Armour Curry releases.
Save the Why Not 0.4 for indoor play
I would recommend the Jordan Why Not Zer0.4 solely for indoor play, due to the soft rubber used on the outsole. The pattern of the outsole also being small multidirectional nubs also doesn't bode well for outdoor durability as the design does not run very deep. The shoe will still perform well on outdoor surfaces but will simply not last nearly as long.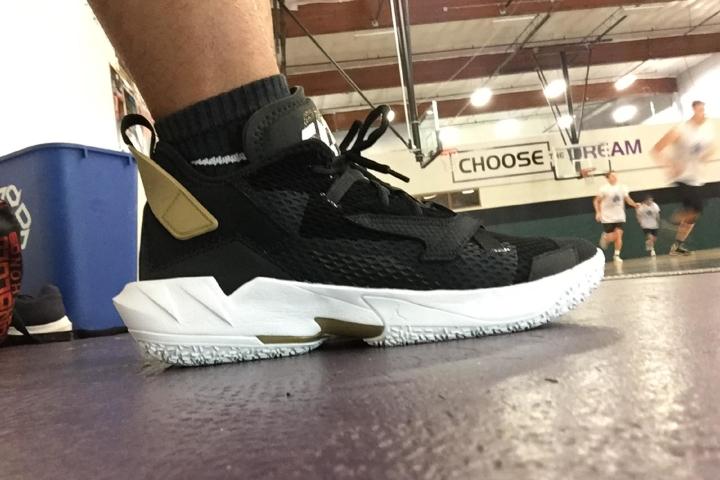 The upper shoe materials seem fairly durable, being a combination of various leather stitching and mesh but is still something I would hold off on being my go-to outdoor option.
Superb linear traction
I tested the shoe in both an indoor game run as well as a few shootarounds & workouts on an outdoor court. The traction overall was fantastic - despite the indoor gym floor I played on being relatively dusty, the grip held up well and had a strong bite moving linearly with only a few inconsistencies moving laterally - very minor though. Wiping the bottoms with your hand every now and then should mitigate any inconsistency well.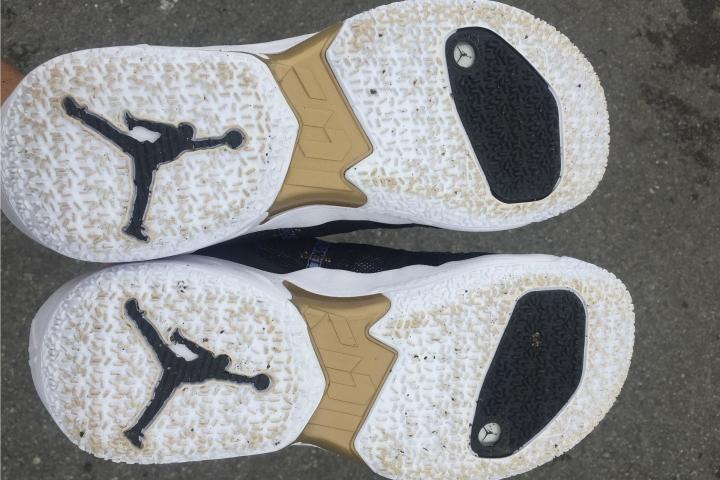 Decent breathability
The upper of the Jordan Why Not 0.4 uses a variety of leather merged together which had decent ventilation. The runs/shootarounds I played in ranged from 1-2 hours so unless you play in significantly longer runs or highly value top-tier ventilation the shoe should have you covered in this area.
The Jordan Why Not Zer0.4 is a good-looking shoe
The aesthetics were sleek to me and, with the slim, curved silhouette and multiple different pieces of leather stitched together in the upper forefoot, it was cool to see several NBA players lace these in during the 2021 NBA Playoffs, including Russell Westbrook himself and Tim Hardaway Jr.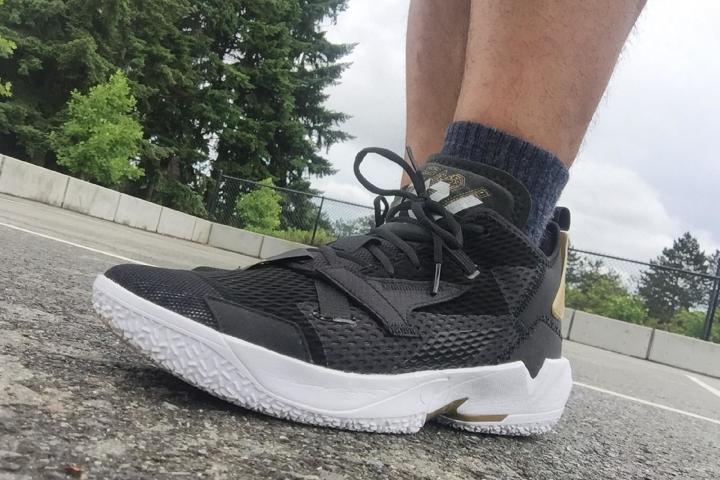 Good value for the price
The retail price for the Jordan Why Not Zer0.4 is $130 USD, which to me is a reasonable price for these. It is backed by high performance across all areas and a top-tier cushioning set-up of double-stacked forefoot zoom cushioning.
Conclusion
In all, the Jordan Why Not Zer0.4 was a fantastic performer for me due to its sticky traction, propulsive forefoot cushioning, and excellent fit. The Jordan Why Not line seems to be an underrated sleeper line to me, with the performance of it being right up there with the most popular lines!
Compare popularity
Interactive
No popularity data available for this shoe at the moment.
Jordan Why Not Zer0.4 video reviews