Verdict from 12 experts and 67 user reviews
10 reasons to buy
Several users are saying that the shoe's traction is on point. It grips well on clean and semi-dusty courts.
A few are claiming that the Jordan Ultra.Fly 2 plays excellent outdoors; they find the materials very durable.
The shoes fit like a glove, several observe. The materials mold to the shape of the foot.
Many wearers claim that the Ultra.Fly 2 runs true to size, and the length is perfect.
A small number of players notice that the rubber outsole is pretty durable.
A user asserts that this is his favorite Jordan shoe to hoop in right now, and he highly recommends it.
Like the AJ 6 Retro, these Jordan basketball shoes are very comfortable according to a good number of buyers. It feels like a sock so comfy that you forget that you are actually wearing something.
Most wearers appreciate how the cushioning is set up; they can feel the forefoot and heel Zoom units.
Several declare that the Jordan Ultra.Fly 2 is a good basketball shoe.
Similar to the Air Jordan XII Retro, these Jordan basketball shoes provide solid lockdown and support according to a lot of testers. They do not experience any slippage since the shoes are well padded.
7 reasons not to buy
Almost all testers observe that the shoes are very hard and annoying to put on. The opening is small, and it doesn't stretch much.
Most buyers comment that the Jordan Ultra.Fly 2 is very narrow.
The shoes feel a bit heavy and bulky, some testers remark.
Many wide-footers find the snug fit uncomfortable.
A user is pushed to return these Jordan Brand shoes because of its disappointing fit.
Ventilation is very poor according to some wearers.
Several testers observe that the traction does not hold up well on dusty courts. They are saying that the outsole picks up dust quickly, so frequent wiping is recommended.
Bottom line
The Jordan Brand brings it with another affordable performance model. The Jordan Ultra.Fly 2 is one of those shoes that is not receiving the attention it deserves. With all the tech included, this shoe is truly a bang for your buck.
Even with its fit and traction issues, players who appreciate good cushioning and support should still give these basketball sneakers a try. These Jordan shoes cater to both guards and big men. It performs exceptionally well outdoors.
Overall, the Jordan Ultra.Fly 2 is a solid all-around performer. You may just find it creeping into your regular rotation.
Tip: see the best basketball shoes.
Our reviews
The Jordan Ultra-Fly 2 was one of the most underrated basketball shoes to come out last year. It features heel and forefoot zoom with a price tag of only $125 the Ultra-fly 2 a steal.
Fast forward to present day where I was able to cop the better looking low-top model for a measly $45 (full retail $100) at my local finish line. Yes, you heard me $45. So, is the price tag too good to be true or is it the steal of the year? Let's find out.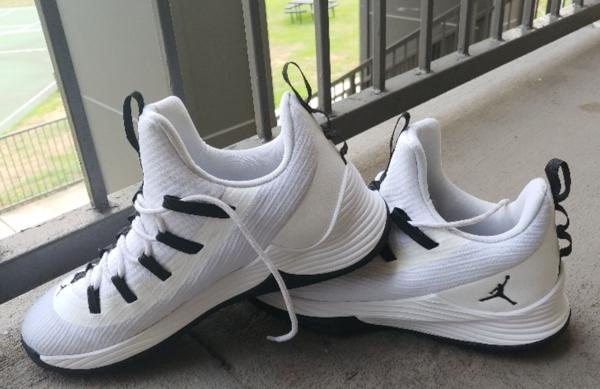 The Traction
The primary court that I play on is located in my university's rec center, and it is always clean as a whistle (you can seriously eat off this court), so it's no surprise that the Ultra-Fly 2 stuck like glue every-time. The outsole never slipped, and I never had to wipe.
Hard Snatch back dribbles? Check.
Explosive dunks? Check.
Sudden stops on defense? Check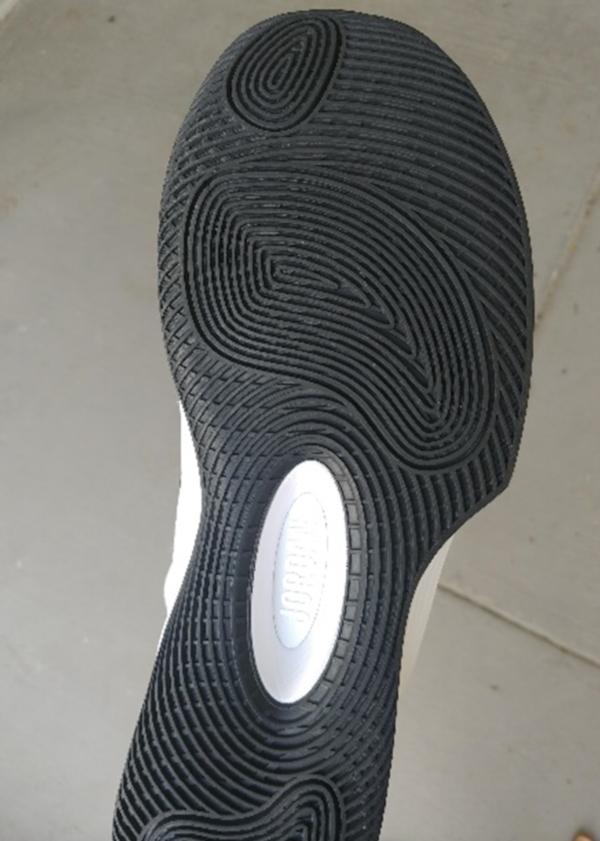 No matter what I was doing, the outsole worked like a charm. I have the utmost confidence in this traction.
The only thing I can compare it to is the Lebron Zoom Soldier 9, one of my favorite basketball shoes ever. I even played them outdoors, which worked well. However, they won't last very long like any other shoe, but for $45 bucks you could buy two pairs and destroy them outdoors, who cares.
The Upper
I'm not sure what to call the material on the Ultra-Fly 2. They aren't really woven, but they're not a mesh either. Whatever it is, it works great though.
After a couple of games of breaking in the shoe, the materials started forming to my feet well. I had no issues with blisters or hotspots while playing and the shoe looks great.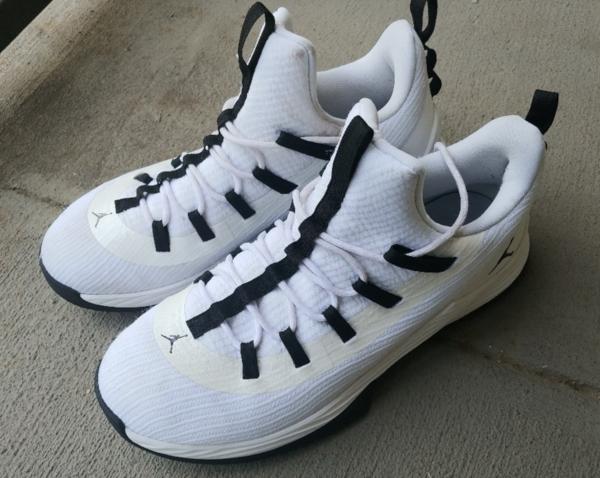 I grabbed the all-white pair which got scuffed up in a matter of hours. But hey, they're basketball shoes. They're gonna get messed up regardless.
The one bootie upper keeps your foot in, and I had no heel slip issues. However, I did experience a lot of slipping inside the footbed. This could be due to the brand no socks I was wearing while using these shoes, it was annoying.
There was one play where I was landing after a full speed layup in transition where I could feel the shoe almost spin off my feet. Thankfully, I did not twist my ankle in the three weeks I've played in this shoe. Hopefully, as my socks get some more wear on them, it will provide more traction inside the shoe.
The Support
As my first low top basketball shoe since the cp3 five, I was concerned with how supportive the shoe would be. Those fears would be put to rest as the Ultra-Fly 2 has plenty of supportive features.
The ultra-fly 2 features a tough heel counter, a midfoot TPU shank, as well as fuse overlays at the lace loops. Although not perfect the support of the ultra-fly 2 was good.
The Cushion
The ultra-fly 2 uses both forefoot and heel zoom units to provide a cushion for the shoe. The cushion hits the right spot between impact protection and responsiveness. You can feel the zoom units, but it never gets too distracting. I never had any knee or back soreness in my time with the shoe.
Paired with the great traction, dunking in this shoe felt great. I never had a slip or felt like I was sinking into the shoe while going up off two feet and every landing felt fine. I even hit my first off vertical in this shoe.
Conclusion
For $45, the ultra-fly 2 is worth twice the money I paid for them. They bring great traction, good looks, and good cushion. You would be hard pressed to find more bang for your buck in another shoe. Although not perfect, these earned a spot in my rotation.
Good to know
The Jordan Ultra.Fly 2 continues its predecessor's success with updated tech, plush cushioning, and ideal comfort. The Zoom Air units in the heel and forefoot deliver a responsive and low-profile cushioning, while a webbing lace system keeps you strapped in from practice time to game time.
The Ultra.Fly 2 takes things to the next level with an iconic Jordan silhouette equipped with updated technology to suit today's game. It is designed for versatile players and offers complete comfort and flexible support for every position on the floor.
Jordan is all about flight, so get ready to take off from the court with the Jordan Ultra.Fly 2.
Cushion. In the heel and forefoot of the Jordan Ultra.Fly 2 are Zoom Air units that deliver responsive cushioning. They ensure a more natural and comfortable reaction while you cruise down the court.
The midsole is made of a lightweight Injected Phylon (IP) foam that adds another layer of plush cushioning and provides a smooth and stable ride all game long.
Traction. The Jordan Ultra.Fly 2 has a rubber outsole that features a multidirectional traction pattern that enhances friction. It prevents slipping and provides a good grip on any surface.
Length and Width. Wearers agree that the Jordan Ultra.Fly 2 runs narrow. Wide-footers may experience a problem with the fit. They are advised to try the shoes in-store before purchasing. Narrow-footers can go true to size.
Lockdown. The Jordan Ultra.Fly 2's lightweight knit provides containment while its full-length internal cleatie construction delivers a snug, one-to-one fit. A synthetic overlay is added to the upper for a more enhanced lockdown.
The shoe also features a webbing lace system that locks your foot down. It creates a dynamic and supportive fit that allows your foot to flex naturally.
A midfoot shank increases torsional rigidity; providing the support you need to make all your best moves on the court.
A lightweight knit upper bonded with synthetic overlays provides an enhanced fit and increased durability for long-lasting comfort. The Jordan Ultra.Fly 2's knit upper is as comfortable as a sock and supports natural movement. It also delivers the support you need for sharp cuts and sprints.
Made famous by an on-fire Jimmy Butler during the Bulls playoff push during the 2016-2017 season, Jordan Brand gives the head-turning Ultra.Fly a sleek sequel. The Jordan Ultra.Fly 2 blends mid-top containment with lightweight movement.
Jordan Brand designers have once again shown that they are willing to experiment with their on-court models. The Ultra.Fly 2 bears a strong resemblance to the Air Jordan 15. It strips back the OG's elaborate caged upper with a modern one-piece cleatie construction. Its streamlined upper is topped off by a curled collar with an extended tongue in a similar "Flight" inspired motif as the Jordan 15 retro.
The Jordan Ultra.Fly 2 is anchored by a Zoom Air cushioning system. A wavy midsole adds definition to the otherwise retro-based model.
These Jordan Brand shoes are available in a variety of color options.
Black/White/Anthracite
Black/White/Gym Red
Game Royal/Game Royal/White/Photo Blue
Gym Red/Gym Red/White/Action Red
Midnight Navy/Midnight Navy/White
Pure Platinum/Metallic Silver/White
Soar/White/Black
TB Game Royal/Black-Photo Blue-Metallic Silver
TB Midnight Navy/Black-Metallic Silver
TB Pine Green/Black-Green Spark-Metallic Silver
TB University Red/Black-Action Red-Metallic Silver
University Red/White/Black
Varsity Royal/Black-White 'Royal'
White/Black/White
White/Metallic Silver-University Red
Rankings
How Jordan Ultra.Fly 2 ranks compared to all other shoes
Popularity
The current trend of Jordan Ultra.Fly 2.