The Inov-8 X-Talon 212 is legendary!
So is "precision fit", which for some people (including me) is simply too narrow and uncomfortable in the long run (pun intended).
As a long distance trail runner, my first Inov-8 shoes were the X-Talon 212 standard fit (half a size up). It was a perfect snug fit and instant romance. The 8 mm lugs gave unrivaled grip on pretty much any terrain (sans road) and excelled in slippery conditions.
I did my first trail 50-miler in a pair of 212 standard fit. It was a sad day when I found out they were discontinued!
Inov-8 still haven't answered my emails, nor my prayers. Fortunately, I managed to secure an extra pair on clearance (which I save for special occasions) and then started to look for replacements.
I soon found the Inov-8 X-Talon 200.
Design
The X-Talon 200 has come in a range of colors. The pair I have is the second generation black/blue/orange, which is still stocked in a few shops around the web.
Pretty much an archetype Inov-8 X-Talon design; black with plenty of orange neon contrast. Later came other colors and today the 200s are completely black with only a few grey contours.
Design preference is highly personal, but I like the new black model better - it looks almost stylish.
Mind you, X-Talon 200 is not an evening shoe! Its a piece of gear to be worn when going for rugged trail runs - and who is out there to look at your (preferably mud covered) shoes anyway?
Below you can see the Inov-8 X-Talon 212 precision fit (red) on the left, Inov-8 X-Talon 200 in the middle and X-Talon 212 standard fit (yellow) on the right.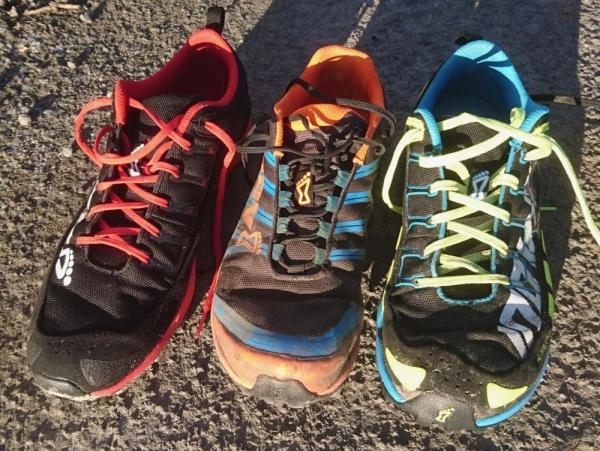 Comfort
The first thing I noticed with the 200 was a fair amount of room for my toes, and I like that very much!
Yet, the fit was snug enough to prevent any blister-provoking inside-shoe sliding. The drop is 3 mm (3 mm less than the 212) and they do feel different, but whether its the drop or not I can't say. The overall feel is not overly different - perhaps a bit to the flimsy side.
After a fair number of runs, I realized that the X-Talon 200 does not come half a size small like the Standard fit 212 did. This hasn't, however, caused me any discomfort - but I'll go "true to size" for my next pair of X-Talon 200 (and there is definitely going to be the next pair).
At first, the shoes made an annoying clicking noise when they bent, but that has disappeared with milage.
In my opinion, they are nice and comfortable for autumn/winter conditions, and a bit too warm/tight for summertime runs. If you are used to a large heel-to-toe drop and plenty of cushioning - the 200 is most likely not for you.
Outsole
The outsole is the same legendary 8 mm lugs as on the X-Talon 212, giving unrivaled grip in tough, muddy and sandy conditions.
The spacing of the lugs prevent grit build-up and they are excellent for loose snow/slush, which we get a lot of around where I live.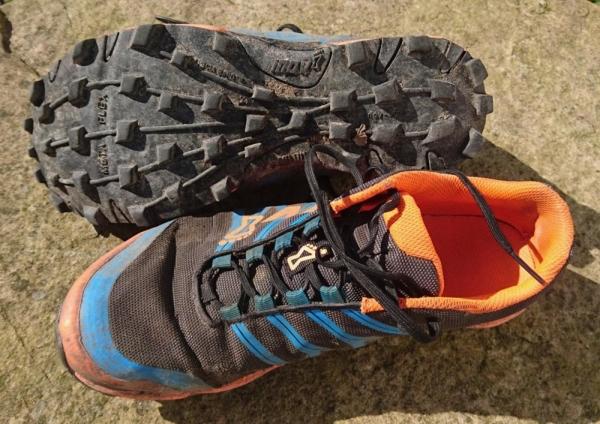 The X-Talons - neither the 212 nor the 200 - work well on hard/solid ice. YaxTrax and similar "ice add-ons" do not go well with the deep lugs.
For solid ice, I'd go for Arctic Talon or something similar with spikes.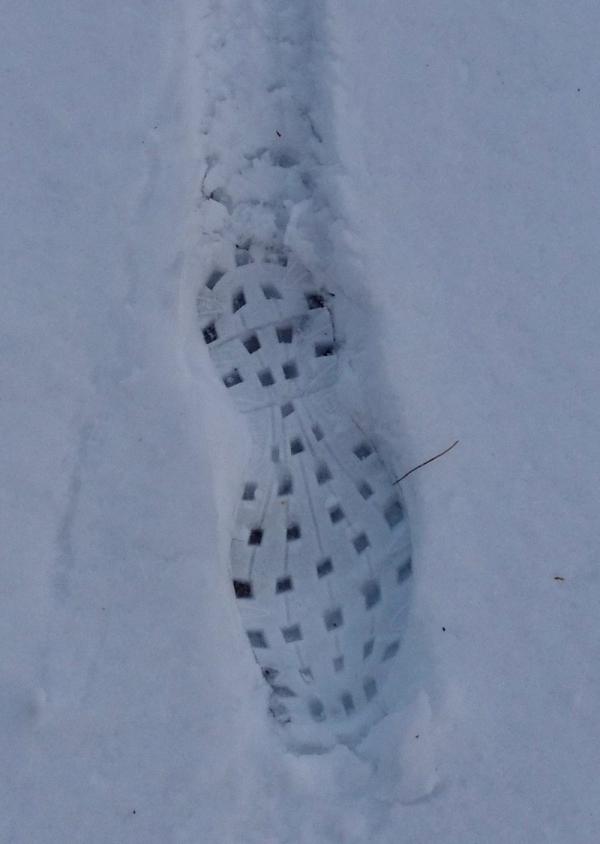 Upper
The upper is made of a somewhat lighter and glossy version of the Cordura-like fabric that Inov-8 use in their X-Talon line.
I've found that it is durable, comfortable and water repellent to some extent - and very importantly does not allow fine-grain sand or grit to get in! Despite its water-repelling effect, it allows water to drain quickly.
There is also a pretty descent toe bumper, which will keep your toes relatively safe from rocks and roots. Mind you, it's not a safety boot - its a rather lightweight running shoe!
Together with gaiters, they have gone the distance in everything I have thrown at them - from knee-deep snow and mud, over mountain ranges to seemingly endless sand dunes.
One thing to note is that there is no "built-in gaiter attachment" like on the TrailTalon models and some of the newer X-Talon models.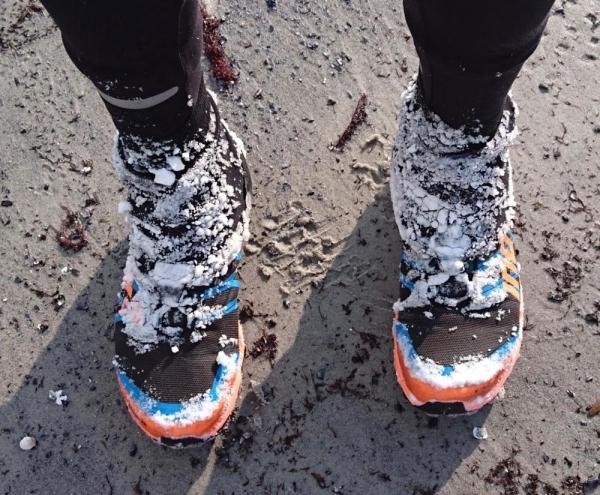 Durability & Value for Money
I have used my X-Talon 200 on pretty much any terrain. Recently I did a semi-official 60 km mixed beach/road/trail type race, and they held up nicely. No discomfort at all - well, at least not caused by the shoes.
Now, after some 850 km of rugged trails, they still hold up. The lugs are no longer 8 mm, and the fabric look pretty worn where the shoes bend, but they are still comfortable. Good solid quality shoes!
I expect them to last well beyond 1000 km before retirement. I got mine on sale, but even at the recommended retail price, they are value for money.
Weight
According to numerous stories around the web, the number on the Inov-8 shoes is supposed to be the weight of a men's UK 8.5. I can't find solid information to back this on the Inov-8 website, so perhaps its just a rumor.
Anyway, as an avid Inov-8 fanboy I have had my fair share of Inov-8 shoes (all size UK 7.5). Let's put them on the scales.
My well worn X-Talon 200 currently weighs in at 232 grams. My precious X-Talon standard fit 212 is at 241 grams. The Terra Claw 220 is 227 grams, and Trail Talon 250 is 232 grams. My latest (almost new) pair of Precision fit X-Talon 212 weigh in at a whooping 250 grams.
Okay, its a small, somewhat biased sample of mostly well-worn shoes - yet, the numbers are off in all directions. I'd say the numbers are somewhat indicative of weight, at best.
Performance
The X-Talon 200 is a lightweight shoe that rides low to the ground - excellent for speed and OCR.
I'm not a very fast runner (quite the contrary in fact) and I usually employ my 200 for technical and rugged type trails where I need grip and control more than speed - for this they are perfect.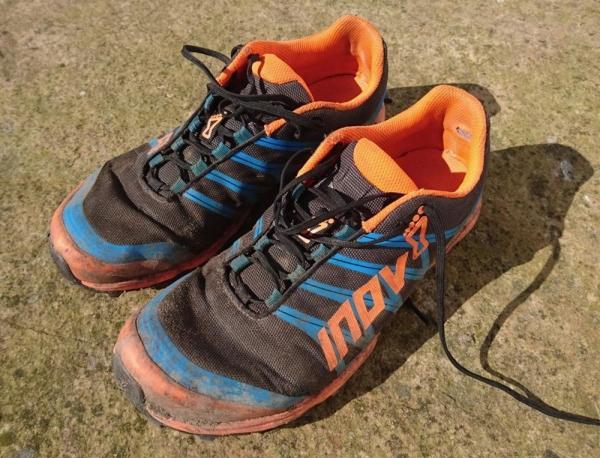 I have in several muddy mountainous ultras seen a lot of other runners "slip'n'slide" with no end, while I just kept running like normal in my 200.
You simply can't put a price on a good grip in such conditions!
Conclusion
Low drop. Little cushioning. Super grip. Excellent fit, despite half a size up. Comfortable with fair room to splay those toes. Some protection against the elements and obstacles.
In my humble opinion, the Inov-8 X Talon 200 is one of the best and most comfortable shoes for (ultra) long runs in (cold) rugged/muddy conditions.