This company has its origins in Great Britain, but is now under the ownership of Descente, with founder Wayne Edy still overseeing production.
Inov-8 footprints have been left on mountains and trails from Kokomo to Kilimanjaro, and are sold in over 60 countries worldwide.
The first pair of Inov-8 shoes I ever saw was during a trip to Tanzania; the second appearance happily came just three weeks ago when a new pair arrived at my front door.
First Look
Amazingly, they must have read every one of my reviews, and listening in on everything I have been talking/ranting about for the past 10 years. These shoes were surely made for me; let me tell you why.
First of all, on the inside of the shoe box lid is written "OBSESSED IS JUST A WORD THE LAZY USE TO DESCRIBE THE DEDICATED," see what I mean? They've been listening!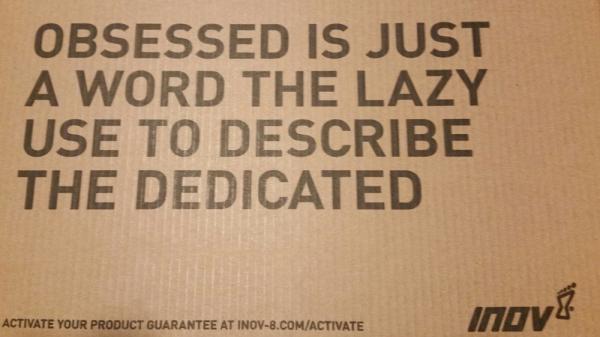 When I received my Inov-8 (pronounced like the word "Innovate") Parkclaw 275s from my home state of Massachusetts, I was impressed with their clean appearance and obvious quality.
At first glance, these shoes looked fun and fast…even while sitting in the box!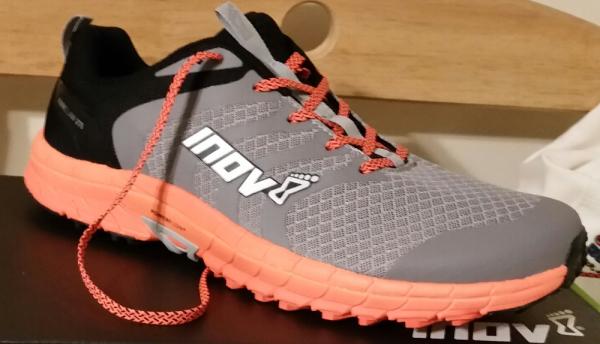 I found myself hopping around on the kitchen tile, with a Brooks Launch 4 on one foot and an Inov-8 Parkclaw 275 on the other, performing my form of a primitive forefoot cushion test.
My wife looked at me bouncing around in the kitchen like a kid with a new toy and simply said, "Go Run!"
The Outsole
The outsole is composed of what they call Tri-C Compound, and is not just simply glued to the midsole; it is precisely cut and "fitted" directly into the PowerFlow + midsole foam.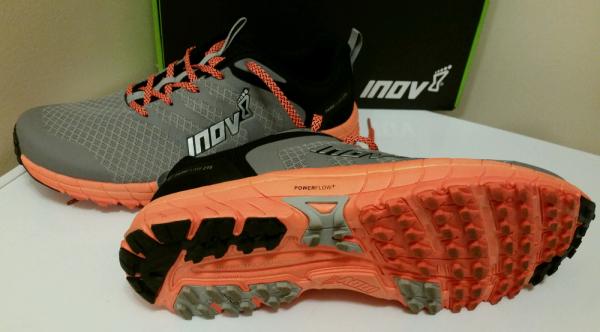 The midsole material is actually molded with recessed areas designed to accept the outsole pieces, with near perfect fit and finish. The outsole provides extremely good grip in wet or dry conditions and appears to be wearing well.
These shoes hit the road almost as quietly as the Brooks Ghost.
Midsole Cushioning
The PowerFlow + foam provides excellent cushioning and energy return. I am a big fan of forefoot cushioning and; I assure you this shoe is comfortable.
There seems to be a rubbery component in these shoes that just begs to hit the road, the insole also contributes to the springy feel.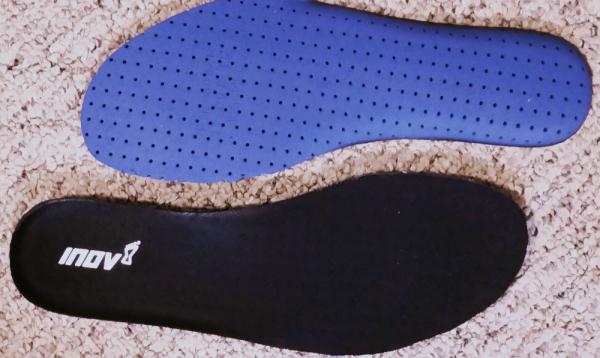 A great deal of consideration by the engineers has been directed into the construction of the midsole; it is not simply a chunk of foam cut to shape.
The Upper
The closed mesh of the uppers is composed of a few very thin and strategically placed overlays. You will have to look really close to find any stitches on these uppers; they are a true sign of great workmanship.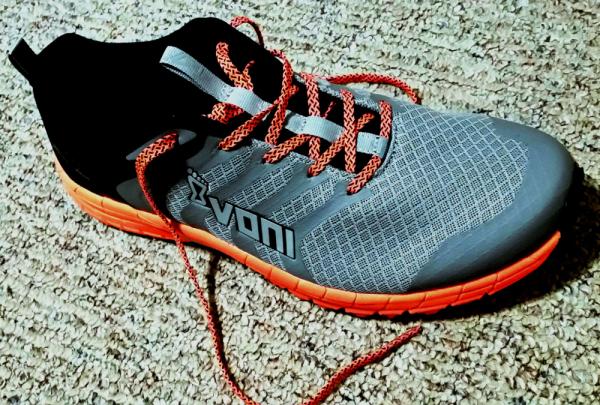 The laces used on the Parkclaw are very flat and very long. I replaced these with some reflective laces, for a bit more safety after dark.
The well-padded tongue and collar add to the overall comfort with heel slippage being minimal. The tongue on this model will not be going anywhere; as it is held in place by laces in three locations along the top of the tongue.
This shoe is also available as a GTX version.
Specifications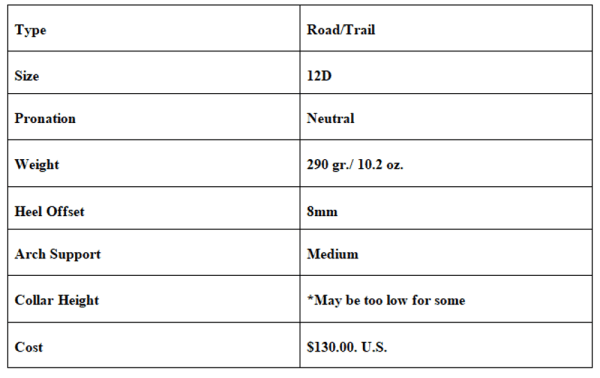 Great cushioning, lightweight and, a roomy toe box are very rare combinations to have all in a single model of a trail shoe. I am sure glad these shoes found their way to my front door, thanks to Inov-8 and RunRepeat.com.
At first glance, these two models do seem to have a great deal in common. They are both light, flexible, and simply beg to go fast.
However, the Inov-8 seems to have gained the advantage over the Brooks in weight, transition, and forefoot cushioning…with a bit more room for your toes as well.
Quick Ratings
Here's my ranking of the Inov-8 Parkclaw 275 as compared with the Brooks Ghost 10 and Brooks Launch 4 based on four parameters.

Pros
Intelligent design
Transition to toe-off
Quality
Cons
Ankle touches/rubs top of the collar
Needs reflective strips for after dark
Maybe a little expensive
Summary
By not relying on some super-advanced composite materials, but rather on time-honored materials and diligent quality control, Inov-8 has delivered us a really great and, a fun multi-purpose road to trail shoe.
Several weeks ago, I was not even sure how to pronounce their name, and now they have become one of my favorite shoes.
Cheerio mates! Now Let's Run!