Our reviews
If I was to describe the Inov-8 Trailroc G 280 in one word, that word would be 'Warhorse'. And as you read through this review you'll see why!
Let's face it, when you turn up at any trail, fell or ultra-distance event, you'll always see a large percentage of the runners wearing Inov-8 trail shoes; and there has to be a good reason for this!
I have to confess, despite having been a trail and ultra-distance runner for 10+ years and been witness to this, I've never actually owned a pair of Inov-8 running shoes.
However, after winning review of the month for a review I did on the Salomon Predict RA RunRepeatSalomonPredictRA those encouraging people at RunRepeat awarded me the opportunity to obtain a free pair of running shoes for testing and I felt now was the time to change my barren Inov-8 life!
So, after looking around at various options, I decided to go for the Inov-8 Trailroc G 280.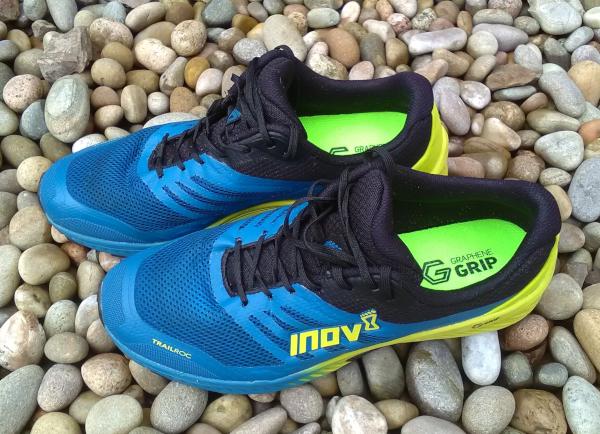 One of the attractions to this particular shoe was that they come with Inov-8's new and unique graphene-infused rubber outsole.
There are many other great features to the shoe, which I'll go on to tell you about, but Inov-8 states that this new revolutionary graphene infused outsole; "helps deliver insane sticky grip AND increased durability. NO compromise."
I'll provide you with some detail of how the shoe performed over the testing period on a variety of wet and dry surfaces and terrains, but first let me give you some information on the actual specifications of the shoe – Or what feels like more the armour for battle!
The Inov-8 Trailroc G 280 - Specifications
The Inov-8 Trailroc G 280 is a trail shoe designed for technical and rocky hard-packed trails. It's also designed for all distances and comes with a good level of protection and cushioning (I was personally very interested to see how it would deal with ultra-marathon distances).
The shoe has a midsole stack height (midsole only) of 20mm / 12mm, which means an 8 mm drop (heel to toe differential). This is a fairly standard drop and usually means a bit more cushioning and comfort.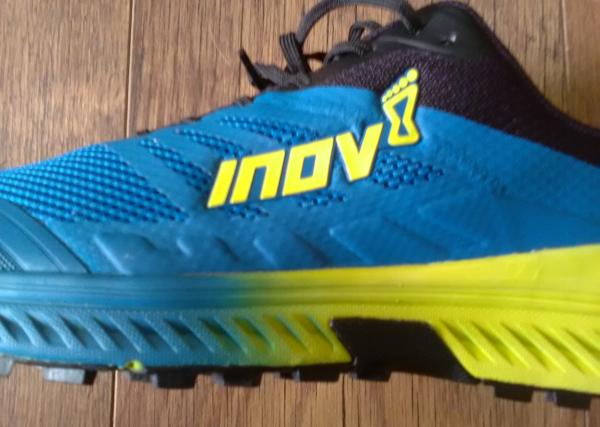 The lugs on the outsole have a depth of 4mm - This is a good depth for those hard-packed rocky trails, but not for soft muddy ground or fells. For this you might be better with deeper depth lugs (i.e. 6 or 8 mm).
Inov-8 is the first – and only – brand in the world to use graphene (the planet's strongest material) in sports footwear.
They infused it into the rubber outsole, and I was very keen to see just how good the grip and durability actually were, especially on wet rocks.
The Trailroc G 280 comes with a Meta-Plate rock plate, and this gives you good underfoot protection from sharp debris or protruding rocks. The rock plate is also designed to flex with your foot's natural running gait.
Inov-8 also included something which they call Poweflow + midsole technology, and say it provides 10% better shock absorption and 25% better energy return than a standard midsole. Together with the 8mm drop, this will definitely aid underfoot comfort and cushioning.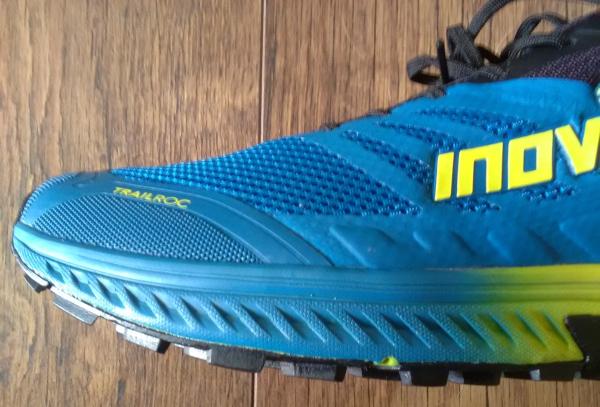 The shoe also comes with a reinforced welded toe bumper to protect your toes and this is very important as your toes can take a real bashing on this type of terrain.
Inov-8 has designed the shoe with a gusseted tongue and this will minimise any debris entering the shoe.
The tongue itself is actually very thick and padded (which you don't often get on a lightweight shoe). And this means you can dial in the laces to ensure your foot is locked in and they won't bite into your upper foot.
Inov-8 grade the fit of their shoes from 1 to 5 with Grade 1 representing their closest, most precise fit and at the other end of the scale, Grade 5 being their widest fitting toe box.
The Trailroc G 280 is a Grade 3 which means it's not a narrow fitting shoe but neither is a broad fitting shoe - I'm a UK size 9 and find the traditional 'D' width usually fits me well, and I found the Trailroc G 280 UK size 9 to be a good fit in terms of width but a little long in terms of length.
Not excessively long, but long enough to make me think I may actually be an 8.5 rather than a 9 - Just something to keep in mind.
The shoe has a mesh upper and perforations in the fabric increase airflow; creating a healthier environment for your feet. A mesh lining further supplements the G 280's breathability and this further enhances the airflow to keep your feet cool on hot, longer distance days.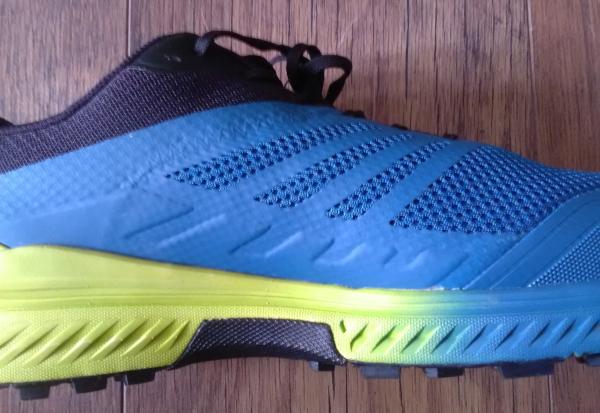 TPU (thermoplastic urethane) overlays wrap the midfoot to increase support, but they also continue along the sides of the shoe, where the upper meets the sole.
This means that as well as providing solid support and protection, the shoe upper will also have great durability - There's no point having tough, durable soles if the uppers are going to fall apart on you!
You can get more detail on the specifications of the Inov-8 Trailroc G 280 from their website, but this lets you see just how much amour they've put together to construct this 'Warhorse' of a shoe.
If you buy a pair of Inov-8 shoes, you'll likely also spot another very unique factor. And that is; on the heel of the shoe you'll see chevrons. These chevrons represent the drop level and each chevron represents 4mm.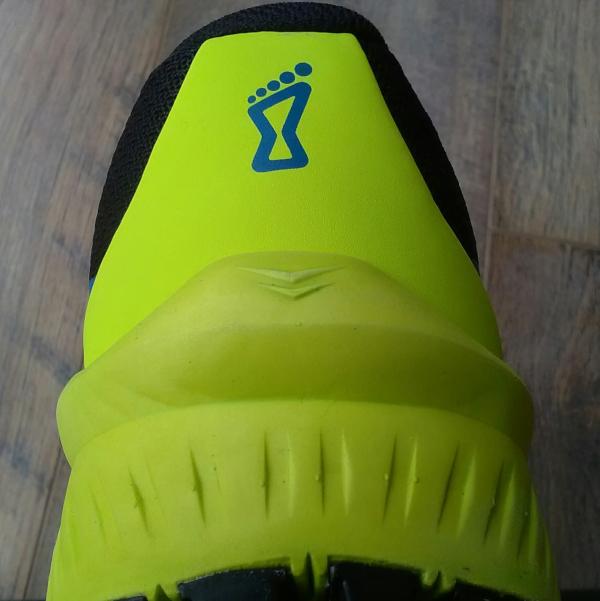 On the Inov-8 Trailroc G 280 there are 2 chevrons and this therefore means the drop level is 8mm.
The Trailroc G 280 comes in 2 colour schemes; the blue/yellow/black (which are in the ones in this review) and grey/red/black and they retail anywhere between £90 and £140.
And last but not least, the all-important weight of the shoe.
The number in Inov-8 shoes represents the weight of the shoe in grams; so the Inov-8 Trailroc 280 G weighs 280 grams (9.9 oz). Inov-8 states the weight of the shoe is determined by the average across the size curve.
So, when I weighed the shoe; as I always do when I unbox them (sad - I know) it actually weighed in at 316 grams.
It's worth keeping in mind that If you're a UK size 9 you won't get a shoe at 280 grams - It will be nearer 316 grams.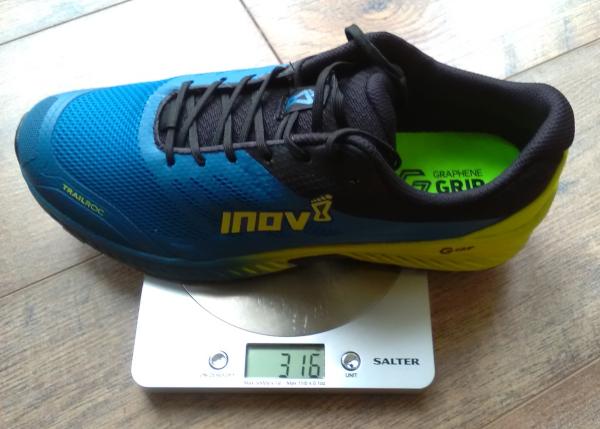 First impressions
So, after all that, what were my first impressions?
The first thing that stood out about the Trailroc G 280 was the bold, but not over the top, colour scheme.
The fade of yellow to blue from heel to toe is a great touch and combined with the black collar and tongue, really works.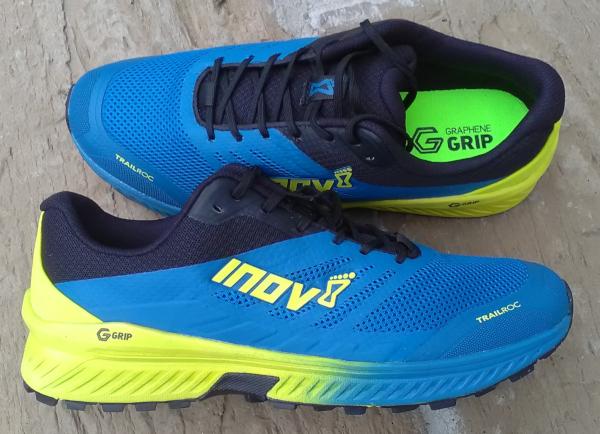 Although it's a luminous yellow it's not going to blind your fellow runners!
The shoe feels very solid and the laces are pretty standard with the lace holes being straight through the shoe itself. When I put the shoe on it felt very comfortable and I could feel the sticky grip from the graphene-enhanced rubber outsole on my wooden floors.
With new shoes I always wear them around the house for at least a full day, just to see if it highlights any obvious hotspots - There were none. However, as I mentioned earlier, I did find the shoe a little long but the width was a good fit. After much deliberation I decided to keep the size 9 and the next day took them out for a spin.
Let the testing begin
I would be testing the shoes on a mixture of tarmac, hard-packed trails, loose gravel & rock type trails, beach, slippy coastal rocks, and rocky ascents and descents. My aim was to cover 50 miles in a week and my hope was to do these types of terrain on both dry and wet conditions.
Following that, my plan was to then take them on a 35-mile run (7 hours) covering the same type of terrain and see how they performed over that kind of distance.
For me to reach the trails I need to run 1.5 miles on tarmac and I was surprised just how well the G 280 did on this surface. Don't get me wrong, they didn't feel like road shoes, but they did prove to be comfortable and cushioned to the point I could easily have gone further on that kind of surface - This was a great start.
As I hit the trails I immediately felt the shoe come to life. This next section of the run was about 4 miles of undulating and uneven hard-packed trails. The Meta-Plate rock plate was great at protecting my underfoot from sharp rocks and protruding roots, and I was surprised just how well it flexed on this kind of terrain - It didn't feel rigid at all.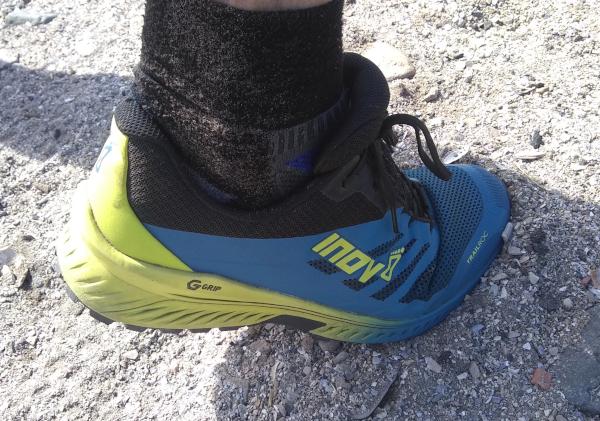 Another pleasant surprise was in relation to the balance between protection and feel. I honestly believe Inov-8 has got it spot on. The protection all round was superb and I had the joy of being able to feel the ground through each step. It was just a real pleasurable experience.
From there the terrain turns to forest trails, more tarmac, and more uneven hard-packed trails, then on to the beach and a mixture of hard and soft sand.
The shoe continued to do well and I was surprised how little sand actually got into the shoe - The gusseted tongue was genuinely keeping debris and sand out.
On this run there are some short but very steep ascents and here I discovered just how flexible the Meta-Plate rock plate really is.
here are some short but very steep ascents and here I discovered just how flexible the Meta-Plate rock plate really is.
On this steep gravely ascent you can see just how much flex there is.
I found the G 280 flexed and gripped really well on this kind of terrain.
I was enjoying the run experience that the Trailroc G 280 was giving me, that I ended up doing 18 miles instead of 10 - And for a first run it seems fair to say that this shoe needs a very little, to no, break-in period.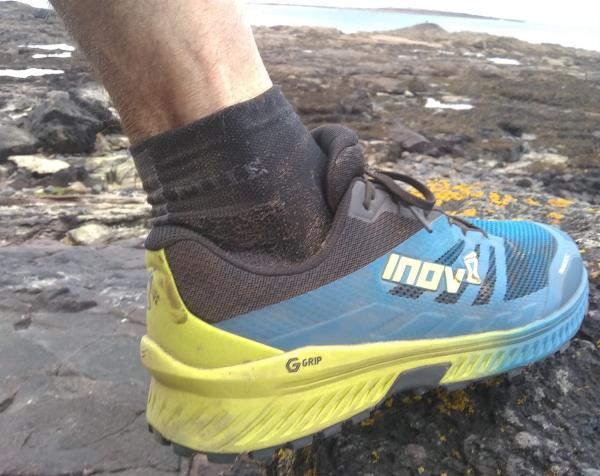 Unfortunately, during this testing period, there was no rain whatsoever so I was unable to actually test the shoe in wet conditions. But what I did do, was to head down the coast on a 24-mile run and cover a few miles on some slippy coastal rocks.
You can see from the picture the kind of surface I mean - This stuff can be very slippy and treacherous!
I have to say the Trailroc G 280 with its graphene infused outsole handled this very difficult and treacherous terrain really well.
This is an area I've run on many occasions and in many different running shoes. So, for comparison purposes, the only shoe that I'd say bettered the G 280 was the Salomon S-Lab Sense Ultra – I had the original version from a few years ago.
During the testing period it was not excessively hot but hot enough for me to feel the breathable upper mesh at work cooling my feet - It gave me the confidence to expect that on hot days my feet would be looked after.
During this 24 mile run the G 280 was very supportive and extremely comfortable to run in. The only issue for me was that my toes had a bit too much room and I found myself with a nagging feeling that I should have tried the UK 8.5 size. Anyway, that said, I had no 'hot-spots' whatsoever, and the thickly padded tongue meant I could dial in the laces and have a secure fit throughout the duration of the run.
Over the course of the testing period the toe bumper did its job too and my feet were extremely well protected, even when I accidentally kicked some sizeable rocks – As I always seem to do!
Very few shoes offer you this kind of support, comfort, protection and secure fit - For me, the G 280 was so good, I could actually just put them on and forget about any feet worries.
Durability
Although the pictures I have here are after only 50 miles they definitely give you a glimpse of what to expect.
I'm confident that with the Inov-8 Trailroc G 280 you will have a shoe that will be very durable. Both in terms of the graphene infused outsole and the really well constructed upper. In fact, as you read on you'll see I've now taken them to 196 miles.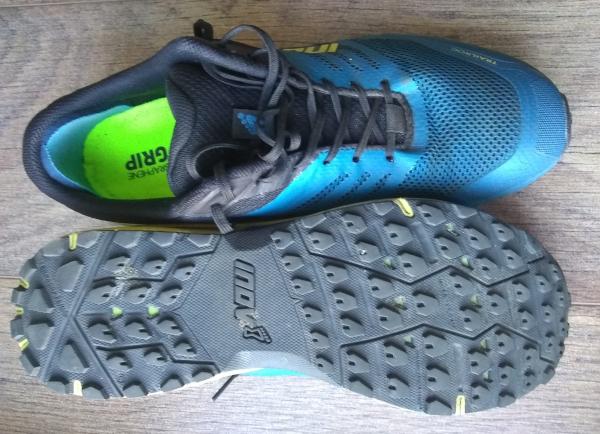 This picture shows you that there is virtually no wear and tear to the upper.
And the graphene infused outsole also shows no signs of wear down - Even on the lugs.
The only thing I noticed was that the original high level of grippy, almost sticky feel the outsole had was now gone - In saying that, the shoe still had a very good grip.
In terms of the sides of the shoe, and in particular, where the upper joins the outsole, you can see (again) that there are no signs of wear and tear.
This is a solid, well-constructed shoe.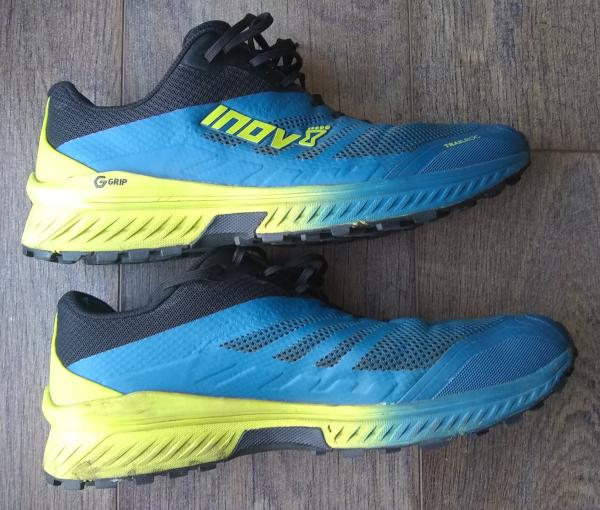 The armour of the Warhorse is going to last a long time no matter how hard the battle!
My conclusion
As I write this review I have now done a total of 196 miles and this has included that 35-mile run I mentioned earlier.
In terms of durability; if I was to take pictures now, they would look exactly like the ones I've shown you - There is still next to no wear and tear on the uppers and wear down on the graphene infused outsoles.
Over the course of the 35-mile run (7 hours 17 minutes), I covered all of the terrains I mentioned earlier and put in a 500+ steep and rocky ascent and descent and the shoes were absolutely outstanding - I'm convinced they could have taken me as far as my legs could have gone, and that's great news as, lock-down permitting, I have a 100-mile trail race coming up in September!
For me, the Inov-8 Trailroc G 280 is a fantastic shoe and a genuine 'go-anywhere' shoe. It comes alive on those dry rocky technical trails but copes with anything you throw at it. It feels like it's a shoe that is born to fight and fight tough - It's a real 'Warhorse' of a shoe.
Updates to Inov-8 Trailroc G 280
Rocky trails and complicated off-road paths are the territories of the Inov-8 Trailroc G 280. This product is designed to perform and provide confidence to people who are ready to take to the great outdoors. A durable construction governs the whole silhouette, with a graphene outsole and a print-reinforced upper contributing to a well-made product.
Size and fit
The standard sizing schemes have become the basis of the creation of the Inov-8 Trailroc G 280. Runners are welcomed to get a pair with their usual sizing expectations in mind. However, it would be highly beneficial if personal testing of the shoe is done or if reviews from different sources are observed.
The in-shoe environment and fit are influenced by the upper and the structure adherent to the natural curve of the foot. For this running shoe, the coverage is made of a seamless mesh, the overlay system is printed, and the sole unit has a semi-curved shape. It is worth noting that some user reviews have complained of toe-bunching because of the restrictive toe-box.
Outsole
The outsole unit of the Inov-8 Trailroc G 280 is made of graphene, a material that is touted to be one of the most durable in the market of outsoles. The purpose of this layer is to shield the midsole form the abrasive nature of the trails. It is also meant to last long and perform optimally, even after many uses.
Traction nodes pockmark the external pad. These semi-prominent protrusions act like claws that clamp onto irregular trail surfaces. They have flat ends to help the runner transition to the roads at any time.
Meta-Flex™ is a groove near the forefoot section that makes the platform more adherent to the bending of the foot during the gait cycle. The toe-off benefits the most from this feature because it is the point where the toe joints bend.
Midsole
POWERFLOW+ serves as the midsole unit of this product. This technology is touted to provide 10% better shock absorption and a 25% increase of energy during the forefoot lifts than the industry-standard cushioning systems.
META-PLATE is a layer between the midsole and outsole that is tasked with protecting the foot against stone bruising and exposure to jagged surfaces. This plate is flexible enough to follow the natural motion of the foot as it goes through the heel-to-toe cycle.
Upper
The upper unit of the Inov-8 Trailroc G 280 is made of a seamless mesh. This feature is designed to wrap the foot and keep it secure at all times. The open pores and grid-like structure of the netting are elements that encourage breathability. Open-mesh uppers grace many products like the Nike Downshifter line.
The toe bumper of this product has been welded onto the textile. The add-on acts as a barrier against trail debris, thus maintaining a pain-free off-road traversal.
Printed overlays permit the foot to remain secure while inside the foot-chamber. In-shoe wobbling and accidental shoe removals are prevented by this accouterment.
Compare popularity
Interactive
Compare the popularity of another shoe to Inov-8 Trailroc G 280:
Inov-8 Trailroc G 280 video reviews