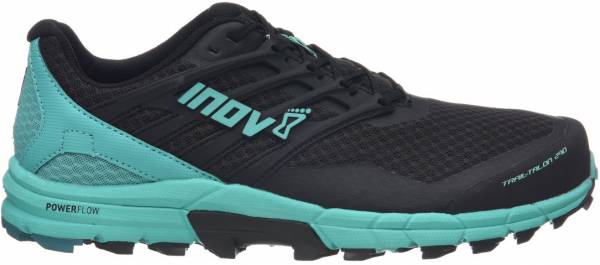 Based on user reviews, the Inov-8 Trail Talon 290 is well-received by most trail runners. The shoe gained positive feedback when it comes to design, fit, and performance on rugged conditions. Overall, the shoe is an impressive release. It is a great option for runners who are looking for lightweight, affordable, and high-performing running shoe.
---
Verdict from 5 experts and 100+ user reviews
6 reasons to buy
Many users expressed their satisfaction with the Inov-8 Trail Talon 290 because of its wide toe box.
According to a few user comments, the shoe fits perfectly as advertised.
Some users admired the lightweight design of the Trail Talon 290.
This trail running shoe is well-designed and durable, based on some observations.
A few runners noted that the shoe performs well on rugged surfaces because of its grippy outsole.
Several buyers mentioned that the shoe is very comfortable.
1 reason not to buy
One user said that the shoe needs more cushioning.
Bottom line
Based on user reviews, the Inov-8 Trail Talon 290 is well-received by most trail runners. The shoe gained positive feedback when it comes to design, fit, and performance on rugged conditions. Overall, the shoe is an impressive release. It is a great option for runners who are looking for lightweight, affordable, and high-performing running shoe.
Best price from 50 shops
We earn affiliate commissions at no extra cost to you when you buy through us.
82% say it's true to size.

Our reviews
I tested these along with two other pairs of trail shoes, switching between each pair run after run.
The three shoes in question are the Trailtalon 290 and Parkclaw 275 GTX both from Inov-8 along with the minimal Primus Trail FG from Vivobarefoot.
I smashed a lot of miles in all three shoes on hard & soft muddy tracks, gravel paths, wet & dry sand, and on the road.
Here's how the Trailtalons stacked up.
Design
I quite liked the look of these out of the box, I thought the bright blue was striking and it definitely caught my eye. However, after putting them on, I wasn't as keen on the color.
As a pure running shoe, it's fine but I felt like I couldn't ever wear these as a casual shoe.
I'd much rather stick to my Vivobarefoot Stealth 2's for everyday use as they're a little more understated and don't draw unwanted attention.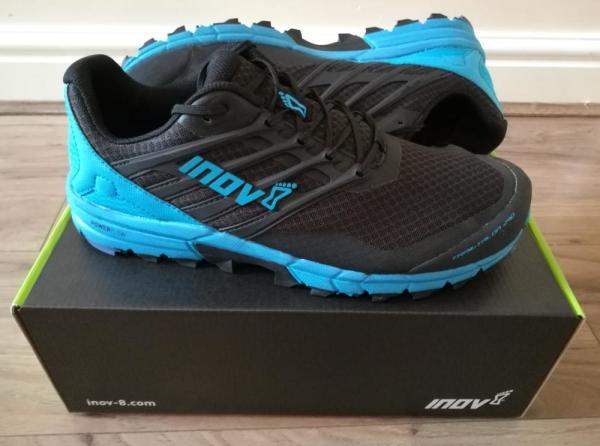 In my size the Trailtalons came in quite weighty at 330g. I'm not sure which size the 290 number is from (Inov-8's shoe coding system using weight).
Obviously, they're not designed to be lightweight speed beasts but being a fan of minimal running shoes like the Vibram KSO Evo's and knowing how comfortable they can be over long distances on the road, I have to wonder what all the added weight really achieves… but perhaps that's an argument for another day.
The sole is designed with different rubber compounds for different areas. Hard and durable at the heel, softer up the middle to the forefoot and very soft around the edges.
Inov-8 claims the softer rubbers are for traction but I have some problems with it being too soft (see performance section).
I think it would have been better to have all of the sole rubber in the harder heel compound and allow the midsole to do the job of cushioning on its own.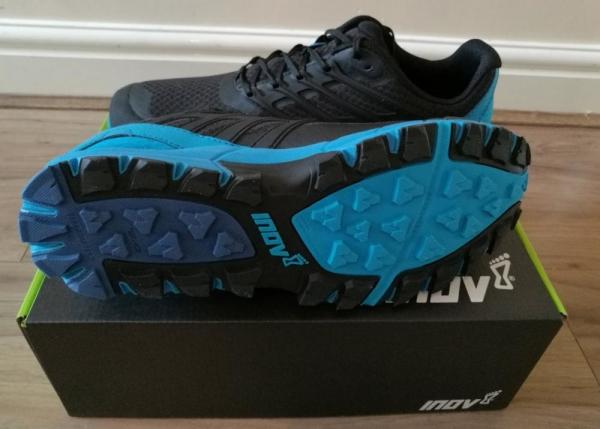 Safety
These trail shoes aren't covered with dozens of redundant safety features (I never did really understand the need for reflective strips on trainers), but the guys at Inov-8 are smart enough to know that when you're running up a hill or down a rocky track you might occasionally kick something hard!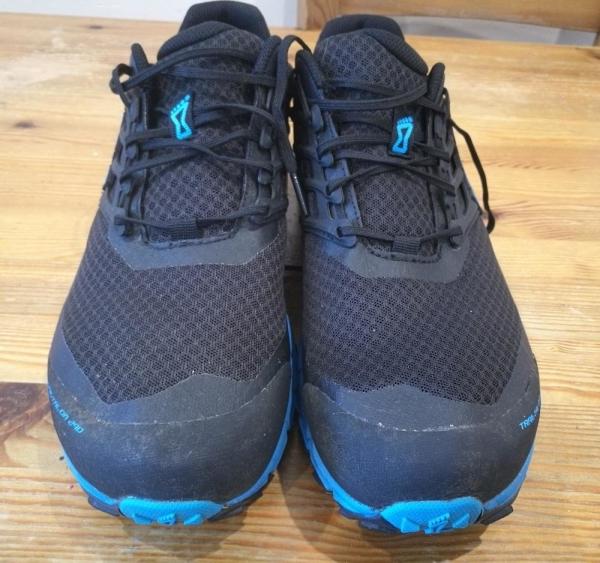 To help with this potential hazard there's a tough rubber toe bumper that's very durable… and I can confirm it works! The tongue is also gusseted so that grit and gravel can't work their way in the shoe too easily.
It's worth mentioning that on the Inov-8 website, there's something about being able to attach gaiters to the Trailtalon 290 though I didn't test this.
Flexibility
Both the sole and upper on the Trailtalon 290 have decent flexibility.
Obviously, it's nowhere near as good as with a minimal shoe like the Vivobarefoot Trail FG but considering the sole thickness, I was impressed.
Inov-8 designed the sole with something they call meta-flex technology which seems to be some sort of bend line across the midfoot of the sole. It appears to work though I'm not convinced it needs the fancy name.
Fit
The first thing I noticed about the Trailtalons was how comfortable they are. The upper fabric is very soft and flexible with a decent amount of room in the toe box.
The tongue and collar are very soft and well padded, in fact, the whole inner is really nice. Great for running on colder days with plenty of comfy warmness.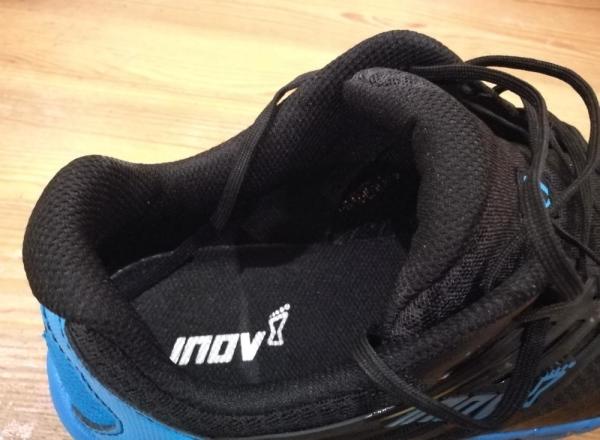 The heel cup is supportive however after only a few times putting the Trailtalons on and taking them off again it feels as though it might be failing a bit already.
I'm not sure how much life it has in it but I fear that it will become uncomfortable long before the sole wears out, which isn't good news.
The lacing system uses a TPU cage-like design which Inov-8 call Adapterfit.
I was so impressed with the comfortable fit of the Trailtalon 290's that I decided to contact Inov-8 to ask for some more detail on the Adapterfit technology and the science behind it (if there is any).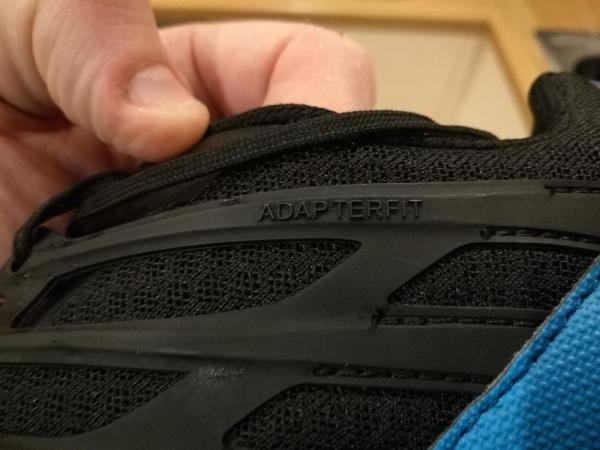 They did get back to me but I didn't learn a lot from their answer which leads me to believe that the tech could be more of a sales gimmick.
That said, they are darn comfy and after a very short break in period, I didn't get any more blisters on them. I also can't be sure whether or not they do adapt to my feet as they swell, maybe they do... so I can't knock them too much!
Inov-8 email
Hi James,
Thank you for your patience. Our product team advise that the adapter fit technology is a TPU upper fit system that reduces pressure over the instep of the foot, and through the construction adapts to the swelling of the foot when running over longer distances this increases comfort and reduces the chance of blistering.
I hope this is of some help and please let me know if you need any further information or assistance.
Grip
The Trailtalons are designed for hard packed trails and paths and for those things the grip is great, as long as it's dry.
As soon as you hit a bit of loose top surface or mud, things get "interesting" quickly.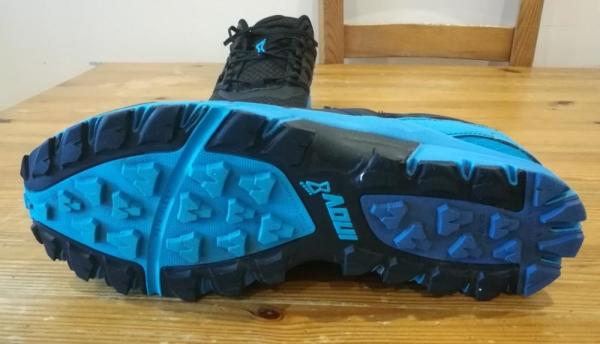 I did find that they were actually pretty decent on the road and on wet sand they performed admirably.
I think I see these as more of a dry/summer groomed trail or rocky track shoe. For me, the sole on the Parkclaw 275/275 GTX beats these on every terrain.
Support
As well as being incredibly comfortable, the Trailtalon 290's are very supportive.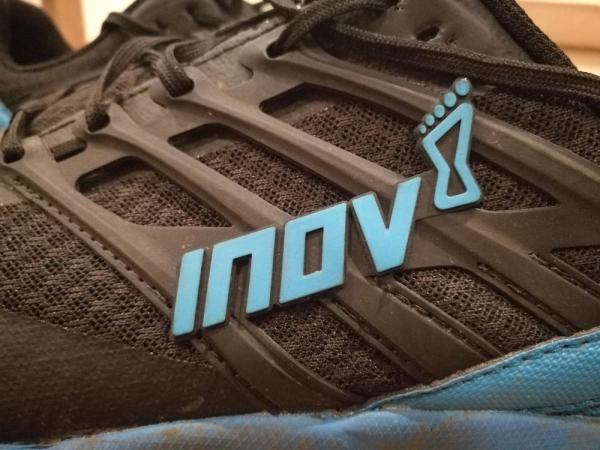 I don't know how well the Adapterfit cage works in terms of adapting to fit but I think it definitely helps to add support.
The heel cup does an adequate job and there's very minimal slippage on runs.
Performance
What can I say, I thought the Trailtalon 290's would be amazing when I first put them on because they were so comfortable. But when I got out there on them, they just felt lacking somehow.
I finally put my finger on it after a few runs. These are designed for longer runs on hard trails so the guys at Inov-8 have made the sole extremely good at absorbing shock.
The problem is for me as a forefoot runner, it's way too much, to the point that it feels as though I'm constantly losing momentum and this is the last thing I want with a long run because it means I have to put more effort in.
I much prefer the more responsive soles on the Parkclaw 275 GTX and Trail FG. And although the Parkclaws are heavier they don't hold me back, even on long runs.
I'm not sure if a heel striker would have a better run in these because of how the sole is designed (see design) but for me, they really didn't perform as I'd hoped they would.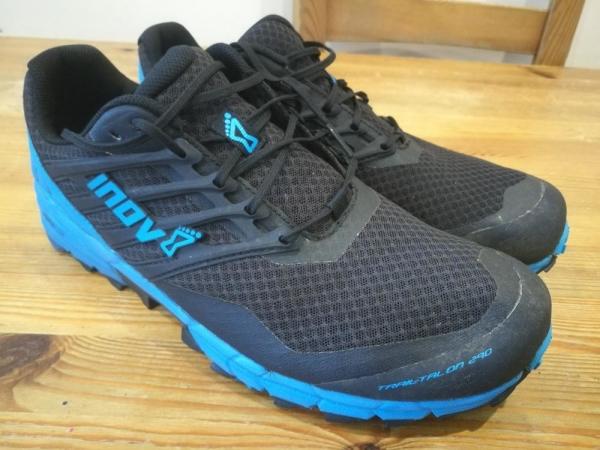 Bottom Line
If you could take the sole from the Parkclaw 275's and stick them on the upper from the Trailtalon 290's then I think you'd have a really good, multi-terrain running shoe.
Unfortunately, that's not the case and I was left feeling tired and deflated after each stride in these.
Out of the three trail shoes I tested these came last. That doesn't mean to say they're terrible shoes, there are just a few crucial areas that these could be better in.
Inov-8 claims that Trail Talon 290 is made for longer miles on all types of trails around the world (perfect for hard-packed trails). Its protective toe cage and outsole with tremendous traction all contributed to its decent performance on most of the trails.
However, it does not seem to perform as well as Inov-8 has promised. In longer distances, it lacks the support over the entire running motion as muscle fatigue kicks in.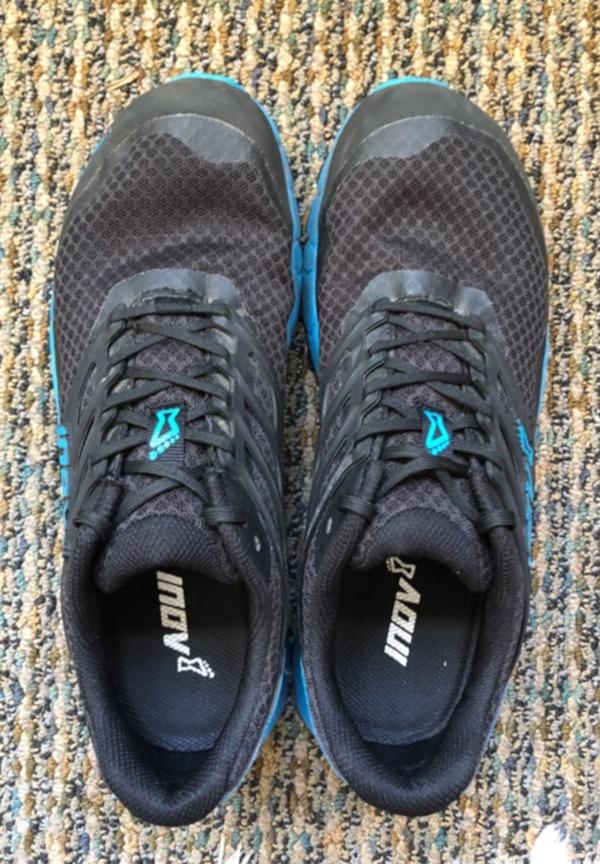 On the other hand, Trail Talon 290 is a bit clumsy as it maintains 9.7 ounces weight. Other lightweight trainers and flats from (Hoka, Nike, Adidas) that only weighs about 4 ounces will provide a much better experience for tempo runs or speed workouts. Thus, Trail Talon is more suitable for mid-distance easy runs.
Specification
| | | | | | | |
| --- | --- | --- | --- | --- | --- | --- |
| Arch Support | Weight | Heel Drop | Forefoot Height | Heel Height | Width | Release Date |
| Neutral | 9.7 | 8mm | 17mm | 25mm | Normal | N/A |
Rundown of the amazing features
Great protection around the toe box
The rubber protection around your toe can gear you against any accidental kicks on rocks or other hard objects. I purposely tried to kick at a few roots and rocks during a run, and my toes felt nothing.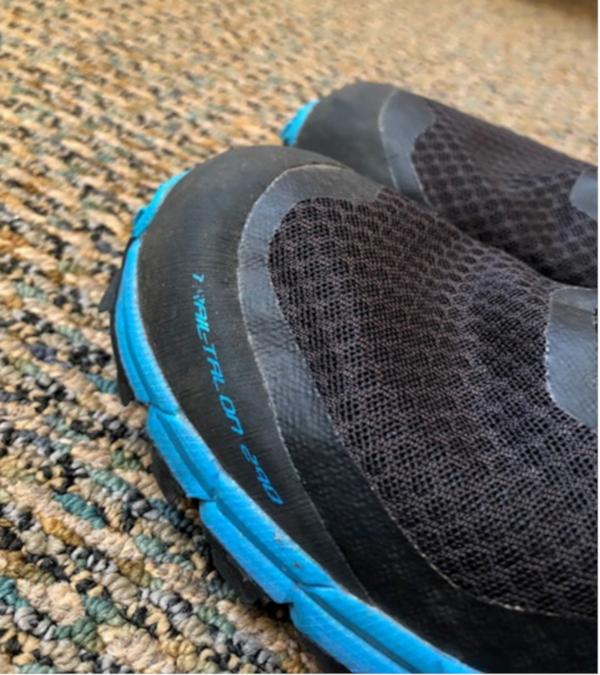 Tight lacing system
Often times, when I try to tie my shoe loop by loop, the former one always comes a bit lose as I let it go and move on to the next one so I could never get to the tightest.
The lacing system on Trail Talon solved this issue. The rubber flanks lock the shoelace in place so as I move onto the next loop, the previous one is still tight. Sometimes it even does too good of a job that my foot hurts a little after my run.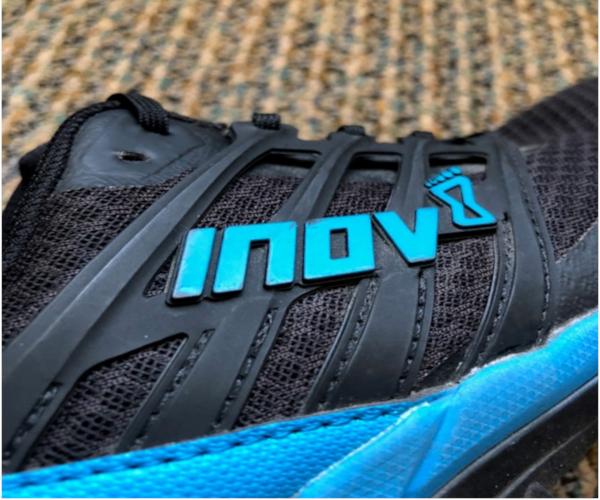 Aggressive grip
Inov-8 has always done an amazing job at the treads and outsole. The 4mm treads can tightly grip to the most of the surfaces, dry or wet. Even when I was running in winter with snow on the ground, I rarely lose traction.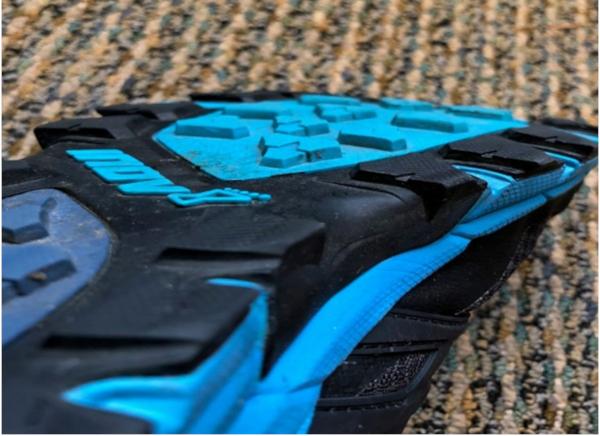 Rundown to the not so satisfying features
Flexible upper
Inov-8 claims Trail Talon has a very flexible upper that provides optimal comfort. However, I find it too flexible.
While running on some uneven surfaces, a hard supportive upper like the Parkclaw will come in handy to prevent a sprained ankle while with Trail Talon, the upper is more or less a piece of cloth, flexible indeed but not supportive at all.
Firm midsole
Trail running does not need massive cushioning as road running requires. In long distance runs, a moderate cushioning and good energy return could increase the running economy and help prevent injury.
Trail Talon's midsole provides a close-to-barefoot experience as if I was running without shoes. It felt great in mid-distance. But as I increase my mileage, the shoes seem more clunky and clumsy. My shin was slightly irritated after a few of the long continuous runs around 8-10 miles.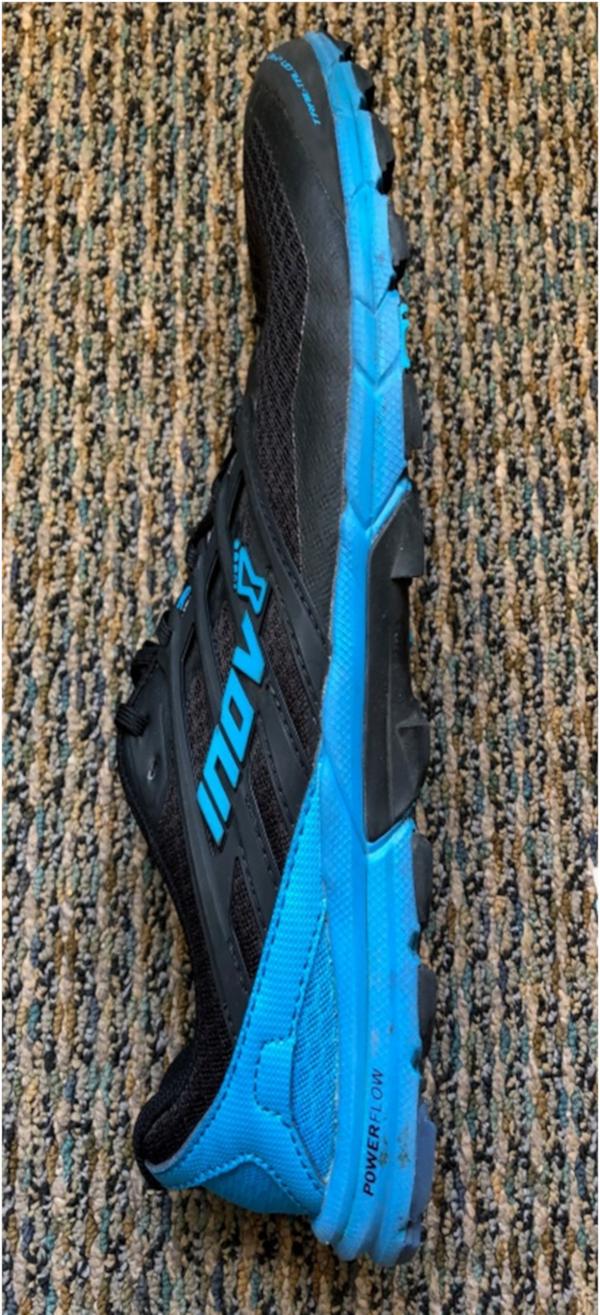 Summary
It is a decent running shoe, even though not as optimal as Inov-8 has promoted. If you are looking for a mediocre trail shoe for easy runs, it might be a good fit. However, if you need some support during running or want to do tempo runs, there are indeed better choices with better price out there.
Updates to Inov-8 Trail Talon 290
The Inov-8 Trail Talon 290 is a trail shoe that's created for those who have neutral pronation. It's also optimized for packed topography and moderately tricky surfaces. Its façade has a somewhat-bulky look to it, with printed overlays and stitched layers bolstering it. But it's not as hefty in design as most of its peers in the trail-running market.
A moderate level of cushioning is employed in this product. A not-so-thick platform provides cushioning and support throughout the running session. A semi-rigid layer delivers a propelled forefoot lift. The exterior section has multiple rubber compounds to ensure grip and protection from abrasion.
Size and fit
The standard measurements were used in the making of the Inov-8 Trail Talon 290. It is capable of adhering to the usual choices of consumers when it comes to size. The available widths are D – Medium for men and B – Medium for women.
The Inov-8 website lists this running shoe as one that has a rating of 4 on their Fit Scale, which means that it has a medium-to-wide coverage.
Outsole
Three rubber compounds are used for the outsole unit of the Inov-8 Trail Talon 290. These elements work together to deliver a performance that's meant for the trails. The amalgamation is known as the Tri-C rubber compound.
The first material is called the Soft Sticky Rubber, and it's meant to heighten grip on wet surfaces. Its malleable nature potentially adds a bit more cushioning for the foot. The second compound is named Hard Sticky Rubber, and it doles out traction while having a durable build. The final piece of the Tri-C union is the Endurance Rubber, and its job is to deliver long-lasting performance over a variety of terrains.
The Trailclaw design makes use of aggressive, multidirectional lugs that are 4mm in thickness. These protrusions pockmark the external pad, including the perimeter. Upward and downward traversals become more manageable with this useful optimization.
The Meta-Flex™ is a horizontal groove placed on the forefoot section. Its goal is to encourage the natural flexibility of the wearer's foot.
Midsole
The Inov-8 Trail Talon 290 features the 2-Arrow Shock Zone, which is the Inov-8 descriptor for midsole units that provide moderate levels of cushioning.
Powerflow is a two-piece foam compound that's responsible for carrying the foot throughout the running session. It's touted by the Inov-8 to dole out 10% better impact absorption and bring 15% more energy for the foot.
A rigid lever limb called Dynamic Fascia Band is placed within the midsole. It aims to act as the tendons and muscles of the underfoot, supporting them and enabling a responsive lift during the toe-off.
Upper
The upper unit of the Inov-8 Trail Talon 290 utilizes a synthetic mesh. It's meant to be lightweight and breathable. Its minute breathing pores allow airflow into the foot-chamber while warding off small debris.
A traditional lacing system is at work in this product. It's supported by a TPU cradle on the sides. These features enable a snug yet customizable fit.
A rubber bumper on the forefoot section protects the toes from abrasive debris and potentially harmful surfaces.
There are gaiter hooks on this shoe. These pockets allow gaiter attachments to be added to the façade, thereby heightening protection from the hazards on the trails.
Rankings
How Inov-8 Trail Talon 290 ranks compared to all other shoes
Popularity
The current trend of Inov-8 Trail Talon 290.