When I heard that Inov-8 were making the Parkclaws I was pretty excited. I have owned several pairs of Inov-8 shoes up to this point and for trail running they have been fantastic.
I am also a big fan of Parkruns so when Inov-8 announced they were making a shoe for running to the park, around the park and back again, I was definitely intrigued and could not wait to see if they could live up to my expectations.
I was lucky enough to be sent a pair by Inov-8 to test but I have tried not to let that affect my opinion of them. Despite being the happy owner of many running shoes the idea of a do everything shoe is too good to resist.
Could the Parkclaws really be that shoe?
Design
The design here is very similar to the Inov-8 Trail Talon 275s as you can see from the picture below (Parkclaws are on the left).
This is absolutely no bad thing as the Trail Talon is a comfortable, relaxed looking shoe that fits straight out of the box so I am not surprised that Inov-8 have stuck with the design.
The Parkclaws have a broad synthetic mesh upper with excellent protection around the toe and heel.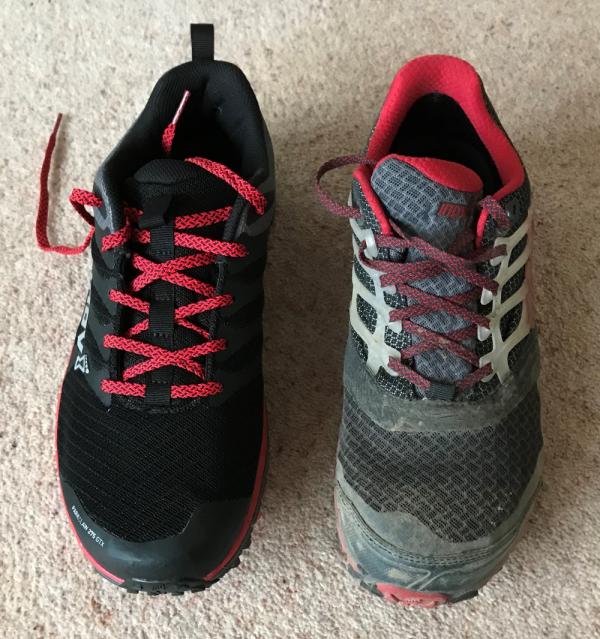 The collar and tongue are thick and well-padded with a thick, chunky sole underneath. There are tabs on the heel and tongue to help getting the shoes on and off but the tongue tab did get in the way a bit when tying the laces.
A small thing which probably tells you how good I think these shoes are. The upper is made of a single piece of lightweight mesh which is flexible and easy to clean.
The chunky look and feel mean they could just as easily pass for a lightweight hiking shoe as a trainer and you could happily wear them casually all day as well as running in them.
How do they feel?
There is lots of padding around the tongue and collar which makes the Parkclaws comfortable straightaway. These are one of the most comfortable shoes I have ever tried, almost slipper like.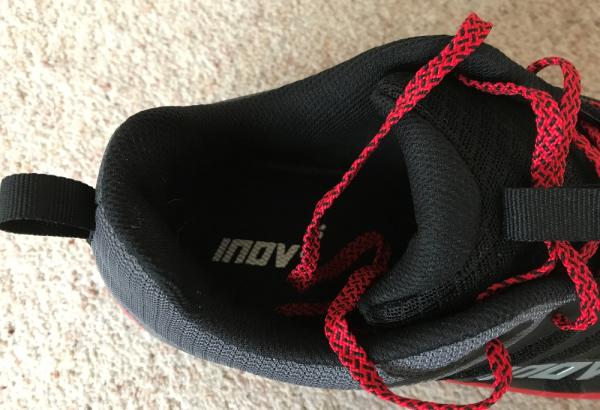 The upper is wide and the toe box is very roomy meaning your feet have plenty of room to swell and they never feel tight or constricting. They are true to size and the 10.5s that I wear in pretty much all running shoes were fine.
The laces and eyeholes are excellent. The laces grip well and the holes provide plenty of adjustment options meaning your feet remain secure with no slipping or rubbing even though they never feel tight.
The laces have a rough texture that means once tied there is no chance of them coming undone.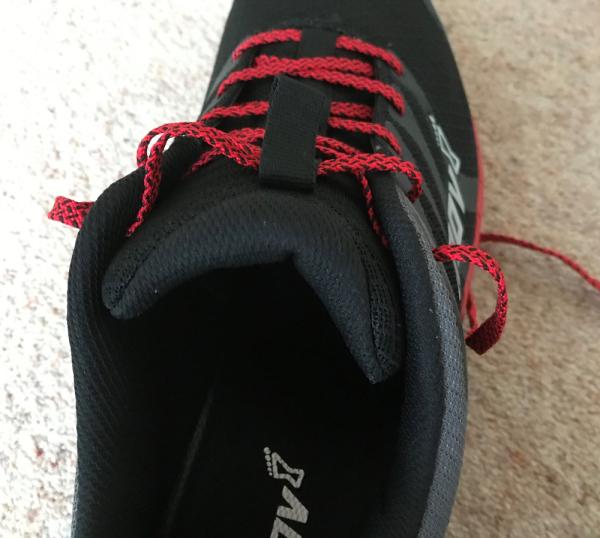 The Parkclaws feel light and soft with the cushioning obvious when you put them on. They feel quite wide compared to a road shoe but also robust and secure and I expect them to last well.
They do not feel snug and your feet never feel squashed or restricted which is good. However, if you like your feet to be cosseted and hugged by a shoe you won't get that with the Parkclaws.
The Goretex membrane means they are cosy in the cooler months but they I don't expect them to feel too hot when the temperature rises though I have only tried them in cooler conditions so far.
The Parkclaws are not particularly flexible but that adds to the feeling of robustness and strength and gives me the confidence to carry on when I might have turned back in something less substantial.
My feet always felt planted on the ground and I was never worried about slipping or turning an ankle.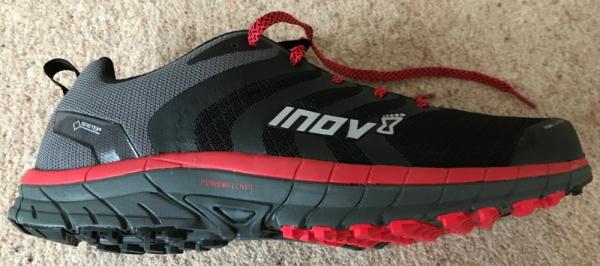 I have run with the Parkclaws on the road to reach a trail and they felt fine. The Powerflow midsole gave plenty of cushioning and energy return on the road and once you get off road they carry on quite happily.
The grip is good on packed trails and grass but I will stick to the TrailTalons or Mudclaws when it gets muddy as the lugs on the Parkclaws are not that deep. Coupled with excellent Goretex membrane they are great for running through damp grass and do feel properly waterproof.
What about underneath?
The sole of the Parkclaws is not that different to a sturdy road shoe such as the Mizuno Wave Inspire or Asics GT-2000.
The lugs are a little deeper as befits something that is going to tackle more trails but the shape of the sole overall is like a road shoe. The lugs are well spaced around the perimeter of the shoe and early impressions suggest they should be fairly durable.
More suited to packed trails and grass than muddy or rocky routes, grip levels are good providing plenty of confidence when changing direction.
The midsole provides lots of cushioning so the Parkclaws feel very soft and cushioned and I would be happy to go long distances in them.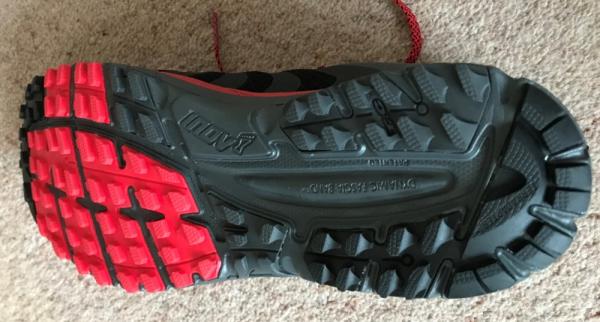 Compared to the Trail Talons the lugs are smaller and closer packed which is what I would expect for a shoe designed to tackle pavements on the way to trails.
There is also less protection underneath on the Parkclaws but on the few runs I have done so far this has not been a problem due to the thickness of the midsole.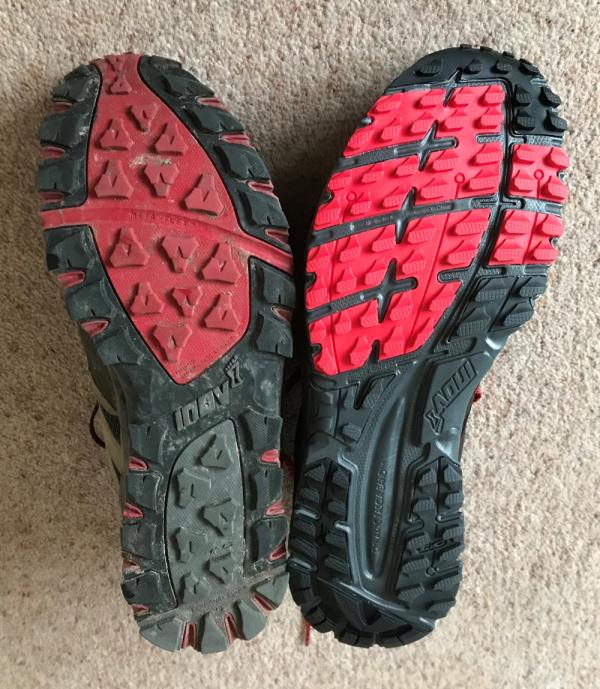 Performance
The Parkclaws, though not heavy or cumbersome, are more about comfort and long distance than all out speed. They are well cushioned but don't feel fast and nimble but then that is not really their point.
They would be ideal for longer trail runs, up to half marathon and beyond but if I was looking for a 5k or 10k trail PB I would go for a Terraclaw or Trail Talon 235 instead as they give a lighter feel and a better idea of what is going on beneath your feet.
However, for running all day on a variety of terrains the Parkclaws would be hard to beat.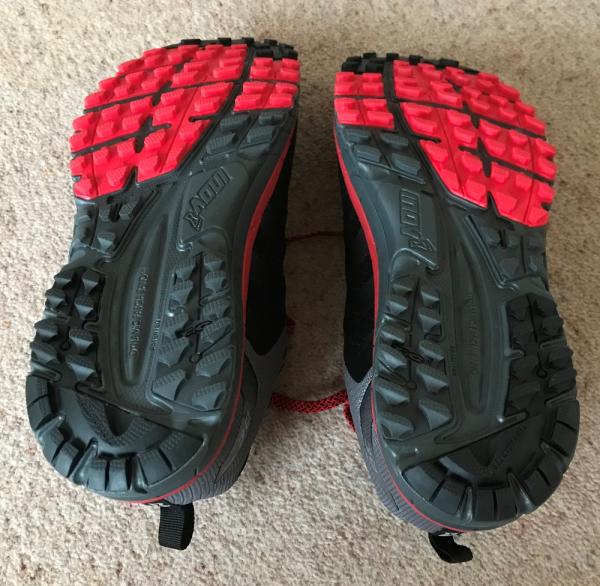 I have run a Parkrun and a few 5 to 10k training runs in the Parkclaws so far and the cushioning and grip has been excellent. No tired or aching feet here.
Conclusion
The Parkclaws are like a pared down version of the TrailTalons. The uppers are almost identical but underneath the Parkclaws have more cushioning and a bit less grip making them ideal for running on the road to do some light trail running.
They are also ideal for park running where the terrain changes regularly or on longer runs where you know the surfaces will be changing. The Goretex membrane works well at keeping the water out without feeling too warm.
I have only tried them in autumn and winter so may need the non Goretex version for when the temperature rises. But at the moment, when it is damp and chilly, they are perfect.
There is no doubt the Parkclaws are an expensive shoe but I feel like you are getting more than one pair of shoes. If I could only take one running shoe on holiday I would take the Parkclaws.
They can cope with pretty much all terrains for running, can cope with a hike and are stylish enough to wear casually as well. The quest for one shoe fits all just got a little bit closer.
I am grateful to Inov-8 for sending me the Parkclaws to test.