Verdict from 9.4 hours of research from the internet
7 reasons to buy
Reviewers commented that the Inov-8 Trail Talon 250 was suitably lightweight on the trails.
The outsole configuration enabled this running shoe to take on dry trail surfaces with ease, one tester noted.
Traction on wet surfaces was also agreeable for many runners.
Users wrote that the toe-box was not too narrow, that it allowed the toes to splay naturally for comfort and balance.
One running blogger wrote that this feather-light running shoe was fast and that it was a joy to run in.
A professional runner was very positive about the Trail Talon 250, saying that the breathable coverage was top-notch, the tread pattern was efficient, and the forefoot area was well-protected.
A reviewer pointed out that this running shoe had less cushioning than its sister shoe, the Trail Talon 275, but it was still very comfortable on all runs.
1 reasons not to buy
A runner noticed that it was able to perform well on shorter runs because it had a low drop and lesser cushioning than the Trail Talon 275, but it's not for long off-road adventures.
Bottom line
The Inov-8 Trail Talon 250 was widely praised for its lightweight disposition, its efficient outsole, and comfortable design. Many said that it helped them achieve great performances on the trails. Though one runner noted that it didn't stay comfortable when taken on longer runs, it still performed admirably as a reliable off-road running shoe.
Tip: see the best running shoes.
Our reviews
I have been an avid Inov-8 fanboy ever since I tried my first pair of Inov-8 X-Talon 212. For dry runs on easy terrains the X-Talon is a bit overkill and in the summertime, they get too warm. I, therefore, started to search for a lighter Inov-8 shoe for less rugged conditions.
Quietly hoping to find a low-stack, low-drop, well-ventilated and a bit more road-friendly version of the X-Talon. After some serious googling I decided upon the Trail Talon 250, which at that time was endorsed by several top-notch ultra (UTMB) runners.
Did I get what I was looking for? Well, not entirely!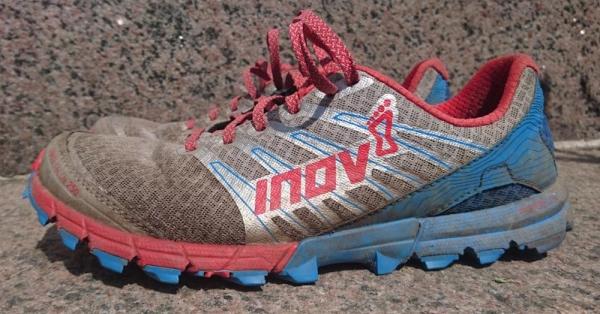 Looks & Design
I got myself the blue, red and silver Trail Talon 250 (see photos). In my mind not an overly sexy looking shoe, but who cares? Trail running shoes are tools - not fashion statements. They have come in other colors, some which are more aggressive looking.
Still, I generally find the Trail Talon 250 models to be a bit bland/boring. Mind you, design preference is highly personal - and if you like the look of the Trail Talon, don't let my simplistic opinion spoil your fun!
Upper
The upper is made of an open-weave synthetic fabric, which allows heat and moisture to escape. This is good for warm and dry conditions.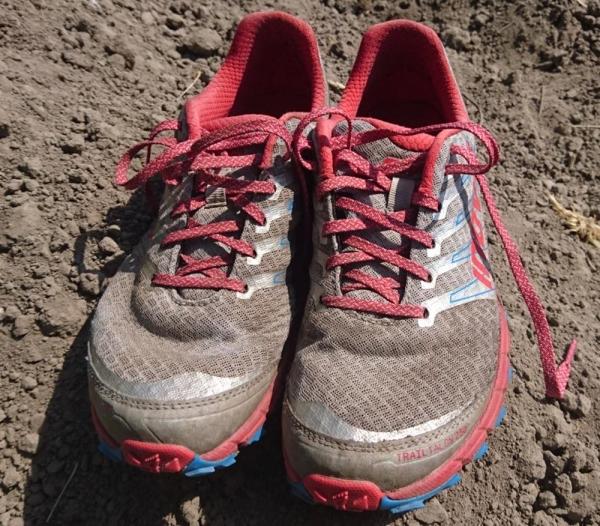 However, the open weave also allows water to get in - rain, puddles and dew alike. This is a bit annoying, and I simply tend to avoid wearing my Trail Talon 250 when I know there is moisture around. Especially in the autumn/winter when they get too cold for my liking.
What bothers me the most about the upper though, is that it lets in fine-grain grit and sand. In my opinion, they are simply not suitable for sandy/dusty conditions even when wearing gaiters.
On shorter runs it's okay, but once you go beyond 20-25 km the sand/grit getting into your shoes becomes an issue. I have chosen (more or less consciously) to simply bypass the Trail Talon 250 whenever I know the route to be sandy and over 20 km. This is disappointing for a trail shoe clearly marketed towards ultra trailers.
Outsole
The outsole consists of a central area (red and dark blue) with three mm, triangular-ish lugs with straight vertical edges. This should, in theory, give traction both forward and backward.
Along the edges of the sole is a band of larger more aggressive looking lugs. They are edged backward on the forefoot (offering traction for forwarding motion), and vice versa on the heel.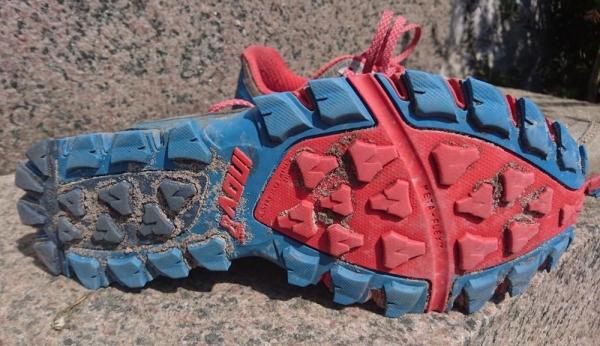 Despite the visually impressive lugs and a rather progressive look, it is my impression from many runs that you don't get overly much grip. The reason for this may be the type of trails that I run.
It may be because I unfairly compare them with the X-Talon. Some reviewers praise the Trail Talon for their traction. I simply don't find them any good in slippery conditions. This is in accordance with for example iancorless.org.
Gaiter attachment
The Trail Talon 250 comes with the Inov-8 gaiter attachment system. Minuscule upside-down pockets on either side of the shoe. This allows attaching suitable gaiters (e.g. Inov-8 Ultra) without the annoying string/elastic under the foot.
This is a very nice feature. The only issue I have had is the plastic hooks on the gaiters breaking because they are made of a brittle type of plastic. It has happened to me twice while running on rocky terrain (riverbeds/beaches). That, however, is not a fault on part of the "gaiter attachment pocket" on the shoe.
Some other brands of trail shoes have their own similar systems, for example, the so-called "gaiter trap" by Altra. It would be nice though if someone invented/ standardized a solid (light-weight) gaiter hook/attachment system. That way you wouldn't need brand-specific gaiter/shoe combos.
Comfort & Fit
At first, I did not like the Trail Talon 250. They felt stiff, flat, and way too roomy - front, back, and center. They did not compare to the nice snug foot-hugging fit of the X-Talon 212. They were not nearly as comfortable as my old more well-cushioned Saucony shoes.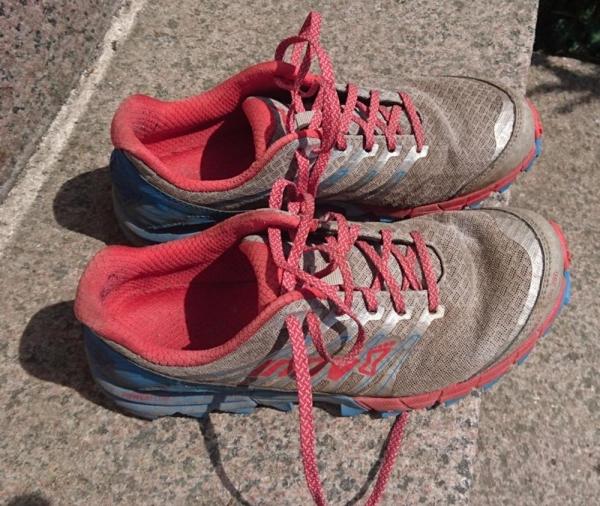 There was ample room for the toes - which was nice. But the overall loose fit gave very little control on technical trails. I was in other words sorely disappointed because I was expecting a similar fit to the X-Talon, yet with a smoother more cushioned ride. None the less, having paid full price (which was reasonably steep) I decided to give them a chance to redeem themselves. That was a wise decision!
As of today, I have run a total of 939 mostly pleasant kilometers in Trail Talon 250. They have - despite my first dire impressions - somehow run a fair distance without much fuss. No blisters, no injuries, no physical discomfort. The single most remarkable thing is that I can't recall any particular issues what-so-ever. They have simply worked flawlessly the entire time.
In hindsight, I think the key point has been identifying their "niche". I quickly established what I could use them for and stuck to that - and only that.
The Trail Talon 250 is not your go-everywhere, all-round ultra type shoe, as it to some extent was cracked up to be. It is a low-stack, low-drop trail-shoe for fast, easy untechnical trails.
Dry, hard-packed trails, gravel-roads, paths, parks and mixed road-to-trail type stuff. If you stick to this type of run; you'll have a nice light pair of trail shoes that will take you safely and comfortably for many runs. Nothing more - nothing less.
Durability
As mentioned above I have done almost a thousand kilometers in my Trail Talon 250.
This is well above the generally (magically) recommended 3-500 miles. The upper shows very little wear despite the rather high mileage. That may well be because I have never challenged them much (upper-wise) as I tend to leave them at home when going for wet/rugged/technical runs.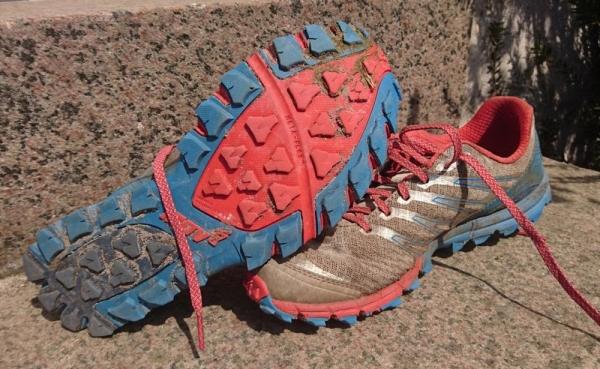 The outsole shows a bit more wear because they have seen their fair share of hard surfaces (road-to-trail). The wear is also uneven indicating that it is not the shoes fault. Most likely the outsole-wear is due to a combination of how I strike the ground and my personal running style (or lack thereof).
Similar to the upper there is some wear but no holes or breakages inside the shoe. Tongue, cushioning, heel cup - everything used but intact. In conclusion, the Trail Talon 250 are durable, solidly built, value-for-money shoes.
Performance
The 250 is the racing flat version of the Trail Talon model and has now been replaced by the Trail Talon 235. On average my Trail Talon 250 runs have been 5-10 seconds faster per kilometer than my overall average (in the time that I've had my Trail Talons).
Statistically speaking the difference is not significant though. Especially considering the obvious running-condition bias, i.e. I use them on easy/fast trails only.
In comparison to other racing flat trail shoes the Trail Talon 250 does not stand out, nor are they overly fast. I'd recommend the Terraclaw 220 instead if you want to stick to Inov-8. The only argument for the Trail Talon in that comparison would be better underfoot protection (sharp rocks go away), which the Terraclaw lack somewhat. That extra protection costs a bit of weight though.
Should you get yourself a pair?
If you are in the market for your first (or only) pair of trail running shoes I would not recommend the Trail Talon 250. I'd go for a more all-around type trail shoe - something like the Salomon Speedcross, Saucony Peregrine or Brooks Cascadia. Of course depending on what type of runner you are, and which conditions you prefer.
If you do require something low-stack/low-drop go with New Balance Minimus or one of the shoes from the Merrell Bare Access range. They are both lighter and in my humble opinion more versatile.
I have found the Trail Talon 250 to be rather pricey and have a somewhat limited usage spectrum. They have their rightful place if you (like me) have an arsenal of trail shoes and pick the right shoe for the right job. If you only have one or two pairs of running shoes doing everything from mud to roads - you'd probably want them to be more all-round than the Trail Talon 250.
Conclusion
The Trail Talon 250 is a medium-to-fast shoe suitable for easy trail runs of short to medium length. Nice and cool for warm and dry summertime runs. Not suitable for wet, sandy or muddy conditions - especially not when cold.
I have had plenty of enjoyment from my Trail Talon 250, but I'm not in the market for another pair once my current ones retire. That last statement pretty much sums up my overall impression of the Trail Talon 250.
The Inov-8 Trail Talon 250 is a lightweight running shoe that's optimized for the trails. It features some trail-ready technologies and components which allow it to take the runners through the off-road paths with ease. High quality materials were used for this shoe, thus making it durable, formidable and long-lasting.
The upper unit utilizes breathable fabrics in order to maintain comfort and deliver ventilation to the runner. It also adapts to the movements and the shape of the foot when running and standing idly. The cover system is not stiff, so the runner won't feel marred by it.
The PowerFlow is a mid-sole compound that is responsive to the running output of the wearer. It is capable of absorbing impact shock during landings and spring the foot forward during the toe-offs. A Dynamic Fascia Band serves as a lever arm, supporting each step and propelling the runner forward with speed & efficiency.
The outsole unit of the Inov-8 Trail Talon 250 has been optimized for the trails. Two sticky rubber compounds are used in this layer. Hard rubber improves grip on dry and wet surfaces, and it doesn't easily wear off or lose structural integrity. A softer rubber material adds a bit of cushioning and flexibility on top of the traction that it gives. The Meta-Flex™ groove in the forefoot makes the platform more flexible.
The Inov-8 Trail Talon 250 has a standard running shoe length. The sizing schemes used for this model follow regular measurements. The available width for the men and women's versions is medium, so it is able to allow those with medium sized feet to acclimate well to it. The natural curve of the human foot is mimicked by its semi-curved shape.
Two different sticky rubber materials are used for the outsole unit of the Trail Talon 250. The Hard Sticky Rubber delivers protection and traction, while having increased endurance. It doesn't break down easily, so it remains intact even after many uses. The Soft Sticky Rubber also delivers sure traction. It is also flexible and responsive. Both these rubber materials give maximum grip on wet and slippery surfaces.
Gripping lugs allow the outsole to function well on a variety of surfaces. They heighten the grip, especially when going uphill or downhill, thus preventing slippage.
The Meta-Flex™ groove is placed the forefoot area of the external sole unit. It allows the platform to become more flexible and adherent to the natural movements of the foot, especially during the toe-off phase. The groove design is also utilized in the outsole of the Trail Talon 235 and other Inov-8 running shoes.
The PowerFlow is a mid-sole material that responsibly cushions the foot. It also absorbs impact shock when the foot strikes the ground, and return energy to the foot for a more enabled toe-off.
The Dynamic Fascia Band that runs from the heel to the front of the platform serves as a lever arm that propels the runner forward with each step. It is not noticeable when the Inov-8 Trail Talon 250 is taken for a spin.
The One Arrow Shock-Zone™ is an Inov-8 system that indicates responsiveness. It doesn't have a robust cushioning system, but it's not feeble when it comes to its functionality. The drop of this model is 4mm.
Breathable coverage is given to the runner via a synthetic mesh. Its open construction allows air to enter the foot-chamber in order to keep the foot cool and dry.
The Met-Cradle is comprised of a synthetic webbing that adapts to the shape of the foot as it goes through the gait cycle. Basically. It doesn't make the upper feel stiff or restrictive.
Rocks and other trail debris repelled by the Toe Cap. It covers the forefoot area, essentially shielding the toes from potential injury.
Size and fit
True to size
based on 78 user votes
Size comments
My feet are size 10.5 and they fit perfectly. -
Runultra
How Trail Talon 250 compares
Corescore: 58-61
1 shoes (0.26% of shoes)
Corescore: 62-65
1 shoes (0.26% of shoes)
Corescore: 66-69
5 shoes (1% of shoes)
Corescore: 70-73
13 shoes (3% of shoes)
Corescore: 74-78
38 shoes (10% of shoes)
Corescore: 79-82
52 shoes (14% of shoes)
Corescore: 83-86
67 shoes (17% of shoes)
Corescore: 87-90
122 shoes (32% of shoes)
Corescore: 91-94
76 shoes (20% of shoes)
Corescore: 95-98
7 shoes (2% of shoes)
Corescore: 99-99
1 shoes (0.26% of shoes)
Price: $60 - $78
23 shoes (6% of shoes)
Price: $79 - $97
29 shoes (8% of shoes)
Price: $98 - $116
64 shoes (17% of shoes)
Price: $117 - $135
112 shoes (29% of shoes)
Price: $136 - $154
76 shoes (20% of shoes)
Price: $155 - $173
48 shoes (13% of shoes)
Price: $174 - $192
21 shoes (5% of shoes)
Price: $193 - $211
5 shoes (1% of shoes)
Price: $212 - $230
3 shoes (0.78% of shoes)
Price: $231 - $250
2 shoes (0.52% of shoes)
All shoes average:
10.4oz
Weight: 5oz - 6.8oz
7 shoes (2% of shoes)
Weight: 6.9oz - 8.7oz
56 shoes (15% of shoes)
Weight: 8.8oz - 10.6oz
151 shoes (42% of shoes)
Weight: 10.7oz - 12.5oz
116 shoes (32% of shoes)
Weight: 12.6oz - 14.4oz
25 shoes (7% of shoes)
Weight: 14.5oz - 16.3oz
4 shoes (1% of shoes)
Weight: 16.4oz - 18.2oz
2 shoes (0.55% of shoes)
Weight: 18.3oz - 20.1oz
0 shoes (0% of shoes)
Weight: 20.2oz - 22oz
0 shoes (0% of shoes)
Weight: 22.1oz - 24oz
2 shoes (0.55% of shoes)