Overall, it's a better version of the last model, which I liked. This is a great mountain running shoe that I'll be taking up to altitude over and over! Thank you for Inov-8 for improving the G260 and its few flaws.
Pros
Flexible upper
Very comfortable
Secure lockdown
Gusseted tongue
Outstanding grip
Breathable
Inov-8 Terraultra G 270 review
Intended for long-distance runs and ultra races, the Inov-8 Terraultra G270 is a zero-drop, low-stack trail shoe.
Updates:
Updated upper for better flex
New lacing system
Revamped outsole design and composition
Redesigned midsole
Updated insole
Added weight of 10 grams
Upper allows the foot to flex
The upper looks totally reconstructed, but it has a similar feel and look, so it's barely noticeable. The Adaptorfit upper also allows the foot to flex and adjusts well when your foot swells over long runs.
The major overhaul on the upper is the welded overlay. It is softer and more flexible. It actually feels more rubberish than mesh, which is comparable to the G260.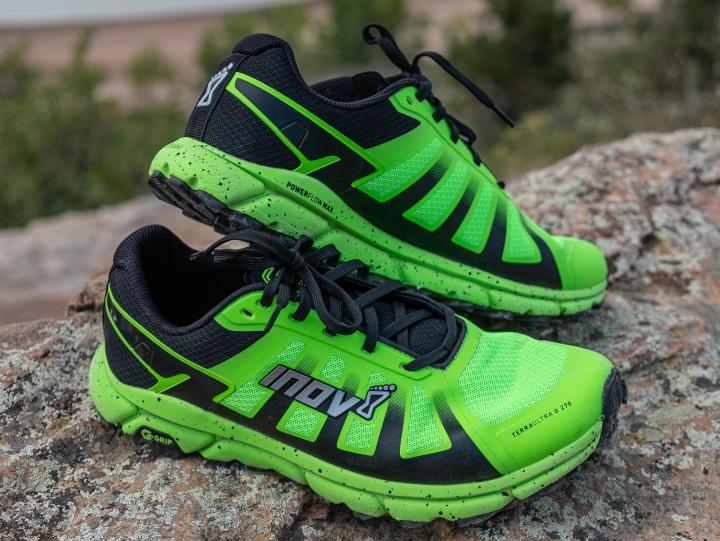 Since I have the G260 in my trail shoe lineup, I can say that this is really a great upgrade. It really felt fairly inflexible and was one of my gripes on the past version.
The toe also has a welded overlay that keeps moisture out. IThe new overlay is also much more durable and protective.
Breathable upper
Another thing that I loved about the new upper is its breathability. Plus, the hidden gaiter attachment point was a really nice touch.
On the downside, the upper felt a bit tight over the flex point during the first run. It felt like the seam where the tongue is sewn on was too pronounced. But, this went away after logging in a few miles.
Fully gusseted tongue
It is fully gusseted. It has lost some weight; all the padding from the previous iteration has been stripped.
Since I am not a big fan of tongue padding, I really like this update.
A much better lacing system
The round laces on the 260 just didn't work. They always came loose. They didn't help in locking down the foot in place either.
It may be a simple update but it is a much-needed one.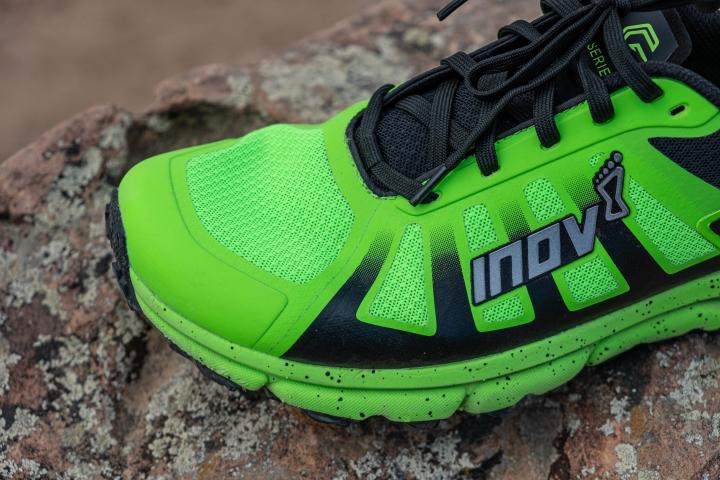 No heel slip in the Terraultra G 270
The heel cup is deep, which is also something that I loved about the G260s, and this has not changed. It is firm but not stiff. I experienced no heel slip, which is another reason why I wore the G260 so much before.
However, this is no heel pull loop like its predecessor.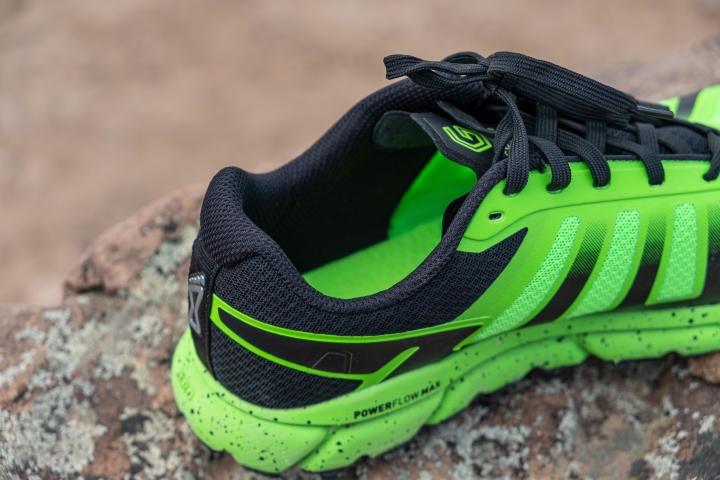 The Powerflow Max Midsole is a welcomed update
In this iteration, there's more cushion, and 3mm more stack.
Contrary to the G260, the G270 is a much more fitting option for ultra-distance running. In the G260, my feet were knackered after 12-15 miles on sharp, rocky terrain.
This shoe is not a max-cushioned model, so some may disagree. But, Damien Hall set an FKT in this at 268 miles, so there's little proof they can go far.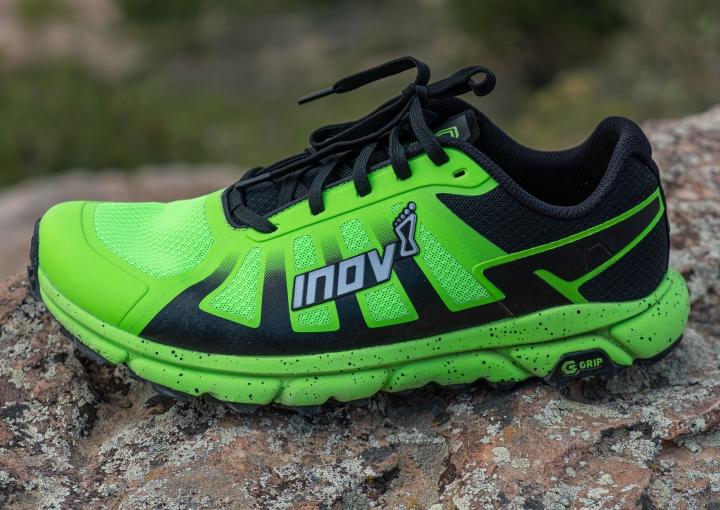 It is more responsive and it feels springy, especially for a low-stack, zero-drop shoe. Although I didn't necessarily feel this, I can say that it does feel snappier than the 260s.
Another claim from Inov-8 is that it's more durable, and should retain its shape and performance twice as long. A bold claim!
Another good thing about the midsole is that it's flexible. It may have gotten stiff underfoot, but I'd still categorize it as flexible.
There's also a new insole. Not a lot of brands pay much attention to the insoles, so I'd commend Inov-8 for paying attention to this detail. The Boomerang insole consists of tiny beads of foam that generates 40% more energy return than past insoles.
Despite its updated midsole, the shoe didn't necessarily do away with the ground feel, which I still like to have a bit of on shorter efforts.
Outstanding grip
I still don't know what Graphene is or what Inov-8 means by "world's toughest grip." Tough doesn't necessarily describe grip. Grip is either sticky, grippy, or the outsole rubber can be tough and durable, but a tough grip just doesn't make sense.
But, I'll let them call it whatever they want because it works! A huge gripe of mine with the G260 is that it wasn't grippy. Not really sure what they did this time, but on this one, problem solved—grip is outstanding.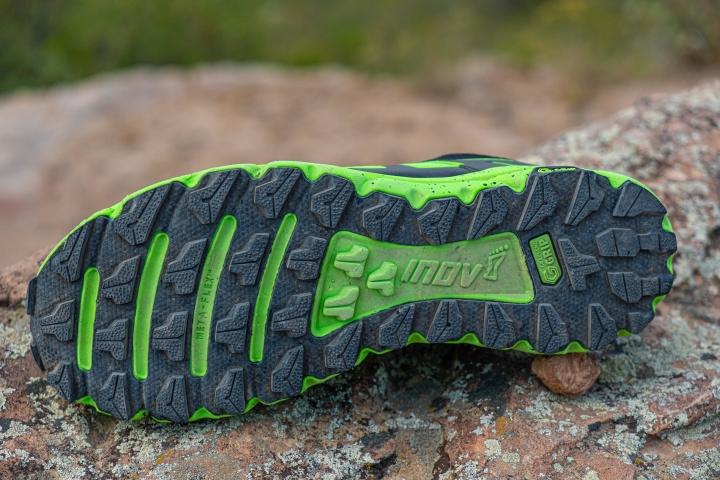 The shoe also has more distinct flex grooves, and they removed some of the outsole from the midfoot.
On the one hand, the lug patterns are still the same. They're 4-mm deep and now have micro bumps. This is probably where the grip is coming from.
Not for wide feet
I have a wide foot and there's plenty of volume in the Terraultra G270 after breaking in. Just a quick note: Inov-8 does not do widths. Instead, they have a fit scale of 1-5; 5 being the widest cut, and the shoe I got has a fit scale of 5.
In my experience with Inov-8 shoes, they tend to run narrow. So, this is a plus for me. However, if you have a truly wide foot, this may not be wide enough.
As far as fit goes, this shoe has a fantastic lockdown! No slips nor movement inside the shoe even when coming down some steep terrain. Not to mention, the toe box also has plenty of room.
Superb comfort
It doesn't have a super padded upper, not a ton of stack underfoot, no drop, and lots of flex. It may sound like I'm describing a minimalist shoe, but this one is really comfortable, responsive, and supportive. I absolutely love this shoe!
The Terraultra G 270 help up so well
With my past Inov-8 shoes, sturdiness has been more miss than hit, for me. However, this one seems to be holding up well. There's no delamination on the upper like I had after just one or two runs on the G260.