Verdict from 9.2 hours of research from the internet
4 reasons to buy
Some of the runners commented that the Inov 8 ROCLITE 345 GTX is comfortable.
According to several testers, the foot stayed warm and dry throughout the run.
Based on reviews, the shoe provided excellent traction on ice and snow.
One of the users noted that the 345 GTX offers enough foot protection.
3 reasons not to buy
Several buyers said that the Inov 8 ROCLITE 345 GTX runs small.
The shoe strings of the shoe are too thin, according to a purchaser.
A reviewer said that it feels too stiff.
Bottom line
The Inov-8 Roclite 345 GTX has gained the approval of many because of its excellent traction, especially on slippery and snowy running surfaces. Although some of them had issues with its size, shoelaces, and stiffness others still lauded the shoe because of how comfortable it feels throughout the run. Overall, the Roclite 345 GTX is a good option for those who are looking for a grippy, waterproof running shoe.
Tip: see the best hiking shoes.
Our reviews
Time to get back on the trails!
What if you are looking for something that is a bit lighter and more agile than the traditional hiking boots, yet offering a little more protection and durability than a trail shoe? I introduce to you the fast hiking boot genre!
Inov-8 brings to us the Roclite G 345 GTX, designed to hit the trails on all sorts of surfaces and settings.
I was excited to try these on and get out in the elements. The wet season in the Pacific Northwest can get quite messy, while the trails still beckon us outdoors!
I was particularly interested in seeing how these boots would perform with their GORE-TEX waterproofing feature, and just how versatile they can be.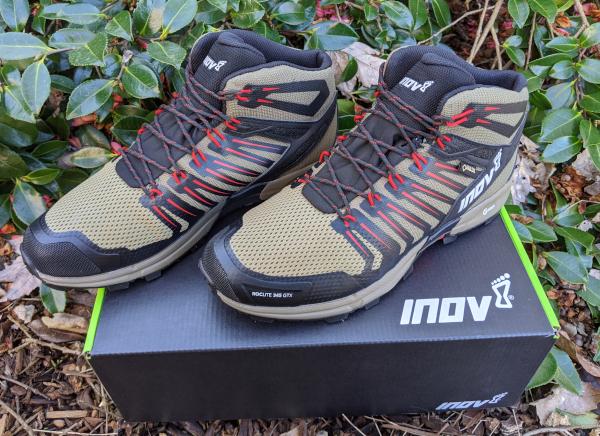 Out of the box, the boots are light, flexible, and seem to be well-constructed. We will get into the specifics later on, but overall I was impressed with the construction.
The pictures you will see are the brown/red color scheme; although three brown color looks more like olive green than brown to me.
Okay, let's get these boots outside!
First 50 miles of performance
These boots went everywhere. I walked the dog in them through city parks, hiked through creeks, visited waterfalls, I even ran some single-track just to check their versatility. Ice, snow, rain, heat, wind; you name it, these boots experienced it.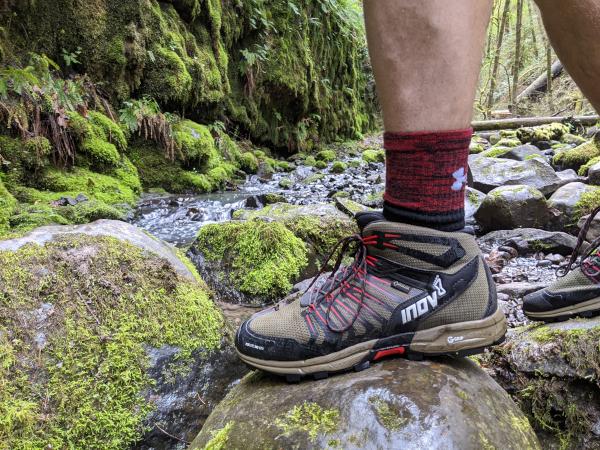 I was immediately pleased with the room and the flexibility of the boot. Overall, I was comfortable wearing these from day one.
Make no mistake; they still fit like boots, even if they are more flexible. I didn't feel the detailed fit of a trail shoe (or the cushioning), but overall my feet were comfortable.
Unfortunately, the boot didn't "pass" the field tests that I was most excited about; particularly the waterproofing. I wore these out in the rain on several occasions, and unfortunately each time my feet came back pretty wet—not soaked; just overall wet.
I will admit, we can get some pretty heavy rains, so some moisture is bound to happen, but overall I was hoping for a dryer experience.
The grip that Inov-8 celebrates was pretty wonderful, although even for that they were no match for the slippery river rocks of this part of the world.
I even took a tumble attempting to rock hop with these (although I'm not the most agile person in the world). However, for the most part the grip held up wonderfully on dry and muddy terrain, even ice and snow.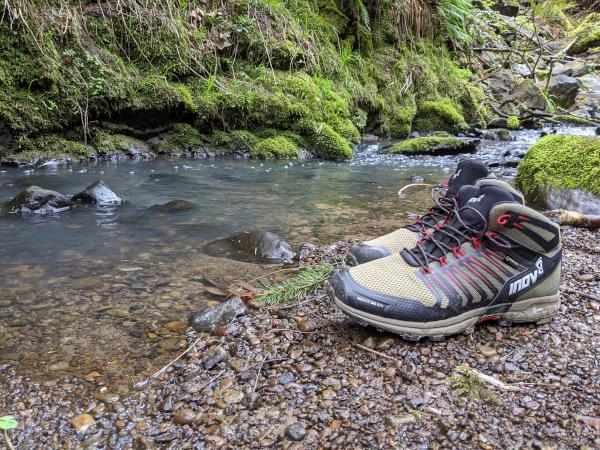 Upper
The upper of the Roclite 345 GTX is primarily a mesh, which allows for a lot of breathability.
Do not be fooled like I was, even the lines extending from the lacing eyelets are more graphics than construction; purely for looks; which, personally, I'm not impressed with.
The laces and eyelets are super thin paracord material, which at first, take a bit to get used to seeing on a boot (honestly, it gave me some pause), but seems to be strong enough, and is part of the light-weight philosophy of this boot.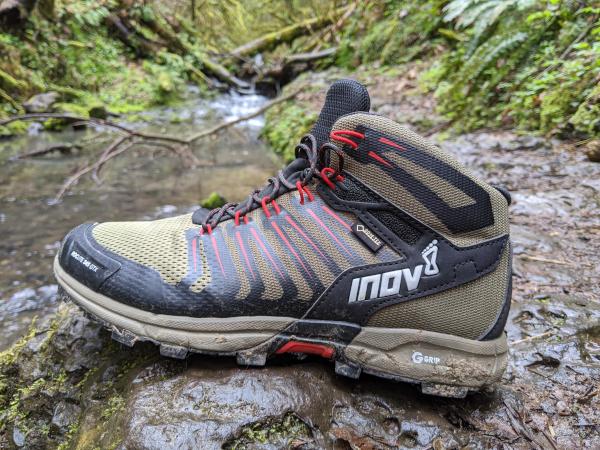 The tongue is stitched ¾ of the way up as part of the waterproofing strategy. There is a moderate amount of padding around the collar of the boot, which overall creates a sock-like, snug feel that is supportive.
Once this all gets laced up, things look a bit scrunched looking at the boots from above, but overall my foot felt well-secured, breathable, and ready to go!
Midsole
As I mentioned in the opening section, the midsole has a feel of a boot, which for me means that there is a bit more wiggle room within the entirety of the midsole area, with less attuned padding that we experience with traditional trail running shoes.
However, everything felt really comfortable overall. No foot pains or problems to speak of!
The Inov-8 website states: "POWERFLOW midsole delivers 10% better shock absorption and 15% better energy return than standard midsoles." Take the claims for what they are; bottom line: the midsole is comfortable, roomy, and responsive for plenty of miles.
Outsole
The outsole of this boot is really what I fell in love with. According to Inov-8, this is the graphene-enhanced "G Grip" outsole…pretty awesome. The lugs measure in at 6mm, and I felt this grip right away.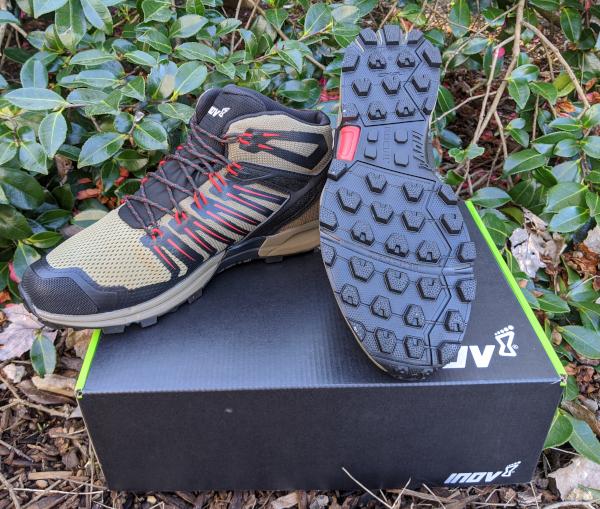 The outsole is sturdy, but not stiff, and definitely provides traction, while also being comfortable walking on flat surfaces. As I mentioned before, my own personal grip test did not pass attempting to navigate river rocks, but I'm not sure which shoe would.
Overall, I was very impressed with the outsole.
Conclusion
For a fast hiking boot, the Roclite G 345 GTX performed just fine. I really enjoyed the lightweight, agility, the breathability, the roomy feel, and the ankle support, and the great grip. However, I was super disappointed that these were not nearly as waterproof as I was hoping for.
I'm not comfortable running long distances in these as some claim that one can use them as a trail running shoe, but I will definitely use these as a hiking boot for most seasons, knowing that my feet will remain comfortable wherever the trail leads.
The Inov-8 Roclite 345 GTX is the perfect combination of lightweight, low profile cushion, aggressive traction, and moderate support, all in a waterproof package. This shoe is a great hiking boot for primarily trail runners, and a great trail running shoe for primary hikers.
Overall, this is a very comfortable and practical shoe, though Inov-8 could definitely improve a couple of aspects in the next iteration.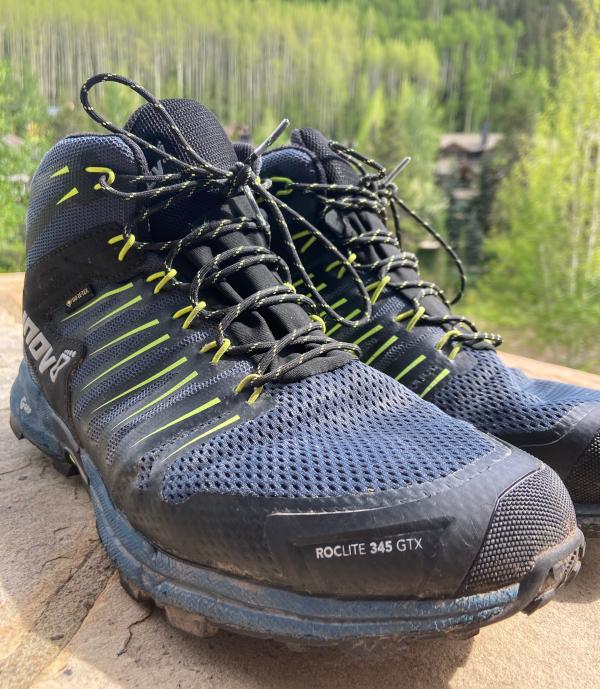 This review will examine ten important aspects of the Roclite 345 GTX.
Traction
The Roclite 345 GTX is an aggressive trail running/hiking shoe. The outsole consists of a slab of lightweight yet durable carbon rubber, which features deep multidirectional lugs.
These lugs securely bite into mud and snow. The rubber is not sticky enough to provide traction on sheer ice, but it will bite into any surface with any amount of giving.
Cushion
The Roclite 345 GTX has a relatively thin midsole. The midsole is made of a lower density and softer cushion, so despite the thickness, the Roclite is still adequately cushioned.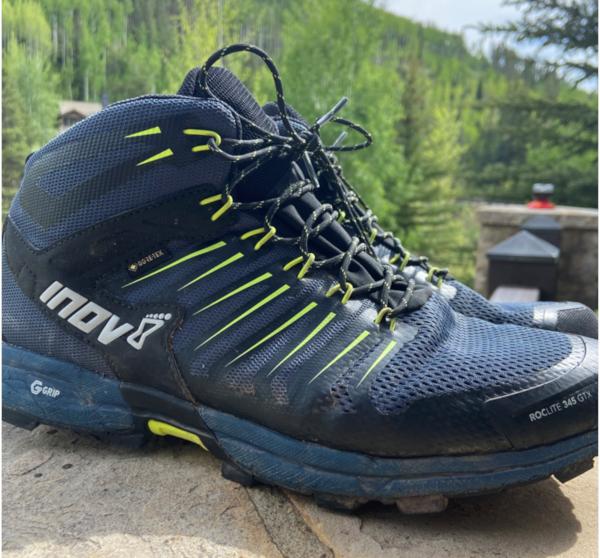 The softer midsole comes at the expense of protection. When running and hiking on rocky terrain, every sharp rock can be felt through the midsole.
The midsole does not feature a rock plate to compensate for this, which allows for more ground feel. A ride that some feel is more natural, and others feel is uncomfortable.
Comfort
Overall, the Roclite is a moderately comfortable shoe. The outsole provides enough traction to prevent uncomfortable slipping.
The midsole is soft and comfortable on terrain, which is a little less rugged, and the upper is lightweight and streamlined for a hiking boot. Therefore, it cannot provide the same amount of plush cushion that a heavier shoe could, but I am still happy to venture in this shoe all day.
There is some Goretex stitching in the heel area, which was a little uncomfortable. The inner lining of the shoe is not soft at all; I have to wear socks to prevent hotspots and blisters.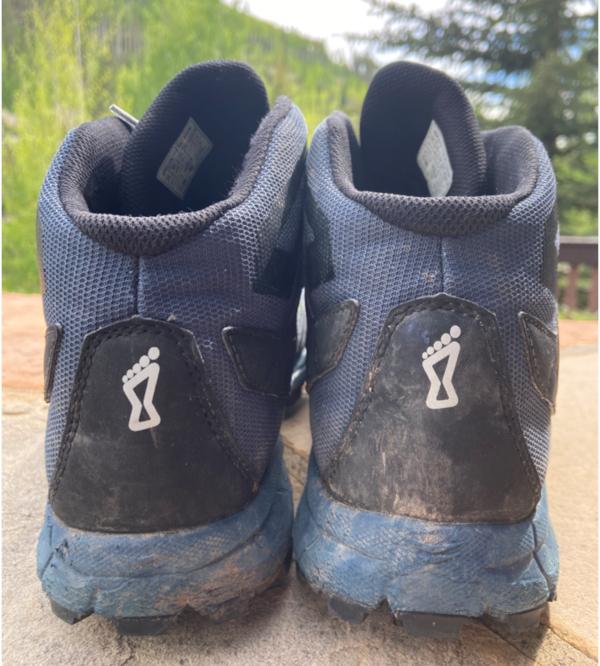 Another issue with the comfort of the shoe is that the laces don't hold my feet in the right places to prevent my feet from sliding forward and jamming the front of the shoe when descending steep terrain.
A final issue with the comfort is that the shoe does not feature a substantial toe bumper, so my toes often bash the front when I hit a rock. These aspects need to be improved in future iterations of the shoe.
None of these issues are catastrophic but could be improved.
Waterproof
One of the biggest advantages of Roclite is the Gore-Tex liner. Gore-Tex is a membrane-permeable by air (but not by water), which provides both waterproofing and breathability.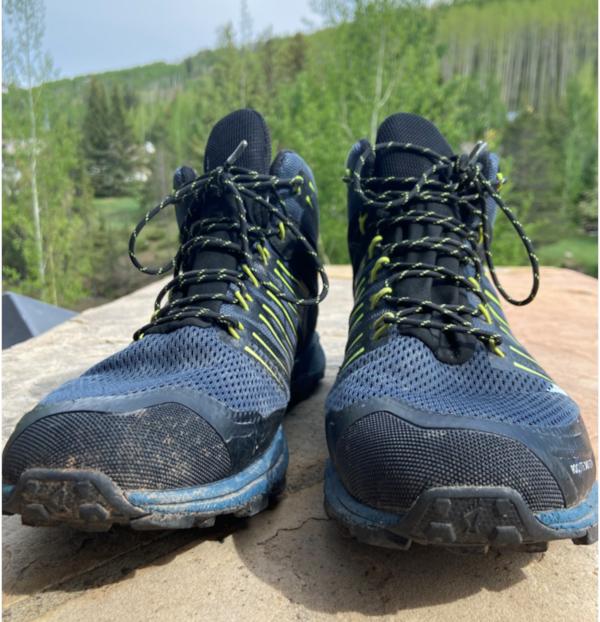 My feet stay dry when walking through streams, snow, mud, and wet grass. Beware, rainwater will still enter the top of the boots, and it drains much more slowly.
These boots are best paired with waterproof gaiters for complete waterproofing. The upper also does not allow any debris to enter the shoe, which is fantastic.
Breathability
The Roclite is impressively breathable, considering the Gore-Tex lining. My feet never heated up too much, but I also never used the shoe in the hottest summer months.
This shoe will never be as breathable as similar shoes without the Gore-Tex liner, so it is a tradeoff between wet and hot feet.
Fit
The Roclite has a long narrow fit. This shoe is not suited for those with wide feet. This shoe is tricky since the laces don't hold down the foot very well; it must be exactly the right fit, or else it won't perform well. Make sure to try on the boot first.
Support
The Roclite is mainly a neutral shoe, though, being a boot, it inherently has some extra stability features.
There is a slight medial post, which helps with overpronation. Most notably, the boot hugs the ankles providing notable ankle support on uneven terrain.
Weight
As the name suggests, the Roclite 345 GTX weighs 345 grams or 12.17 ounces. This is extremely lightweight for a mid-height boot.
The part of the upper that rises above the ankle adds considerable weight, so I only use this shoe when I specifically need that feature.
Protection
An important aspect of any trail running shoe is the protection it provides your feet. The Roclite is a moderately protective shoe.
The outsole and midsole provide some protection from underfoot menaces, but it is not substantial. The toe bumper only provides the toes very minimal protection from trail hazards.
The upper is very strong. I have accidentally stabbed the toebox with my hiking poles many times.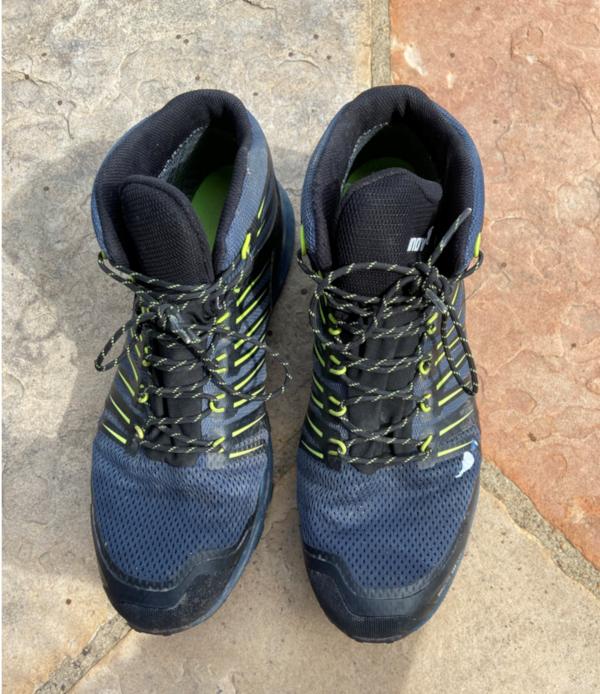 Other shoes would break in this situation, but these did not. Although the upper is very tough, my feet still are susceptible to trail hazards since it is so thin.
Overall, this shoe is lacking in protection but makes up for it with the lightweight design. This shoe is great for those who tread carefully!
Durability
The Roclite has exceedingly good quality construction. The outsole rubber is very durable, the upper is very tough, and the midsole is decently durable.
The midsole will likely wear out before the other aspects of the shoe because lower density foam tends to be less durable. Even still, this shoe will still last around 500 miles, depending on the usage.
Conclusion
Despite all of my gripes with this shoe that I have focused on, this is a very good quality running and hiking shoe that I will likely wear out.
It could certainly be improved in certain areas. My favorite lightweight hiking boot is the La Sportiva Blade; I would only choose the Roclite 345 GTX in instances where there will be a mixture of trail running and hiking.
That being said, my pair of Blades is worn out, and I am happy wearing these instead at the moment. For Inov-8 enthusiasts, especially those who love the more minimal shoes such as the Trail Talon 235, and who are looking for a hiking boot, this is a fantastic option.
For others, this is a shoe definitely worth trying on. The Roclite 345 GTX is quite unique since it has a thinner slab of softer cushioning. Most comparable have much firmer or thicker cushioning.
If this appeals to you, check it out!
The Inov-8 Roclite G 345 GTX shoes are more of a hiking boot than a trail running shoe. They are light enough to run, but sturdy enough for some hike through difficult terrain.
They have a Gore-Tex liner to keep your feet dry in any condition, and they seem built to last a long time. You can feel like you can plow through any terrain with these shoes.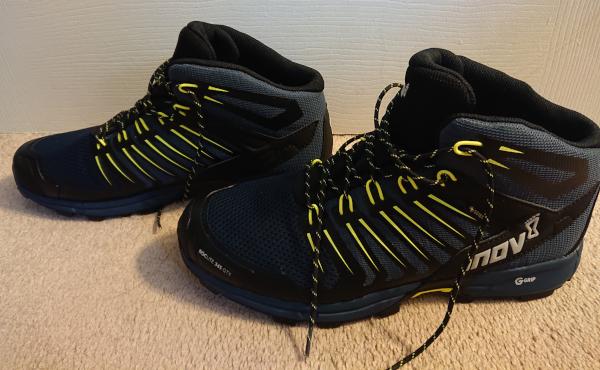 Right out of the box, these shoes looked built to last with a lot of traction. They come with a big tag that says Gore-Tex with information about that. I had to try them out in the water first.
I put my feet into a puddle of water for about five seconds, and my feet stayed dry. They seem waterproof to me. However, I would not recommend staying in the water longer than a few seconds at a time, I think water will get through eventually.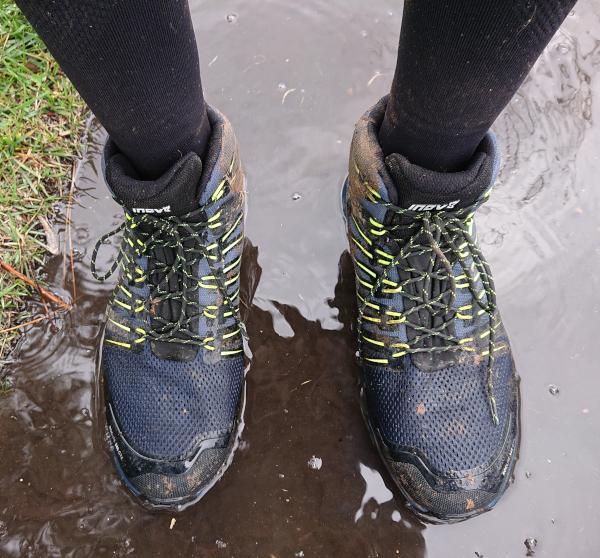 I read a little about the shoe before I received them, and I saw that they run a little small. Actually, maybe they just run a little narrow.
I ordered a half size bigger, but I do not think that was a wise decision. The shoes, a half size bigger than what I normally would wear, were just a little too long for me. The width seems fine, so I wished I ordered my normal size.
Upper
Notice these are high, like boots. That feature is not the best for long runs. When I first received the shoes, I went for a muddy trail run. The shoes held up in the terrain just fine, but they did not feel very comfortable.
My ankles feel a little restricted trying to run fast in these shoes. In fact, above the outside of my left ankle, where the boots get up to, was very tender after the first run. I had to take the next few day off of these shoes.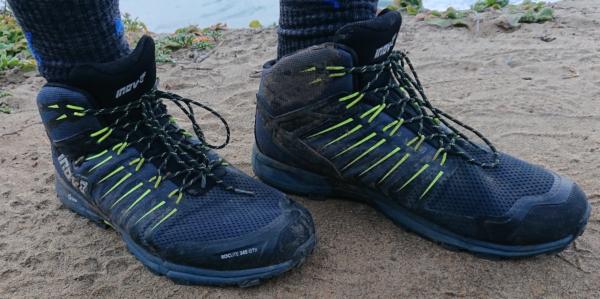 The shoes do feel comfortable, but a little long for me as I said earlier. The shoes do run a little narrow.
You can tie up the long thin laces tight to keep the boots in place on your feet. However, the thin round laces are to stay tied without a double knot.
The Gore-Tex feature is a great feature for all weather, especially when it is cold and wet outside. If you are looking for something cooler for hot days, you may go with something more breathable, but that will in turn eliminate the waterproof feature.
The shoes have protection all around, so they should last.
Now being more of a high-top shoe, you may think there is less chance you will get rocks in your shoes on a trail run. I kind of felt like it was the opposite. The shoes are not that tight at the top because they go over your ankle.
Gaiters may be a good idea for trail running or hiking, but I have not tried that yet.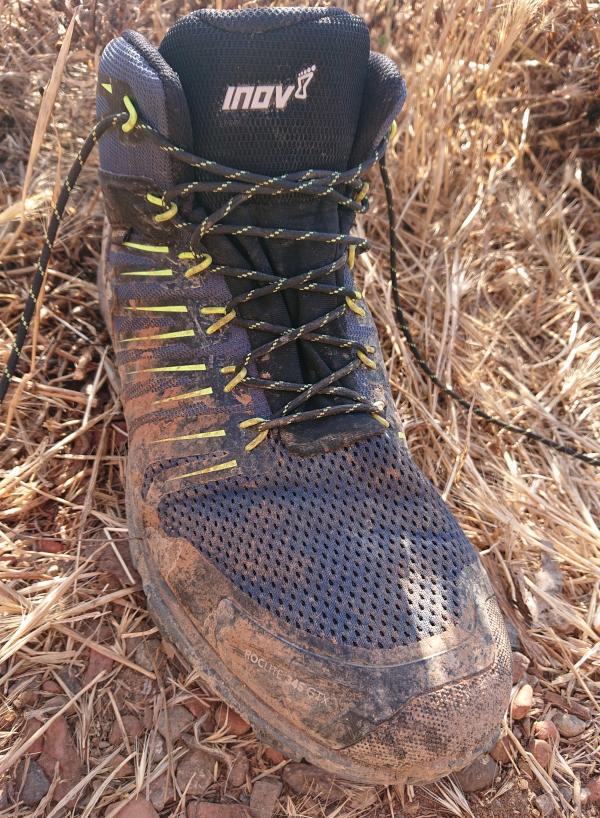 Midsole
Well I do not think you buy these shoes for a lot of cushion or for something light for fast running.
There is enough cushion to run or hike over any terrain. I never noticed walking on top of sharp rocks, the shoes have enough protection.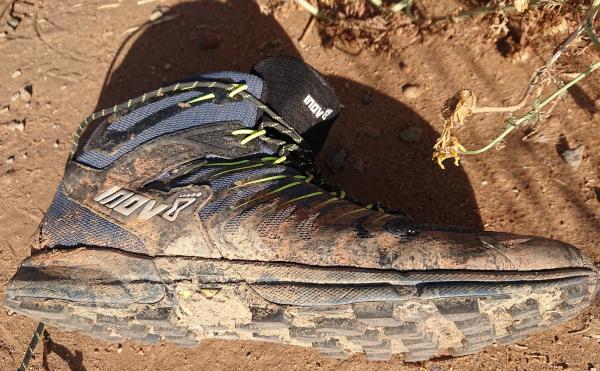 Inside the shoes, it feels pretty flat. There is no big arch support. Feel free to put your own insole in because there should be enough room in these boots.
The shoes are very sturdy without a lot of flexibility. There is not a lot of responsiveness either for running. However, this is not a bad thing if you are looking for a sturdy and durable boot.
Outsole
There is a lot of traction on these shoes as you can see in the photo. They are made for trails, not for the road.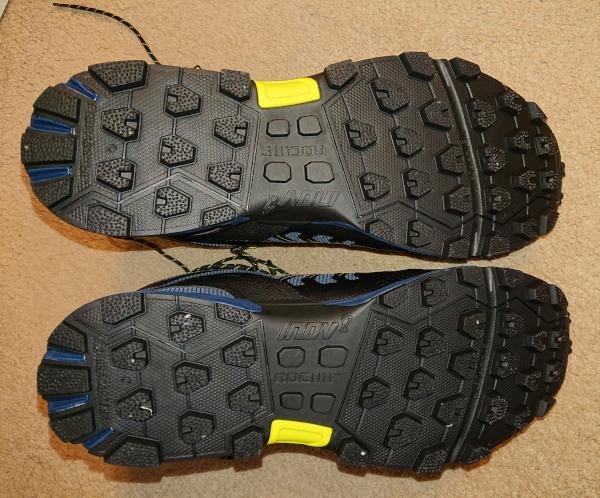 I took these boots through the mud, wet grass, and rocks. I feel they can get through anything. However, they may feel funny on the pavement.
The bottom is not meant for racing. The traction is more for getting through any terrain rather than running fast. The nubs on the bottom are higher than most trail running shoes.
Pros
Durability
Waterproof
Ready for any terrain
Cons
Narrow
Not for long distance running
Can cause soreness above the ankles
Conclusion
The Inov-8 Roclite G 345 GTX shoes are more of a hiking boot than a trail running shoe. I tried to run in these shoes many times, but it caused more pain than comfort. Hiking with them, however, felt much better.
Inov-8 is considered by many as the king of the off-road running shoe market. Their shoes are well-known for their durability, quality, and grip.
Whilst I have done several fell races and worked my way through a number of different off-road shoes, I have never run in a mid-cut shoe or an Inov-8. After hearing all the hype about the Roclite 345 GTX, I was excited to try it out.
Straight out of the box the shoes look cool with the steel grey overlay and orange lace loops.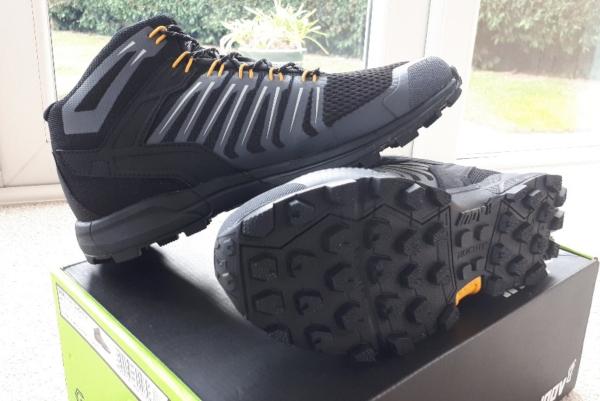 Unboxing
The first thing that amazed me straight out of the box was how many shoes you get for the weight of it.
Inov-8 classifies the Roclite 345 GTX as a 'speed hiking' boot but with a weight of 345g, this shoe is definitely capable of doubling up as a pure running shoe.
Inov-8 have used lightweight GORE-TEX® for the upper which is practical in addition to weight saving. The black upper with black and yellow and grey overlay looks slick and provides good strength.
First impressions
I decided to take the shoe out on my weekly long run over some trails to test out how it first feels. Before the run, I was anxious to see whether the shoe provided enough return and whether the mid-cut would cause any unwanted rubbing.
Also, I was also anxious to see whether the shoe would be light enough to keep my effort consistent when upping the pace. The run was 12.5 miles in total at an average pace of 6:30 per mile.
In the first mile (mostly on tarmac), the shoe felt slightly clunky with the transition through my stride feeling sluggish. I was initially disappointed by the lack of cushioning that the shoe had, the impact felt firm on the roads.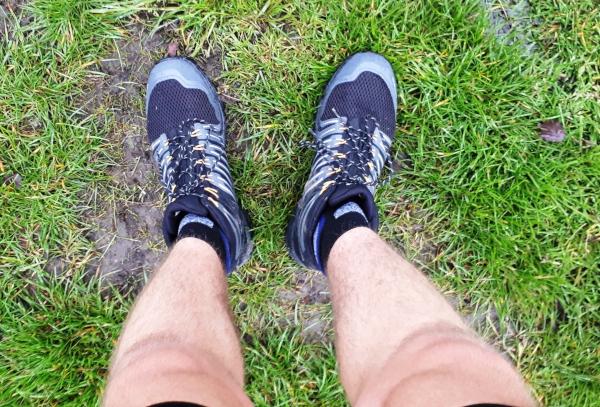 The grip provided by the outsole was good even on the wet tarmac and up hills. When I got onto the trails the shoe felt far more natural.
The additional cushioning that the dirt and grass provide you made the ride feel far better and the uneven terrain was smoothed out by the shoe. The outsole provided excellent traction even in wet sections and in mud, helping boost confidence.
The GORE-TEX® upper performed perfectly in the wet by keeping my foot bone dry both from external moisture and by allowing my feet to breathe. The toe box was roomy without being too large to allow your foot to slip around.
Hiking
Within the first couple of days of having the shoe, I took it out on an 8-mile walk in the Yorkshire Dales.
I was pleased that the shoe is roomy enough to allow you to wear 2 pairs of socks without feeling like your foot is squeezed into it.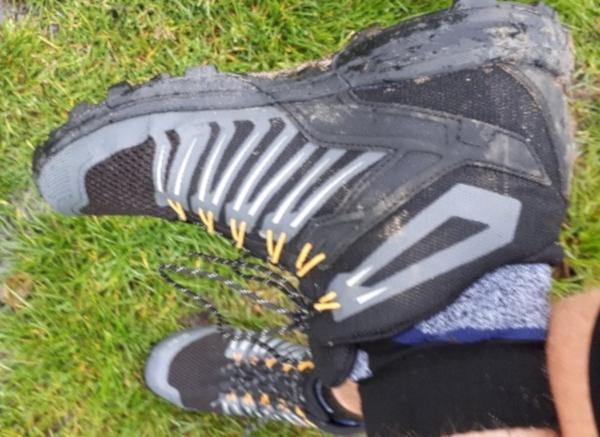 The weight of the shoe coupled with the reliable grip made any slope easy and meant that you can focus on enjoying the scenery without having to worry about the shoes or sore feet.
The insole is good enough to prevent rubbing or any aches and pains from walking for a long time but may not be as substantial as pure walking boot insoles.
Upper
As previously mentioned, the upper of the Roclite 345 GTX is made out of GORE-TEX®. This is becoming increasingly common in trail shoes due to its lightweight and waterproof abilities.
Some people are skeptical of its durability, however, there's are no signs of wear in the upper after over 50 miles of running and around 20 miles of walking.
As you can see, small bits of debris can get caught in the upper, but it has no effect on performance.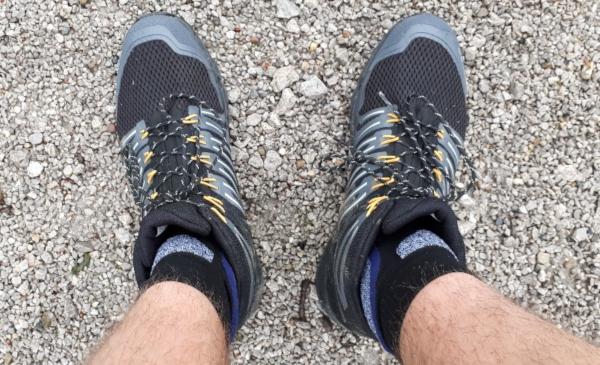 The fabric keeps the water out of your shoe helping you to enjoy your activity more.
The one criticism of the upper is that it is difficult to clean and can get clogged up with seeds and other small pieces of debris. This is only a small price to pay and does not affect the performance of the shoe in any way.
Overlay
Inov-8 have improved the aesthetics of this shoe by including a grey overlay that adds variation from the black upper and outsole. The overlay also helps add structure to the shoe and support to the shoe.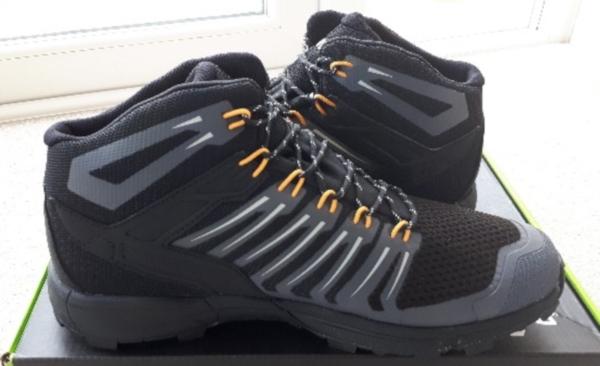 Where the overlay reaches the laces, orange loops have been added to help the user with lace tightening.
This contrasting color is matched to a section of the outsole, giving the shoe a more lively appearance than if the colorway had been kept to black and grey.
Tongue
The Roclite 345 GTX has a gusseted tongue which helps reduce the amount of debris getting into the shoe.
The tongue is attached to the shoe all the way up to the ankle which means that the only way debris can get into the shoe is through the top of the ankle.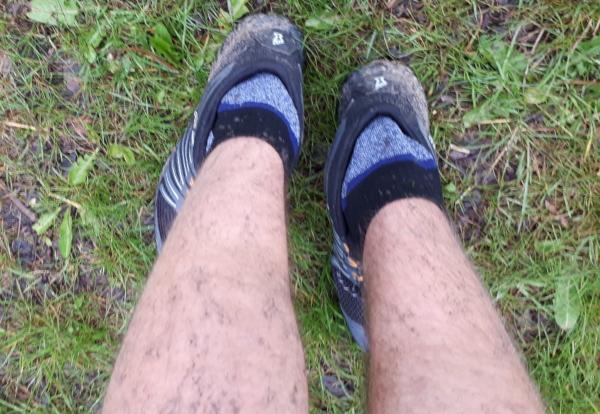 It hugs your foot and ankle snugly helping to stop blistering and increase stability as the shoe does not slip on your feet. The tongue has a small amount of padding within it which reduces the amount that the laces squeeze your ankle.
The Inov-8 logo is included on the tongue which is a nice touch.
Toe box
As previously mentioned, the shoe has a generous toe box that allows ample room for your toes to spread whilst running and for the second pair of socks to be worn if required.
I initially felt that the toe box was a bit too roomy, however by tightening the laces, I was able to make the shoe fit better to my foot.
The 'walls' of the toe box do lack padding and could cause rubbing for some people if the incorrect socks are worn.
Heel
The heel of the shoe is strong and is reinforced by an external heel counter.
As previously mentioned, I found the support and stability that the shoe provides excellent, the heel is the base of this support.
The Inov-8 logo on part of the heel counter is reflective – good if you are running at night. It also fills in an otherwise blank space on the shoe.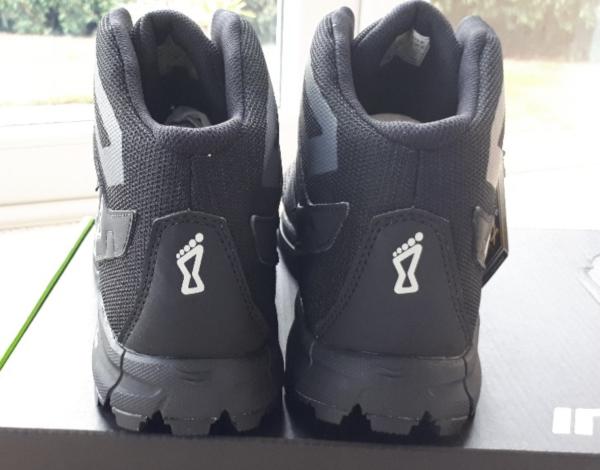 Outsole
The outsole of the shoe has rubber lugs (similar to most fell running and some trail shoes) that offer great traction over all terrain.
The grip was excellent on wet tarmac, mud, and grass both up and downhill. After roughly 30 miles, I noticed that the rubber was starting to wear away on the impact points.
Where the main impact is on the outsole (for me the outer edge of the heel), the rubber dimples have worn away. I have not felt that this has been detrimental to the shoe's grip.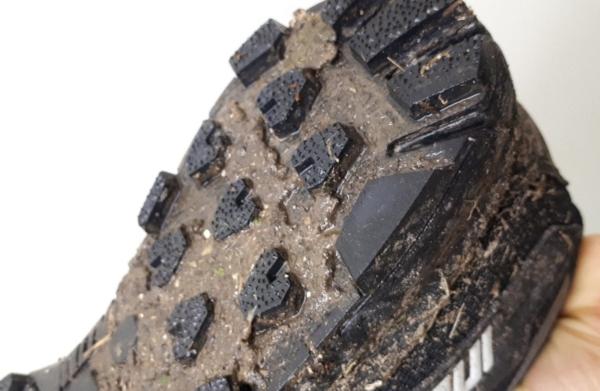 However, this only affected the small rubber dimples that are included on the sole. It had no impact on the performance of the shoe or the integrity of the lugs.
I found the outsole to be slightly too flat to run especially fast in. However, it is perfectly comfortable for hiking and runs slower than 6:30 per mile (which makes sense considering this isn't a racing shoe).
Midsole
The midsole has been reinforced by a thin layer of graphene, meaning that theoretically, the shoe should be nearly impossible to break.
Without knowing that the graphene was in the shoe, I would not have been able to identify it.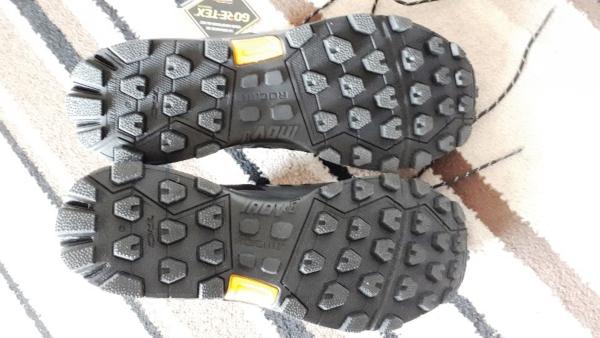 However, the shoe does provide adequate amounts of cushioning and is comfortable to wear.
When running on tarmac the shoe is quite unforgiving but when off-road, the shoe excels in providing a stable and responsive ride.
Overall
My overall impressions of the shoe are good. The shoe is incredibly lightweight for the amount of shoe and its purpose.
The GORE-TEX® upper looks good and functions perfectly. There are no issues with the laces or any signs of wear on the shoe.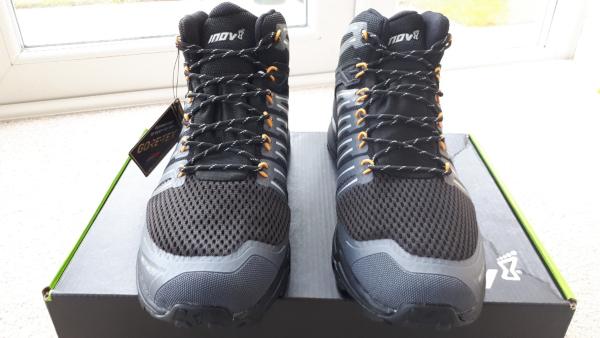 Even at faster paces, the shoe performs well and does not fatigue your legs. The rugged outsole is durable and has a nearly unrivaled grip which is perfect for an off-road shoe.
I am impressed with the shoe and would recommend it to any runners, walkers or speed hikers who are looking for a versatile, multi-purpose shoe or for people with weaker ankles who are looking for a lightweight shoe with good ankle support.
As a rookie to the trekking scene, I was keen to try out this innovative hiking and running boots.
You've seen the hype, now it's time to enjoy the feeling of a very well thought out trekking and running boot. It is built for comfort, technical terrain, and classy performance.
On arrival, these looked very narrow. They are a Grade 1 in the Inov-8 width sizing scale.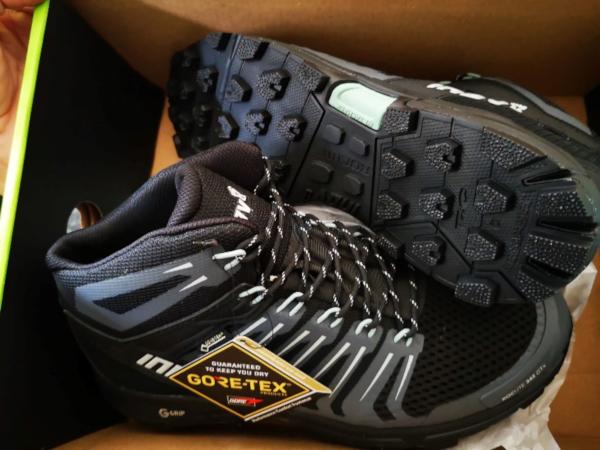 Fit
I can't say as I truly appreciated what this meant, but let me tell you what I found out after some research and trails later.
A Grade 1, suited me as a very normal size 7 ladies street shoe, trying out a size 7.5 UK size was perfect.
What felt like a very minimal sole, with incredible response and feel for the terrain underfoot also offered a surprising amount of comfort and cushioning. With Goretex outer, everything on these shoes is flexible.
The detail of a "narrow fit" which might well normally put me off, was an absolute pleasure and a delight for the trail walker, and runners feet.
Also on arrival, it was incredibly difficult not to notice how lightweight these 345g boots are.
Weight
Wow, 345 grams! To put that into perspective, 345grams is two and a half decks of cards. For two shoe, some 81 playing cards in your palm.
I tried these trekking, running boots out in March, April around the south downs, North Wales, Lancaster and on a working trip to Morocco on multi-terrain, roads, tracks, trails, fell, grass and chalk.
Outer
They are made of Goretex breathable mesh. On heading out on a frosty morning they proved to be breathable yet didn't take on any water. How very refreshing not to have a big shoe on and have dry feet.
Also taking them through mud and streams, nothing seemed to stick to this shoe, yet my feet remained fresh and dry. To this end, I cannot recommend them enough, and they will be a firm favorite in my bag in the future.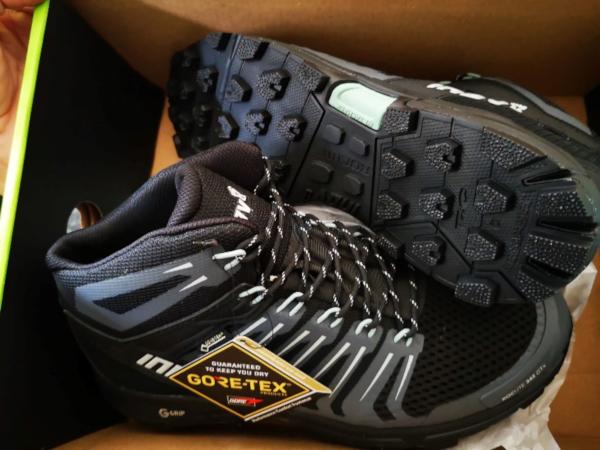 For traveling this made life very easy to, weight and smell were really kept to a minimum. Heavenly.
They also kept my foot cool in the heat of Morocco. Seemingly the shoe for all occasions, warm or cool.
Lacing
The laces on the latest batch of Inov-8 seem at first glance to be very slim lined.
Hoping desperately they were not going to be elasticated and hold my foot too tightly, or worse still stretch on every wear.
Yet again another worry was put to bed. The laces are not stretchy and the eyes are made from a flexible material that allows the foot to move freely and flex, never once feeling inhibited.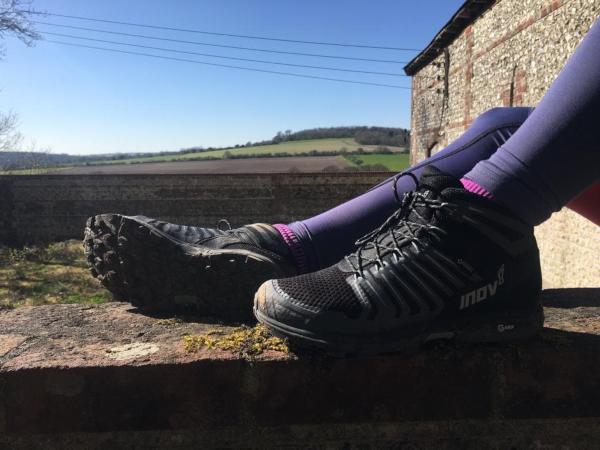 The laces carry on further up the ankle and give a nice degree of support to the joint, working hand in hand with the contouring design of the top of the boot.
That didn't rub at all on the ankle over a short period or for three days trekking.
A firm close fit was ensured through the mud as well as over flint and roots.
Sole
The inner sole has a cushioned ride, power flow midsole.
With a drop of 8mm and a footbed of 6mm, the midsole stack of 16mm /8mm feels like a lot less when attached to the graphene-enhanced G Grip outer sole.
The footbed was so comfortable I wouldn't even begin to hesitate to wear these on a multi-day event.
Grip
In true Inov-8 style, the grip did not disappoint. The G Grip triangular grips, I've gotten to know, release the mud, dirt, sticks, and stones that like to try and collect in the grips of normal shoes.
Offering superior grip on steep ascents and moss-covered descents on the mountainous terrain of the mole valley hills through bracken and lose scree.
Opinion
My opinion on these shoes really cemented on heading to the hills in North Wales and Lancaster while weight bearing ascending and descending jogging with a 10kg weighted vest, up some of the steepest hills I have had the pleasure of trekking over.
Through three days, they proved themselves to be sure footed and lightweight over any terrain. It took a little while for me to get used to the idea of running in an ankle high boot but they never once rubbed. Even after three days out and about.
I wish I'd known about these sooner, to be honest, I've raved about them since my return.
Ankle support
Tabbing and weight bearing while trekking over 16k of multi-terrain gave me the very best idea on just how these respond and support the ankle.
I wanted to understand what the ankle boot could truly offer, and they without a shadow of a doubt, performed. My ankles felt safe, my step felt secure and there was no movement what so ever.
Over three days, they performed and gave me exactly the same enjoyment as they did the first day.
Wear
I'm going to be wearing these when I'm 100 if they carry on the way they have started!
Downsides
If I was going to point any slight hindrance out, it would be you have to loosen the laces right off every time you take the boots on and off. This could be because of the handy flexible eyes the laces weave through.
Also, if anyone was looking to wear these on a mandatory boot event, it is worth noting the lace eyes only come up one eye, possibly two of the ankle joint.
I'm aware some people prefer to have two to three above the ankle joint to truly offer support when weight bearing.
Conclusion
The grip has performed time and time again through sticky mud, water, frost, hills, mountains, and some serious ascent and descents through into firm fast ground on scree.
Without a doubt, the lightweight attributes this shoe has is a huge bonus to the trekking world and is incredibly quick drying and durable.
They ooze confidence and open the door to running while in a supported boot without fear of clipping stones or roots in a heavier boot.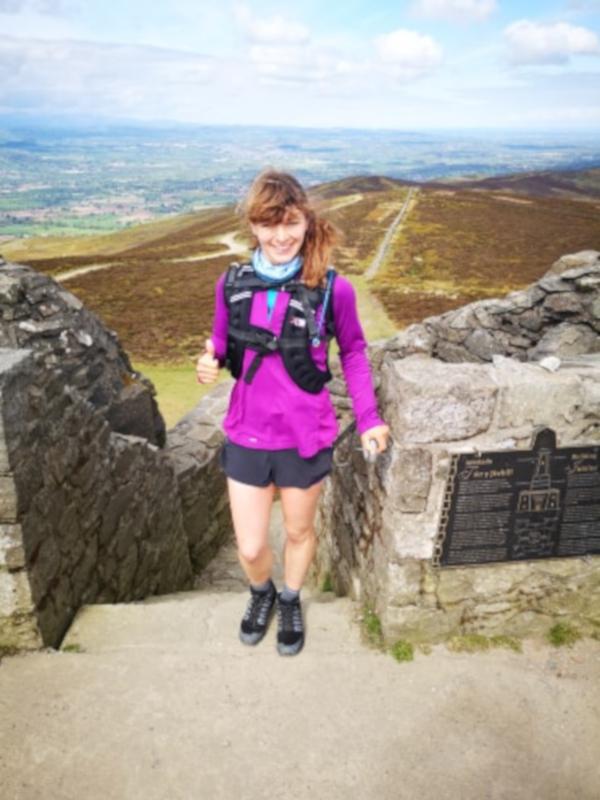 The price tag seems incredibly reasonable for a boot that is going to last a long time, with no wear whatsoever visible over either of the shoes.
On a side note, traveling with these was incredibly easy, they pack well, weight nothing, smell as good as they did on arrival and hold no water while giving air to the foot and allowing the foot to breathe all day long.
I'd take these anywhere with total confidence and encourage anyone else to try running in a supported trekking boot too. They have changed how I view a trekking boot and my idea on trekking as a whole.
The Inov-8 Roclite G 345 fills an underserved market: the Speed Hiking shoe.
These shoes are up for any adventure. They're light, weighing just 12.2 oz. They're versatile: they have Gore-Tex and have minimal seams and an integrated tongue, so splash through the puddles and smack through the mud.