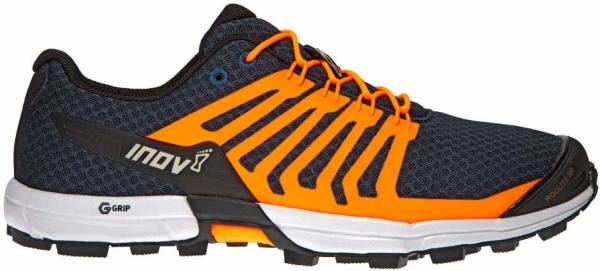 The Inov-8 Roclite G 290 received a mixed response from the consumers. Although a few buyers found the shoe to be too roomy, many have expressed their contentment and considered it as a worthy investment. People were happy about the shoe's comfortable underfoot platform and flexible mesh upper. The outsole's durability and traction capacity also gained positive feedback from runners.
---
Verdict from 3 experts and 55 user reviews
7 reasons to buy
Users are pleased with the traction capacity of the Inov-8 Roclite G 290. Some of them also mentioned that the shoe delivers a superb grip even on wet surfaces.
This trail running shoe offers a ride that was not overly bouncy, said some reviewers. Another commenter mentioned that it allows for a maximum ground feel.
Several runners expressed that the upper unit of this shoe offers unmatched breathability.
The flexibility of the upper material allows for natural movements, according to a couple of purchasers.
Inov-8 Roclite G 290 is a great companion for a long day out, as mentioned in some reviews.
Consumers noted that in terms of durability, this running gear is worth their money.
Roclite G 290 is incredibly comfortable and supportive, stated some runners.
2 reasons not to buy
A consumer complained that the sole of this shoe squeaks while running and it made him feel uncomfortable.
Some testers mentioned that the forefoot section of the shoe is too roomy and loose.
Bottom line
The Inov-8 Roclite G 290 received a mixed response from the consumers. Although a few buyers found the shoe to be too roomy, many have expressed their contentment and considered it as a worthy investment. People were happy about the shoe's comfortable underfoot platform and flexible mesh upper. The outsole's durability and traction capacity also gained positive feedback from runners.
Best price from 49 shops
We earn affiliate commissions at no extra cost to you when you buy through us.
34% say it's too large, 66% say it's true to size.




Our reviews
My latest running shoe hunt was for a light, small and softer model of trail running shoes. The choice felt for Inov-8 Roclite 290 that promised flexible and versatile shoe designed for speed.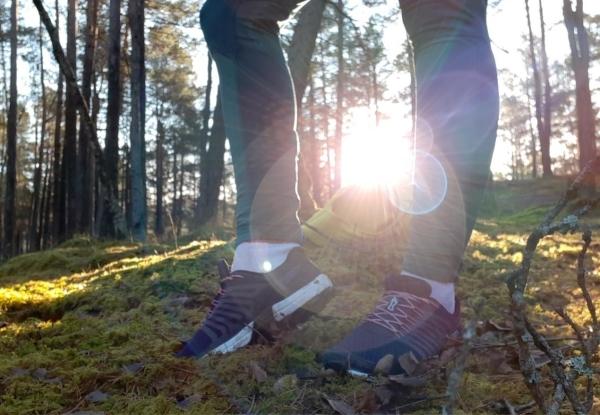 Design & fit
Design is quite simple, with no specific aspects to highlight.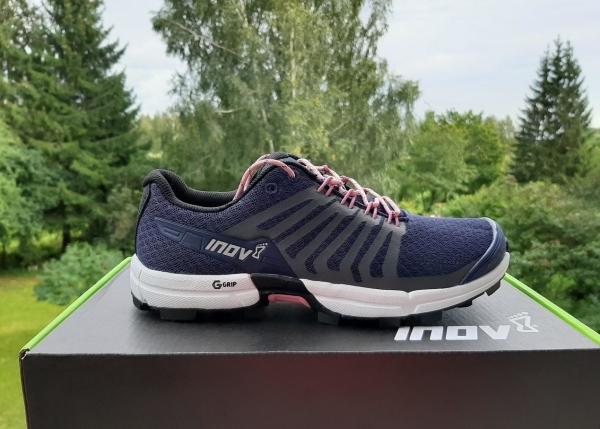 As for fit, for my standard size 38 EU (5 UK) I picked size 38.5 EU (5.5 UK) and the shoe fits well. I would recommend choosing half size larger size than your standard. The width is neutral.
At first, the shoe feels very thin for an off-road shoe, but its features prove any doubts wrong. The shoe did not require time for breaking in.
Upper
The upper is made out of non-water absorbing mesh (Adapterweb), which supposed to provide extra comfort and adapt to the changing foot shape and natural movements.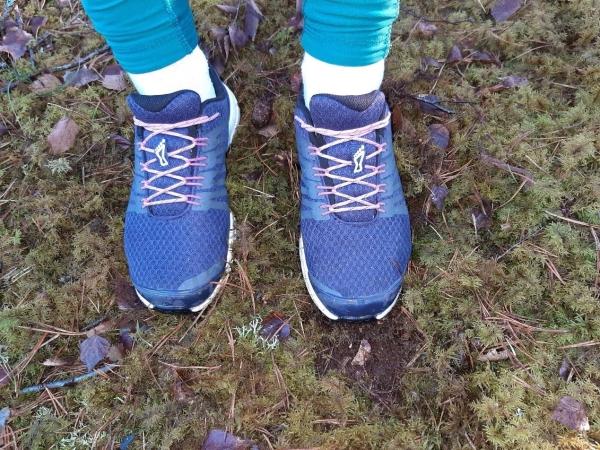 I would not call the mesh adapting feature very visible or obvious; it is clear that it is comfortable, but it is not too elastic – adaption is limited.
The shoe is great for summertime, for wet and snowy seasons additional preparation needs to be maintained to keep the ride pleasant. Mesh is breathable, in windy winter you will feel it, so warmer or waterproof socks are the must.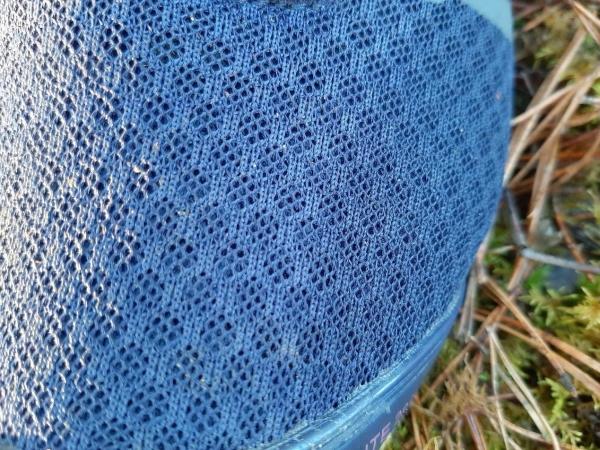 The toe protection cap is made of a harder rubber-like plastic that serves its purpose, but the soft mesh part of the toe box still would not be the best option on the gravel or other trail with sharp rocks.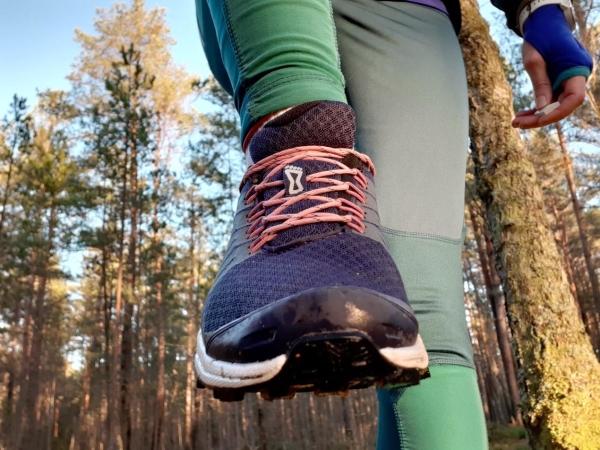 The heel counter is lightly padded and not too firm. Also, as the shoe is low-flat with a low drop (4mm), the heel collar part feels lower than most other shoes. It is comfy, but was lower than my usual, - adaptation time was just one-two runs.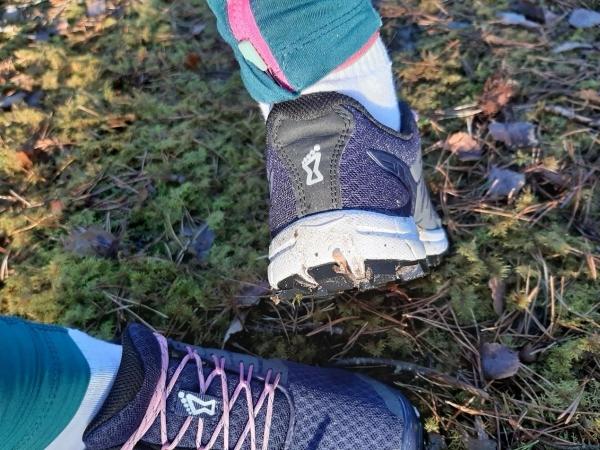 Overall, the shoe is padded lightly, the tongue is padded a bit thicker.
The tongue is sewn to the upper with elastic fabric and sits well in a correct position. Lace holes are replaced with elastic bands. Laces themselves are long, personally, I prefer longer ones.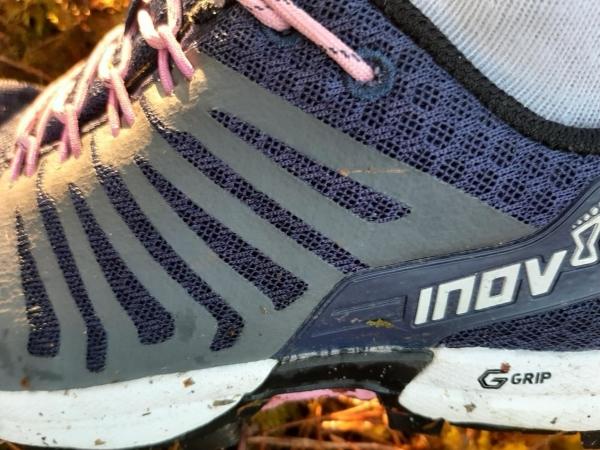 Soles
It is advertised that sole construction features a Powerflow midsole that gives 10% better shock absorption and 15% better energy return than standard midsoles, and the addition of the next-generation Metaplate gives even more underfoot protection.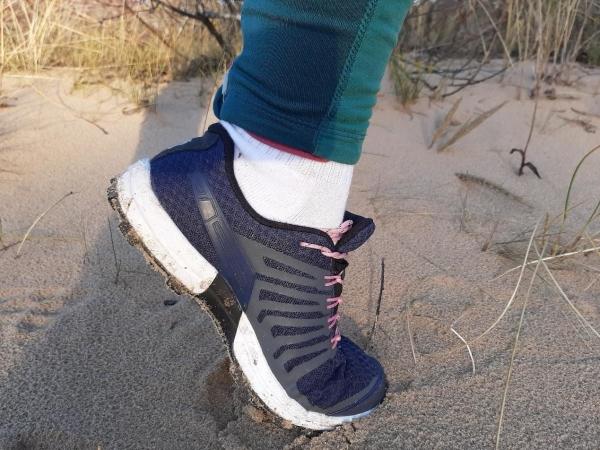 Based on a 180 km run so far, I would agree with reasonable shock absorption. Overall, it gives the right feeling and no evidence of joint pains.
The outsole is made of graphene grip material that promises better traction and increased outsole durability on diverse terrains. This checks out, sole provides good traction.
It has proved itself on soft and muddy forest trails, beach sands, snowy pathways, and it is alright if the path includes parts of asphalt or pavement. Meanwhile, soles do not show any sign of wearing after almost 200 km. Looking forward to assessing durability in a long term.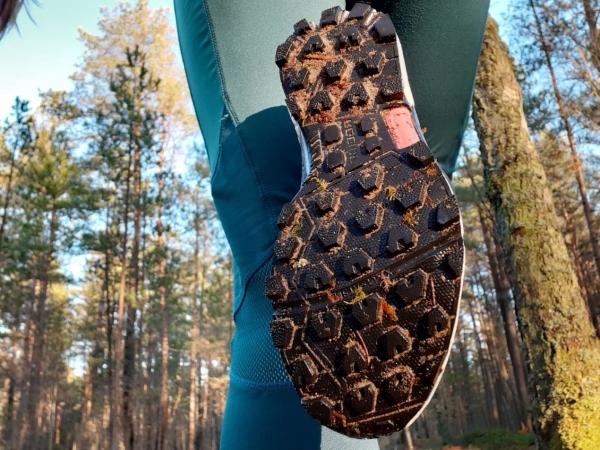 Ride
With Roclite 290 ride is light, comfortable, and fast. A shoe is a good option for trail runners, who prefer lightly cushioned and breathable shoes.
My longest run in these has been 20 km, comfort level does not change within this length of the run.
Feels better on dry trails in colder weather as wind and water will get you through the mesh upperparts. For soft forest trails, muddy paths and hilly terrain this shoe serve perfect.
Pros
Light & fast
Traction & durability of the soles
Reasonable price (~70 EUR)
Breathable & comfortable
Cons
Need special socks for cold & wet conditions
Summary
All in all, I like these shoes, these are ones of the lightest and most flexible trail-running shoes I have.
Personally, I prefer the balance: it is protective and stable enough, at the same time providing a light ride and a bit softer step, - a bit more freedom to the feet than in most trail-running shoes.
I would not recommend this shoe for those runners, who prefer a firm shoe with rich padding, but if you look for light, soft, and fast trail shoes, give Roclite 290 a try!
Updates to Inov-8 Roclite G 290
Inov-8 Roclite G 290 is a trail running shoe designed to be more flexible and faster than before. With the addition of the GRAPHENE GRIP technology, Inov-8 has successfully increased the outsole's durability and traction capacity of this running companion.
Compared to other shoes that belong under the Inov-8 Roclite series, which normally have an 8mm drop, the Inov-8 Roclite G 290 boasts a 4mm drop to provide better ground feel.
Size and fit
Like the other Inov-8 running shoes, the Inov-8 Roclite G 290 guarantees a fit that is true-to-size. The shoe's removable insole and Adapterweb design offer a snugger fit and comfortable in-shoe experience.
The Inov-8 Roclite G 290 follows the standard shoe measurement and is available in different sizes and colors for both men and women versions. Runners are welcome to get a pair in their usual sizing expectations, though it is advisable to fit the shoe first to ensure a perfect fit.
Outsole
The Inov-8 Roclite G 290 features the revolutionary GRAPHENE GRIP technology which offers ultimate traction on varied terrain. This component is packed with protective features that also help increase the life of the shoe. Aside from the good grip, this technology also provides another layer of protection to the shoe.
The enhanced rubber outsole has 6 mm cleats that are designed to deliver superior traction without compromising the durability of the shoe.
Midsole
The two-piece POWERFLOW material in the midsole unit delivers a 10% higher shock absorption and energy return compared to standard midsoles. This cushioning technology provides a softer and smoother ride.
A rock plate is placed between the midsole and outsole unit for additional protection from stone bruises and sharp rocks. Another trail running shoe that features a rock plate in its midsole is the Merrell Trail Glove 5.
Inov-8 Roclite G 290's 4 mm drop brings the foot closer to the ground, allowing the runner to react faster on technical trails. This component is designed to be more flexible and responsive to the foot.
This running shoe comes with a removable insole for added comfort and underfoot protection. It also allows the user to adjust the level of cushioning.
Upper
The upper unit of the Inov-8 Roclite G 290 is made out of highly breathable material. The mesh upper effectively keeps the debris and small rocks from entering the shoe while allowing the air to constantly flow in and out, keeping the foot dry and comfortable.
Heat-welded overlays are integrated into the upper unit to provide additional protection and comfort.
The upper features an Adapterweb design that expands and adapts to the size and shape of the foot during long runs or challenging trail adventures.
Rankings
How Inov-8 Roclite G 290 ranks compared to all other shoes
Popularity
The current trend of Inov-8 Roclite G 290.