When RunRepeat asked me to review the Icebug Acceleritas 6 RB9X I got quite excited. Looking at the specs they "ticked all right boxes": well-ventilated, low stack and drop, grippy, and very light. Exactly what I look for in a trail shoe.
Was this finally the "grippy lightweighter" to replace my aging Inov-8 X-talon 212 standard fit? My only worry was the narrow last! As a recreational ultra-runner, I'm quite adamant when it comes to comfort.
How would my feet and body cope with the rather narrow Acceleritas 6?
The Icebug Acceleritas 6 RB9X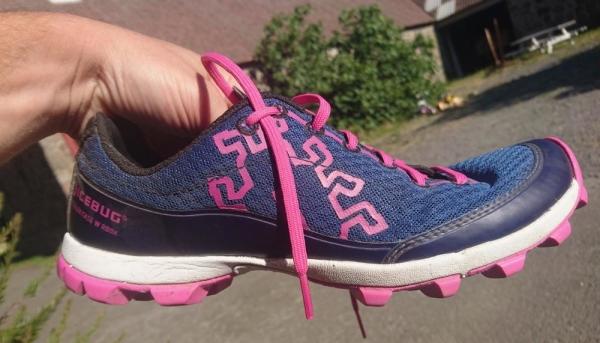 Looks
Upon opening the box my immediate thought was "Nice!". The Acceleritas 6 has a classical yet rather distinct look. They make up a well-designed and light-looking unit. Nimble and sophisticated.
I would normally not consider "a pink shoe" - more or less willingly accepting the general gender/ color preconception. But somehow pink fit these shoes well. They do not look overly gender-specific - despite being marketed as a women's model.
The classical and distinct design of the Icebug Acceleritas 6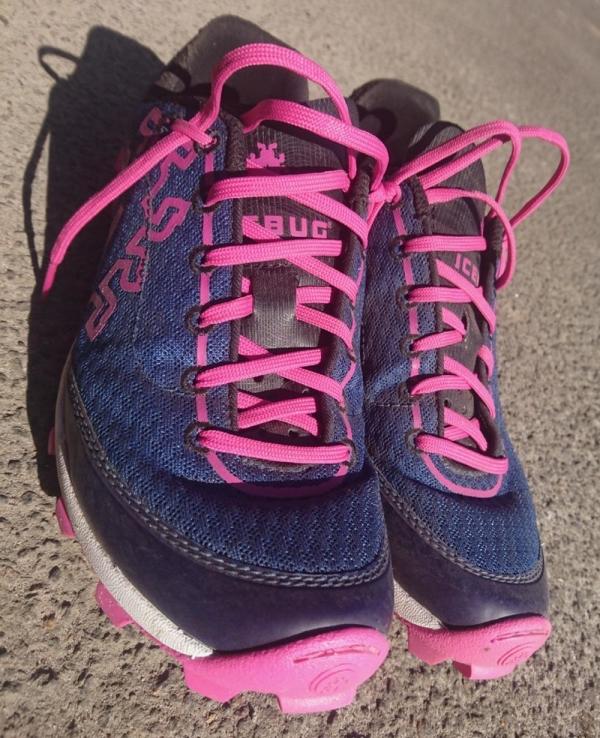 Anyway, if pink "is not your color" there is always the so-called men's model.
It is identical except it sports a more neutral "orange neon"-ish color instead of pink, and it also comes in larger sizes.
Fit
The Acceleritas 6 is true to size lengthwise. They both look and feel rather narrow laterally.
However, they are very flexible, and accommodates a wider foot by "stretching". Well, not truly stretching - rather "flatten out" to become wider at the cost of space over the instep, and the foot getting outside the midsole horizontally.
The narrow and flexible last offers excellent control in technical situations, and a superb feel for the trail - low stack and no rockplate.
The narrow fit

I'm normally a wuss when it comes to ankle injuries, but I never once feared twisting my ankles while running in the Acceleritas 6. Even when "going full throttle" on difficult technical/rocky trails, something I otherwise rarely do.
The low stack and narrow last, however, offer very little support. For me this effect kicked in when going for longer runs - an hour was my maximum. After that, the reduced support of the Acceleritas 6 became an issue for me. My feet "felt tired" and this soon spread to my ankles and calves.
At first, I put it down as "they need a bit more breaking in". But after the first three back-to-back runs (a bit more than an hour each) I started getting stabs of pain along the outwards lateral side of my right foot. I ended up having to take a break from the Acceleritas 6 for fear of injuring myself.
Please note that this is not a case of me not being used to minimalistic, zero drop, low stack shoes. I have several pairs of shoes in that category and use them all on a regular basis. It was rather a case of too narrow, too much, and too soon.
After a few runs in some other shoes, I was able to come back to the Acceleritas for some more testing. One short run at a time though - no more hour-long back-to-back runs.
As another measure to overcome the tightness, I decided to see what would happen if I removed the insole. Heureka! That was a completely different experience.
Suddenly the Acceleritas 6 felt if not roomy then at least not foot-squashing anymore. With the insole removed, the already excellent feel for the track was even more pronounced. Removing the insole had, however, no positive effect on the lack of support.
Upper
The upper is made from a nice, soft, open-weave fabric. It feels reasonably sturdy, and I haven't been able to damage it during the review period. It is well-ventilated and fine for summer runs. I doubt it would provide much protection come winter and snow, though - but only time will tell.
The Acceleritas (this is the sixth iteration) has been praised for their drainage capacity, see e.g. balkanrunner.com. It is also one of the selling points on the Icebug website, e.g. suitable for swim-runs.
Hence, on one of my first runs (coincidentally along the beach), I decided to test this by venturing into the Baltic Sea (nice on a hot summer day). Quite right - water gets in quickly and water gets out - little is absorbed by the shoe. The moisture in the sock is another matter.
Normally when your foot strikes the trail, the pressure inside the shoe pushes/squeezes water out of the sock/shoe. With each step away from the moisture source, your shoe/socks get just a tiny bit less wet until some rather damp equilibrium is achieved. This does not seem to happen much in the Acceleritas 6.
I'm not sure why. I speculate that it may be due to the plasticky band that runs the entire circumference of the Acceleritas 6. In effect working as a very short "gumboot". I don't know. All I know is that my socks seemed to retain more moisture and longer than usual.
Inwards lateral side - no logo. Please notice the dark-blue plasticky band (non-draining)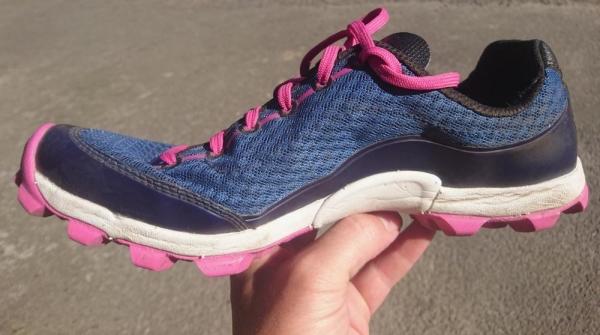 Tongue
The tongue is made from a rather thin, leathery material with some internal foam-like cushioning in the central parts. The material is a bit glossy and to some extent water repellent. It is only attached to the shoe at the lower end with the usual lace-hole half-way up.
The tongue is sufficiently long and its easy to grip when putting on the shoe, and it does not move around when running. Overall nice, soft, comfortable and accommodating to the foot.
What I don't get is a series of holes towards the lower end of the tongue. Three to four mm in diameter and facing upwards. I presume they are there to provide extra drainage and/or ventilation?! But what good are drainage holes facing upwards?! To my knowledge, water takes a distinct dislike to flow up!
Close-up of tongue ventilation/drainage holes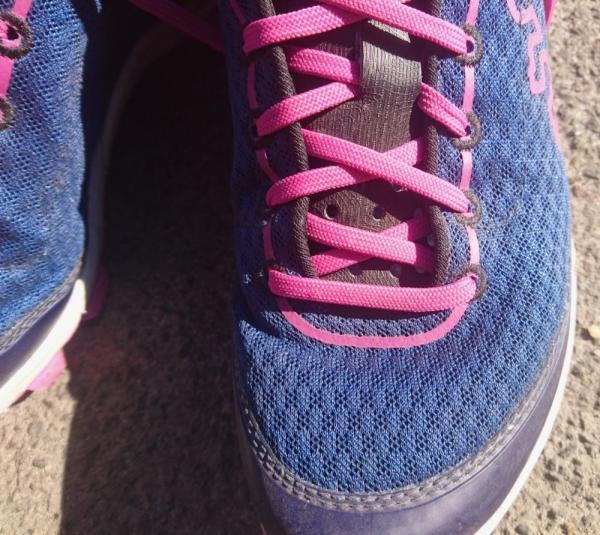 Even should the holes have a positive effect on drainage, it is clearly outweighed by their tendency to funnel stuff into the shoe (being located right at the instep notch). On my first run on the beach, they filled up completely with sand.
On my second run - not on the beach - I had to stop twice in 12 km to empty small piles of fine gravel from my shoes, and that despite wearing gaiters. That is, in my opinion, a major design flaw in a trail shoe.
Okay, OCR runs are generally not very long and you are covered in mud, water and "other stuff" for most of the run anyway - so who cares about a bit of grit in the shoes. Well, I do - I hate blisters and tiny stones are a prime source of blisters! After three runs I grabbed for a role of duck-tape, and that was the end of those holes.
Icebug - if you read this! Get rid of those tongue holes! They are a nuisance.
If you want more drainage I suggest you put in a series of sieve-like holes in that plasticky band that covers the lower part of the upper. Just like the ones on the side of the upper - covered by fabric. That way water may get out, and "stuff" not get in!
Drainage holes in the upper visible from the inside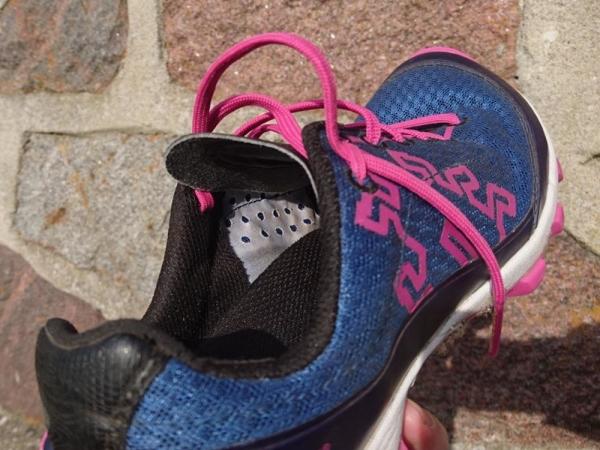 Heel Cup
I like very much that the ankle collar sits very low. To prevent heel slippage Icebug has used a so-called "micro suede" on the inside of the heel cup.
This provides extra contact between the shoe and the sock and ensures that the shoe stays on your foot despite the low collar. It also seems a lot more durable than the usual soft/foam like materials used in other shoes.
Close-up of the heel-cup with micro-suede - and some of the inevitable sand inside the shoe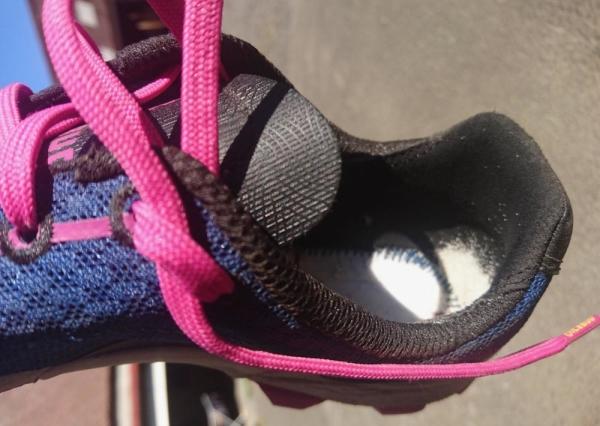 I have seen various similar "shark-skin" features in other brands, but never tried it. Conceptually it seems very useful. You easily slide in your foot, and you sure feel the "grip" on the sock when you try to pull out your foot.
The shoe/sock locks down nicely so to speak, without having to over-tighten the laces. However, after trying it I'm not entirely convinced that micro-suede is such a great idea after all.
Somewhere along the gait cycle your foot/ankle will unavoidably move relative to the shoe. By decreasing the motion-opportunities in the sock/shoe zone you inadvertently increase the amount of motion going into the skin/sock zone => Blisters!
And damn right ... the Acceleritas 6 is the first running shoe in many years to cause me blisters on my Achilles. Right at the point of the micro-suede - on both legs!
This may be an entirely personal issue or a "wrong-usage" issue - I don't know. All I know is that I hate blisters with a vengeance and normally never get them!
A look inside the heel cup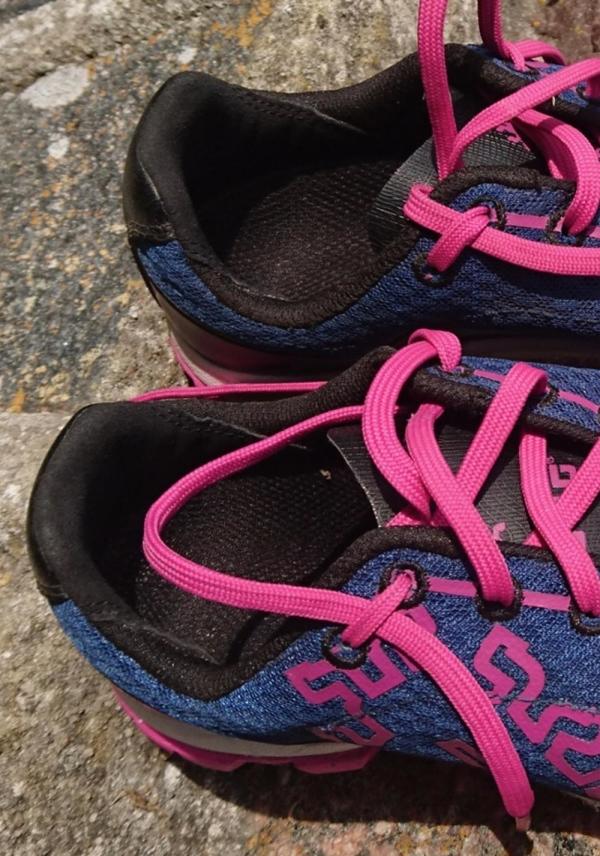 After a period of painful trial-and-error, I finally dialed in a way to wear the Accelleritas 6 that worked for me.
Put on a rather thick sock (Thorlo Experia), take out the insole, and employ the lace lockdown technique. That allowed me to go for 10-12 km runs without any blisters.
Outsole
The outsole is made from the outstanding Icebug RB9X rubber and has very grippy 8 mm lugs positioned in an effective mud-buildup-preventing configuration. They provide superb grip on anything I have thrown at them.
Sideways view of the deep outsole lugs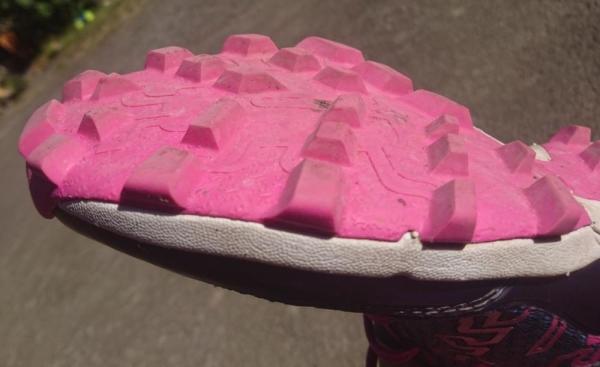 You will not be disappointed - trust me. The grip is simply as good as it gets in an unstudded trail shoe! And that says quite a lot coming from an avid X-talon fan!
Outsole: Pink, aggressive-looking and very grippy!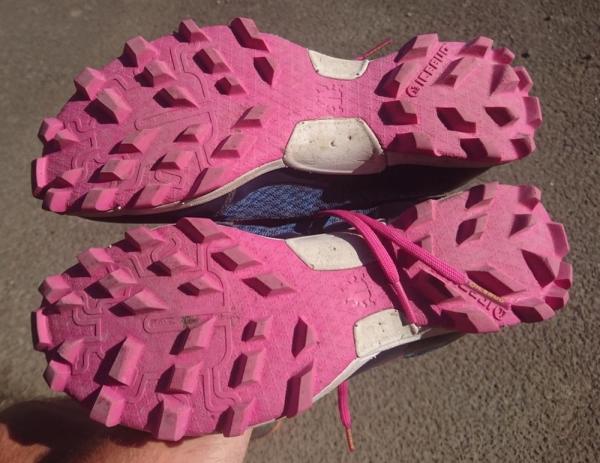 Performance
Right out of the box, the pair I tested - a womens UK 6.5, EU 40.5 - weighed in at 394 grams. That is 197 grams each. Without the insole, they were 376 grams or 188 grams each.
Rather impressive! It is hard to find trail shoes lighter than this - especially with such an aggressive outsole.
On my second run, I set a personal best on one of my regular rather technical routes. Twelve kilometers of gnarly, winding, rocky single-track with the odd puddle and stream crossing. The Acceleritas 6 is simply the fastest, lightest and most grippy trail shoe I have ever tried! Pure joy!
Through my testing, I have found that thanks to the grip, control, and ground feel, they are suitable for almost any type of trail - muddy, rocky, hard, soft, and sandy (minus the tongue holes). They do it all, and they do it fast and well! Even the odd bit of road they handle reasonably well - though I wouldn't recommend going for longer runs on asphalt.
Durability
There were no sudden defects or build issues for the first 50+ miles. There was hardly any wear to speak of on the upper. The outsole, however, showed a rather worrying amount of wear on the lugs considering the mileage.
The lugs have clearly "grated off" and become rounded, and with the lugs goes the grip. I worry that the outsole will not last long and the shoes soon have an uneven outsole and are useless.
Significant outsole wear - please notice the rounded corners of the lugs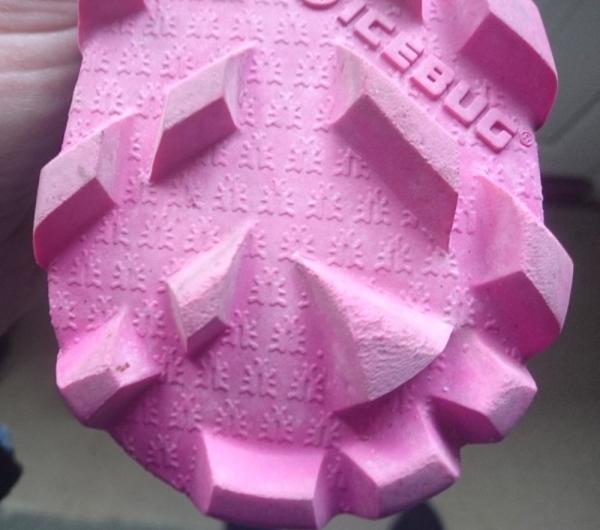 Discussion
Despite the narrowness, annoying tongue-holes and initially blister-causing micro-suede, I really like running in the Acceleritas 6.
They are speedy, lightweight and nimble, and the grip is outstanding. I wish they could become my "go-to" trail shoe - even with duck-taped tongue-drainage-holes. However, after 50+ miles I am calling it quits. They are not suitable for my kind of running (slow and long), mainly because of the lack of comfort.
I am always on the lookout for comfortable, light trail shoes with a solid grip. Over the years I have tried several Acceleritas-type shoes.
I can't help asking: "Why do lightweight trail shoes with extreme grip have to be so bloody narrow and uncomfortable?" For example VJ Sport Irock, Inov-8 X-talon Precision fit, and now the Icebug Acceleritas. All super shoes - but too bloody uncomfortable for anything more than sprints.
The Acceleritas 6 is a phenomenal shoe - but very specifically targeted towards short and extreme conditions. That's all good if you regularly find yourself in a race-like situation and need the lightness and grip (e.g. OCR).
But if you are a bit more like "average me" and only do the odd race, it seems a bit over the top to spend the equivalent of 130 euros on a shoe that may not see much mileage outside of race-time.
Conclusion
The Icebug Acceleritas 6 is a very light, extremely fast shoe. It offers an awesome grip, superb control, and a wonderful ground feel.
It is - but for a few flaws - well suited for short, technical trail races and OCR type runs. If you are a keen and fast obstacle-course racer and your feet are somewhat narrow I strongly suggest you try the Acceleritas 6.
The Acceleritas 6 is, however, also very narrow, provide very little support and do not seem very durable! They have a very narrow and specific usage spectrum, and is not a shoe for the "average running Joe". Certainly, don't expect to take them out for your next ultra or use them as your everyday trainer.
Disclaimer
I am an independent recreational runner, and not in anyway affiliated with or paid by Icebug for this review. It represents my personal thoughts and experience with the Icebug Acceleritas 6. The shoes were provided to me free of charge by runrepeat.com for whom this review is written.