The Hoka Sky Kaha is an amazing all-around hiking boot and easily the best all-around shoe I have used for hiking and backpacking. Those looking for a do-it-all shoe with a breathable yet waterproof upper, lightweight construction, plush cushioning, and aggressive traction will fall in love with this Mercedes of hiking boot.
Pros
Plush ride
Solid lockdown
Durable
Breathable
Great traction
Looks
Hoka Kaha review
The Kaha is supremely lightweight and feels like a running shoe both in weight and the midsole ride that I thoroughly enjoyed coming from a trail running perspective. The stack height and drop are also great for promoting a smooth and protective ride.
If there is one concern I have with the Kaha, it's that the price tag of $220. It is definitely on the higher end, but then again, it is an amazing shoe and worth every penny for a very serious and active hiker.
Tech specs
The Sky Kaha is a very lightweight backpacking/hiking boot. Sizing is fairly standard and fits the same size as a running shoe.
It weighs in at 17.9 oz (508 g) in a Men's US 9, making it nearly half the weight of most comparable boots. With a heel-toe offset of 6 mm (33/27), the Kaha has a very smooth and effortless heel-toe transition, while offering the maximal protection one expects from a Hoka product.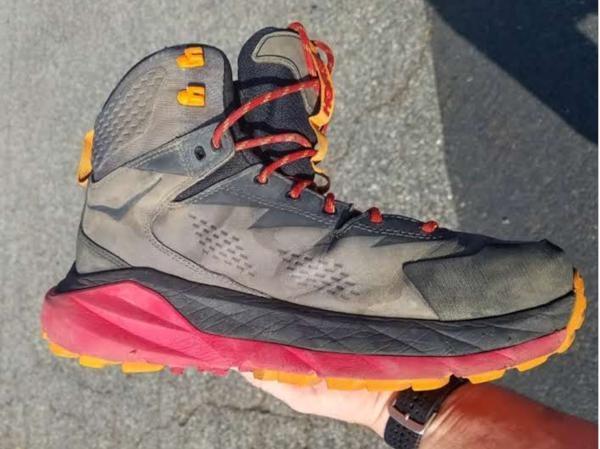 Well done, design team!
"That's one small step for man." I jokingly said when first seeing these moon boots in comparison to trail running shoes; I normally use for hiking.
Despite these fitting in with the Hoka brand with their large and "clown shoe" size, I actually love the look of them! The black/grey colorway, as Hoka calls it, is vibrant and eye-catching with its bright red bottoms and orange accents.
After 200 miles, there is no premature wear
Thus far, I have put about 200 miles on this pair of shoes and have had no issues with premature wear. The only place where there is evidence of wear is in the Rangi bottom foam, which is what Hoka is calling the soft midsole foam between the top EVA layer and Vibram outsole.
I have used these shoes for hiking all across California in Yosemite, the Sierras, the San Gabriels, and Zion on very rugged and rocky terrain, and they have held up amazingly well considering what they have been put through.
As for the upper, there is no sign of wear, and I anticipate these shoes to last for hundreds of more miles with the limiting factor seeming to be the soft midsole.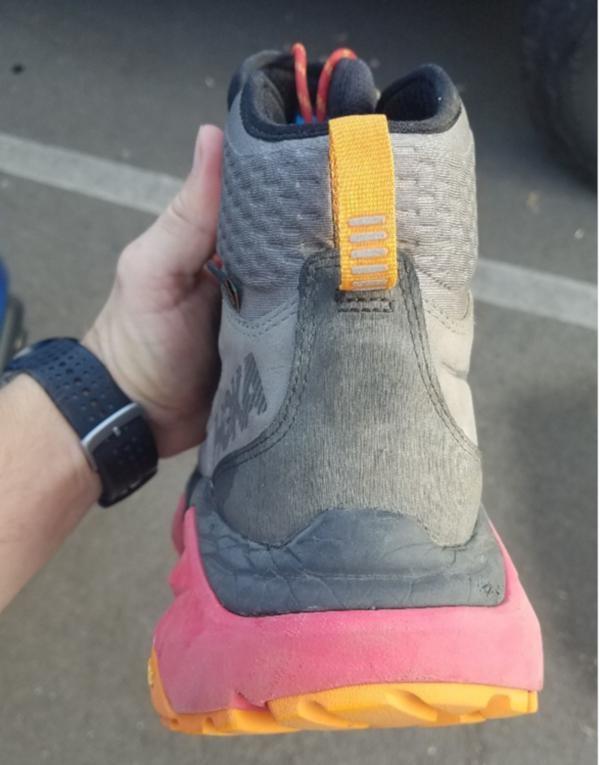 Supple upper
One of the great feats of design with the Kaha is the eVent upper, which is comprised of full-grain waterproof leather.
Hiking mostly in California, I had a concern that the leather upper would pose an issue with heat and hot spots, but I have yet to experience either even when hiking Half Dome in them straight out of the box!
As a trail runner and hiker who usually just repurposes trail running shoes for hiking, I was pleasantly surprised with how supple the upper feels on foot. I have not needed to wear liners or double up on socks or alter anything as the upper just works seamlessly with no hiccups.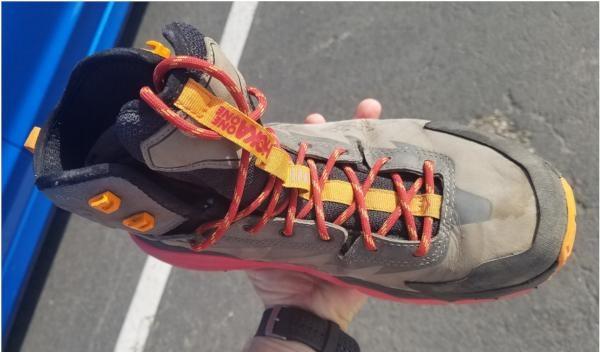 More breathable than a GTX shoe
Also, the waterproof aspect of the upper is a huge plus and feels better. It is more breathable than a Goretex upper on a trail running shoe.
Being a mid-cut made this an even easier transition from trail running shoes with no risk of Achilles hot spots.
Solid lockdown in the
Kaha
Lastly, I really love the adjustable lacing system! The paracord-style laces are great for providing a solid lockdown while staying out of the way. This is aided by the length being very good and being spots in the orange loops to tuck the ends in.
A supremely plush ride
The midsole of the Kaha is made up of two layers: EVA top layer & Rangi bottom foam layer.
This combination makes for a supremely plush ride. For long day hikes, these have to be some of the most comfortable and resilient shoes I have ever worn.
Keep in mind these are neutral shoes and, therefore, might not be supportive enough for some people. For those with a neutral gait, these are very well cushioned and feel like walking on a cloud even when covering nothing but rocky terrain.
Two primary concerns with highly cushioned shoes are protection on sharp objects and maintain proprioception on slick terrain. The Kaha passed both of these tests with flying colors as they have kept my feet feeling like brand new even on rocky 20 plus mile hikes and felt very agile even when summited the slick slopes at Half Dome.
Provides better traction on varied surfaces
It has 5 mm lugs that provide excellent grip in the sand, soft mud, scree, and slick granite.
The grip on the Kaha is top-notch due to the utilization of its Vibram Megagrip hi-traction outsole. This allowed Hoka to strategically minimize weight while having a very durable and sticky rubber outsole.
From past experience with similar outsoles and looking at the status, it appears this outsole will allow for many hundreds of more miles to be put on this pair of shoes. There is no sign of accelerated wear, just a little bit on the soft outer midsole.