Verdict from 11 experts and 41 user reviews
6 reasons to buy
The Hoka One One Speed Instinct 2 lasted a long time, based on the feedback of many consumers.
A number of testers commented that the cushioning system generally made them very comfortable.
Those with Achilles tendonitis wrote that the underfoot platform properly kept pain at bay.
The wide toe-box agreed well with most runners because it allowed their toes to play naturally during their runs.
Some purchasers noted that this running shoe had a suitably lightweight nature.
There were people who welcomed the gripping capability of the outsole.
2 reasons not to buy
According to a reviewer, the heel cup was a bit low, so there was a tendency for heel slippage.
A tester reported that the stretchy upper fabrics caused his foot to roll unsteadily. He would've liked a more robust and supportive upper construction to hold the foot well.
Bottom line
The Hoka One One Speed Instinct 2 appealed to a lot of consumers. Most of them welcomed its comfortable cushioning system and the reliable durability. They also thought that most of its components were effective. But there were a number of users who didn't like the way that it was constructed. They mentioned some flaws in the design that kept them from performing well on the trails.
Tip: see the best trail running shoes.
Our reviews
The Speed Instinct 2 is just about perfect for trail runners who don't want to sacrifice all-terrain grip or ample cushioning but still need a lightweight shoe for moving fast.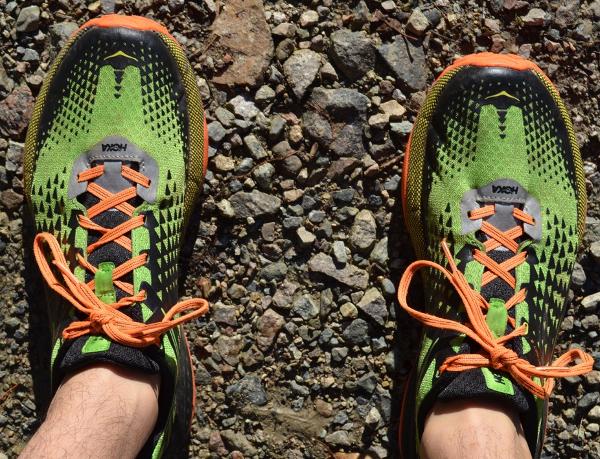 Who the Speed Instinct is perfect for
Hoka deserves a pat on the back for designing this shoe. The maximalist category of pillows-on-your-feet running shoes to which Hoka belongs is often criticized for being amply cushioned, but also chunky, awkward, and heavy.
For races shorter than an ultra-marathon, or for more up-tempo training runs, you just don't want mattresses tied to your feet.
Hoka seems to have acknowledged these limitations in its maximalist line by offering runners the Speed Instinct, which doesn't sacrifice cushioning, but also is nice and light (9.5oz for a men's size 9) and is packed with design features that help you zip along quickly on the trails.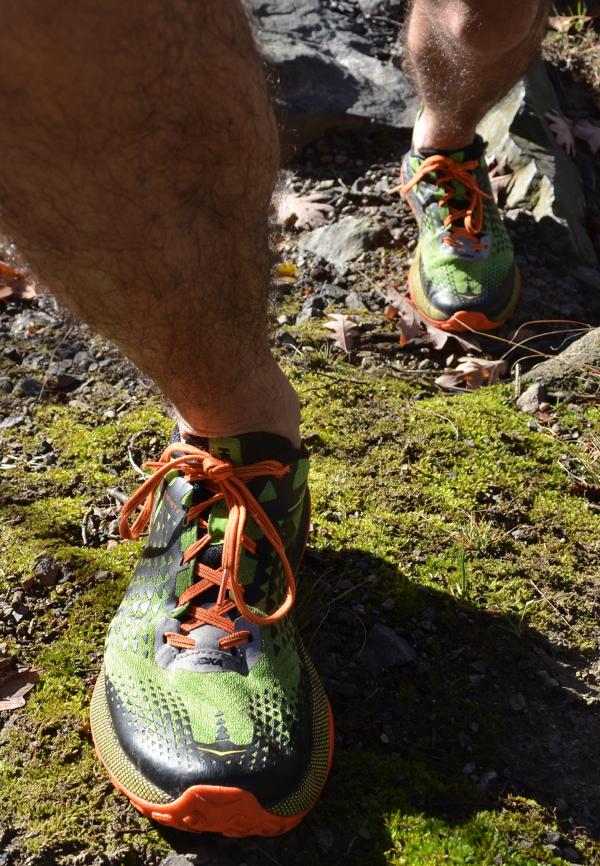 Starting from the ground up, the Speed Instinct's outsole is terrific: it looks like it was modeled after a monster truck tire and delivers perfect traction over a wide range of conditions. I've run comfortably on dirt, mud, snow, ice, grass, sand, boardwalks, and pavement in this shoe, and the outsole has kept its grip for well over 300 miles.
The outsole also succeeds in its moderation: it has fairly moderate lugs that don't make the mistake of many trail shoes that are way too aggressive, packed with great white shark's teeth grommets that make the shoe uncomfortable on anything but sloppy mud and add unnecessary weight (e.g. the Salomon Speedcross).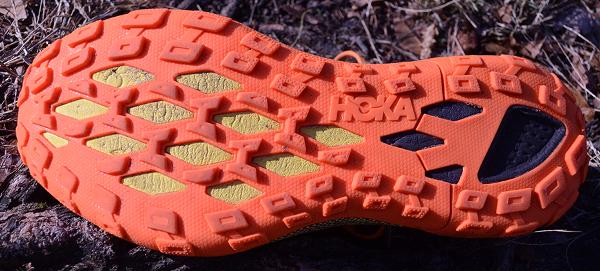 Moving up on the shoe, the midsole is terrific. It has the shock-dampening, soft, cushiony feel we've come to expect from Hoka, and keeps your legs feeling fresh up to about a marathon distance trail run.
At the same time, compared to your average Hoka (say, the Stinson ATR 4 or the Speedgoat), it is a little more responsive, has a more traditional stack height, and has a nicely curved shape that rocks you smoothly through the gait cycle towards an easy toe-off.
All of these features lead to a fast-feeling shoe that makes it easy to run at a quick tempo. I've also found the midsole maintains its structure, cushioning, and energy return for well over 300 miles.
Upper & fit
Finally at the top of the shoe, the upper of the Speed Instinct 2 is very well designed. It is mostly seamless, giving a smooth, sock-like fit that breathes and drains moisture quickly, whether from sweat or stepping through puddles.
It is built on a last that will accommodate a wide range of foot types, keeping snug in the heel and midfoot while giving plenty of space in the forefoot for wider feet, and foot swelling that occurs on long runs.
The upper also has some thin overlay designs along the midfoot that provide a comfortable snugness and keeps the foot saddled even on technical terrain.
The upper also has a rigid heel shank, unlike the Speedgoat, that adds stability and reduces slip. Finally, it's a minor touch, but the stretchy laces on the Speed Instinct 2 are a nice touch – they're durable and also stay locked down even when wet. Thanks to this well designed upper, I felt very confident with foot placement even in rocky conditions with rapid elevation change.
My one complaint with the upper was that it kept its form well up to around 300 miles, however, at this point (like many seamless upper constructions) it began to stretch out and lose its snugness around the forefoot and midfoot, presenting real issues on technical terrain where the foot needs to remain locked in place, or risk slipping or rolling an ankle.
The upper was the first part of the shoe to break down, and if it was more durable, the midsole and outsole could easily have handled more miles. That said, for a lightweight shoe, the upper's durability was perfectly acceptable, and a marked improvement from the Speed Instinct 1.
A Look at the competition
There aren't a whole lot of shoes in direct competition with the Speed Instinct 2: most either aim to be much lighter obstacle course running shoes or are significantly heavier traditional trail shoes and ultra-running shoes. The speedy, high cushioned niche is a small patch of terrain.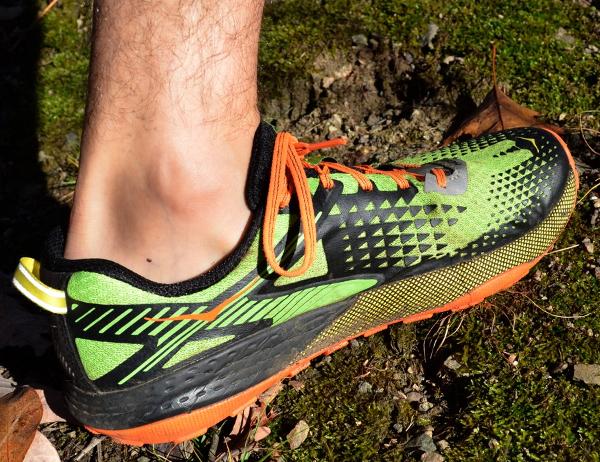 Two competitors may be the Brooks Mazama and the Salomon Sense Pro 2. Both are trail shoes with similar versatile outsoles to the Speed Instinct and a similar goal of being lightweight and race-ready at 9.3 and 9.2 oz respectively for a men's size 9.
However, both of these competitors are extremely firm, even hard, to a degree that I found very uncomfortable on any run over about six miles, even on the soft, muddy ground. By contrast, the cushioning in the Speed Instinct keeps feet feeling happy up to about a marathon distance, even on hard rocky terrain.
Another competitor is the Altra Superior 3.5. However, the Superior is heavier at 9.6 oz, has a less grippy outsole that slips on rocks and leaves, an awkward heel-toe transition because of its flat, slab-like midsole, worse durability, and a very wide toe-box last that won't fit well for as many foot shapes.
All in all, I found the Speed Instinct was superior in every way (pun intended).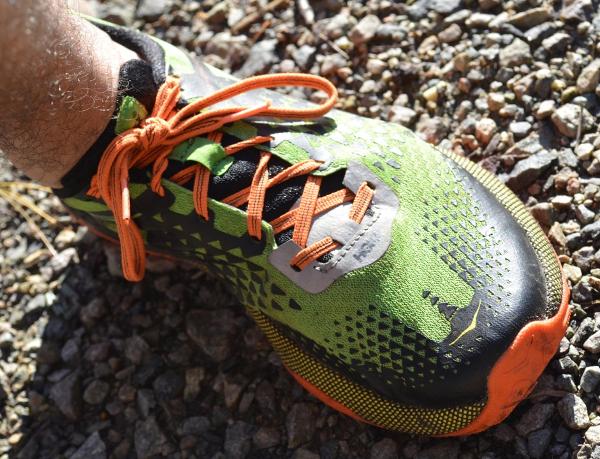 Who the Speed Instinct isn't ideal for
Although it is just about perfect for trail runners looking for a shoe that can handle both fast runs and high mileage, the Speed Instinct isn't ideal for everyone. Runners who might look elsewhere are:
1. Overpronators, runners who need some arch support. The Speed Instinct 2 is completely neutral. That said, stability trail shoes are virtually non-existent, and the Speed Instinct has a removable sock liner, deep footbed, and a heel shank that makes it very effective at accommodating supportive inserts.
2. Ultra-runners looking to go beyond the marathon distance should probably look at more built up shoes in Hoka's line like the Speedgoat or Stinson ATR, or other maximalist trail options like the Altra Olympus. I found that after about 20 miles, higher stack height and softer midsole of the Stinson ATR was worth the extra weight when compared to the Speed Instinct.
3. Road runners or even those running on smooth crushed gravel trails will find the Speed Instinct's trail-tuned outsole unnecessary and heavy. There are lighter weight road shoes that will do just fine.
Good to know
Most of the components and features that graced the original Speed Instinct is still present in the Hoka One One Speed Instinct 2. The platform still houses a specific cushioning system that's prevalent in many of the brand's stable of running shoes. The outsole also retails the trail-run-ready gripping lugs that aren't too aggressive.
However, the upper unit now has an updated design. A seamless construction is still in place here, but the overlay system has been reinvigorated to accommodate a snugger and more agreeable fit. Thin yet strong overlays have been fused directly to the upper's fabrics, providing structure to the material. But they're strategically placed to give the foot more security, especially when the shoelaces are adjusted.
The Hoka One One Speed Instinct 2 has a standard running shoe length. It follows the regular preferences of runners when it comes to sizing. The available width for both the men and women's versions is medium. The semi-curved shape of this running shoe adheres to the natural curve of the human foot.
The outsole unit of the Hoka One One Speed Instinct 2 makes use of the High-Abrasion Lightweight Rubber. It's a sturdy material that aims to shield the mid-sole from the abrasive nature of the trails. It also doles out traction, which is essential for outdoor adventures.
Gripping lugs pockmark the surface of the outsole. They're designed to heighten traction and hold over uneven surfaces. They're not too aggressive in size, so runners won't have a hard time transitioning from the trails to more even ground.
A rocker design is employed in this running shoe's platform. Called the Early Stage Meta-Rocker Design, it allows the foot to move through the gait cycle with ease and sureness.
The Pro2Lite +10 is a cushioning foam that's designed to provide underfoot comfort and protection from impact. It has a soft heel section, thus making foot-strikes more agreeable. The forefoot is firmer, so it causes the toe-offs to be springy and enabled. The Saucony Peregrine 8, aside from having a similar function, presents a stack height and heel-to-toe drop that is close to the Speed Instinct 2.
The upper unit of the Hoka One One Speed Instinct 2 features the Seamless Air Mesh. It's soft, smooth and it doesn't have a substantial weight. It accommodates the flow of air into the foot-chamber, therefore maintaining a cool and dry interior environment.
The 3D Puff Print Frame is made up of thin overlays that have been printed onto the main upper fabric. Its purpose is to reinforce the structure of the shoe, yet it also gives a snug and secure coverage for the runner's foot.
A Reinforced Toe Cap is added to shield the forefoot from debris and aggressive surfaces on the trails.
Hoka One One placed a traditional lacing system to allow a customizable fit.
The pull-tab on the rear of the upper makes it easier for runners to wear and remove the shoe.
How Speed Instinct 2 compares
Corescore: 55-58
1 shoes (0.25% of shoes)
Corescore: 59-62
1 shoes (0.25% of shoes)
Corescore: 63-66
3 shoes (0.76% of shoes)
Corescore: 67-70
10 shoes (3% of shoes)
Corescore: 71-74
17 shoes (4% of shoes)
Corescore: 75-77
33 shoes (8% of shoes)
Corescore: 78-81
97 shoes (24% of shoes)
Corescore: 82-85
115 shoes (29% of shoes)
Corescore: 86-89
92 shoes (23% of shoes)
Corescore: 90-94
27 shoes (7% of shoes)
Price: $60 - $78
24 shoes (6% of shoes)
Price: $79 - $97
26 shoes (7% of shoes)
Price: $98 - $116
66 shoes (17% of shoes)
Price: $117 - $135
118 shoes (30% of shoes)
Price: $136 - $154
78 shoes (20% of shoes)
Price: $155 - $173
50 shoes (13% of shoes)
Price: $174 - $192
22 shoes (6% of shoes)
Price: $193 - $211
8 shoes (2% of shoes)
Price: $212 - $230
2 shoes (0.51% of shoes)
Price: $231 - $250
2 shoes (0.51% of shoes)
All shoes average:
10.4oz
Weight: 6oz - 7.7oz
29 shoes (8% of shoes)
Weight: 7.8oz - 9.5oz
85 shoes (23% of shoes)
Weight: 9.6oz - 11.3oz
159 shoes (42% of shoes)
Weight: 11.4oz - 13.1oz
82 shoes (22% of shoes)
Weight: 13.2oz - 14.9oz
15 shoes (4% of shoes)
Weight: 15oz - 16.7oz
4 shoes (1% of shoes)
Weight: 16.8oz - 18.5oz
1 shoes (0.27% of shoes)
Weight: 18.6oz - 20.3oz
0 shoes (0% of shoes)
Weight: 20.4oz - 22.1oz
0 shoes (0% of shoes)
Weight: 22.2oz - 24oz
2 shoes (0.53% of shoes)