Verdict from 11 experts and 38 user reviews
6 reasons to buy
Numerous owners find a comfortable backpacking boot in the Hoka One One Kaha.
Dozens of outdoor enthusiasts appreciate the cushioning of this footgear.
Its lightweight design leaves a couple of verified purchasers in awe.
This Hoka One One product is successful in keeping water out, as testified by a critic.
A reviewer praises the boot's Vibram outsole for supplying ample traction on challenging ground conditions.
A handful of consumers reports that it virtually had no break-in period.
2 reasons not to buy
A tester says that the Hoka One One Kaha's price tag is too steep.
The minority is not happy with the insufficient ankle support granted by this backpacking boot.
Bottom line
Those who need comfort and cushioning for backpacking excursions may find what they're looking for in the Kaha (a.k.a Sky Kaha). The lightweight design, grippy outsole, and effective waterproofing are also appreciated by the outdoor community.
On the other hand, its high price tag might not suit everyone's budget. All in all, Hoka One One's trail boot can satisfy outdoor enthusiasts because of its great set of features and qualities.
Tip: see the best hiking boots.
Our reviews
Man, the colors are retro and loud! However, my 10-year-old really liked the colors. If you don't like the colors, there are other options available.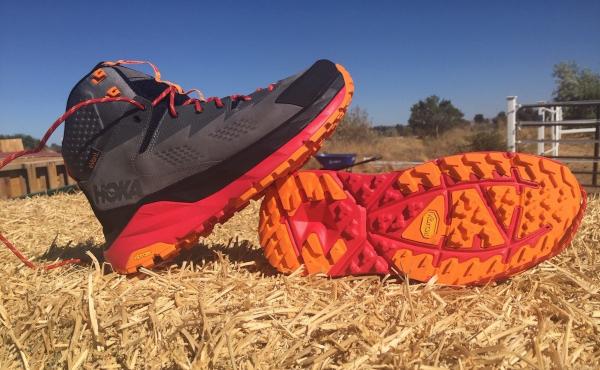 I didn't get to pick the color, these shoes were provided as test mules, and now I have grown to like them. Prepare yourself for answering questions when you go out with your friends to hike, though.
After admiring the colors, I put the shoes on to see how they felt and fit. I usually wear a size 10, and once I had these on, I felt like they ran about a half size larger than I'm used to.
This was not a big deal as I wear a pair of sock liners and then my wool socks and once, I had both of them on, the boots fit well.
I have run in Hoka One One shoes in the past and loved the cushioning but had some issues with stability. So, I had reservations about their boots.
The cushioning was what I expected from Hoka very soft and comfortable, thanks to their "Rangi™ bottom foam and patented geometries".
Regarding their adjustable lacing system that provides lockdown fit regardless of your foot type, I can only speak to my foot type, and the boots did fit well and felt supportive once laced up.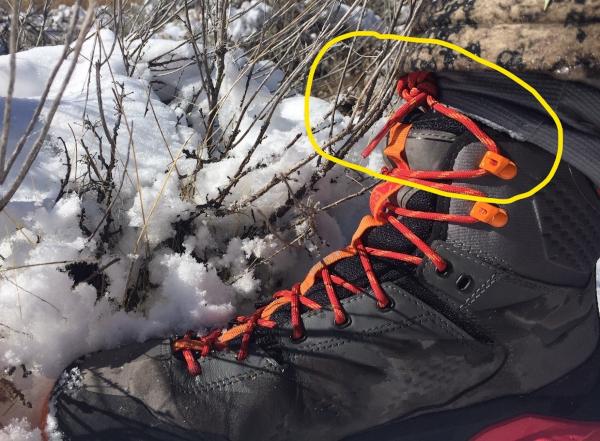 I did have some questions to what the yellow ribbon piece that the shoelaces run under was for. I assumed that it was to keep the boot's tongue in place.
However, its function appears to keep the laces from sliding over the top of the shoe. The lockdowns, last two eyelets did pop into place and held the laces securely.
Time to make like a horse turd and hit the trail
My family loves to go hiking, and we go out every chance that we get taking advantage of living in the rocky mountains.
We live right at 5000' above sea level. Thus, we can be on a trail in less than 30 mins and can be well into the high country in no time.
I often train in the mountains for ultra-marathons and know where to take the family to see the best of the best depending on time.
I have many pairs of hiking boots ranging from custom made to cheaper off the shelf models. The Hoka One One Kaha doesn't look like a traditional hiking boot and doesn't feel like one, but how does it perform.
It was an absolutely miserable day out with temperatures in the mid 30's F and non-stop rain. Rain in our area is rare and provided the opportunity to test the boot in wet conditions to see how well the Vibram® Megagrip traction would perform and how waterproof the boots really are.
The first step out on the trail I immediately felt the plush cushioning that the Kaha offers, not only this but the shoe is super light. My kids and I had set out on an easy 5-mile hike with a rather modest 1200' of total elevation gain and loss.
An obviously posed shot to show off the meaty lugs on the Kaha as well as their grip on a wet rock.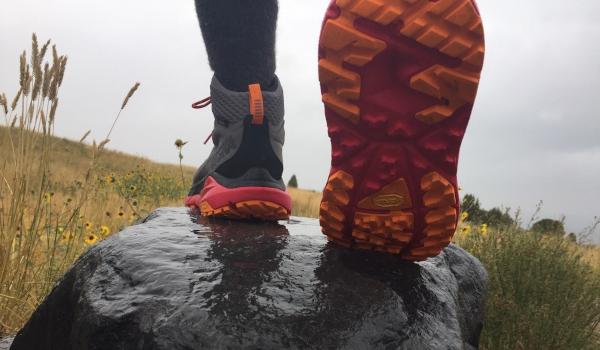 I purposefully tried to get the boot to slide on slick rock and could get them to slip on ridiculously steep wet granite boulders. To my amazement, the boots held on anything that anyone would common sense would attempt to walk on.
Would they ever slip? Yes, but only in the worse of conditions and not ones you would ever truly expect them to hold traction on.
In the mud, the lugs provided good grip but would get lose traction when the mud was really slick, or the lugs would fill with really sticky mud. I never felt like I was going to fall due to lack of traction. However, I could feel slipping when walking across mud.
Watching my kids walk across large areas of mud, the Kaha was performing much better than their boots were.
This picture was from a different hike that involved very sticky mud you can see how the mud clings to the boot: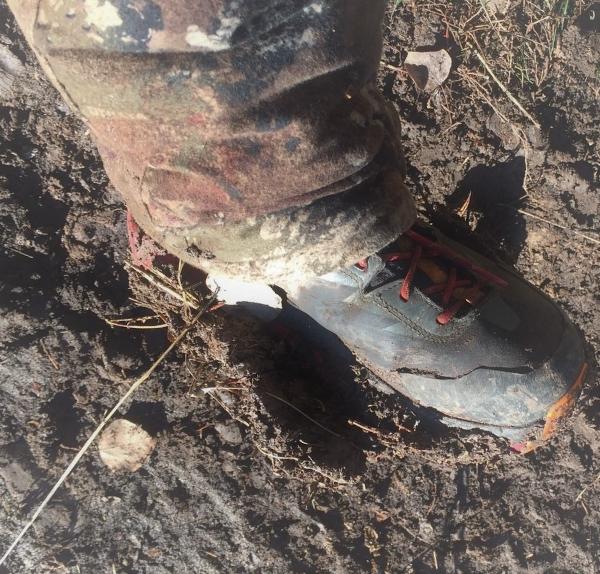 During our first hike, I was able to test the boots for waterproof through multiple creek crossings. Trying to get decent photographs to share with readers, I would often pause to get the right picture and to have one of my kids shoot video.
I was amazed that I never once had water leak into the boot, my feet stayed dry, as long as I kept the water below the top of the boot.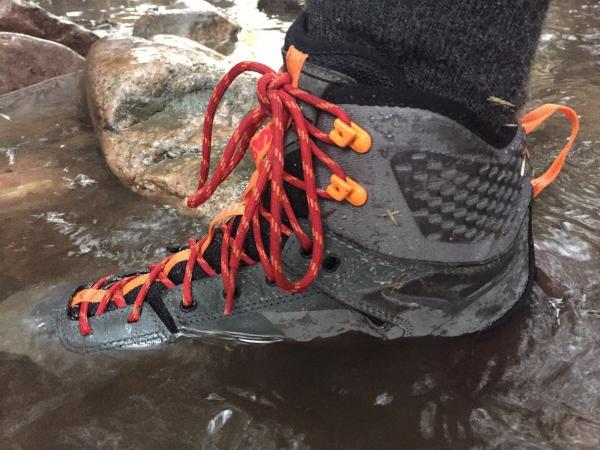 At the end of my first hike in the boots, I was pleasantly surprised by the lack of impact that I felt my legs had taken and how fresh I felt. The boot's lightweight built allowed me to climb small hills without feeling like I had to pick up heavy legs.
My feet weren't sweaty hot like they normally get during hiking, and they weren't wet from the rain. I felt like this was a huge success for the Kaha on their first hike.
Over the long haul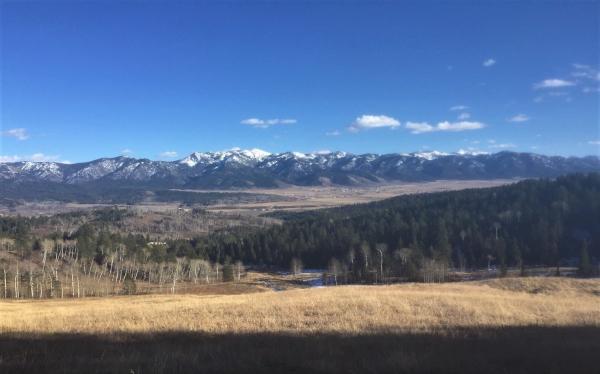 I managed to log nearly 500 miles throughout a couple of months. Most of which were with a heavy pack in the high country with winter conditions.
I tried my best to beat these boots into submission, even kicking stones to test the toe guard. I wanted to find a weakness and thought that stability of the boot would surely fail when scrambling across loose rock while side-hilling.
I threw the best and toughest conditions that I could find at these boots, trying to find a flaw. I thought for sure during my last adventure, I would find the pea under the mattress.
I was going on a 10-day camping trip where I ended up covering over 150 miles all between 5000' and 12,000' in temperatures that would range from -4F-50F.
I brought along a pair of winter hiking boots since the temperatures were going to be so cold. What I found was that the Kaha never got too cold even in the deep snow.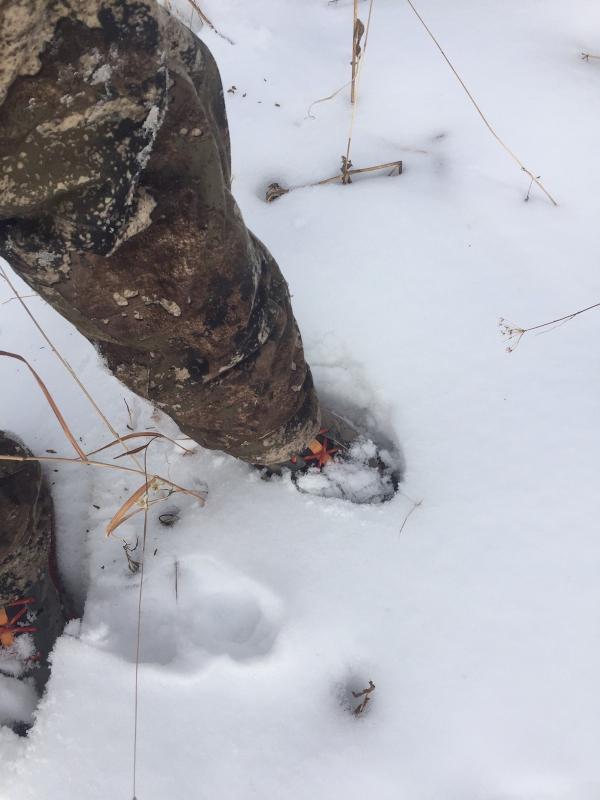 I had tried to wear my winter hiking boots but just found them too heavy and not comfortable to hike above 8000'. The Kaha was light waterproof and stayed warm enough to be my preferred boot over the ten days in the mountains.
I tried to take more photos, but the freezing temperatures kept killing my camera, so I snapped as many as I could until the camera would shut off.
High in the mountains walking snowy ridges with a heavy pack, I was sure that I was going to lose stability. The high sole with the cloud-soft cushioning screamed to give way under my loaded down weight.
But it was not to be—the boots held up through every turn over every ridge. While there is some give my feet and ankles always felt well-supported and comfortable.
Over long hard miles a day in and day out, I was happy to grab my Kaha's every morning.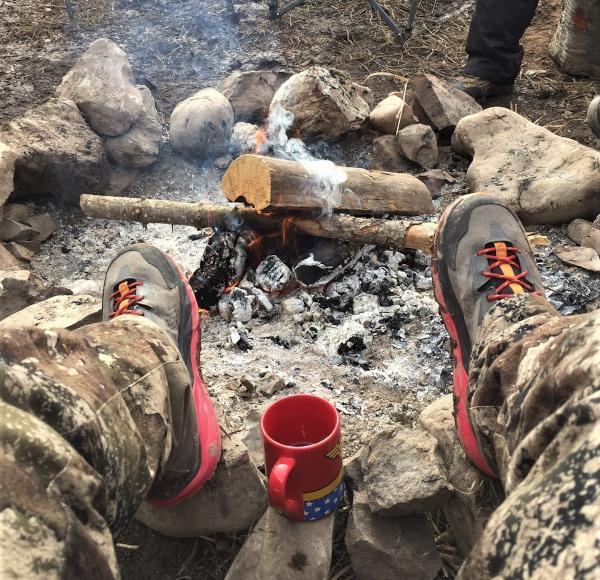 Wrap up
Materials
The full-grain waterproof leather has stayed soft and was shows no signs of being damaged. I punished the boot going through briars, water, and rocks and they took no damage just got dirty.
eVent waterproof booties kept the water out and my feet cool and comfortable throughout all of my testing.
Rangi™ bottom foam has held up and shows no deformation over the 500 miles that I have put on the boots. The boot is still as plush and soft as the first day that I got them.
Vibram® Megagrip hi-traction outsole never let go of their grip in the snow or rain on rocks or dirt.
Aside from getting dirty, the boots held up amazingly well, there isn't any glue coming loose no pulled stitches, and they are as comfortable as the day that I got them.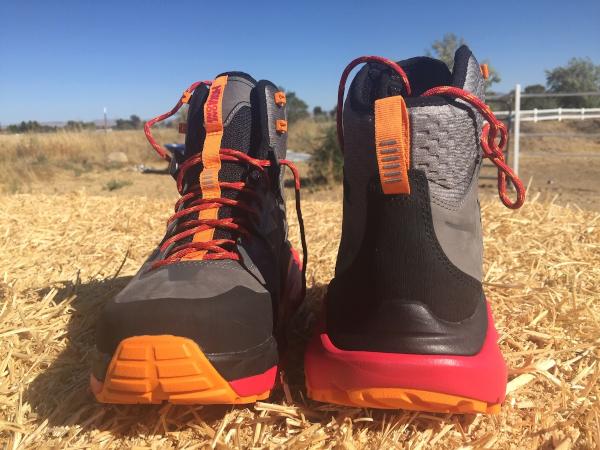 Toe guard was enough to protect my toes when I kicked rocks and smashed into tree branches.
The heal guard kept my heal and safe when bouldering and hiking through rocks
The laces are robust and show no signs of fraying
The lace locks hold tightly in place even if they come untied (I never experienced them coming untied while hiking but did untie them and walked around to see if they would loosen)
Pros
Cushion
Stable
Well-built
Cons
Run a half size to full size larger than standard
I have section hiked more than half of the Appalachian Trail (AT) as well as a large portion of the Continental Divide Trail (CDT) and many many miles on some of the hardest and most beautiful hikes.
During this time, I have gone through many boots and never thought that the Hoka One One Kaha would be one of my favorite boots if not my favorite.
If I'm going long miles, high country, or through water the Kaha is my boot. I would love to hike the whole AT from beginning to end, and if I ever get the opportunity to do so, you will see me in a pair of Kaha's.
If Hoka ever wants to sponsor a through-hike of the AT, I will be in line, raising my hand and begging to be the one who gets to go.
This boot is truly holy.
Get ready for a totally different hiking experience! The new Hoka One One Sky Kaha boots are ultra-comfortable, lightweight, easy to break in, and are ready to handle a variety of terrain.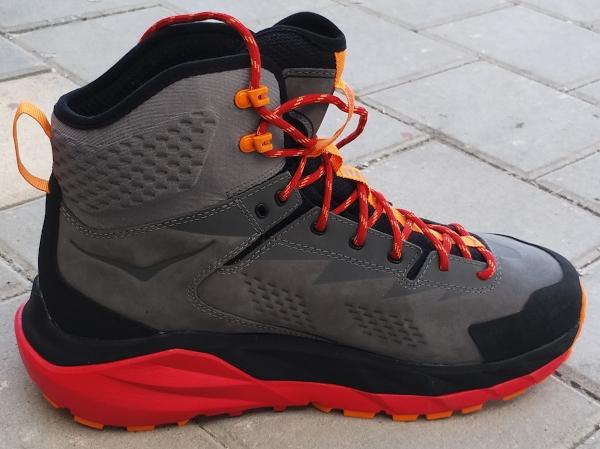 Although I was less enthusiastic about some of Hoka's running shoes, the Kaha trail boots have impressed me. I am finding that the Kahas fit very comfortably, and I am less bothered by their bulky design while hiking.
The look
Like other Hoka models, the Kaha is a bigger shoe, particularly in its height. Some hiking boots can be worn with regular non-athletic clothing and can pass as nice rugged leather shoes.
I would not put the Kahas in this category as they present themselves as a serious hiking shoe with their high tops, thick lugs, and brighter colors.
There is one men's model that has more earthy colors. The other choices are either brighter colors, all-black, or all-khaki and look more like commando boots.
These shoes get attention and comments, mostly because people are not used to seeing a shoe with such a thick sole. They will boost your height if that is something that interests you.
Storage-wise, take into consideration that they are simply bigger shoes. Just as a Vibram FiveFingers shoes will often get comments because of the minimalist and unique toe-shoe design, the Hokas on the opposite side of the spectrum also get comments as very elevated shoes.
The Vibram sole
The Vibram sole has thick 5mm lugs, which make the shoe fun to hike the trails with. Lugs of this thickness are more in their element on the trails as opposed to the roads.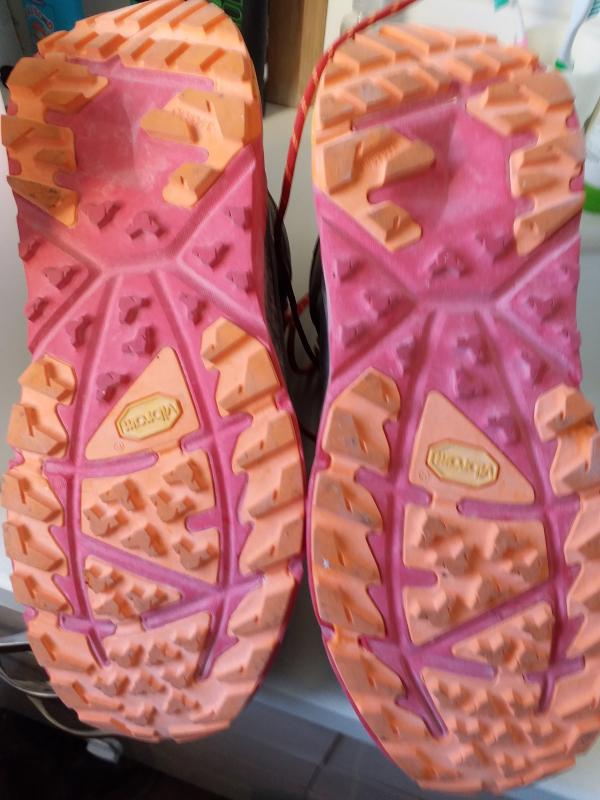 Vibrams generally make excellent soles, and as a former infantry soldier who had Vibram-soled boots, I know that they can endure a lot of wear and tear and have a good grip.
I have gotten some rocks stuck in the lugs, which I had to pull out, but the grip is solid and has good off-road traction.
The upper
This high top boot has a tight yet comfortable seal around the ankle. This tight seal is good for stopping debris from entering and for ankle support.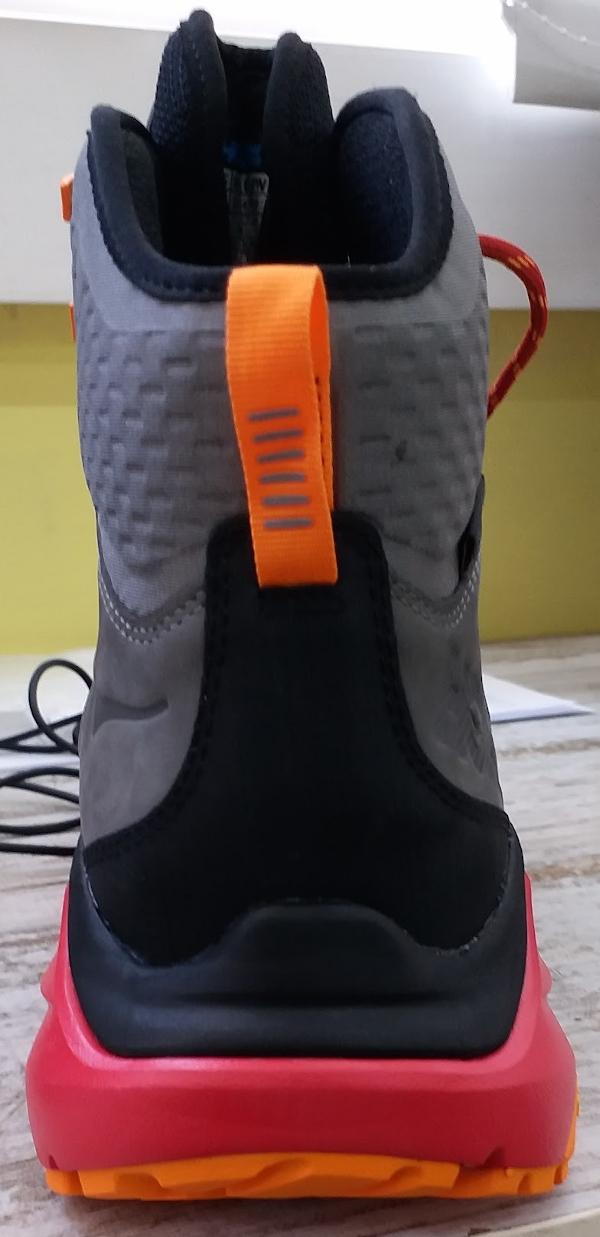 I was able to do some hiking in this shoe while recovering from a sprained ankle. And, even with a sensitive ankle, I can say that it did a solid job of keeping my ankles stable.
While the softer leather may cause a bit more movement in the ankle area, it still seems that it would be difficult to fully twist an ankle because they lace-up high.
Some hiking boots can be used as a rugged work boot. However, the Kaha are less suited for this because the leather is softer and feels less like a protective shell.
However, the reinforced rubber over the toes is a nice feature that provides extra protection against rocks and stubbing of toes.
The leather ventilates well, allowing the foot to stay cool and it successfully keeps out water. The inside of the shoe has an eVent liner which is a nice feature for keeping the inside of the boot dry.
Comfort
These are highly touted by Kaha owners as very comfortable hiking boots that require a little break-in period. This is one of Hoka's main selling points.
Comfortability is really one of the most important features of a hiking boot, as blisters can seriously detract from the hiking experience.
I agree with the hype that these are tremendously comfortable. As I mentioned, I was not as keen on the comfort levels of some of Hoka's running shoe models.
The leather is not stiff on the foot and the toe box is nice and roomy. I have found many hiking boots to be narrow and squeeze my toes, but the Kahas give me nice wiggle room.
This is a factor that I really look for in all shoes as a wide toe box is healthier for the foot and also more comfortable, especially when wearing them for many hours.
The obvious other factor that makes the comfort level excellent is the thick sole that is a Hoka signature feature. The sole does not give you the feel of the ground, which some hikers and minimalist shoe lovers may like.
They do give you the "walking on pillows"' feel, which is awesome. It's reassuring to know that there is a lot of material between the ground and your foot if something sharp were to penetrate through the sole.
Summary
This is a solid trail shoe that I would take on backpacking trips and day hikes. They handle the weight on the back well, they have a super comfortable fit, ample ankle support, and are impressively light for their size.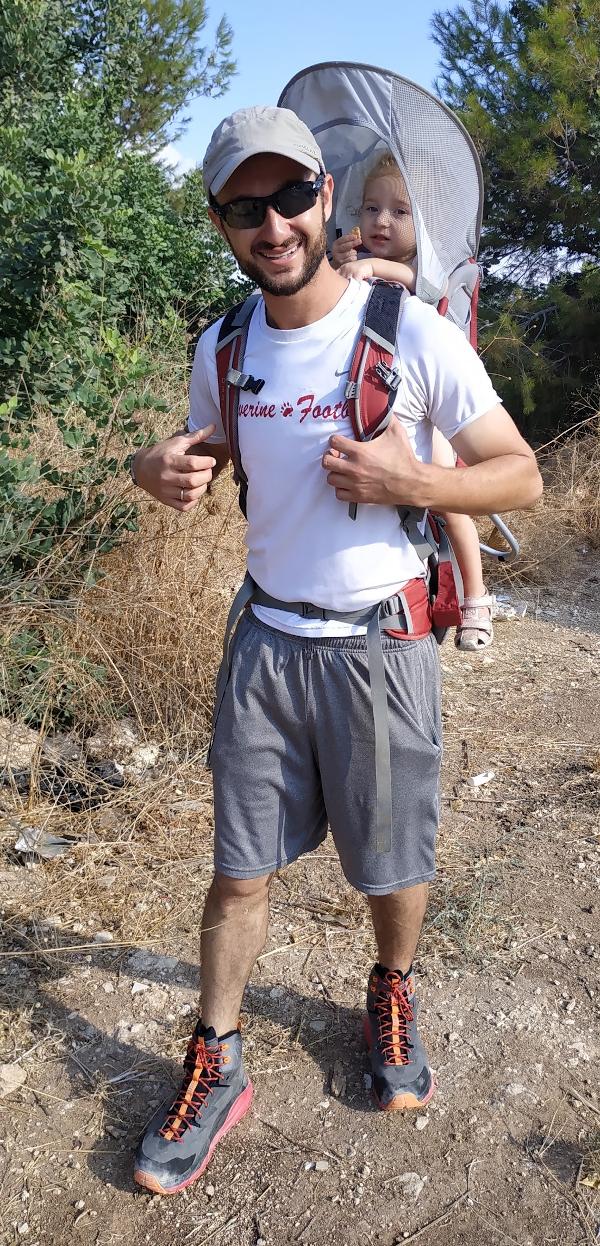 I have realized that they feel like a bit of a hybrid between a hiking boot and a basketball shoe.
Pluses
For their size, the weight is shockingly light, and it is great to hike in a lightweight shoe that is still highly protective and waterproof.
This is one of the most comfortable boots around due to the wide toe box, highly cushioned sole, and soft leather. Blisters are less likely to form while wearing these boots.
The grippy Vibram sole with 5mm lugs provides excellent traction and durability.
They can handle rugged terrain and serious hiking as they are high tops, with good foot protection in the leather upper, rubber toe reinforcement, and thick sole.
It is good for longer hiking trips and backpacking with weight on the back as the cushion takes the pressure off of the joints.
These could be a good option for heavy set people or hikers with injuries who really need a bit more cushion in each step.
Minuses
A less versatile boot: less suited for wearing casually, not such a work boot because of bulk and softer leather, less of a city walking shoe, a bit of a bulkier choice for less strenuous day hikes.
The Kaha's look is a bit unusual because of their large size, and some of the colors are a bit bright in comparison to most hiking boots. They are not the most attractive boot in my opinion, but some may like this more eye-catching style, which is less common among hiking boots and bound to draw attention.
The thick sole takes a little getting used to because being elevated off of the ground shifts one's center of gravity, which can take a little bit of adjustment. It wouldn't be the best choice for terrain that requires a lot of balance and precise footings like bouldering and rock climbing.
"That's one small step for man." I jokingly said when first seeing these moon boots in comparison to trail running shoes; I normally use for hiking.
Despite these fitting in with the Hoka brand with their large and "clown shoe" size, I actually love the look of them! The black/grey colorway, as Hoka calls it, is vibrant and eye-catching with its bright red bottoms and orange accents. Well done, design team!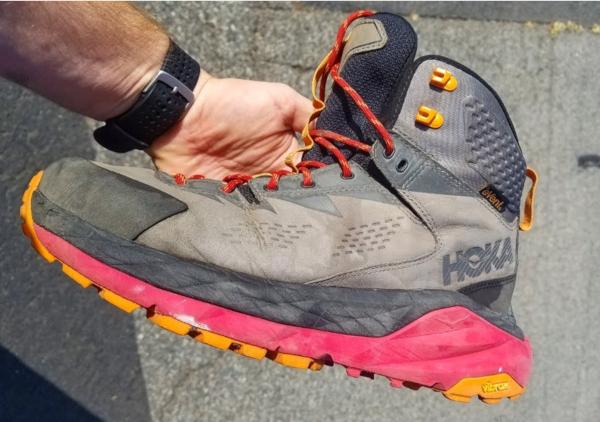 Tech specs
The Sky Kaha is a very lightweight backpacking/hiking boot. Sizing is fairly standard and fits the same size as a running shoe.
It weighs in at 17.9 oz (508 g) in a Men's US 9, making it nearly half the weight of most comparable boots. With a heel-toe offset of 6 mm (33/27), the Kaha has a very smooth and effortless heel-toe transition, while offering the maximal protection one expects from a Hoka product.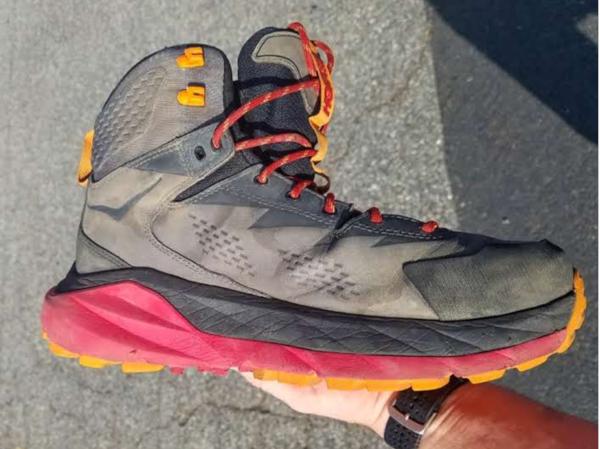 Durability
Thus far, I have put about 200 miles on this pair of shoes and have had no issues with premature wear. The only place where there is evidence of wear is in the Rangi bottom foam, which is what Hoka is calling the soft midsole foam between the top EVA layer and Vibram outsole.
I have used these shoes for hiking all across California in Yosemite, the Sierras, the San Gabriels, and Zion on very rugged and rocky terrain, and they have held up amazingly well considering what they have been put through.
As for the upper, there is no sign of wear, and I anticipate these shoes to last for hundreds of more miles with the limiting factor seeming to be the soft midsole.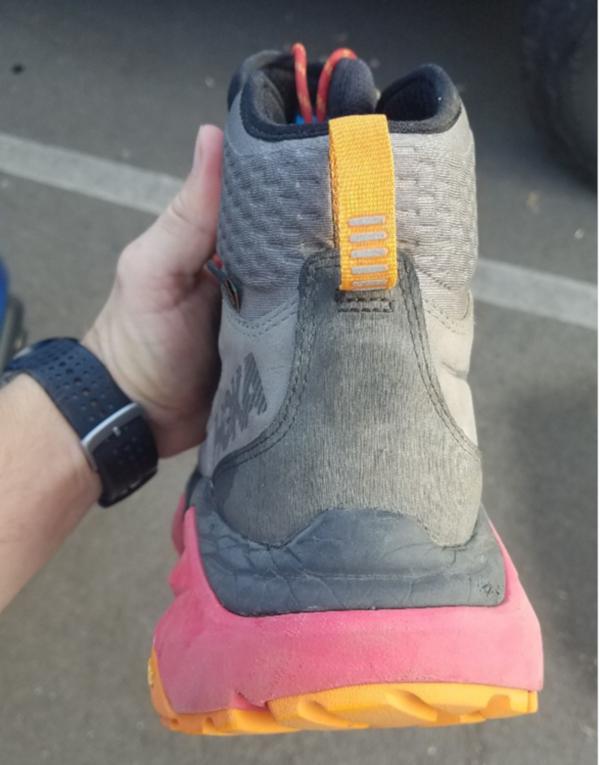 Upper
One of the great feats of design with the Kaha is the eVent upper, which is comprised of full-grain waterproof leather.
Hiking mostly in California, I had a concern that the leather upper would pose an issue with heat and hot spots, but I have yet to experience either even when hiking Half Dome in them straight out of the box!
As a trail runner and hiker who usually just repurposes trail running shoes for hiking, I was pleasantly surprised with how supple the upper feels on foot. I have not needed to wear liners or double up on socks or alter anything as the upper just works seamlessly with no hiccups.
Also, the waterproof aspect of the upper is a huge plus and feels better. It is more breathable than a Goretex upper on a trail running shoe.
Being a mid-cut made this an even easier transition from trail running shoes with no risk of Achilles hot spots.
Lastly, I really love the adjustable lacing system! The paracord style laces are great for providing a solid lockdown while staying out of the way. This is aided by the length being very good and being spots in the orange loops to tuck the ends in.
Midsole & ride
The midsole of the Kaha is made up of two layers: EVA top layer & Rangi bottom foam layer.
This combination makes for a supremely plush ride. For long day hikes, these have to be some of the most comfortable and resilient shoes I have ever worn.
Keep in mind these are neutral shoes and, therefore, might not be supportive enough for some people. For those with a neutral gait, these are very well cushioned and feel like walking on a cloud even when covering nothing but rocky terrain.
Two primary concerns with highly cushioned shoes are protection on sharp objects and maintain proprioception on slick terrain. The Kaha passed both of these tests with flying colors as they have kept my feet feeling like brand new even on rocky 20 plus mile hikes and felt very agile even when summited the slick slopes at Half Dome.
Outsole
It has 5 mm lugs that provide excellent grip in the sand, soft mud, scree, and slick granite.
The grip on the Kaha is top-notch due to the utilization of it's Vibram Megagrip hi-traction outsole. This allowed Hoka to strategically minimize weight while having a very durable and sticky rubber outsole.
From past experience with similar outsoles and looking at the status, it appears this outsole will allow for many hundreds of more miles to be put on this pair of shoes. There is no sign of accelerated wear, just a little bit on the soft outer midsole.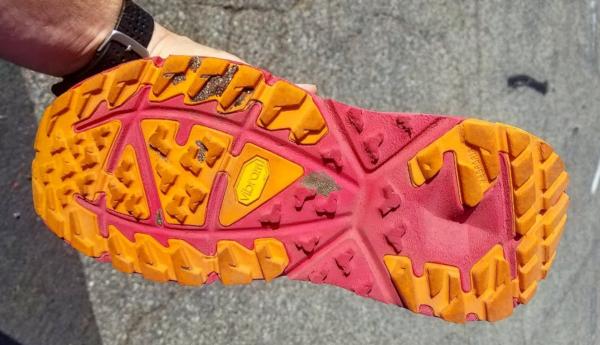 Conclusion
The Hoka One One Sky Kaha is an amazing all-around hiking boot and easily the best all-around shoe I have used for hiking and backpacking.
It is supremely lightweight and feels like a running shoe both in weight and the midsole ride that I thoroughly enjoyed coming from a trail running perspective. The stack-height and drop are also great for promoting a smooth and protective ride.
If there is one concern I have with the Kaha, it's that the price tag of $220. It is definitely on the higher end, but then again, it is an amazing shoe and worth every penny for a very serious and active hiker.
Those looking for a do it all shoe with a breathable yet waterproof upper, lightweight construction, plush cushioning, and aggressive traction will fall in love with this Mercedes of a hiking boot.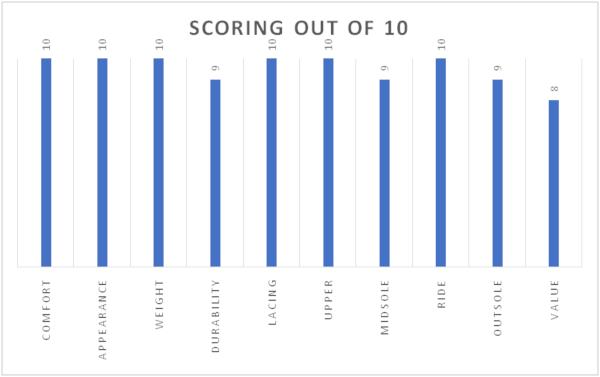 Good to know
-The Kaha is Hoka One One's response to backpackers who need a pair that can provide performance and protection outdoors. The footgear's full-grain leather upper is lined with an eVent membrane, making it waterproof.
-This Hoka One One product sports an EVA midsole that delivers lightweight cushioning. Its Vibram Megagrip outsole uses a pattern of multidirectional lugs to grant traction on most types of terrain.
The Hoka One One Kaha is a mid-top backpacking boot built for male and female adventurers. The footgear's traditional lacing system allows the wearer to personalize the fit. Moreover, it relatively runs true to size.
Enabling backpackers to traverse difficult terrain is the Hoka One One Kaha's Vibram outsole. Its surface is filled with 5mm L-shaped lugs for surefootedness over wet and dry surfaces. It's made of a Megagrip compound which renders resistance to wear and tear. The sole's front end extends towards the toe area for added trail protection.
The Hoka One One Kaha's thick midsole allows backpackers to take on difficult trails with sufficient stability and comfort. Its EVA construction absorbs shock and reduces foot fatigue. It also provides backpackers with the cushioning they need over rugged terrain. The boot's footbed employs a top layer made of EVA to create a comfortable in-shoe environment.
The Kaha from Hoka One One features a full-grain leather upper which offers robustness while keeping the elements at bay. An eVent waterproof bootie is embedded within the upper for optimal protection from wet trail conditions. This component also allows excess moisture to escape, making the boot breathable.
This backpacking boot's forefoot area is reinforced with a rubber rand for extra protection and durability. A pull tab is positioned at the back of the gear for an easy on and off. For fit management, the Hoka One One Kaha employs a round lace running through several metal eyelets and hooks.
Buyers who are looking for a mid-top backpacking boot may do well with these offerings from Hoka One One and Salomon. Both the Kaha and OUTback 500 GTX are engineered with various technologies that give performance for multi-day adventures. Listed below are some of the different components and features that set these two products apart.
Upper. Salomon equipped the OUTback 500 GTX with an upper made of Cordura fabric. This material is known to deliver abrasion-resistance without adding too much weight to the footgear. A Gore-Tex laminate is embedded underneath the upper to keep water out while allowing excess heat to escape. Meanwhile, the Hoka One One Kaha uses a full-grain leather upper, making it more durable and resistant to harsh conditions. An eVent waterproof bootie is integrated into the upper for water protection.
Midsole. The Salomon OUTback 500 GTX employs a patented EnergyCell midsole made of high-performance EVA foam. It is paired with the brand's Advanced Chassis technology, which delivers cushioning and optimal motion control. These components yield a more stable ride when tackling uneven trails. On the other hand, the Hoka One One Kaha uses a midsole and footbed made of EVA foam to reduce shock and give cushioning.
Outsole. The OUTback 500 GTX from Salomon sports a Contagrip MD outsole for ground adherence. Its profile is filled with a pattern of aggressive lugs to help wearers tackle virtually all types of terrain. The Kaha, meanwhile, uses a Vibram outsole with a deeper profile of 5-mm lugs, granting better grip on wet and dry surfaces.
Price. The Hoka One One Kaha is slightly more expensive than the Salomon OUTback 500 GTX.
Weight. Hoka One One's Kaha for men weighs 508g while its women's version has a weight of 426g. On the other hand, the Salomon OUTback GTX for men is lighter with a weight of 500g while its women's variant has a weight of 400g.
-Outdoor lovers who need a beefier backpacking boot may consider the Lowa Camino GTX. It is waterproof and has a Vibram outsole just like the Kaha from Hoka One One.
-Those who want a lighter alternative for summer hiking, the breathable Merrell Moab 2 Ventilator Mid hiking boot is one of the options.
Rankings
How Hoka One One Kaha ranks compared to all other shoes
Popularity
The current trend of Hoka One One Kaha.