Verdict from 15 experts and 19 user reviews
6 reasons to buy
Energy return: Multiple racers praise the Hoka Rocket X's responsive cushioning system.
Comfort: The upper doesn't rub against the foot, which many runners like.
Ride: Athletes are happy about the stable and surefooted performance of the shoe.
Breathability: Several experts agree that the running shoe gives a cool sensation.
Weight: It feels really light on foot, commented various reviewers.
Reflectivity: A couple of purchasers applaud the reflective details on the heel, adding visibility.
2 reasons not to buy
Sizing: Female runners find the Rocket X too wide and attribute it to its unisex sizing.
Meta rocker: A few marathoners claim that the shoe's rocker form didn't necessarily give faster transitions.
Bottom line
Taking part in the carbon-plate war, the Rocket X from Hoka is another great option for a marathon race. Sporting a blend of support and responsiveness, you can go fast and far with this racing flat. The benefits do not stop there, the Hoka Rocket X also employs minimal bulk to amplify speed and energy conservation.
Tip: see the best running shoes.
Our reviews
This is what a race shoe should look like. Everyone, the Rocket X from Hoka One One.
This here is Hoka's lightest racing flat. It's a super-fast, super-light carbon race shoe with a surprisingly soft landing and plenty of energy.
It is kind of a progression of the Carbon X, but different enough to be its own shoe. Contrary to the Hoka Carbon X, this shoe is lighter, narrower, and has less underfoot cushioning.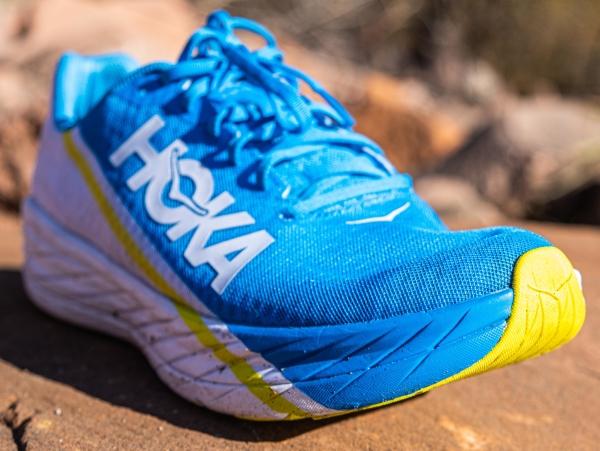 Fit
For a race shoe, it fits nicely. Others run narrow, while this one actually accommodates my foot nicely. Initially, I have felt a little tightness in my forefoot, but this went away after the break-in period.
It comes in unisex sizing, so there are no widths to choose from. This can be an issue for those with really narrow or wide feet.
Personally, I have experienced some heel slip, which I think is due to the heel counter; it has some form, unlike other racers. It ends halfway up so a little of both worlds. However, this is easily resolved by cinching down the laces.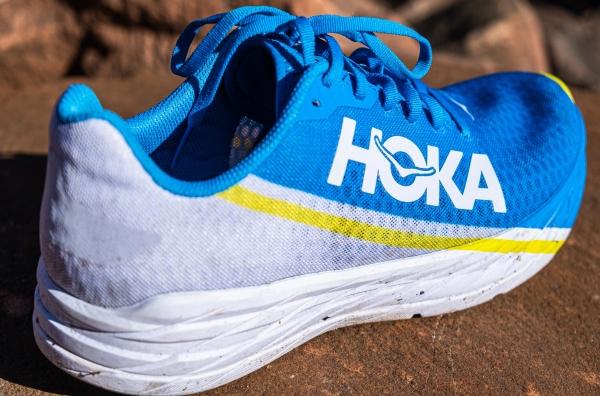 I think a lot will appreciate the Rocket X's stiffer heel counter, making it feel like a traditional road shoe.
In terms of midfoot lockdown, the gusseted tongue and mesh upper keep the foot in place. These gussets are stretchy, which I really love. I think they are also an awesome addition since Hoka has been a little inconsistent with their gusset design.
Lastly, the soft laces are very easy to adjust, and you don't have to worry about them. They stay nice and tight.
Comfort
The Hoka Rocket X has loads of cushioning underfoot, and it's surprisingly comfortable.
It has a nice consistent rocker, with the caveat that it is a race shoe. This is not on the same comfort level as the Clifton 7.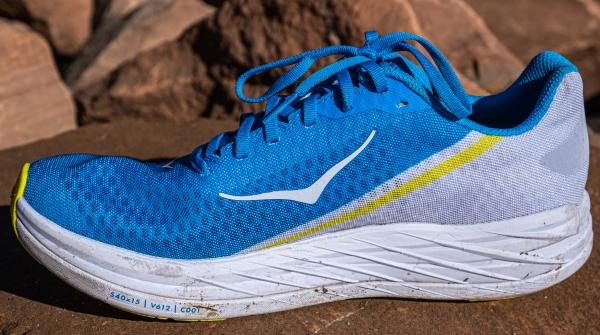 Compared to other racing flats that have very unique designs, you'll feel very at home as you switch to the Rocket X. However, it can feel slightly unstable because of the upper, which is a bit wide for my liking. The midsole, meanwhile, is a little narrow and I sure felt it.
In contrast, the Hyperion Elite 2 from Brooks is almost half an inch wider in the forefoot and the heel, giving the shoe a nice, confident ride for a springy, high-stack shoe.
On the one hand, the tongue is minimally padded with a sewn edge to it.
The carbon plate brings the shoe to life! It makes it responsive but not overly bouncy, thanks to the EVA midsole. Don't fix what's broken, and they did well here.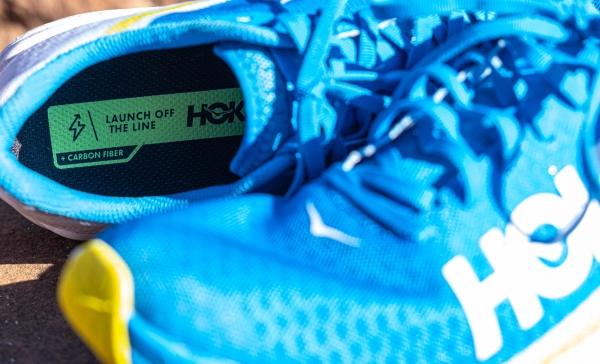 One gripe I have with the insole is it's super minimal and cheap. I'd suggest a slightly thicker insole for better comfort.
Weight
It weighs 7.62 oz, and you'll immediately notice the lightness when you take it out of the box.
Curious as to how the Brooks Hyperion Elite 2 compares? It weighs 7.48 oz so even slightly lighter. When compared to the Hoka Carbon X, the Rocket X is almost half an ounce lighter.
Durability
Because it's a race shoe, it's hard to say how far it'll go. It nearly has no outsole at all, which I do want to mention as an issue on set roads.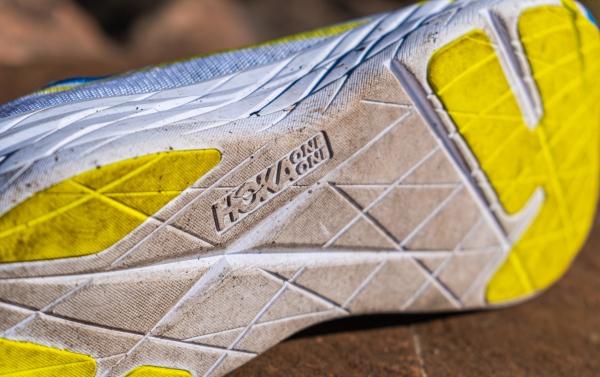 I ran as the snow was melting and the wet spots spooked me, and I was nervous around painted lines.
Since it is composed of compression-molded EVA midsole instead of the hydrogen-filled foams in this category, I think it will last. The upper is also robust enough while still ultra-light.
However, the outsole might be where this shoe deteriorates quickly. My advice: break this shoe in and keep it for race day.
Looks
Simple, understated, cool colors—I love how this shoe looks! I really like that it doesn't look like a carbon-plated shoe. It's not crazy-looking, and I don't feel like Kramer in his jumping shoes like I do in other carbon platforms.
It also comes in a few colors that other shoes in the category don't offer. So, I dig that too!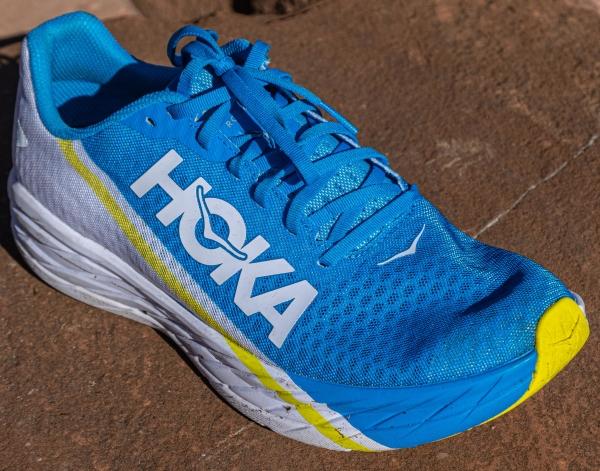 Price
Sold for $180, it's the best-priced race shoe in the market! For reference, Brooks is at $250, and Nike even higher. There's plenty of others out there, and none of them at $180.
Overall conclusion
I think Hoka has a winner here. I am really impressed with this shoe. For the price, I think they've done something amazing here.
It feels more like an everyday shoe but sure does perform like a race shoe. It doesn't look crazy either, and it feels great.
There's lots of cushioning and it has a super smooth transition. It's fast as hell! Hoka, you sold me. It's probably the best race shoe out there, all things considered. Well done!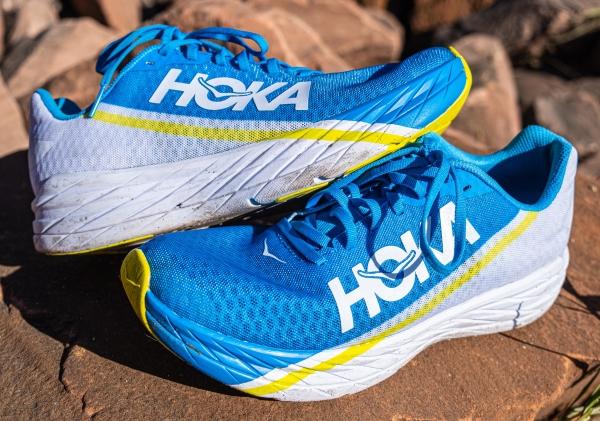 Hoka One One Rocket X: What to look forward to
Lightweight cushioning. The new midsole foam of the racing flat is designed to employ minimal bulk for a more propulsive performance.
Efficient ride. The rocker form of the shoe drives you forward without requiring much effort.
Pronounced breathability. Ample ventilation is secured by the shoe's upper, keeping the foot feeling cool and dry.
Where can I use the Hoka Rocket X?
Despite being branded as a short-distance shoe, experts agree that the Rocket X from Hoka One One is suitable for the following:
Tempo runs
5k runs
Half marathons
Marathons
Rocket X vs. Carbon X
The Hoka One One Rocket X is dubbed as the better version of the Carbon X, and here are some of the changes you can find in the Rocket X:
More ground feel. This is all due to the lower stack height of the Hoka Rocket X (heel: 30 mm; forefoot: 25 mm) contrary to the Carbon X (heel: 32 mm; forefoot: 27 mm). Because of the better ground feel, a more efficient gait is achieved.
Lighter weight. This is attributable to the revamped midsole foam of the runner. Because of this, the Rocket X (7.4 oz) is 1.3 oz lighter than the Carbon X (8.7 oz). This also allows for less energy consumption during the run for a faster, more enduring ride.
How Rocket X compares
Corescore: 57-60
4 shoes (0.48% of shoes)
Corescore: 61-63
7 shoes (0.83% of shoes)
Corescore: 64-67
13 shoes (2% of shoes)
Corescore: 68-70
10 shoes (1% of shoes)
Corescore: 71-74
49 shoes (6% of shoes)
Corescore: 75-78
108 shoes (13% of shoes)
Corescore: 79-81
171 shoes (20% of shoes)
Corescore: 82-85
237 shoes (28% of shoes)
Corescore: 86-88
142 shoes (17% of shoes)
Corescore: 89-92
99 shoes (12% of shoes)
Corescore: 93-93
1 shoes (0.12% of shoes)
Price: $40 - $65
66 shoes (8% of shoes)
Price: $66 - $91
188 shoes (22% of shoes)
Price: $92 - $117
152 shoes (18% of shoes)
Price: $118 - $143
225 shoes (27% of shoes)
Price: $144 - $169
109 shoes (13% of shoes)
Price: $170 - $195
53 shoes (6% of shoes)
Price: $196 - $221
32 shoes (4% of shoes)
Price: $222 - $247
5 shoes (0.59% of shoes)
Price: $248 - $273
8 shoes (0.95% of shoes)
Price: $274 - $300
3 shoes (0.36% of shoes)
Weight: 3.5oz - 4.6oz
6 shoes (0.85% of shoes)
Weight: 4.7oz - 5.8oz
13 shoes (2% of shoes)
Weight: 5.9oz - 7oz
38 shoes (5% of shoes)
Weight: 7.1oz - 8.2oz
103 shoes (15% of shoes)
Weight: 8.3oz - 9.4oz
169 shoes (24% of shoes)
Weight: 9.5oz - 10.5oz
171 shoes (24% of shoes)
Weight: 10.6oz - 11.7oz
136 shoes (19% of shoes)
Weight: 11.8oz - 12.9oz
49 shoes (7% of shoes)
Weight: 13oz - 14.1oz
14 shoes (2% of shoes)
Weight: 14.2oz - 15.4oz
3 shoes (0.43% of shoes)