Verdict from 5.7 hours of research from the internet
11 reasons to buy
A handful of buyers noted that the footwear was comfortable.
Many users commented that the Hoka One One Napali was responsive.
According to some reviewers, the shoe was supportive.
Several runners lauded its perfect fit.
A handful of buyers said that the footwear was flexible.
A lot of reviewers loved its well-constructed upper.
It was breathable, according to some consumers.
The price of the show was affordable.
The well-cushioned shoe was appreciated by many testers.
It was true to size, according to some runners.
The Hoka One One Napali has a wide toe box, based on some reviews.
3 reasons not to buy
One of the testers commented that the side mesh easily torn apart after several uses only.
The Hoka One One Napali easily gets wet even on mild rains, according to a reviewer.
A consumer commented that the outsole was not durable.
Bottom line
The Hoka One One Napali made a lot of buyers satisfied and overjoyed because of its well-constructed upper and wide toe box. Aside from the structure, they admired the footwear's breathability, affordable price, perfect fit and sizing. Even though some of the testers have issues with its durability, others still lauded the shoe because of the flexibility, responsiveness and comfort it provides. Overall, the Hoka One One Napali is a good option for those who are seeking a lightweight, comfortable and supportive running shoe at a reasonable price.
Tip: see the best running shoes.
Our reviews
I originally purchased the Napali after hearing it resembles Hoka's Clifton 3 model. I had experienced running in the original and third version of the Clifton.
Considering that shoe was a game changer in terms of lightweight and cushioned trainers, my first run in the Napali best resembled the blissful feeling of the Clifton 3 with added improvements discussed in this review.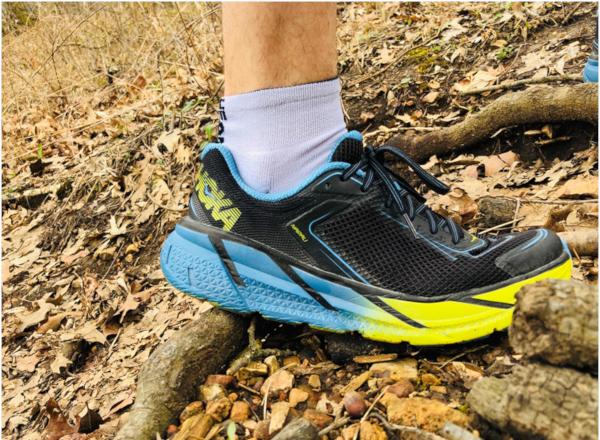 Specs
| | |
| --- | --- |
| Weight | 8.6oz |
| Heel to toe drop | 5mm |
| Stability | neutral |
| Cushion | balanced |
Upper
The Napali's upper is sleek and minimal with very few overlays. The toe area was protected well without feeling abrasive.
Eyelets were easy to pull the laces through and maintaining a snug fit across the top of the feet. The elasticity of the laces makes the upper feel very nice while the foot is in motion.
Midsole
The midsole contains a full EVA cushioned midsole that absorbs shock quite well. The stack height of the Napali is 24 mm in the front and 29mm in the back giving it a total drop of 5 mm.
This medium drop level didn't strain the calf muscles to full exertion and allowed enough energy in the legs to make it through the last hard miles of most runs.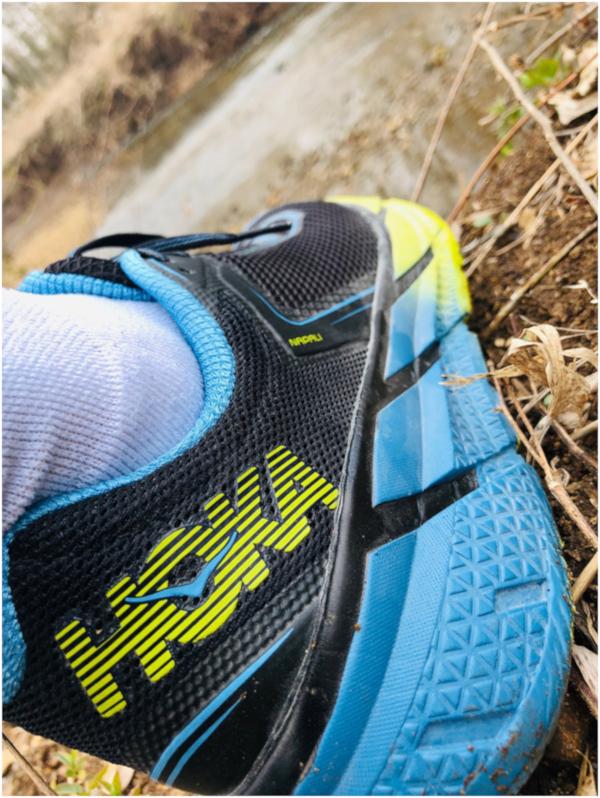 Outsole
The outsole includes exposed foam and rubber placed in high traction areas for better grip and durability. The flat platform of the outsole is a trend that sets Hoka's shoes apart from other brands.
This stable platform combined with Hoka's Meta-Rocker technology makes the runner want to naturally transition to a midfoot to forefoot strike and continue moving in a forward motion.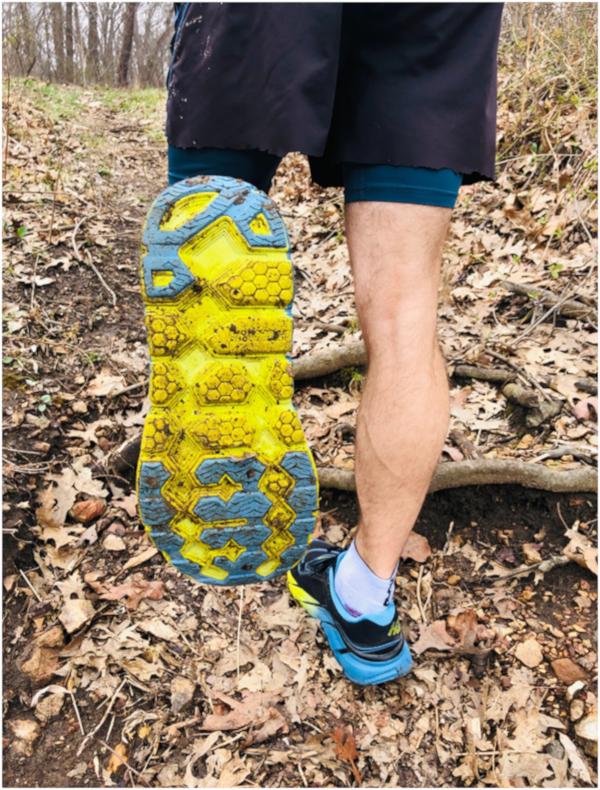 Comfort
Hoka is known to be the "king of comfort" for their plush ride and smooth feeling both on and off-road. Needless to say, this shoe delivers in this area. In fact, training in this shoe was reminiscent of my experience in the Clifton 3.
The Hoka Napali is basically the Clifton 3 wrapped up in a better looking, more durable shoe that can support the feet and legs for a comfortable ride from uptempo to longer training runs.
Design
Hoka keeps things minimal in the design category by only placing its brand on the heel counter and leaving the rest of the upper black mesh material. There are no unnecessary plastic overlays which are nice seeing that it allowed optimal ventilation during hot running days.
My favorite part of the design is the sleek look of the upper combined with the flashy colors on the midsole fading from citrus to Niagara blue.
Responsiveness
The Napali does offer some energy return when transitioning off the ground, although the standard EVA is nothing too special. EVA foam has been used for decades and simply does the basic job of absorbing shock that we all need as runners.
Due to the higher stack height, the ground is less present than a lower height stack-height shoe (i.e. Altra Escalante).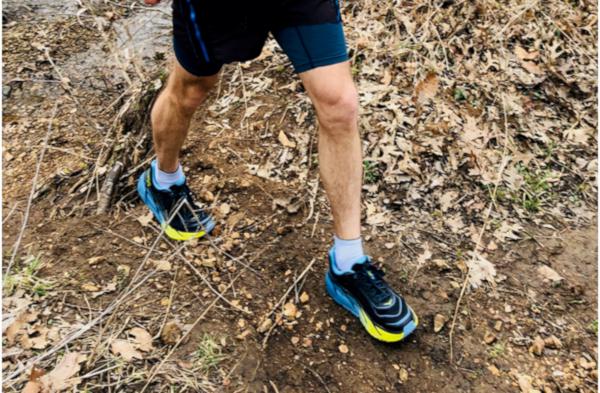 Breathability
Engineered mesh used on the upper is light and breathable. Test it for yourself by holding it up to the light and you can actually see through it slightly.
Although not the most flexible material, the materials allowed the feet to breathe during hot days while keeping toes warm on cooler days.
Durability
The shoe can withstand running on light, off-road terrain (gravel/ recreational trails). I took them out on a 26-mile run where 18 of those miles were on gravel trails. This session proved the Napali's cushion was consistent throughout the entire distance and materials hold up well throughout the run.
Traction
Traction is superb in the Napali with strategically placed rubber in high wear areas. Other less used areas included exposed foam but seem to be holding up well after 100 miles of training. The feet were always well planted to the ground whether on roads, grass, or loose gravel trails.
Overall
With over 100 miles in the Napali, I'm convinced that there are at least 300 hundred more miles left in them. The durability of this shoe combined with its "cloud-like" feel is what sets it apart from other shoes in the "trainer" segment.
The day I realized the Hoka brand was a game changer for me years ago was when I noticed their shoes offered a new feeling of running for me that put a smile on my face. That same feeling was experienced in the Napali and is deserving with the score of 90.
I would recommend this shoe to anyone wanting a versatile, durable, and lightweight neutral trainer used for any distance without any issues. Pick yourself up a pair and you won't be disappointed!
I am a huge Hoka fan.
I have been running for years in Hoka Clifton 2 which unfortunately was discontinued long ago and replaced by Clifton 3 (not a fan) and the Clifton 4 (arches in weird places). So after buying the last pair of Clifton 2 in my size on eBay about a year ago, I had to find a new everyday training shoe.
I tried a bunch of other brands, missed the Hoka cushioning and went back on the search for a new pair of Hokas for everyday training. I am training for a marathon and put about 35-40 miles on my shoes each week, with a heavy heel strike.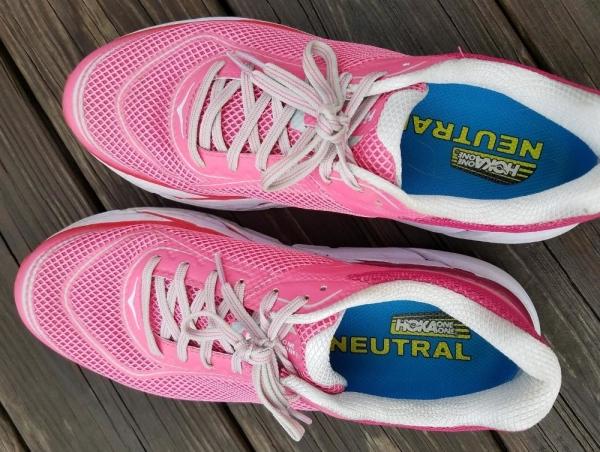 What this shoe does right
The Hoka Napali has TONS of cushioning. It requires no break-in time at all. The tongue is padded, the footbed feels soft but not squishy. They feel springy and good.
I have tried the Hoka Bondi and those feel like lead bricks. The Napali do not. They feel much like the Hoka Clifton 2. Appearance-wise, they look similar to other maximal Hokas- the Clifton, Clayton, etc.
In this shoe, Hoka has mastered the combination of high cushioning but low weight. They provide incredible shock absorbency and bounce back.
They are maximalist shoes and you feel no part of the road. But unlike other maximalist shoes, they are light. Very light at 7.5 oz for the women's version.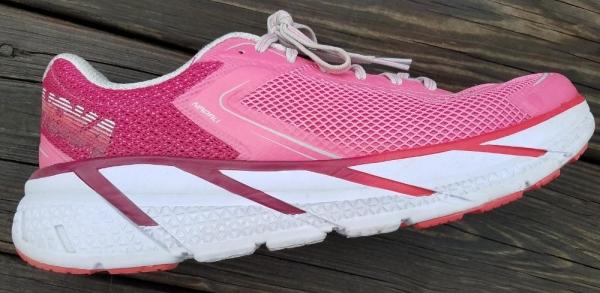 They feature the traditional meta rocker design Hoka is known for as well as the seamless interior. Nothing rubs inside or pinches.
The toe box, which Hoka had been making very narrow in some other models, is a standard width in this shoe, with plenty of room to spread out your toes.
This is a neutral shoe that feels both springy and responsive. Honestly, it felt like tiny trampolines under my feet for the first 50 or so miles. The colors are attractive with the choice of two-tone pink, blue or black for women.
What this shoe does wrong
Unfortunately, similar to other Hokas, the padding/cushioning in this shoe is excellent at first but after 70-100 miles, you can feel a distinct breakdown in cushioning.
When I got near the 80-mile mark, suddenly my feet were aching while I was wearing the shoes and hurting for hours afterward. Similarly, I also got pains in my knees at that point.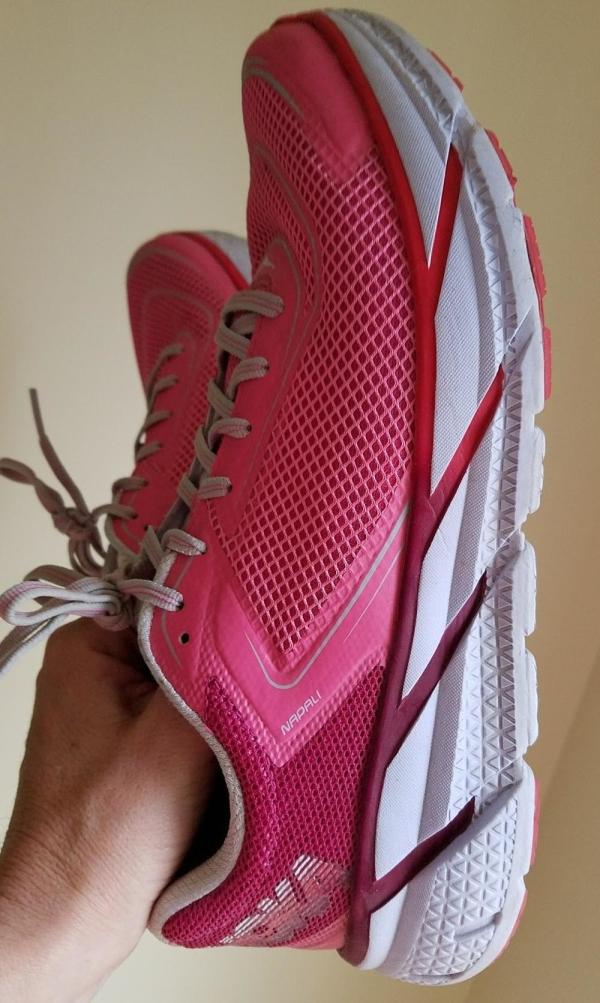 I have not had any style of Hokas last for more than 225 miles and I will keep wearing these even past the 80-mile mark because I really need them for training but it was very concerning that they are not made to last longer in terms of the cushioning.
I actually ordered another pair after I put 85 miles on these because I need the "new" cushioning for my marathon.
Shoe Performance
The Hoka Napali are extremely comfortable with a good size toe box. They are light and bouncy. It has a 5 mm heel to toe drop, which is low for Hoka. They feature a lightweight breathable mesh and a honeycomb, typical Hoka sole.
The Hoka Napali is a great everyday trainer, good for both high tempo runs and long distance runs. I needed this shoe for marathon training and immediately put it to the test with an 18-mile hill run on a combination of paved and dirt roads.
The grip was adequate on the dirt roads- these were packed gravel so a technical shoe was not needed. Nothing got caught in the outsole groves and I didn't feel like they were slipping and sliding on the dirt.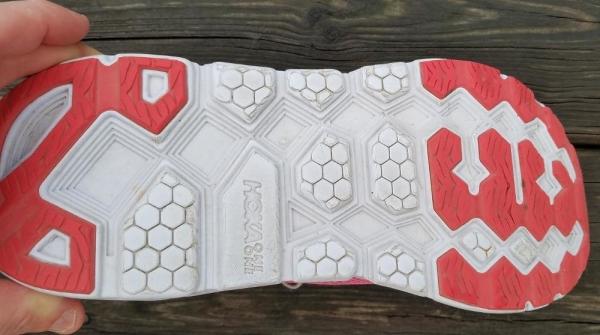 On the concrete and asphalt, this shoe excelled. It feels wonderfully light. Nothing rubs or pinches. I didn't get pain in my forefoot, no hot spots, no overheating.
My feet stayed comfortable and cool. Also, there were no points that pinched or caused blisters. In addition, these are shoes that are comfortable right out of the box.
The Napali provides as much rebound as you can expect from a highly padded shoe and sufficient flexibility to deal with hills and curves. The maximalist cushioning takes the impact off your knees and ankles so your body doesn't ache after running, as is sometimes the case for me in less padded shoes.
I also experience NO heel pain in these shoes which is critical since I am a heavy heel striker.
Because these are so cushy and easy on my joints, these are the shoes I have chosen to wear for my first marathon. But, I bought a brand new pair for the occasion, knowing that the initial bounciness and cushion is far superior to that of my existing pair with 90 miles on them.
I've been using these shoes as a daily trainer now for several months. As mentioned earlier, the padded has compressed quite a bit, however, they are still my go-to shoe for both short (4 mile runs) and long (20 mile) runs.
The cushioning after 100 miles, is sufficient that my knees still don't ache, however, my feet have now started to hurt, which for me, is a cardinal sign that I need a new pair of shoes.
Would I recommend these?
Absolutely but know that the cushioning may break down early in the shoe's life. That said, enjoy the tiny trampolines while you can.
Hoka has a history of being some of the more expensive running shoes out there which has caused some, myself included, to stay away.
That being said, beginning last year, Hoka has released cheaper alternatives to their more popular running shoes to please a wider range of audiences. Being a broke college runner, I can relate to those who don't have as much to spend on running shoes and definitely appreciate the change.
Specs
| | |
| --- | --- |
| Weight | 8.6 oz men's 9 |
| Stack height | heel 29mm, forefoot 24mm |
| Drop | 5mm |
| Price | $110 |
| Current mileage | around 250 |
| Best use | road training/road racing |
What I like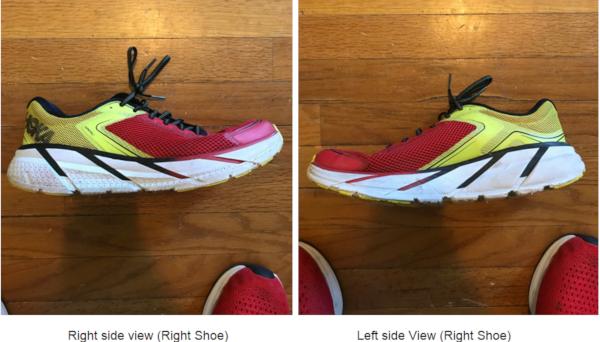 The weight
I love how lightweight the Napali is. Hoka continues to amaze me by how they make shoes with so much cushioning while still being lightweight. These are one of those shoes that you hardly notice on your feet.
The ride
I've tried other Hoka models that I didn't really notice the meta-rocker, (Cavu, Clayton) but in these, I really can feel myself rolling forward in each stride. I am mid to forefoot striker, so runners with a heel strike may have a different experience.
The fit
I am normally a size 11 in most shoes and in these was no different. The Napali felt secure but not tight. Previous Hoka's I've worn have given me blisters in the arch of my foot, but these fit fine, and I had no blisters or hotspots.
The price
Love the price, got these for a really good deal on Runner's Warehouse and should have bought multiple pair. I have personally never ran in the Hoka Clifton, but a lot of reviewers say that Napali is almost exactly the same as the older Hoka Cliftons but for cheaper.
What I don't like
The upper
The major difference between the Hoka Napali and the Clifton 4 isn't the midsole or the meta-rocker. Most people say the ride is similar to the Clifton's upper.
There is a lot of technology going into the upper in running shoes nowadays, which is really cool, but the price of this new technology tends not to be so cool. In order to make this shoe more affordable, they made the upper on the Napali with cheaper material.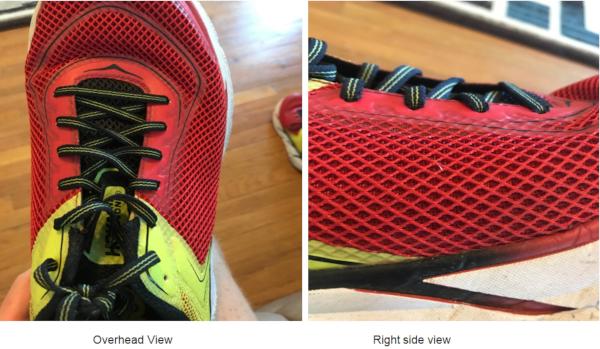 One of my good friends on the cross-country team has the Napali as well, and the medial side of his Hokas had ripped so much that the sock was showing through.
The nice thing is the price makes it so you could just buy another pair. However, the midsole still feels good after the upper starts to go, which can be frustrating.
The durability
Again, I am primarily midfoot to forefoot striker, and because of that, I get a lot of wear in the forefoot area. The problem with Hoka's that I normally have is after about 200 miles; the forefoot cushioning begins to compress.
The Napali was no different, and I find my forefoot a couple of millimeters from the ground at only 250 miles. I believe heel strikers may have better luck.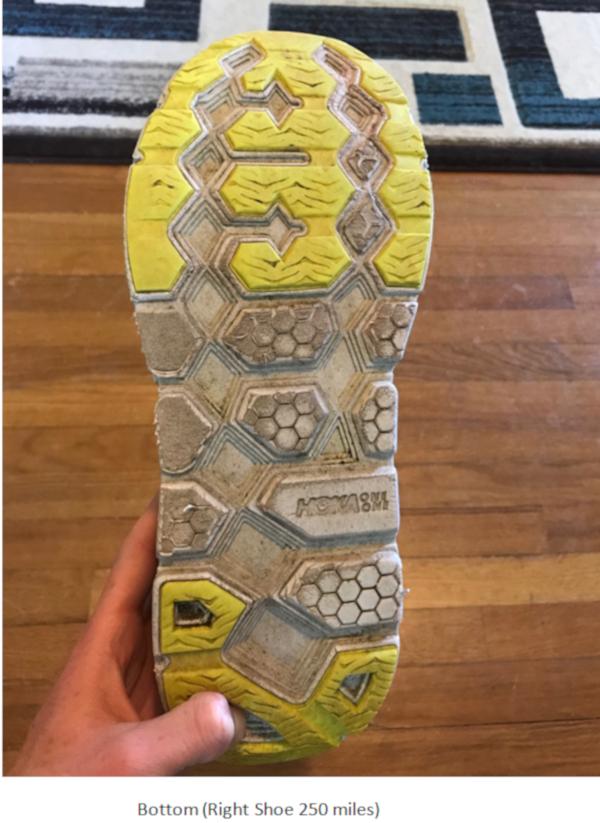 Other features
Support
Hoka rightly classifies this as a neutral running shoe because, as you can see below, there is little to no support. The mesh wraps your foot and prevents it from slipping out of the shoe, and that is pretty much all there is to it.
It does make the upper lightweight and breathable which is a plus, but if you're looking for a stability shoe or one with more motion control you probably want to look elsewhere.
Style
I'm not going to lie, this shoe isn't the coolest looking on the market, and I don't expect it to be, considering the price. When it comes to price vs. style, I'm going to pick price every time.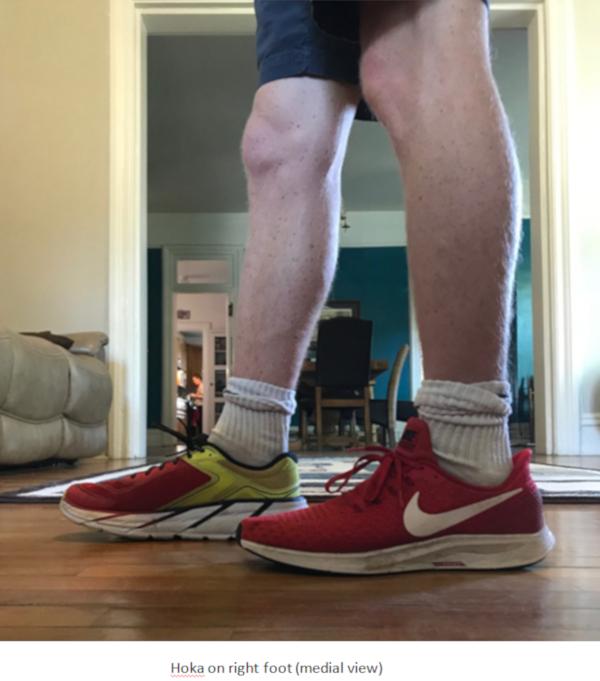 Now, these Hoka Napali may not be the prettiest to look at, but they get the job done on the roads, and that's really what most of us are buying them for anyway. I took some photos of my red Pegasus 35 with my Nepali to show what they look like next to other running shoes.
Conclusion
If you're looking for a lightweight, low drop, neutral running shoe the Hoka Napali is a great choice. It has become one of my favorite running shoes and one that I have used for tempos, road races, and long road miles.
If you like to rotate shoes, I would recommend rotating this shoe with a shoe that had a higher heel to toe drop with a little more support. For example, something like the Nike Pegasus, Brooks Ghost, or Saucony Ride.
I would recommend the Napali to almost anyone and will most likely be buying this shoe again in the near future.
The Hoka One One Napali is a new shoe that is intended for those who want to excel and take their road running activity to the next level. The Napali has an oversized EVA midsole. This component of the shoe provides a softer shock absorption.
Along with the EVA midsole is the early stage Meta-Rocker design. This Meta-Rocker is significant in providing an effortless, hassle-free and smooth ride.
To ensure the enhanced fit and comfort of the runner, the One One Napali utilizes a modified upper area. It is designed with rearranged overlays and breathable air mesh for added comfort throughout the running session.
Lying in the forefoot and heel section is the Hi-Abrasion Lightweight Rubber. This material is meant to deliver the right amount of traction in different paved surfaces. It also provides lightweight durability to the platform.
The Hoka One One Napali's shoe length is true to size. It provides a fit that is snugger. The upper material hugs the foot throughout the running session, making the runner feel more confident during their activity. Its wide toe box makes the footwear more comfortable to wear. D – Medium is the available width for the men's version and B – Medium is for the women's version.
Increased traction is encouraged by the Full-Ground Contact. It also offers a smoother heel-to-toe transition in every stride.
With the utilization of the Hi-Abrasion Lightweight Rubber in the outsole area of the Hoka One One Napali, the right amount of traction is offered. It also provides additional durability to the platform.
To encourage efficient running mechanics, the Early Stage Meta-Rocker Geometry is featured in the Hoka One One Napali. As a result, there is more stable forefoot support and base are experienced by the runner. Users will be able to run confidently in a wide variety of paved surfaces.
The HIP CMEVA is integrated into the shoe. It is described as a full-length midsole cushioning system. This component of the footwear aims to deliver stability. It also provides improved impact protection. For a similarly constructed midsole, the Altra Escalante 1.5 is also a low-drop shoe for road runners.
The Napali from Hoka One One utilizes the Structural Overlays. The primary focus of this feature of the shoe is to provide the needed structure around the midfoot section.
Lying on the upper area is the Air Mesh. This lightweight material is essential in allowing the inflow and outflow of air. Because of the Air Mesh, a more breathable and healthier foot environment is encouraged.
The footwear uses the No Sew Construction feature. A seamless interior environment is sure to be experienced by the user during the session. As a result, the possibility of blistering and irritation will be reduced or prevented. Runners can comfortably start and finish their activity without worrying about any pain before, during and after their running session.
Size and fit
True to size
based on 4 user votes
How Napali compares
Corescore: 53-57
1 shoes (0.11% of shoes)
Corescore: 58-61
1 shoes (0.11% of shoes)
Corescore: 62-66
7 shoes (0.76% of shoes)
Corescore: 67-70
13 shoes (1% of shoes)
Corescore: 71-75
55 shoes (6% of shoes)
Corescore: 76-80
102 shoes (11% of shoes)
Corescore: 81-84
128 shoes (14% of shoes)
Corescore: 85-89
296 shoes (32% of shoes)
Corescore: 90-93
259 shoes (28% of shoes)
Corescore: 94-98
60 shoes (7% of shoes)
Corescore: 99-99
0 shoes (0% of shoes)
Price: $40 - $70
112 shoes (12% of shoes)
Price: $71 - $101
265 shoes (29% of shoes)
Price: $102 - $132
269 shoes (29% of shoes)
Price: $133 - $163
167 shoes (18% of shoes)
Price: $164 - $194
61 shoes (7% of shoes)
Price: $195 - $225
35 shoes (4% of shoes)
Price: $226 - $256
9 shoes (0.98% of shoes)
Price: $257 - $287
1 shoes (0.11% of shoes)
Price: $288 - $318
2 shoes (0.22% of shoes)
Price: $319 - $350
1 shoes (0.11% of shoes)
Weight: 3.5oz - 4.7oz
6 shoes (0.78% of shoes)
Weight: 4.8oz - 5.9oz
18 shoes (2% of shoes)
Weight: 6oz - 7.2oz
46 shoes (6% of shoes)
Weight: 7.3oz - 8.5oz
141 shoes (18% of shoes)
Weight: 8.6oz - 9.8oz
211 shoes (27% of shoes)
Weight: 9.9oz - 11oz
218 shoes (28% of shoes)
Weight: 11.1oz - 12.3oz
100 shoes (13% of shoes)
Weight: 12.4oz - 13.6oz
25 shoes (3% of shoes)
Weight: 13.7oz - 14.8oz
4 shoes (0.52% of shoes)
Weight: 14.9oz - 16.2oz
5 shoes (0.65% of shoes)