Verdict from 7.8 hours of research from the internet
5 reasons to buy
The No Sew Construction effectively provides a comfortable wearing experience for runners, even when not using socks.
Many applauded the Hoka Race Lace System, which essentially makes adjusting the fit possible with only a single pull of the laces.
Impact protection is delivered by the Rmat mid-\sole material.
The Early Meta-Rocker Geometry encourages better running performance through a semi-rocker shape of the sole unit.
This shoe has a roomy toe box.
4 reasons not to buy
This running shoe has a moderately expensive price.
Some runners mentioned that the outsole gripping lugs wore out quicker than expected.
The forefoot area was a bit narrow for some runners.
Based on some comments, the RMAT material in the outsole was slippery when used in muddy surfaces.
Bottom line
The Huaka from Hoka One One gained mixed reviews from its users. But despite the negative comments, the shoe has proven to be a worthy investment. The Huaka is a lightweight road running, neutral shoe that provides the runner with enough cushioning while maintaining a supportive and responsive nature. This shoe can also function well on soft off-road tracks.
Tip: see the best running shoes.
Our reviews
I wanted to have one pair which is good for asphalt but can also be used on mild trail when needed, without compromise on either side.
Can Hoka Huaka 2 rise to the challenge? Let us see…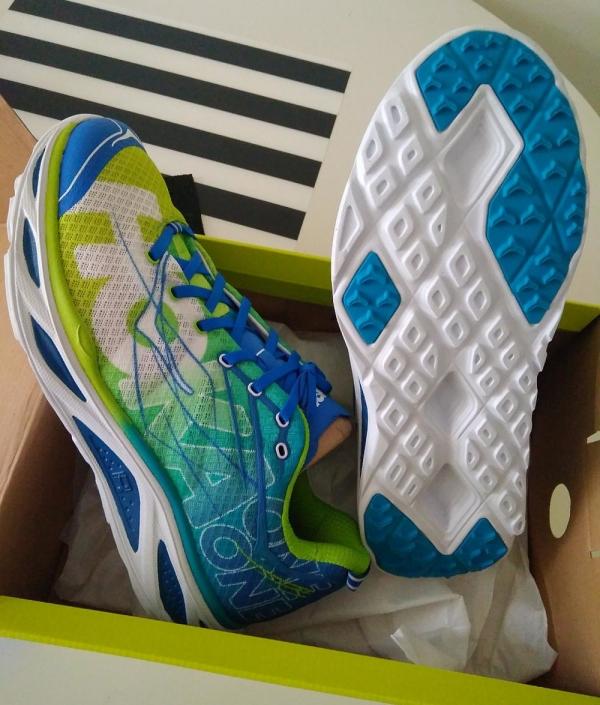 Design
I find them more attractive than most Hoka shoes but less appealing than Hoka Challenger ATR3. This color combo is great looking for me, but got few laughs from some of my friends :D
Look of the shoe is somewhat duckface and clumsy perhaps. But I don't care much about the shoe design, functionality is what matters. But few points less due to the design.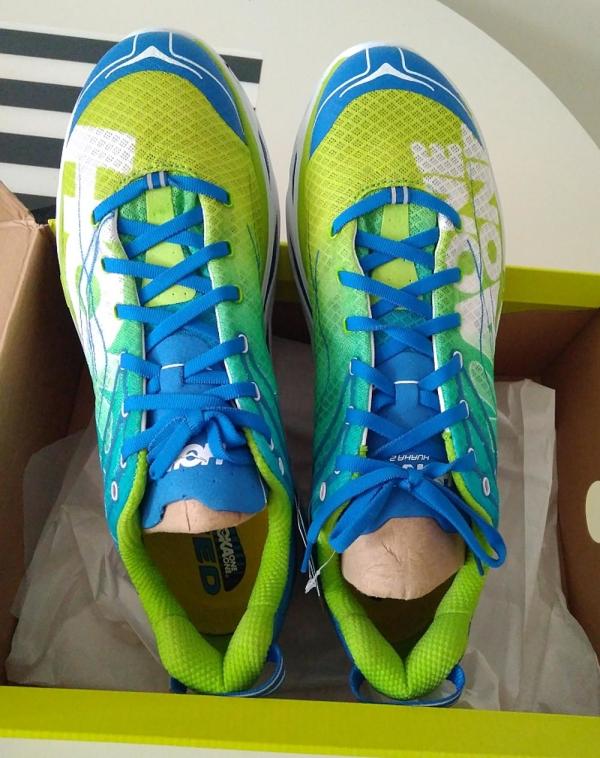 Comfort & Fit
These are first Hoka shoes I have tried that have comfortably wide toebox, which is a huge plus for me. My feet feel great in them. It is much more relaxed fit than Challenger ATR2.
Soles are not too soft, the thickness is 25-27mm (drop 2mm). They are actually "harder" than it would be expected judging the sole's thickness.
Since the sole is light and if it was much softer, it could even be problematic. I like them as they are.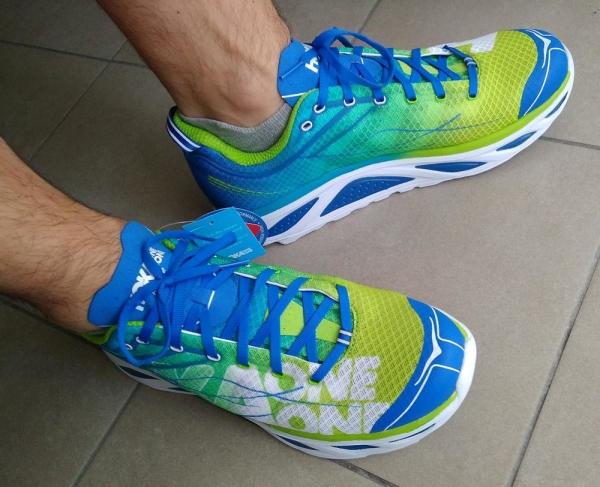 Weight is declared to be 265g. Not ultralight, but for me, they work just fine. The tongue is thin but very comfortable. I did not have any issue with the factory issued laces, so they were not replaced by elastic laces (which I often do).
Upper is seamless, for me very comfortable. They are sufficiently breathable, so I can use them in warmer weather.
Sole & Durability
Soles are 25-27mm thick and have relatively small lugs. On asphalt, there are no issues connected with the trail shoes. And on the dry mild trail, they work really well, also on gravel and fire roads.
Sole seems relatively durable, no traces of wear after few months of use, except for some wear on the lugs due to asphalt.
They are my go-to shoes when going for a casual run or long run. Lugs are just 2mm, so obviously they are not for harder and muddy trails.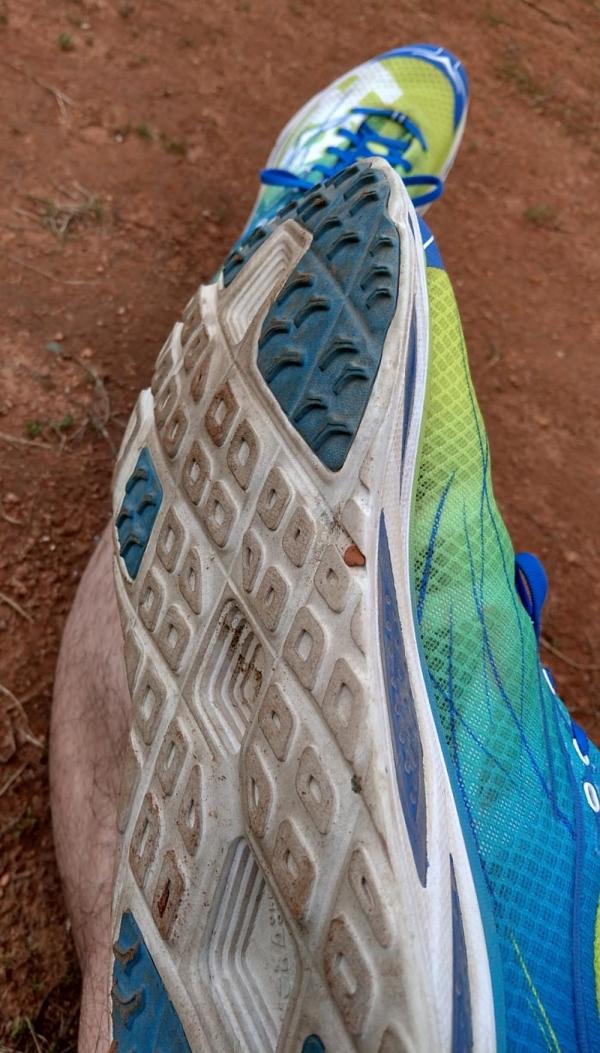 But on mild trails, I had good experiences. The sole is relatively wide, so stability is ok. I have read that some people have stability issues, but I did not experience them.
They are not most stable shoes in the world, but for example, compared to Altra Olympus 2.0 or Inov-8 Roclite 280, they are much more stable.
Upper still looks like new, but that is to be expected considering that I did not use them on harder trails. Toe protection is ok, not extreme, but quite enough.
Performance
I have used them for casual runs, mix of asphalt, track, gravel park roads, mild trails. They don't feel like a speed shoe, so I would not use them for races (except perhaps ultras where comfort and amortization are important). They are very comfortable. I did not experience feet pains, blisters or any discomfort with them.
If I had to choose shoes for 10-40 km run with a mix of asphalt and various trails, in dry weather I would choose them. Maybe someone lighter than my current 95kg could use them for short and speed workouts, but not me.
Rocks and roots are not a problem during the trail runs. They are on the firmer side, so overall feel is that they are responsive. If they were too cushy, they would not work so well on the trails.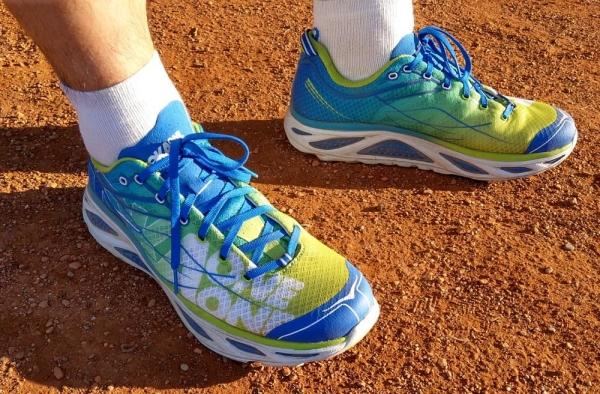 Plus
Very comfortable
Versatile shoes that work great on mixed surfaces
Relatively stable for such high stack shoes
Minus
Not really usable for wet trails, only 2mm lugs
Design is not their strong side
Conclusion
If you are looking for the ultimate multi-purpose shoe for various purposes, the Hoka One One Huaka 2 comes pretty close. For me, Challenger ATR2 are slightly better because they are usable on somewhat harder trails.
But if you need shoes for asphalt and mild trails, these could be a really good choice. If you are featherweight, maybe they would work for you even on harder trails. For my 95kg grip is simply not sufficient.
They are my current go-to shoes for casual runs, that speaks enough about the comfort.
If Hoka Challenger ATR2 had fit like Hoka Huaka, it would be a perfect shoe for me. Hoka designers are you reading?
The Hoka One One Huaka features an impressive midsole that delivers high-rebound and lightweight cushioning. It is designed for resilient cushioning and added impact protection.
This shoe comes with the brand's Race-Lace system that is designed for quick, on-the-fly adjustment. It is a reliable and lightweight alternative to traditional laces.
The Hoka One One Huaka fits large. Purchasing a half size smaller than the standard running shoe size is recommended. The heel, midfoot, and forefoot have standard measurements that offer a snug fit. The Huaka is available in standard width.
The shoe's full ground contact design delivers a smoother heel-to-toe transition and added traction on urban surfaces. The outsole uses a high-abrasion rubber that delivers lightweight traction and added durability on high wear areas.
The midsole features the Full-length RMAT midsole that delivers lightweight, resilient cushioning. It has high rebound properties and gives optimal impact protection. The Early Stage Meta-Rocker Geometry is designed to increase the user's stride efficiency for a great running experience. In comparison, the Brooks Ghost 11, while also a neutral road shoe, makes use of a gel-based midsole foam that targets a better energy return.
The upper of the Hoka One One Huaka uses a closed mess that prevents debris from entering the shoe without affecting breathability and comfort. The no-sew construction offers a seamless design that keeps foot free from irritation and blisters. The shoe uses the Hoka Race-Lace System for easy-on and easy-off of laces. This quick-lacing design also secures the feet comfortably.
Size and fit
True to size
based on 57 user votes
How Huaka compares
Corescore: 58-61
2 shoes (0.22% of shoes)
Corescore: 62-65
6 shoes (0.65% of shoes)
Corescore: 66-69
10 shoes (1% of shoes)
Corescore: 70-73
37 shoes (4% of shoes)
Corescore: 74-78
70 shoes (8% of shoes)
Corescore: 79-82
102 shoes (11% of shoes)
Corescore: 83-86
193 shoes (21% of shoes)
Corescore: 87-90
251 shoes (27% of shoes)
Corescore: 91-94
219 shoes (24% of shoes)
Corescore: 95-98
33 shoes (4% of shoes)
Corescore: 99-99
0 shoes (0% of shoes)
Price: $40 - $70
112 shoes (12% of shoes)
Price: $71 - $101
265 shoes (29% of shoes)
Price: $102 - $132
269 shoes (29% of shoes)
Price: $133 - $163
168 shoes (18% of shoes)
Price: $164 - $194
61 shoes (7% of shoes)
Price: $195 - $225
35 shoes (4% of shoes)
Price: $226 - $256
9 shoes (0.98% of shoes)
Price: $257 - $287
1 shoes (0.11% of shoes)
Price: $288 - $318
2 shoes (0.22% of shoes)
Price: $319 - $350
1 shoes (0.11% of shoes)
Weight: 3.5oz - 4.7oz
6 shoes (0.77% of shoes)
Weight: 4.8oz - 5.9oz
18 shoes (2% of shoes)
Weight: 6oz - 7.2oz
46 shoes (6% of shoes)
Weight: 7.3oz - 8.5oz
141 shoes (18% of shoes)
Weight: 8.6oz - 9.8oz
211 shoes (27% of shoes)
Weight: 9.9oz - 11oz
219 shoes (28% of shoes)
Weight: 11.1oz - 12.3oz
100 shoes (13% of shoes)
Weight: 12.4oz - 13.6oz
25 shoes (3% of shoes)
Weight: 13.7oz - 14.8oz
4 shoes (0.52% of shoes)
Weight: 14.9oz - 16.2oz
5 shoes (0.65% of shoes)