Verdict from 11 experts and 100+ user reviews
5 reasons to buy
One runner mentioned that he was able to run in the Hoka One One Gaviota 2 without experiencing any pain. He also felt that his recovery time might lessen because of the shoe's stability features and cushioning.
Some testers mentioned how great the shoe felt. Unlike other shoes, it did not aggravate their knee and foot issues.
A lot of reviewers appreciated the level of comfort delivered.
According to one user, this Hoka shoe felt stable during her runs.
One female user was happy about how the wide version fit her foot.
3 reasons not to buy
One male user mentioned that the midfoot section was as tight as the one on the first version. Even though he loosened the laces, the area under the tongue still felt constricted.
Some female reviewers weren't happy that there were not enough colorways for the wide version of the Hoka One One Gaviota 2.
Almost all female testers commented negatively on the color selection available. It would have been better if there were more vibrant options, they said.
Bottom line
The Hoka One One Gaviota 2 is a road shoe designed to handle the needs of runners who overpronate. Plenty of users found it to be comfortable and supportive. It did not cause them any pain nor did it aggravate underlying problems. There were users, however, who weren't pleased with the colorways the shoe came in. Nevertheless, the second version of the Hoka One One's Gaviota still proved to be a supportive shoe that allows runners to go the distance.
Tip: see the best running shoes.
Our reviews
I am a 42-year-old runner, about 170 pounds and 6' 1" tall. I race all distances, from 5ks to marathons, and spend at least half of my year training for an upcoming marathon.
The Gaviota 2 is a supremely cushioned, maximal stability running shoe. The foundation is mega-wide, and my feet felt like they were being sucked into plush, form-fitting, memory-foam cushioned shoes.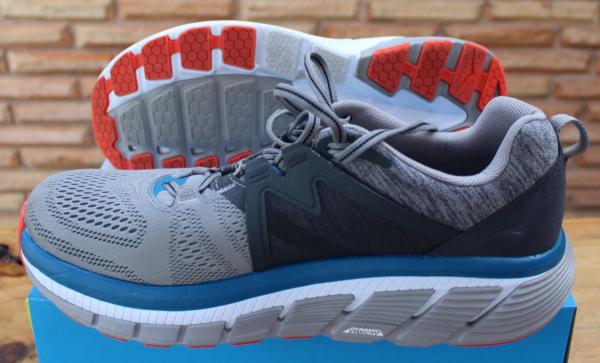 At first, I thought for sure they would be too bulky, too big, and clumsy for running. They seem over-sized.
I received the Gaviota 2 at 6 weeks to go until the Chicago Marathon. So testing these shoes incorporated the last 6-week build up to the marathon, covering my feet in every workout, and included running the Chicago Marathon in them.
Preliminary fit
Shoe length
My feet are size 12 (Brannock). Size 12 in the Gaviota 2 gave me just the right amount of extra space in the toes. Perfect shoe length!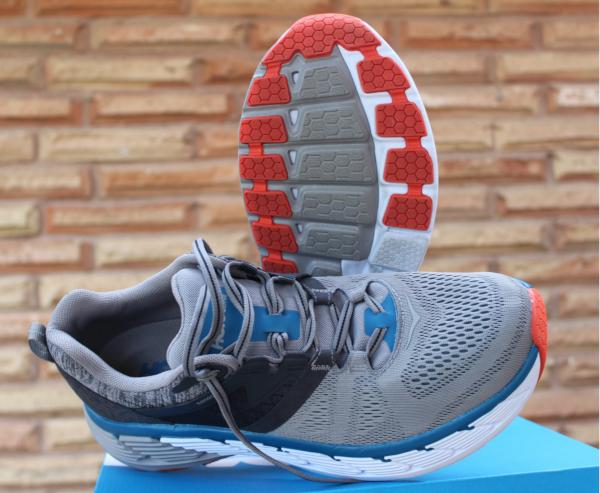 Laces
I use a heel-locking tie just like every other shoe I wear since it keeps my heels cinched down.
The laces seemed to be a little long, even using all of the eyelets. However, I did not have one issue of the laces coming undone, even without double-knotting them.
Toe box
The toe-box would seem to be extra wide considering the super-sized platform. However, the box was not overly spacious.
I had no issues with cramping, but the shoe did seem to fit my foot width exceptionally well.
Heel & arch support
Putting on these shoes was like sinking my feet into customized plush house shoes. The arch support was spot on, and the heel sucked right around the backs of my feet.
I do not know whether this shoe fits anyone else perfectly or not, but it felt customized to my feet after a while.
Upper
Here is where the shoe began to lose points in my review. There is just too much structure on the upper portion; a lot going on.
I don't think the upper portion added to the overall weight too much, but, as you will read later, it tended to complicate matters over the course of runs.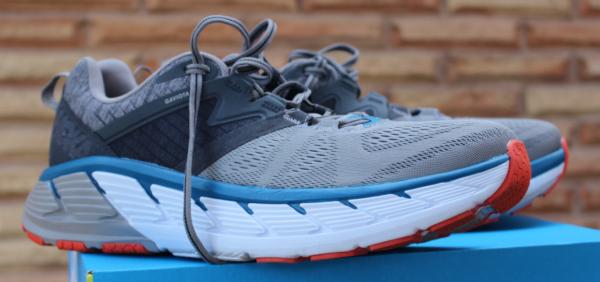 Midsole & outsole
This shoe is exceptionally stiff and seemingly clunky. It is a very large footprint.
The midsole is exceptionally cushioned, and the combination of rubber and foam in the outsole is interesting and soft. I anticipate the outsole will not hold up to the rigor of 500 miles.
Weight
Whatever Hoka did to make this shoe lightweight, they got it right. As clunky and large as this shoe, it is extremely lightweight for a stability shoe (coming in under 11 ounces).
After 370 miles
I gave the Gaviota 2s a full range of testing over the course of the final 6 weeks before the Chicago Marathon.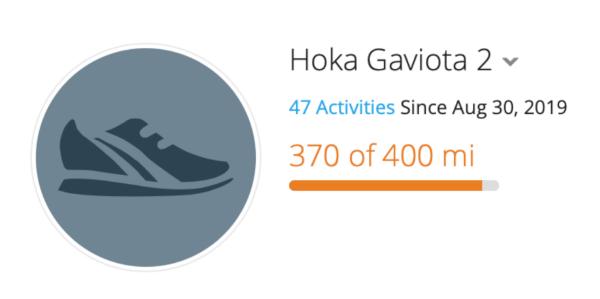 Short runs (3-6 miles) at recovery pace
Track speed work
Fartlek runs on the streets
20+ mile long runs
Marathon
Not only did these shoes become "very" comfortable over the span of their use, but the very large platform also did not really cause me any issues.
I am coming off a bad hip injury earlier this year, and I did not experience any major pain while I was running in these shoes.
With all the good experiences in these shoes, there are a few negative points I must make. The first and most important of which is the upper construction.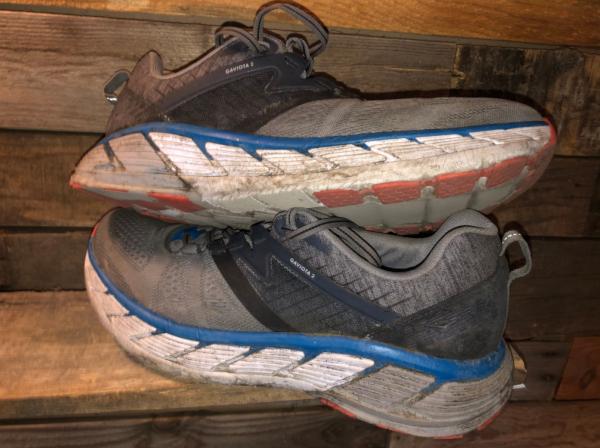 As noted earlier, there's so much going on with the upper. It seems to lack the ability to wick away moisture from the feet. In fact, these shoes do the opposite.
After every single run in these shoes, no matter how short or long, the shoes were wet with moisture and dirt. They seemed to suck it out of the air. These shoes smell terribly after 370 miles.
Secondly, and less importantly, I do not think the outsole construction is up to handling more than 300 miles or so. As you can tell, as I near 400 miles, the outsoles are beyond needing replacing.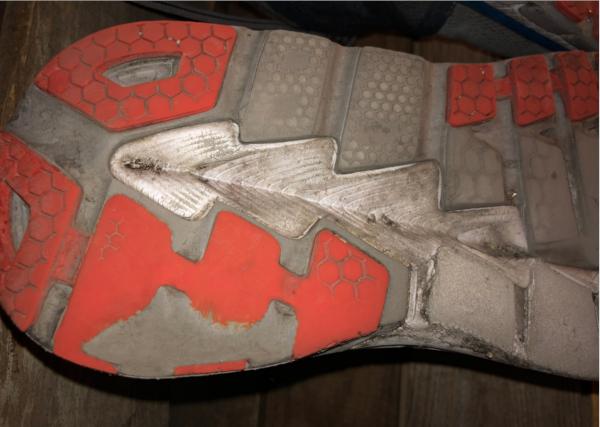 Performance
I had no issues in these shoes when it came to performance. From daily training to marathon racing, I did not feel encumbered by them. Please take note, however, that I did not attempt to run a personal best in the Chicago Marathon. Coming off of an injury, my goal was to get through the training and the race without pain, and I did. If I had been trying to run a PB, I likely would NOT have chosen to run in these shoes.
Expected Lifespan
At 370 miles, my Gaviota 2 are retired. I do not think it wise to continue running in them any longer. The outsoles are pretty worn down, and the midsole seems to be breaking down as well. I would change this shoe out before 350 miles.
Pros
Solid, comfy structure
Great shoe laces
Lightweight
Cons
Non-wicking upper
Short outsole lifespan
Final thoughts
If you are looking for a highly structured, lightweight daily trainer that provides maximum stability, this shoe is for you. If you live in a drier climate with low humidity, you will enjoy them even more.
Meant as a semi-support shoe with Hoka's famed maximalist, high-cushion approach, the Gaviota 2 isn't a perfect fit for everyone, but after some getting-used-to, it does the job.
Advertised Weight: 10.6 oz (M's 9) Measured Weight: 11.1 oz (M's 9.5) Drop: 5 mm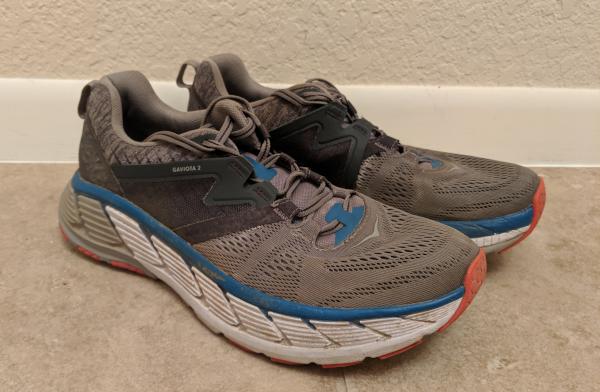 Upper
The Gaviota 2's upper is mostly made out of a breathable mesh, but even so, I found it getting soaked through entirely during some runs on hot, humid days. That could've simply been bad timing.
I first started running in them at the height of summer, but this happened more than once, sometimes in less than an hour of running.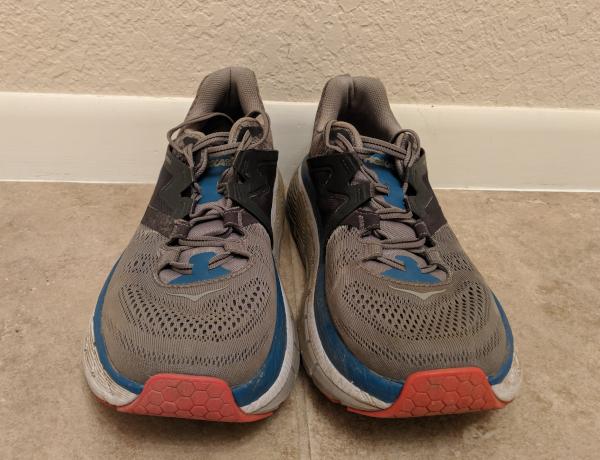 Maybe that's a good thing. Sweat is getting pulled away from your feet and exposed to the air, where it can dry. Or maybe these simply soak up sweat like crazy.
Overall, the upper is comfortable. There's a double layer in the midfoot (presumably to add more structure there), but it doesn't seem to be doing a good job since the midfoot feels loose and sloppy (see notes on fit).
Fit
Sizing is appropriate, but the fit is...odd.
Right out of the box, these shoes felt unusually wide. That's especially a surprise considering the Gaviota 2 is also available in a wide fit.
When that's the case, you'd expect the "normal" shoe to be a medium width, or possibly on the thin side, because those with wide feet can always get the wide option.
As a runner with no need for extra width, this put me off the shoes before the first run. However, after a few runs, and fiddling with the laces, a reasonably good fit was accomplished.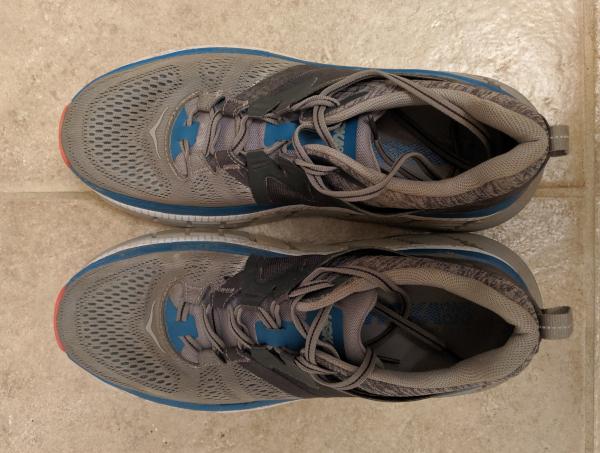 The fit is especially wide in the midfoot/arch area. I feel like the shoes need more arch support 80% of the time.
Due mostly to the fit, these have even less than normal. I usually don't use a runner's loop to lace my shoes, but with the Gaviota 2, it was needed, and it made a difference.
If you don't like a lot of arch support and you have wide feet, you might like the fit. Try the regular before ordering the wide version, because the regulars might be wide enough.
Tread
When I first got these, the tread pattern had me excited. It looked like there was enough that running on city park trails would be right up its alley.
In reality, they perform on trails about as well as any other road trainer. Trails aren't what the Gaviota 2 is meant for. So it's not necessarily a negative, but if you're thinking these look like double-duty shoes, they're not.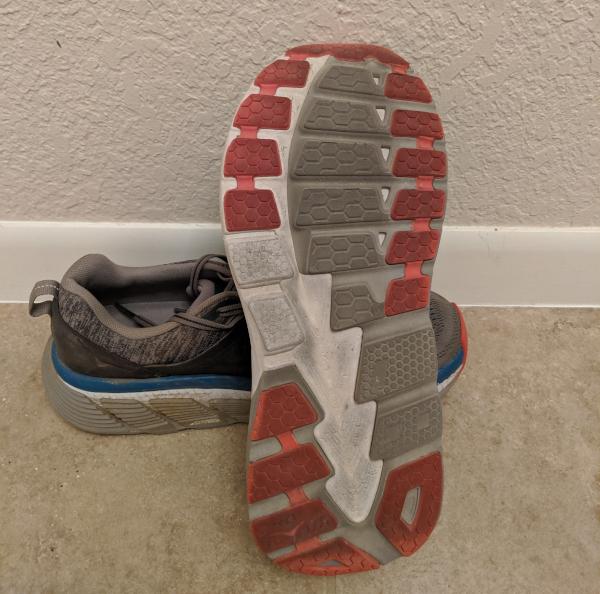 On any unpaved surface, your feet slip a little if you try to run at speed, and cornering is an issue.
Part of this is likely the high stack all Hoka shoes have - a shoe that's lower to the ground connects to the surface better, allowing you to dig in, push off, and corner sharply.
The Gaviota 2 is less like driving a Jeep and more like driving a van. You gotta slow down for corners, and while it can handle a dirt road, that's not its purpose.
Cushion
Unsurprisingly, the Hoka Gaviota 2 has a ton of cushion. Enough that it takes some getting used to; these are probably the most cushioned shoes I've ever run in.
You might expect running in a shoe with this much cushion to feel like running in sand, but that's not entirely the case.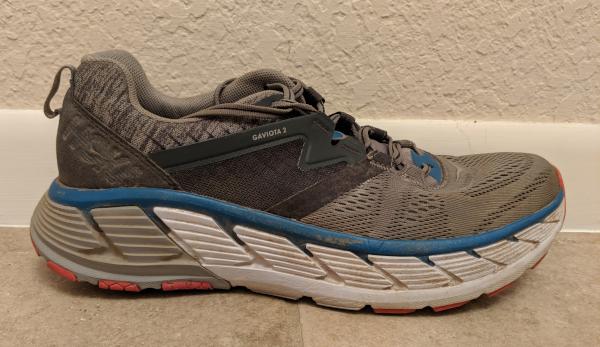 That said, while many modern shoes have a lot of energy return, these don't. The Gaviota 2 is somewhere in between an energy-sucking pillowy ride and the bouncy trampoline feeling you get from shoes with excellent energy return.
It's like...jumping on an old spring mattress that's seen better days. But hey, nice and soft.
Ride
The Hoka Gaviota 2 is described as a stability shoe, but it doesn't always feel that way. Rather than forcing you into a certain stride or footstrike, the Gaviota 2 simply nudges you in the right direction.
That's great if you still want some control over how your foot hits the ground, as well as a little extra flexibility and agility. However, a shoe with this much stack height isn't agile in the first place.
If you're looking for a high-stability shoe, this isn't it. However, if you want some stability from your daily trainers, these accomplish that, while still letting you run. For many runners, this is the perfect amount of stability.
Looks
Since the main color is grey, you don't notice it at first, but there are no less than five colors on this shoe. Even with five colors, this shoe manages to look boring.
Some of the other color options are more exciting than grey, but Hoka picked a dull shade no matter what color the shoe is.
Bright colors are great and stick to only a couple, three at most. I'd much rather have a pair of bright orange shoes than a pair of grey-white-blue-black-orange shoes that still manage to look boring.
Once again, the cardinal sin: Stop making white outsoles! You might as well make the outsole an ugly grey-brown color because that's what it'll be after one hour of running.
Overall, the design looks OK. It got a beefy look, not sleek at all, but that's as a result of its function. Fix the colors, and this might look good. More reflectivity would be nice.
Overall
If you have flat, wide feet, run at an easy jog pace, like a ton of cushioning, want a moderate amount of stability, and don't care what it looks like, then this could be the shoe for you.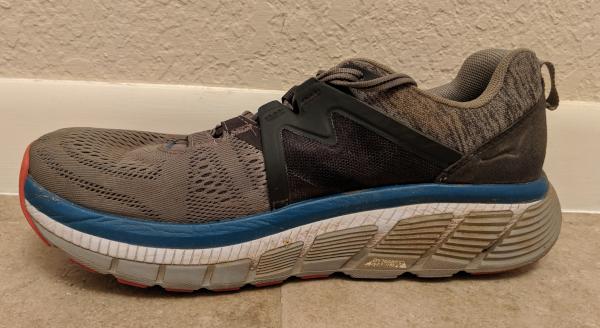 What is your gait? Simply put, how do you run? Are you the type of person who overpronates, under pronates, or do you have a neutral gait? Are you a heel striker, a midfoot striker or a forefoot striker?
I have been running for about twelve years now, I took it up late in life and am so glad I did. I have had my gait analyzed, and it wasn't any surprise to me that I have a neutral gait.
I was a heel striker before, and I contribute that to being in the military. We were trained to march heel to toe and that translated into my running. But, I am no longer a heel striker.
Once I began to run and compete regularly, I found that it was easier for me to finish a run with a lot more energy if I ran on the midsole of my feet.
I have constantly been aware of how my foot hits the roadway, treadmill, or trail. I have owned shoes in the past that have allowed me to comfortably run midsole.
But, I have also owned some that wouldn't allow me to do that (heavier shoe). I have owned heavy shoes that have a lot of padding and thick heels. And lastly, the minimalist type of shoe—lightweight but still having that control.
All of this being said takes me back to the original question, To pronate or not to pronate?
I do not pronate, have a normal gait, and am a long way from being a heel striker now.
When I received these shoes, I was like a kid at Christmas time! I couldn't get them inside my house fast enough before I was ripping the box open!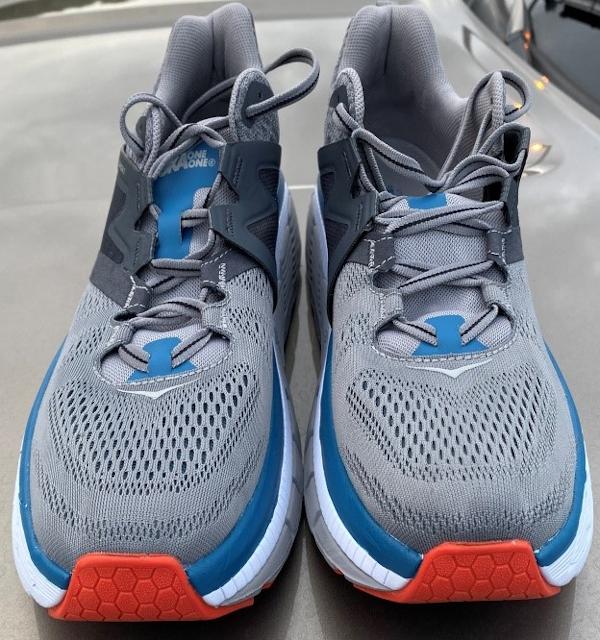 I have seen the Hoka One One's, but this would be a first for me to take them out for a ride.
I was able to log about 53.5 miles in these shoes, that was me wearing them every day. I used these on long runs, short runs, intervals on hard surfaces (roadway), and then on a treadmill.
While running on the treadmill with these shoes, I would normally run at an incline of 1.5 or better and often make sprints on an incline. These shoes helped tremendously, in that I didn't feel the pull in the back of my legs.
At first look, this is a good looking shoe. The way the shoe presents itself is that it has a MONSTER of a heel with a lot of padding.
The sole is a lot wider than what I have had in the past, but does that make it a bad shoe? I was determined to find out!
The day after I got these shoes, I went out for an easy run of 4-5 miles, not really concerned with turning a quick pace or anything like that. I wanted to see how much control I had with these shoes.
I slipped them on, and the first thing that I noticed was the heel cup. It was hugging the back of my heel and fit my heel like a glove, providing stability.
The heel cup is firm but not to the point that will cause you any pain or discomfort after logging miles in this shoe.
After tying them up, the next thing I noticed was the tongue of the shoe. The padding was thick, but not too thick. This was helping in stabilizing my foot so that I had control over the way it hit the pavement.
There is a J-shaped EVA placed on the medial side of the platform along with a rocker shape in the midsole. This allowed my foot to hit the pavement comfortably and made for a smooth ride.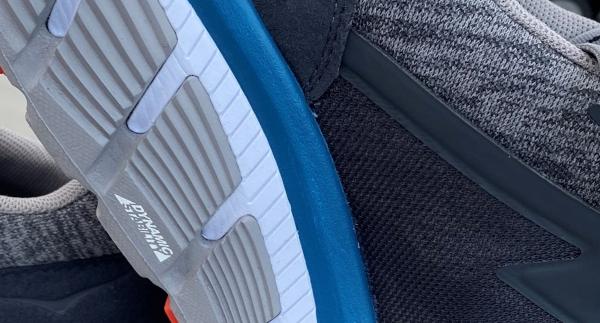 This is a heavy shoe, but it doesn't take away from the responsiveness and control of your ride. At first glance, you would think it is very bulky, and it might be awkward to run in. However, it's just the opposite because of the way the shoe is constructed out of lightweight, breathable material.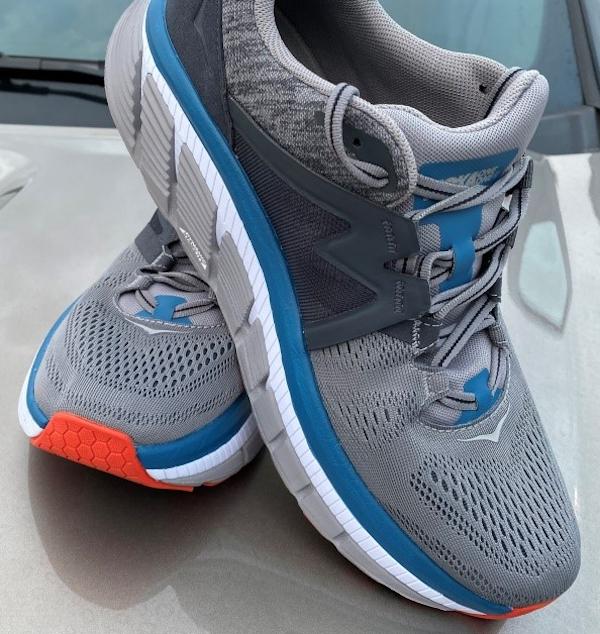 The Hoka One One Gaviota 2 is durable enough to tackle any terrain from pounding the road surface to walking on the treadmill. The sole of the shoe is wide enough to provide stability without taking away from control.
The tread of the shoe is grooved allowing for traction, so it will take on wet surfaces without any fear of losing traction.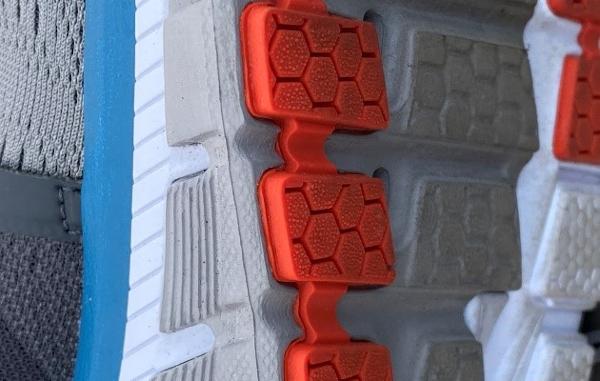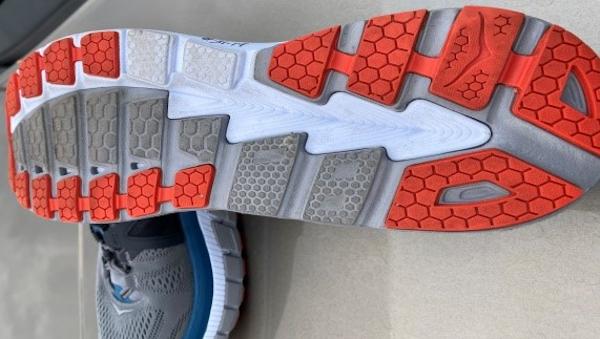 The heel to toe drop is 5 mm, which will allow the runner to ease through a stride while maintaining the proper running form. With this heel to toe drop, it allows the foot to move forward without much effort while helping maintain the proper running form.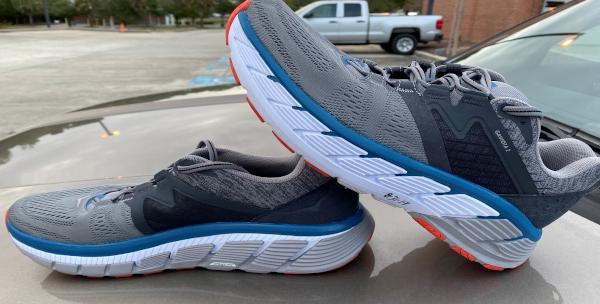 The Hoka One One Gaviota's primary focus is on stability. This helps when you are long into a run, and your running form begins to suffer.
It gives you stability and comfort, which allows you to push through a little farther with your stride, making every stride count.
With all of this being said, the Hoka One One Gaviota 2 is a well-designed shoe, offering support without sacrificing comfort. It's a heavier shoe, but it allows you to use proper form while running but is flexible enough to give you control.
The shoe's inner liner hugs the foot along with the heel cup, which keeps your foot in place while pounding out those miles. The padding around the heel cup extends to the top, which prevents the rubbing or chafing around the ankle.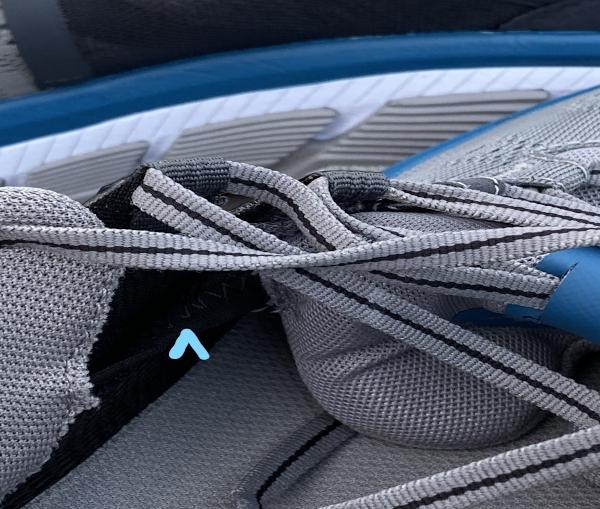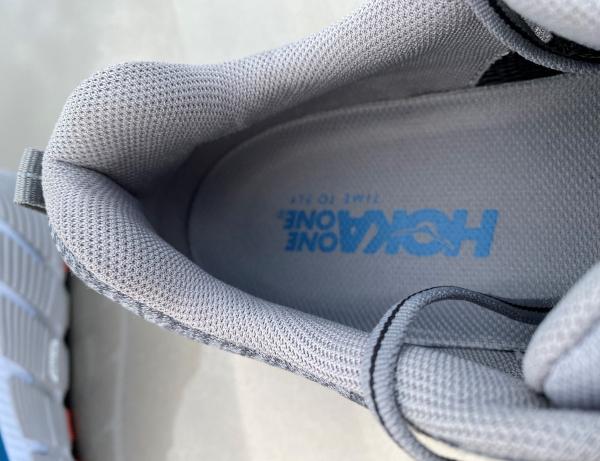 This shoe allows for the heel striker and the mid-foot striker to effortlessly move forward without impeding their form, despite the size of the platform.
The shoe is well-designed and suited for someone who has issues with pronation or issues with plantar fasciitis.
I think this shoe has helped in my training runs, in that it allows me to concentrate more on my form and not worry about my foot placement. I would definitely continue to use this shoe on training runs.
Pros
An oversized platform for stability
Well-padded tongue
Heel cup that holds the heel in place allowing control
Durable
Good support for the entire foot
Cons
Heavier shoe
Runs small in size
Good to know
From printed mesh, the upper material was updated and replaced with engineered mesh. According to Hoka One One, there was a significant amount of complaints about the upper not being breathable enough. Hoka listened and made the upper more stretchable with better ventilation.
Guidance loops for the shoelaces were added on the base of the tongue and towards the tip. These loops hold the laces in place, preventing them from moving side to side while the runner is in motion.
Formerly, the structural component that supports the heel was part of the upper. On this new version of the Gaviota, the heel counter was made separate, allowing the upper to be more flexible and breathable.
The outsole is made up of standard rubber and Hi-Abrasion rubber. The standard rubber is placed on areas that need the most flexibility. The lightweight Hi-Abrasion rubber, on the other hand, was strategically placed on high-wear areas for durability and increased traction.
The tread is made up of segments separated by deep flex grooves. These grooves allow the bottom of the shoe to move without inhibition. Each segment's contact area has been designed with a honeycomb pattern for better traction and grip on different surfaces.
On the midsole is the RMAT J-Frame. RMAT is a material made with a combination of soft and standard foam. It's more durable and resilient compared to the usual EVA foam. It was shaped like the letter J, and placed along the medial side of the shoe, around the heel, to control the excessive inward rolling motion of the foot without using a traditional medial post. A comparable alternative to the motion-control function of the Gaviota 2 is the Brooks Beast18.
The midsole platform was engineered to have the Late Stage Meta-Rocker Geometry. Designed to have a curve with the transition zone placed in front of the metatarsal heads, the platform creates a more stable base of the forefoot support, as it smoothens the transition from one phase of the running cycle to the next.
The upper is made up of Engineered Mesh which is lightweight yet offers better structural integrity compared to standard mesh. It caters to different foot shapes and it hugs the foot in all of the right places without making the runner feel constricted. The mesh material also allows air to pass through the shoe easily, making it well-ventilated.
The midfoot area is wrapped by a component called Arch-lock Wings. These wings can be found on both sides of the shoe, and they act like a cage, minimally locking the midfoot into place. The wings don't stabilize the midfoot completely, but they do aid in minimizing overpronation.
A heel counter has been added for better support. Just like the Arch-lock Wings, the counter doesn't immobilize the heel completely, but it still serves as a structure that slightly cups the heel into the right alignment.
At the back of the shoe is a loop which serves as a feature that allows for the easier slipping on of the shoe. Runners can pull on the loop so their heel can slide into the shoe without much effort.
Inside is a molded Ortholite Sockliner which acts as an extra layer of comfort and cushioning for the underfoot. In addition, it also keeps the inside environment of the shoe ideal as it manages moisture effectively.
Rankings
How Hoka One One Gaviota 2 ranks compared to all other shoes
Popularity
The current trend of Hoka One One Gaviota 2.