Facts
Terrain:
Road

|

Treadmill
Arch support:
Neutral
Weight:

Men: 8.7oz

|

Women: 7.1oz

Heel to toe drop:

Men: 5mm

|

Women: 5mm

Fit:
Medium forefoot

,

Medium toe box

,

Medium heel
Pronation:
Neutral Pronation
Arch type:
High arch
Use:
All-day wear
Material:
Mesh upper

,

Rubber sole
Features:
Breathable

|

Cushioned

|

Comfortable
Strike Pattern:
Midfoot strike
Distance:
Competition
Heel height:

Men: 29mm

|

Women: 27mm

Forefoot height:

Men: 24mm

|

Women: 22mm

Release date:

Aug 2020

Brand:
Hoka One One
Type:
Low drop
Width:

Narrow

,

Normal

,

Wide

|

Narrow

,

Normal

,

Wide

Price:

$130

Colorways:
Black

,

Blue

,

Pink

,

Red

,

White
SKUs:

111

,

BBLC

,

BBRNZ

,

BIBH

,

BWHT

,

CLBLC

,

LRNC

,

MOAN

,

MRCB

,

OGEP
Verdict from 6.9 hours of research from the internet
95
Superb!
51939 users: 4.5 / 5
13 experts: 94 / 100
5 reasons to buy
Comfort: A lot of the reviewers attest to the plush underfoot sensation provided by the Hoka One One Clifton 7.
Lightness: The running shoe maintains featherlight bulk, commented a few runners.
Stability: According to some experts, this neutral running shoe delivers surefooted strides.
Fit: Several buyers lauded the trainer's supportive wrap.
Protection: Thanks to the ample cushioning of the shoe, many racers state that it secures a soft landing.
2 reasons not to buy
Responsiveness: Quite a few testers have observed that the Clifton 7 does not have sufficient bounce.
Breathability: Some of the users claim that there is not enough ventilation inside the foot compartment.
Bottom line
Despite its maximalist design, the Hoka One One Clifton 7 is a lightweight running shoe that's engineered to reach all distances. With its cushioning, the platform promotes a plush underfoot sensation while supplying sufficient shield from harsh ground elements. Because of its midsole and outsole composition, the road running shoe creates an energetic, traction-ready ride.
Tip: see the best running shoes.
Our reviews
I have been looking for a lighter shoe than my usual collection of Brooks Ghosts; one that I could use in an upcoming and exceptionally hilly, half marathon in Kentucky. I went out, trying to find if these beautiful shoes were going to be on the starting line in Kentucky on race day.
Road Performance
Smooth-rolling! This is how I would best describe the way the new Clifton 7s travel down the road, and they are extremely quiet as well. The cushioning is so very generous that I had to ask myself if there is such a thing as too much cushioning. And, even though they feel less flexible in hand, you would never know it once underway.
I am enjoying the Cliftons in my usual rotation, alternating between them and Brooks' Ghosts 12s and 13s. The Cliftons' ride is softer and is as smooth and quiet as any of my many other Ghosts. And for my style of long, slow, half-marathon training; these shoes make for very pleasant outings.
The Cliftons' traction seemed typical of today's modern running shoes, with no unexpected slips on wet roadways, while being only slightly less sticky on painted surfaces. However, these new Cliftons are not the most comfortable shoes one could hope for when running without socks.
Actually, I have noticed some chafing along the medial side arch area of each foot. This seems to be caused by the little pieces of webbing that run from the sides of the tongue to under the insole. It is a chafing that probably would not be noticed when wearing socks, but it is a nuisance that has since been corrected using an X-Acto knife. By removing what I hope will prove to be an unnecessary part, I have easily solved this issue.
Each outing in the Clifton 7s is a little better than the one before, likely due to the fact that I have come to slowly embrace "the big cushion design philosophy" that the Hoka One One family of shoes is known for. However, with a Stack height of 29mm at the heel and 24mm at the forefoot, I am still feeling the need to be more cautious than usual when rounding corners quickly, often thinking that I might twist an ankle, but fortunately, that has yet to happen.
The Outsole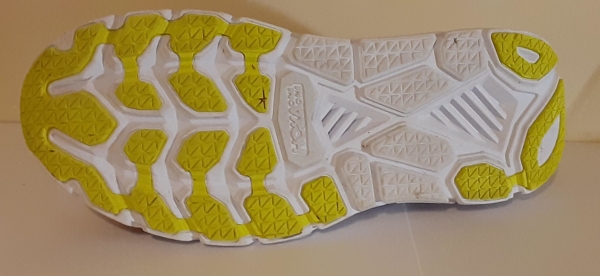 The outer soles of the Clifton 7 are made up of very well segmented gatherings of high abrasive rubber sections that have been strategically placed onto a much, much softer midsole EVA foam. The outsole rubber compound is very hard. Actually, I am surprised that these shoes are so quiet and that the overall traction was so good with such a hard outsole rubber.
Where the rubber doesn't contact the road, the EVA does, giving these beautiful red Cliftons a great footprint with lots of shoe material in contact with the road at all times. Except, of course, while flying.
Midsole
These new Clifton 7s have a heart of EVA foam with rubber added, providing an overall amazing level of cushioning.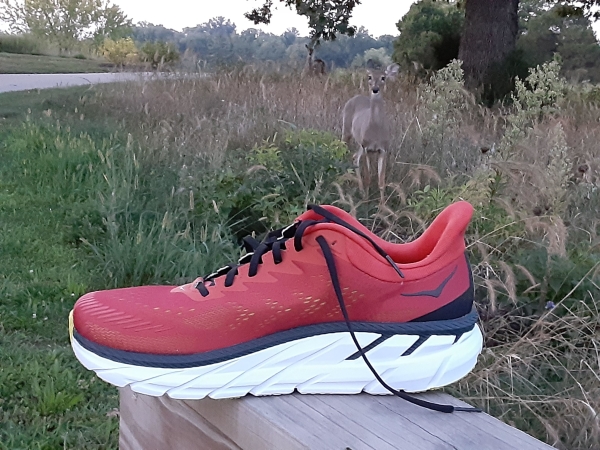 The midsole of any running shoe is its very heart, giving the shoe both its character and its personality.
The midsole is "who" that shoe is.
For some runners, this high level of cushioning may be overwhelming. For me, this level of cushioning was nearly too much. But for someone returning from a running-related injury, these shoes might be the perfect segue.
Uppers
Simply stated, these uppers are about as good as any upper needs to be. They are made of two layers of engineered mesh and are composed of very little unnecessary ornamentation.
The tongue and collar are not overly padded, but certainly adequate. In addition, the rear of the collar flares upward, this is perhaps intended to aid the runner when pulling the shoe onto the foot without mashing the heel area. However, this could just be a fashion statement, started by our most imaginative friends at Nike.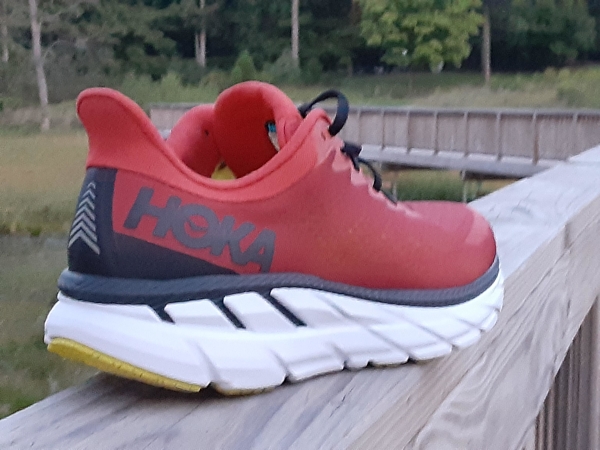 My size 12 (regular U.S), is also listed as an exacting 46 2/3 Eur., and fits me perfectly, offering a bit of snugness in the midfoot, and a nice roomy toe box area on both sides of my tired toes, and above my sometimes blackened toenails.
These Hokas offer just a little more welcomed toe space directly in front of my toes than most other size 12s that I have owned, while not being too big.
Pros:
Lightweight
Near silent transition
Superb attention to manufacturing details
Cons:
Chafing at midfoot near tongue (remedied)
There could be better reflective material.
A bit of instability due to stack height
Summary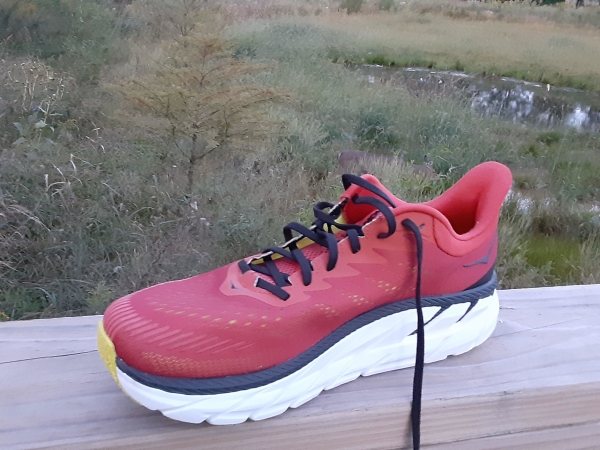 The high level of cushioning in the HOKA ONE ONE Clifton 7 is achieved by using a large amount of midfoot EVA foam which, in my opinion, and observation, has led to a feeling of instability.
Otherwise, the new Clifton 7 is an excellent shoe that does exactly what the designers intended—making excellent value for the athlete in need of such bounce.
Sadly, these excellent shoes will not be with me in Kentucky. I have however found what might be the perfect shoe for my next half marathon. I have started running in the 361 Degree Fantom and will report back to you about those little beauties.
Run well and love one another my brother and sisters, and make every day count. They are numbered, you know.
Note: I bought these shoes at full price and my opinions reflect no vendor, sponsor, or other paid bias.
My thanks go out to my good friend Tony for his assistance in the completion of this review.
Hoka One One Clifton 7: Keeping the essentials
"Why fix it when it's not broken?" This perfectly describes the makeup of the Clifton 7 from Hoka One One. Having been received warmly by the majority of the runners, the Clifton 7 adopts the same midsole and outsole construction from its predecessor, giving users the same comfortable, grippy ride.
What is it for? The Hoka One One Clifton 7 is a great road running shoe that functions superbly in daily and long-distance running, as well as marathons.
Who is it for? It is best suited for neutral runners who want a pair of lightweight yet max-cushioned shoes.
Clifton 7 vs. 6: The updates
As mentioned, the Hoka Clifton 7 does not feature major revamping, so here are some of the few upgrades made to the running shoe:
For easy on and off, a new vertical pull tab is added.
To reduce tongue movements, a mesh gusset is incorporated.
In-shoe ventilation is increased, thanks to the new airflow system in the midfoot.
The shoe has an extended heel for convenient foot entry.
Size and fit
True to size
based on 31166 user votes
How Clifton 7 compares
Corescore: 54-57
1 shoes (0.11% of shoes)
Corescore: 58-62
3 shoes (0.33% of shoes)
Corescore: 63-66
7 shoes (0.76% of shoes)
Corescore: 67-71
27 shoes (3% of shoes)
Corescore: 72-75
52 shoes (6% of shoes)
Corescore: 76-79
63 shoes (7% of shoes)
Corescore: 80-84
153 shoes (17% of shoes)
Corescore: 85-88
248 shoes (27% of shoes)
Corescore: 89-93
309 shoes (34% of shoes)
Corescore: 94-98
57 shoes (6% of shoes)
Price: $40 - $70
113 shoes (12% of shoes)
Price: $71 - $101
264 shoes (29% of shoes)
Price: $102 - $132
270 shoes (29% of shoes)
Price: $133 - $163
164 shoes (18% of shoes)
Price: $164 - $194
63 shoes (7% of shoes)
Price: $195 - $225
33 shoes (4% of shoes)
Price: $226 - $256
9 shoes (0.98% of shoes)
Price: $257 - $287
1 shoes (0.11% of shoes)
Price: $288 - $318
2 shoes (0.22% of shoes)
Price: $319 - $350
1 shoes (0.11% of shoes)
Weight: 3.5oz - 4.7oz
6 shoes (0.78% of shoes)
Weight: 4.8oz - 5.9oz
18 shoes (2% of shoes)
Weight: 6oz - 7.2oz
46 shoes (6% of shoes)
Weight: 7.3oz - 8.5oz
140 shoes (18% of shoes)
Weight: 8.6oz - 9.8oz
208 shoes (27% of shoes)
Weight: 9.9oz - 11oz
221 shoes (29% of shoes)
Weight: 11.1oz - 12.3oz
99 shoes (13% of shoes)
Weight: 12.4oz - 13.6oz
25 shoes (3% of shoes)
Weight: 13.7oz - 14.8oz
5 shoes (0.65% of shoes)
Weight: 14.9oz - 16.2oz
5 shoes (0.65% of shoes)