Our reviews
There's something about the look of Hoka's. They just look funky and cool, and for a while, I was fixated on getting a pair. I love the chunky soles and the cool designs of their shoes—from the outside they look like they are a lot of fun.
However, when I did eventually get a pair, they ultimately left me slightly underwhelmed. Of course, they were lovely to look at, the Clifton 5 Knit come in a variety of colours, but I opted for the Black iris/Storm blue ones.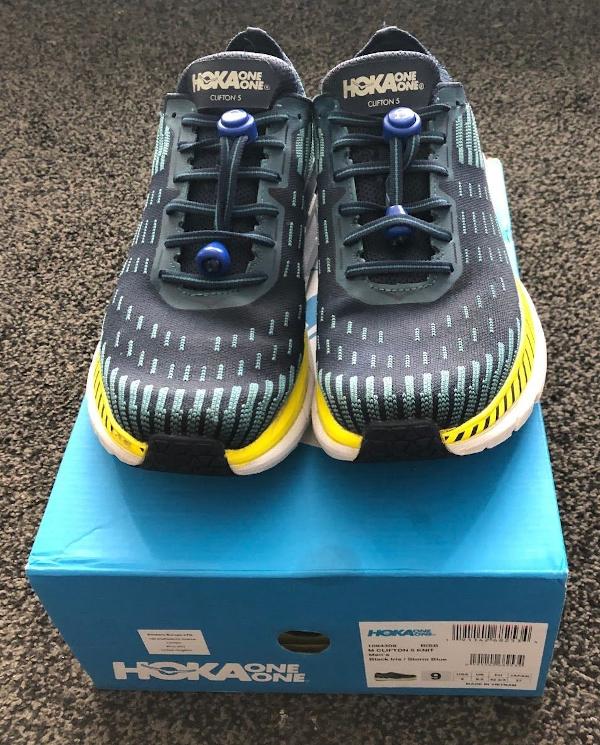 I thought they were funky and fresh—everything I previously thought about Hoka—and I couldn't wait to get out running in them!
In terms of size, I went for a UK 8.5 EUR 42.66 or 42 ⅔. I decided on this size as it seemed the closest to my usual size of 8 UK, 42.5 EUR. But sizing and fit were to become the biggest problem for me with Hoka shoes.
Aside from the narrow fit, which I'll expand on later, they felt slightly too long for me. I think due to having to get a 42 ⅔ instead of my usual 42.5.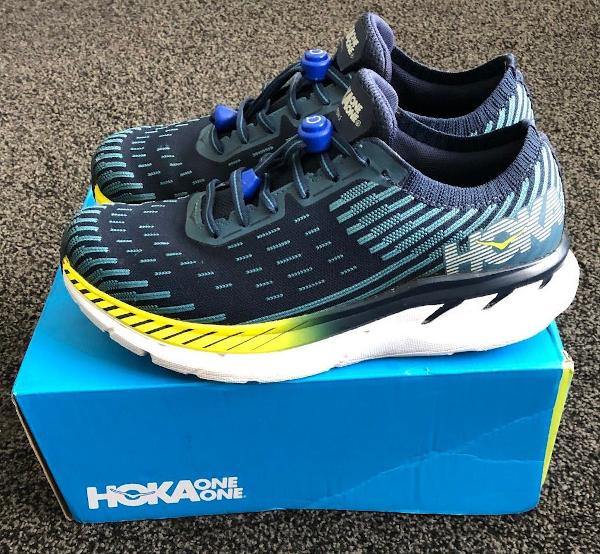 At first, I have to say I loved them. They are very lightweight and in terms of how they run, very light and fast, yet comfortable at the same time.
The shoes weigh just 262g, which is pretty light for a shoe of this type, offering such a high level of comfort. They are also low drop from heel to toe—5mm—when compared to rival shoes in this category, which mostly are between 8-12 mm.
The amount of heel to toe drop is a matter of personal preference, but I really liked the lower amount on this shoe and found them to be a fast, cushioned ride.
I used them for two months before my first full marathon at Edinburgh 2019, doing a high amount of weekly mileage in them for that period and thought they were the shoes for me for that event.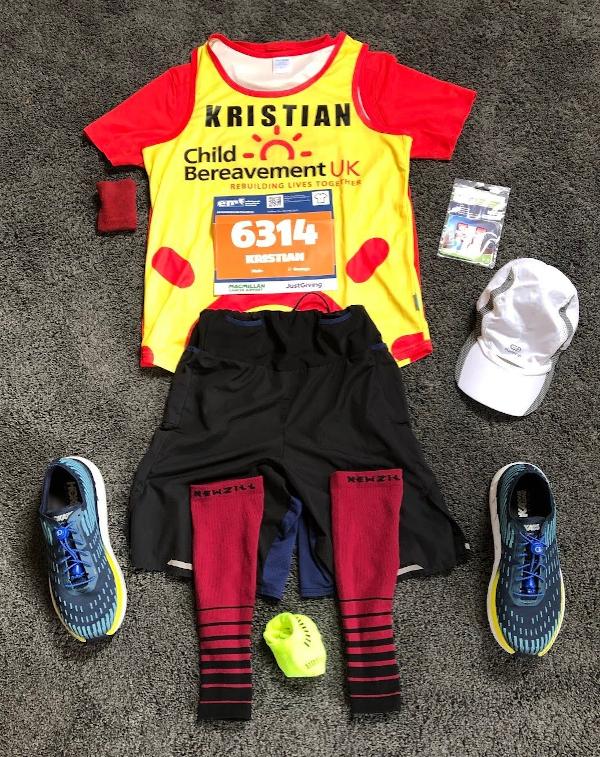 However, there were some signs in the run up to the marathon that the Clifton 5 wasn't quite right for me.
On a long trainer run beforehand, I'd felt some pinching on the instep and developed a small blister, but I kind of ignored it and then did some more miles in them without any issues.
Unfortunately, this problem didn't happen again until the very day I didn't want it to happen—about 5 miles into my first marathon.
My instep was pinched on both feet during the race but notably on the left again. However, there was nothing I could do but suffer it and run on, as this was the MARATHON!
I was left with a giant, already broken blister by the end of the race—maybe it wasn't all down to the shoes, but the pinching had now happened a couple of times.
I found like others have that the Hoka's run narrow, particularly on the instep. They seem to have very high arches, maybe required due to the height of the sponge foam sole.
The front of the shoe is, however roomy, enough. The knit upper is comfortable and flexible to the shape of your forefoot.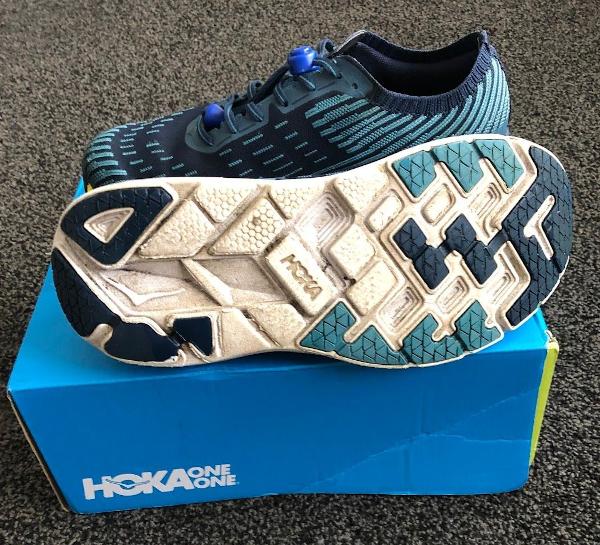 My other issue with the Clifton 5 is the soles of the shoes. They really seemed to get worn down excessively quicky.
The sponge cushioned sole is nice to run in, but the tread wears away quickly, as shown by the photo above. This was after about 200 miles or so in them. I don't think I would have got another 200 out of them.
Overall, I have no doubt a lot of runners will love this shoe. It is versatile in terms of type of run, looks great, and is nice and bouncy to wear.
It's a fun, lively running shoe, but due to sizing and durability issues just not for me.
Updates to Hoka One One Clifton 5 Knit
The Hoka One One Clifton 5 Knit is a neutral pronator's companion on the roads. This product's purpose is to provide sure performance and a comfortable underfoot experience. As the name suggests, the upper is made up of a knitted fabric; such is the distinguishing factor between this model and the original Hoka One One Clifton 5 running shoe, which uses an engineered mesh façade.
An EVA (ethylene vinyl acetate) midsole is responsible for carrying the foot throughout the gait cycle. A semi-rocker shape helps in easing the transitionary movements of each step. A rubber compound protects against wear-and-tear.
Size and fit
The standard measurements were used in the making of the Hoka One One Clifton 5 Knit, yet it is worth noting that trying out the shoe helps in ultimately securing a comfortable in-shoe experience. When it comes to width, the available options for men are D – Medium and 2E – Wide; for women, the variant is B – Medium.
Outsole
The outsole unit of the Hoka One One Clifton 5 Knit has been configured to be filled with contact points. Semi-prominent nodes are responsible for such a trait, heightening traction through constant ground interaction.
High-Abrasion Lightweight Rubber is patterned on the areas of the external pad that are more susceptible to wear-and-tear. Its grippy construction provides surface grip, as well, especially on the roads.
Midsole
Ethylene vinyl acetate is what makes up the midsole unit of the Hoka One One Clifton 5 Knit. This component runs the entire length of the shoe, aiming to cushion the foot throughout the running session. It is also made to be more lightweight than other variants of EVA.
A rocker shape called the Early Stage Meta-Rocker Geometry graces the midsole. Its purpose is to support the natural heel-to-toe transition of the foot as it goes through the gait cycle.
A Molded Ortholite® Sockliner is placed on top of the main cushioning unit. This add-on offers contoured support to the curves of the underfoot. Furthermore, it has antimicrobial and anti-moisture capacities that maintain a healthy and odor-free interior chamber.
Upper
The upper unit of the Hoka One One Clifton 5 Knit features a knitted fabric, which adapts to the shape and motion of the foot that's wearing it. The cloth-like characteristic of this material contributes to a wrap that is free of irritation.
A stretchy collar mimics the top of a sock, with a stretchy garter serving as the ankle-and-heel securer. Stitching reinforces this facet, keeping it taut and intact.
A printed heel counter bearing the word 'HOKA' holds the back of the foot in place, preventing it from exiting the foot-chamber involuntarily.
Compare popularity
Interactive
Compare the popularity of another shoe to Hoka One One Clifton 5 Knit:
Hoka One One Clifton 5 Knit video reviews