I am going to review the new Hoka One One Clifton 4 which I recently bought as my go to long distance shoe, post my recovery from my tibia stress fracture. I had previously ran in the Clifton 3s so I will base my comparisons on that model.
Before I get into some of my thoughts, I am 5'8" and about 145 lbs. I have wide feet bordering on very wide.
It has always been very difficult for me to find shoes that fit without making some small adjustments such as sizing up. I have tried several manufacturers that make shoes in wide widths and have had very little luck with just a few brands and lines that I enjoy running in.
Appearance
The first thing I noticed out of the box was the look and composition of the new Hoka Clifton 4s. The upper looks completely different with a new look & style, which I really like. I always thought the Clifton 3s were terrible looking.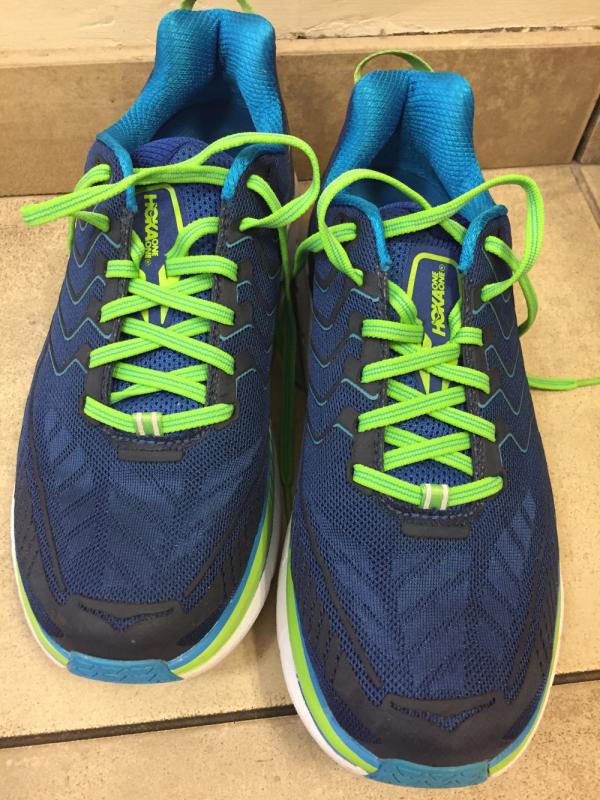 Fit
I went with my usual size of 8M and after putting them on in the living room, I got a little concerned because they felt a little snug even though the new design was supposed to have a slightly roomier mid to front foot area.
Luckily, I also ordered an 8.5M as well to compare and those felt a little better. I ended up keeping and running in the 8.5M.
Feel
I walked and ran in the living room and the next thing I noticed was the feel. This version did not seem as pillow-like and soft like the previous versions and seemed to feel a little heavier.
I checked the weight and it was a little heavier compared to the previous version. So while the feel was not as soft, the feeling you get is more responsiveness which seemed to propel me forward more even when just walking around the house.
The laces and ankle area fit as expected.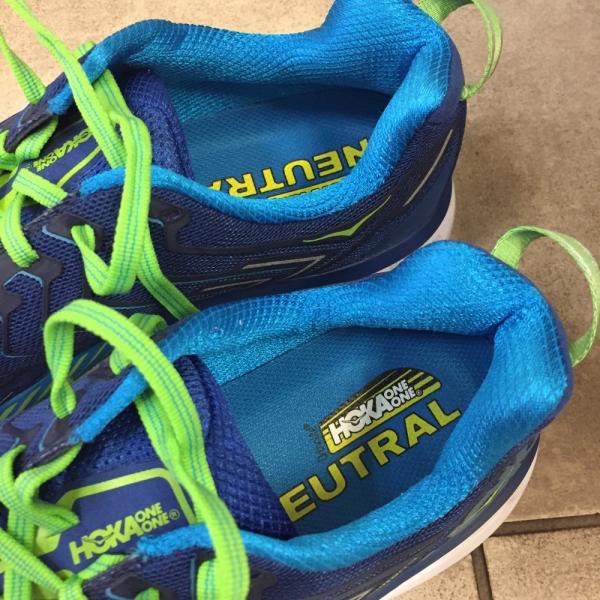 Looking at the sole, I can see the tread and pattern was a little different than the prior version and seemingly strategic additions of rubber material where the wear and tear might happen. And from feel, it felt like the Clifton 4s would be more durable than prior versions.
Road Test
I have since run about 55 miles on my new Hoka Clifton 4s and I have to say that so far I am more of a fan of this version than the prior Clifton 3s which I didn't expect as I really liked the pillow-like softness of the Clifton 3s.
Responsiveness
This version provided me with more responsiveness for when I wanted to go a little faster the shoe responded and provided excellent support and feel. When I slowed down, I felt like it provided the necessary softness in the tradition of the Hoka brand that I expected.
Flexibility
The upper seems to be pretty flexible and supportive as well and allows my wide feet to comfortably move around in the shoe.
Granted I have only done long runs of up to 10 miles so it's hard to say if my toes will continue to feel this relaxed when upping my long runs. So far so good.
The upper also provides enough support around the midfoot (I have a higher arch) the heel feels very snug and I didn't get any movement or coming out feeling.
Durability
So far the sole has seemed to be only ever slightly worn.
There is almost nothing you can see (I bet I could even return these if I cleaned them up) just to demonstrate that the sole is holding up very well.
The upper has held up very well as well with very little look of being worn. All good signs.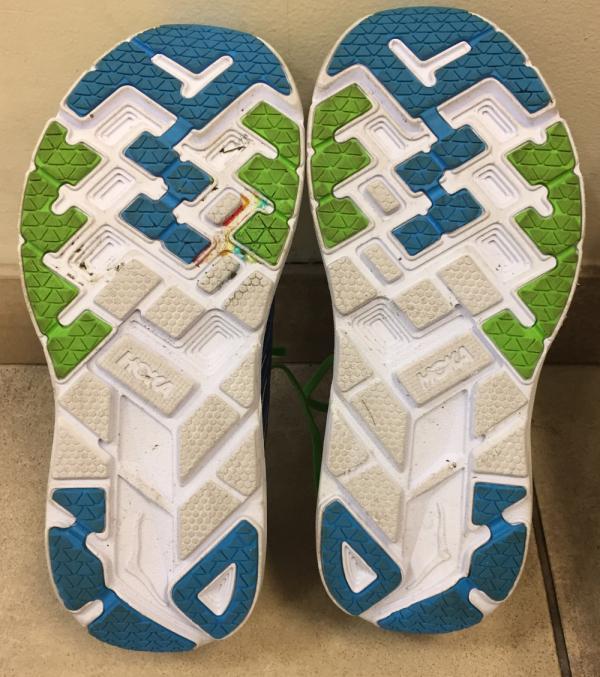 In terms of responsiveness and performance, while I am mainly running on these during my slower long runs, I have tested the shoe by upping the tempo and even sprinting at times to test the transition to a faster cadence.
The Clifton 4s in this manner really outperforms the previous version. I felt like the transitions were easier and the shoe more responsive.
I effortlessly changed speeds and never really had any concerns with the shoe during runs. So the RMAT and meta-rocker technology really did its job!
Final Thoughts
So far I am very pleased and impressed with the Clifton 4s. I was able to get them under $100 which makes this an even better value. While the shoe seems a little heavier, I really didn't feel it that much.
The look and redesign of the new Hoka Clifton 4s and the other lines is a huge improvement (I no longer feel like I am wearing ugly but comfortable shoes).
I love the responsiveness and the ride of the show and I am looking forward to longer distances on my Sunday long runs.