Okay, the title may be exaggerated, but if I had to choose only one pair of shoes for all of my training, I would choose the Hoka One One Clayton 2. The core of a pair of shoes is the sole, and Hoka really designed that well.
Hoka's unique sole, Pro 2 Lite +10, makes the runner soar in all conditions. The massive 20mm of cushion protects the runner's legs during long runs. The lightweight feel (9 oz for men, 7 oz for women) and the responsiveness under your forefoot, give you a boost during any speed workout and tempo run.
The specially designed outsole, RMAT, is able to offer ultimate traction under any weather condition and terrain. And, last but not least, the Clayton 2's soft air mesh upper takes minimum amount of miles to break in.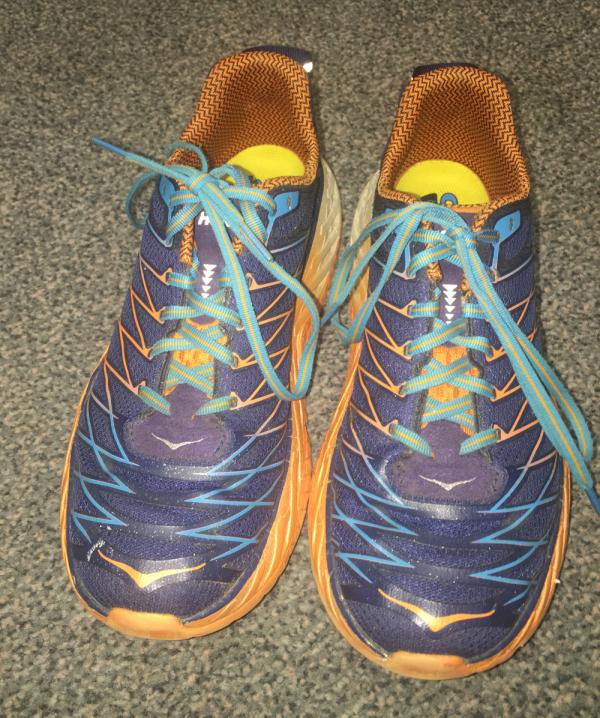 Statistics

Upper
The soft upper of Clayton 2 provides a seamless and good air-circulation condition in inside the shoe.
While the soft material provides a good fit for your feet with minimum break-in mileage, the structural overlays around the midfoot area and the TPU Lattice material in the shoe's front half provide a good integrity and durability of the shoe.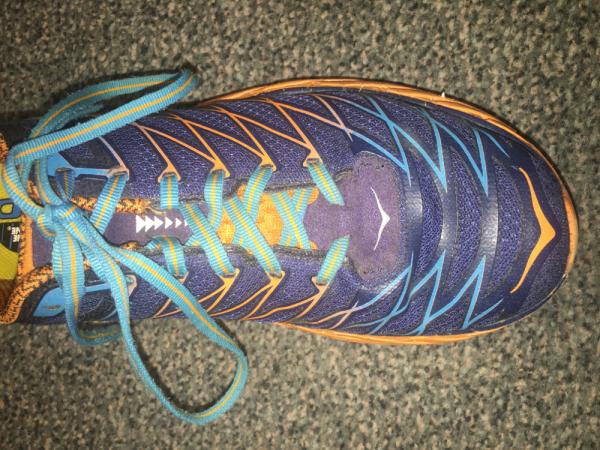 Midsole
The special Pro 2 Lite +10 midsole of Clayton 2, gives your feet more cushion around the heel area while maintaining a great responsiveness around the forefoot with a low heel to toe drop.
Such transition of responsiveness gives runners the opportunity to choose between speed or cushioning just by shifting the strike. Also, even though Clayton 2 has a relatively soft upper, the high side walls of midsole takes the job of locking your feet in the shoe well.
Outsole
The outsole of Clayton 2, RMAT, is designed to provide exceptional grip, durability, and energy return in different terrains and weather conditions.
Whether you run on wet trails or dry flat roads, the RMAT always grips well and stays bouncy even after hundreds of miles of running. It is also shocking to find that after running more than 400 miles on it, the outsole is not worn out at all!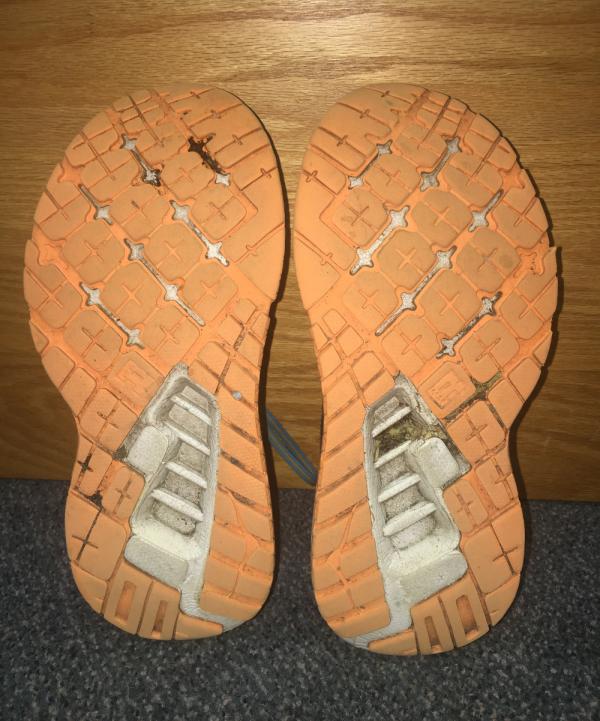 Pros
Almost no break-in mileage required
Good support from the sole
Capable of all terrain
Works for all running speeds
Flashy design!
Cons
Irritation on the arch
Durability is not as exceptional as expected
Well-rounded but not the best
Slightly high price
Reason Behind Pros
Hoka Clayton 2 is a very user-friendly shoe. Any beginner or experienced runner can harness a lot from it.
Almost no break-in mileage required
Good Support from the sole
While a thin, soft, upper is generally believed to provide little support, the sidewalls of the massive midsole wrap around your feet and lock them in, whenever you are ready to run.

Capable of all terrain

The Pro 2 Lite midsole transitions from responsive EVA foam under the forefoot to soft EVA foam around the heel. It will give you boost of speed on the uphills while forefoot striking, but the soft foam dampens impact very well when it comes to downhill.
The RMAT sole provides great traction on wet, dry, grassy, rocky, concrete and trail surfaces.

Works for all running speeds

The design of Pro 2 Lite midsole gives you the opportunity to accelerate to your speed mode whenever you want, just by shifting your landing spot to the forefoot. The incredible energy return makes your speed workout sweet. At the same time, the huge cushioning gives you the opportunity to do a smooth long run on any day you want.
The Clayton 2 is a good pair of shoes if you want to adjust your foot strike to a midfoot or forefoot strike since the midsole is capable of both running styles.

Flashy design!
Reason Behind Cons
The previous model of Clayton 2 had a widely reported issue of causing blister. This problem has mostly been solved in the Clayton 2, however, the sockliner sometimes still irritates the arch of my foot.

Durability is not as exceptional as expected

Many runners have described Clayton 2 as a pair exceptionally durable shoe that can last an entire year of running. In my wear testing, the great responsiveness started to decline around 200 miles of intensive training, which is even slightly less durable than other shoes on the market.

Well-rounded but not the best
Slightly high price
Best Usage
It is a great pair of trainer for any type of running. If there is one pair of shoes you want to get to go through the entire season of training, it is the one to tackle all kinds of workouts with great energy return and cushioning.
Also, if you have a forefoot strike or you are thinking about adjusting to one, Clayton 2 will work well for you.
Comparison
Hoka Oneone Clayton 2 vs. Nike Pegasus 34
Pegasus 34 is another versatile shoe with a very responsive foam midsole. However, it lacks the quick transition that Pro Lite midsole provides. The 10mms heel to toe drop makes this shoe more suitable for heel striker.
Also, despite Pegasus's responsive midsole, its 1.1 oz heavier weight (10.1 oz) makes the ride less swift than Clayton 2's.
Another significant difference is the upper. Pegasus 34 has a much more structured upper than Clayton 2 does, especially in the heel cup area. Seemingly, it provides more support to fix your foot in the shoe.
However, the heel cup gets really soft after 200 miles of running, after which, it does not support your foot well at all. On the other hand, Clayton 2 has a trough shape midsole, with high side walls to wrap your foot tightly against your shoes.
Conclusion
Hoka Clayton 2 is a really well-made shoe for a wide variety of purposes. It has massive cushioning to protect your legs, but it is also very responsive, to boost your speed. The Pro 2 Lite sole is really the best part of the shoe.
The Clayton 2's light weight is amazing, considering it has 20 mm of cushioning. The sidewalls and transition of midsole density are features that are unique to Hoka's. These features are very favorable.
Anyone who wants a versatile shoe for all types of training should consider the Clayton 2. While it does all training in different condition well, it can not compete with shoes that are specially made for their purposes. For example, if you want to be number one in road races, a pair of specialized racing flats would be more favorable.
Lastly, the durability is just not as exceptional as people said on the market. Its durability is mediocre as its compensation to the super lightweight.