So right here, we have a face off of two of some of the best maximalist trail shoes in the market.
On one side Hoka Challenger ATR2, on the other side Altra Olympus 2.0.
Hoka is primarily famous due to the thick sole and is responsible for all the hype about maximalist shoes.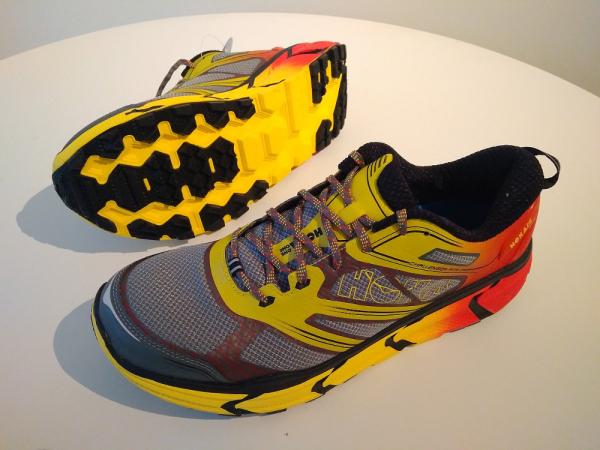 Altra is more oriented towards natural foot shape shoes (involving wide toebox) with zero drop approach, most of their shoes do have thick sole but are not maximalistic to the Hoka degree.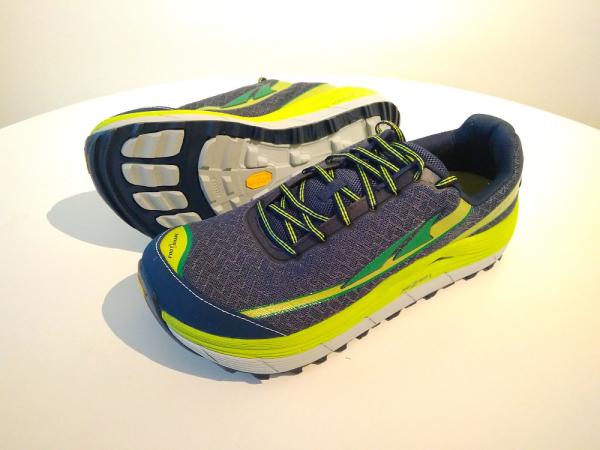 Both of these shoes are very versatile, usable on asphalt and not really suited for hardcore terrain, so I have decided to compare them as direct competitors in my eyes.
I have used them during several consecutive weekends for long trail runs (30+ km / 1000+ m elevation) on mixed terrain, changing the shoes every weekend.
There are separate reviews written by me for both of those shoes if you want to read about them in more detail.
https://runrepeat.com/hoka-one-one-challenger-2-atr/expert/hoka-challenger-atr2-one-shoe-rule
https://runrepeat.com/altra-olympus/expert/altra-olympus-2-0-running-clouds
Take in consideration that I have 90+ kg, so if you have 20-30kg less, then your experience with those shoes will probably be different.
Design
Hokas do look somewhat better and faster (especially in a variant with yellow-red gradient sole), while duckface design of Altras is probably not appealing for majority of the people. But we are not judging for Miss Universe, so looks are secondary in this battle.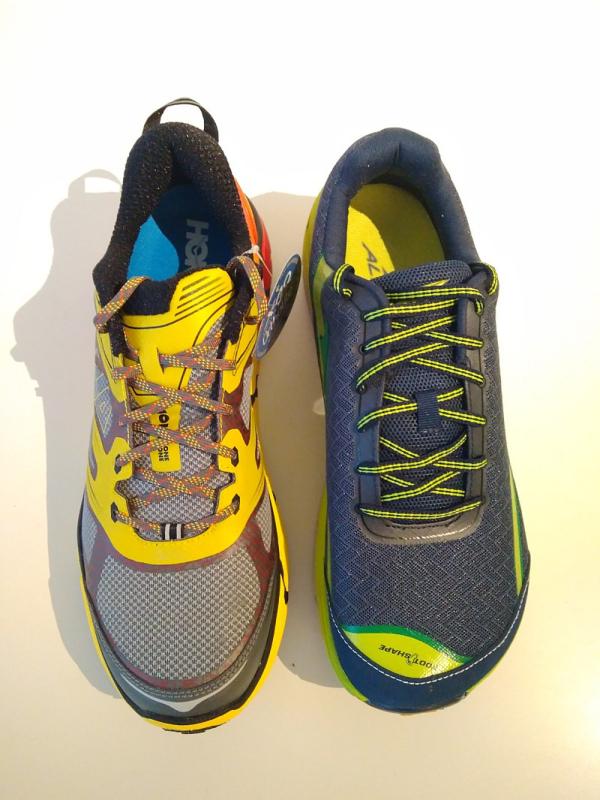 Comfort
Hokas have 26-31mm stack height (front to back), while Altras have 32mm stack height.
I got Hokas before Altras, expecting them to be like Adidas Glide Boost on steroids. Well, that did not happen. They do have quite firm (but elastic) sole. Comfort level was somewhat lacking at first, but they got better after 30km or so, they did stretch and mold to the feet to some degree. However for my 90+ kg soles are a bit too stiff for the really long runs.
When I got Altras and put them on my feet, I was in heaven. They really are like walking on clouds. If they made identical shoe but with asphalt soles without trail grip, I would buy them ASAP for walking around.
They are by far most comfortable shoes I have ever tried, Adidas Glide Boost (as a cushy example) are noticeably inferior to them. I do have Altra Paradigm, while they are very comfortable, they are not THAT comfortable as Olympus.
Toebox
Wide toe box is really good, your toes will be happy when not cramped in usual tight-front shoes, with which you must go 1 or even 2 sizes up to ensure they are not too tight.
On long runs with 25+ km feet and legs feel better and less achy in Altras.
So for the comfort level Altras win.
Sole & Durability
Both of those shoes have endured the first 200km without noticeable damages and with soles looking almost like new, so I would say that they are satisfactory in that aspect.
Hokas did a lot more asphalt with lugs still practically as new so their performance is somewhat better. I did not experience tear of the material in Hokas near the pinky finger like some runners did. Perhaps Hoka did improve the construction without visible changes for the later batches of manufacturing.
Anyway, both of them seem durable enough.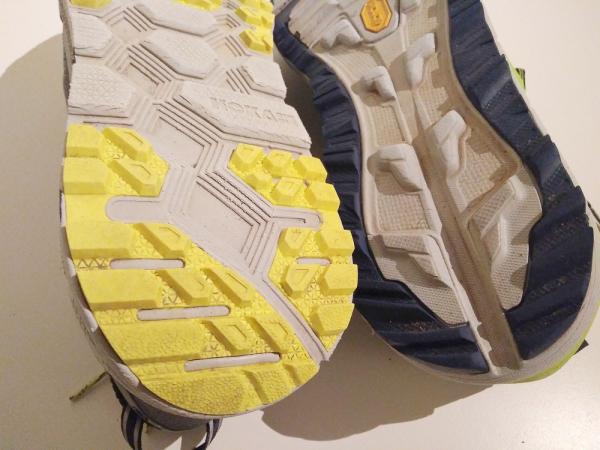 Both of them have a similar approach with harder and softer components on the sole. Fortunately even softer part is good for now.
For comparison, with approximately same mileage.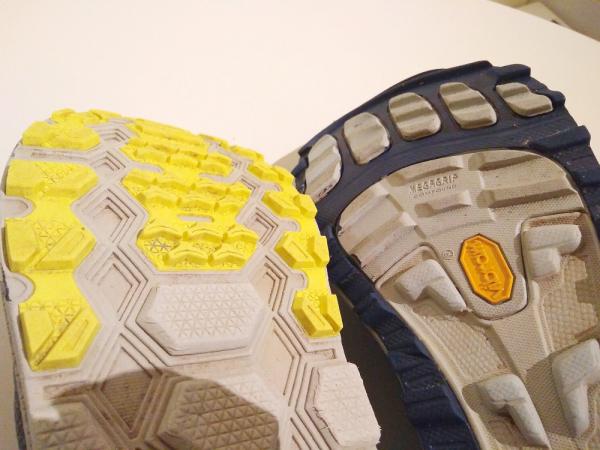 Performance
While they are less comfortable, I think you can be faster in these Hokas.
On few of my standard runs, I was somewhat slower in Altras. Probably due to the thick and soft sole in Altras which absorbs some energy, also there is zero drop which is (to me) slightly more difficult on climbs.
With Hokas up to 20-25 km distance probably there is no contest. But with Altras causing fewer leg issues on long runs I am quite sure they would prove to be winners on 35-40+ km long runs, at least for me.
Please note that your experience may vary, because of my weight which is over average for the runner. If you are lightweight then there is no such impact on legs while running and Hokas are probably a better choice, especially for racing.
Both of these shoes work well on asphalt and concrete, so don't be afraid to use them on runs and races involving a mix of trails and hard surfaces.
In my experience sole of Hokas is better for the hard surfaces. Lugs are almost not felt (and heard!) while running.
Altras are louder on asphalt, but unlike most of trail shoes they are still comfortable and you can run without issues. Although I doubt that sole will be as durable as Hokas if used on a lot of hard surfaces.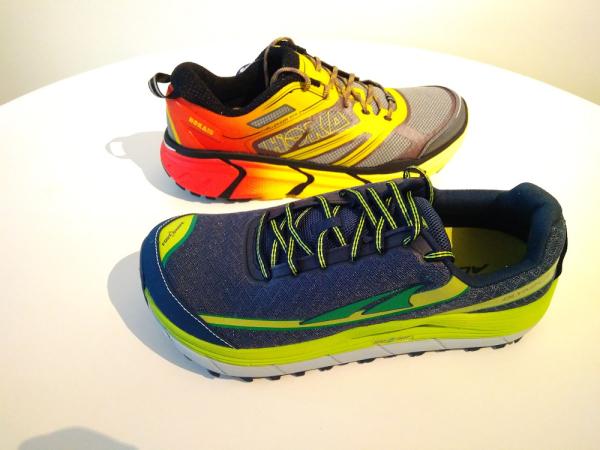 Grip
Both are best suited for mild trails, not involving a lot of mud and very rocky terrain. The grip on both is adequate, but for difficult terrain, there are much better shoes to be used (for Hokas that would definitely be Mafate Speed 2, for Altras maybe Lone Peaks, although I am unsure about how difficult terrain they could handle).
Hokas have a big advantage because they are significantly more stable and because of that they can handle terrain with rocks and roots better, without worrying that you will sprain your ankle.
Altras are very cushy and if you step wrongly then your ankle will turn to the side, possibly causing injury. They are very poor behaving on trails with side gradient, because they don't keep your feet stable enough.
So Hokas can definitely handle more difficult terrain then Altras. But still grip is lacking for really difficult trails, also they are not perfectly stable due to the stack height even with such firmness of the sole.
Safety
With Hokas I was never in a situation that my ankles were in danger, but with Altras there were few close calls. Fortunately, I tend to make smaller steps so there is time to react with other foot. If I was running with long hard steps like some people, I would be facing some problems. But still I must be more careful when going downhill, I cannot go "all-out" like in some other shoes.
In my opinion, it is better to not go off-trail, fell running or orienteering in Olympus.
But even considering possible dangers to my ankles, running in Altras is so much more pleasurable. They are my current first choice when I go to a pure trail (a moderate one), but Hokas are chosen when there is bound to be some hard surfaces or when the terrain is more difficult.
Toe protection
Toe protection is slightly better in Hokas, but nothing extra. However sole is firm and fat, so that reduces the toe bumping issues. Altras are softer in the front so same care is needed.
Beware that Altras have zero drop, so if you have achilles or calves issues, then be extra careful, start with very short distances and see how you feel in them.
If looking for the multi purpose shoe for various surfaces, Hokas probably come as close to optimal as possible. Obviously, no shoe can be perfect for all surfaces, but Hokas have good performance on all except really hardcore trails with a lot of mud and such.
Altras are somewhat less versatile, but also very usable on mixed surfaces. Maybe they are not so fast, but your legs will thank you after the race (if you don't sprain your ankle :D ).
Conclusion
Both of these have some distinct advantages and disadvantages.
Maybe it is best to compare them in a table: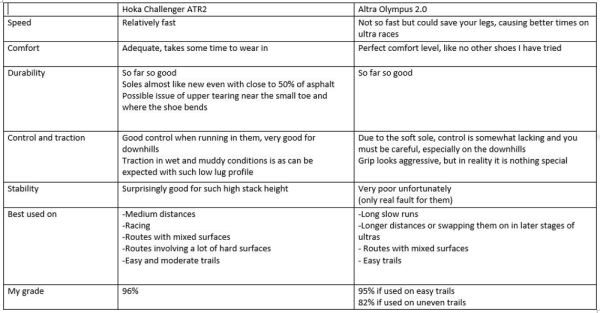 While Hokas win due to some advantages, I still feel better when running in Altras, especially for long distances.
Unfortunately, lack of stability prevents me for taking them on more trails.
P.S. The new Hoka Challenger ATR3 are now out. As far as I managed to see and try in the shop, differences are mainly cosmetic, with revised upper design so that danger of tearing is now probably reduced.