There is a lot of hype about Hoka shoes. Supposedly they are good for the feet and great for longer runs.
With me not being featherweight, they seemed like the perfect solution for the longer runs. After spending a lot of time checking out the Hoka range I have decided to try the Challenger ATR 2 first because, in theory, they should be good for mixed surfaces.
The Brand New ATR 2 Out of the Box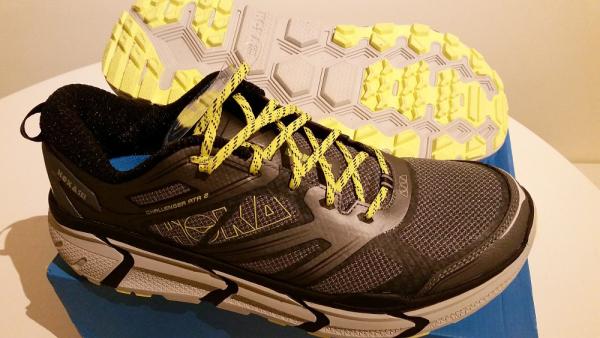 Design
When looking at the whole Hoka range, many of them look strange and clumsy.
These are better looking than the majority of their models, although far from the "fast and furious" design like some other brands use. But most of the runners care more about their feet than shoe design, so it doesn't matter so much how they look, right?
Comfort
After reading online about Hokas, I was afraid that they could be too narrow for my wide feet, so I went a half size up. Still, they were a bit tight on my feet.
But people also claimed that they adjust to feet somewhat and become more comfortable after 30-40km and that has proven to be true. After 30 plus km, they felt perfect on my feet.
Shoes do have thick soles, but soles are not soft and squishy as could be expected. They are quite firm and responsive.
Sole is noticeably firmer when compared with Adidas Boost or Altra Olympus for example. Maybe they don't feel like running on a cloud but they are really good for the feet.
Note that I did have to use heel lock lashing system to avoid sliding of the heel because of going a half size up. So if you experience a similar issue, that could be a solution. Fortunately, laces are long enough for that (which cannot be said for all shoe models).
Sole & Durability
The grip does not look impressive and in practice, it is not really suited for wet and muddy trails, although it can hold adequately.
Durability of the sole is excellent. After 200km of mixed terrain (probably close to 50% asphalt), the sole looks almost like new. Compared with some other trail shoes used on mixed surfaces, after 200km with my 90kg, this is impressive.
ATR 2 Outsole after 200km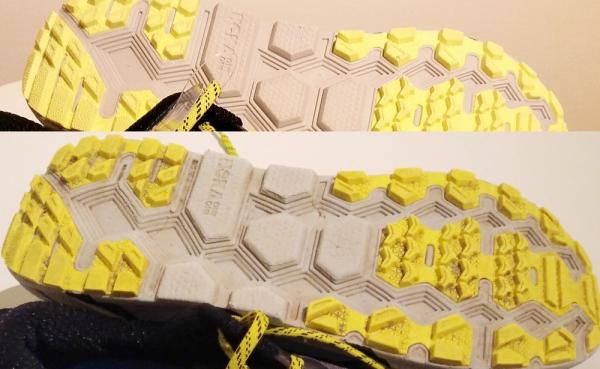 For comparison, below is Salomon Speedcross after less than 200km of trails, almost without asphalt.
Lugs on front and heel were worn to less than 50%. So now you can see why I am impressed with these Hokas!
Salomon Speedcross Outsole after less than 200km
Some people have complained to me regarding the upper and I have seen their shoes.
The part where the shoe bends and little toe meets the shoe, it gets torn after 100-150km or so. Fortunately, mine don't have such issue and still look good, without any visible damages.
If you are worried, the ATR 3 model has redesigned that part of the upper and that should not be a possible issue anymore. As you can see in the photo below, they still look almost like new, even after few washing.
Challenger ATR 2 still looks brand new after a few washings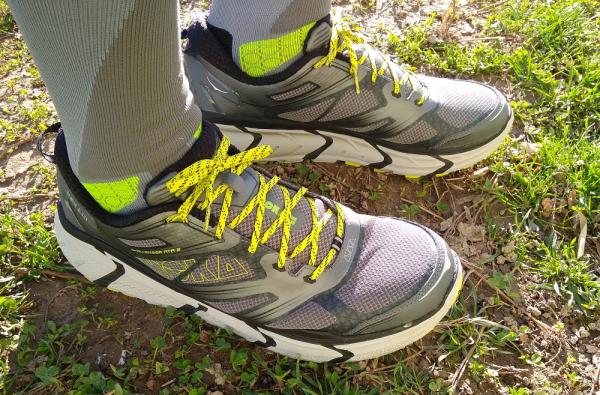 Performance
Mainly I have used them for mixed surface workouts, with up to 50% asphalt surface. They have good grip for moderate trails, but even more importantly they are good on asphalt too.
Few times I have used them on 100% asphalt workouts and they felt great on my feet. Comfort level on hard surfaces is not reduced and there is no loud noise when running on such surfaces like with some trail shoes.
The drop is 4.5mm. It should be easy transition even if you are used to slightly bigger drop. I was used to running with a 6mm drop, so no adaptation was needed.
The last workout was 36km of mountain trail with various terrain, a few kilometers of which was asphalt. My legs did hurt a bit after such workout but my feet were ok without any pains or blisters.
In some other shoes, there would definitely be issues with my feet. I still remember the pains in my feet after 35-42km runs in few other shoes.
Unlike some squishy Adidas shoes, due to the sole firmness and responsiveness, I think these shoes are quite good for racing too, not just for long workouts.
You cannot expect racing performance on the asphalt like with real specialized road racing shoes, but they are noticeably better than your average trail shoe. If you want to see them in action, check out this great video of Hawks and Miller racing at 50 miles.
Stability on the trails is very good, even better than some other shoes which have thinner sole. They are not the most stable shoes ever, but considering the sole thickness, they are more than good.
Perhaps that is due to the width of the sole and relatively firm compound used. Rocks and roots are definitely not an issue if you step on something and front toe protection is adequate for moderate trails.
Conclusion
Hoka Challenger ATR 2 are designed to be versatile and I must say that this shoe is a 100% success in my eyes.
They are so good that I got one pair extra for the future and I know few people who have 2-3 spare pairs of them. You can use them freely on asphalt and trails, without worrying about excessive wear or reduced performance.
New Model ATR 3 has only small differences compared to ATR 2, for example, they have redesigned the upper on the spot where it tears for some people, so I will definitely get ATR 3 too as soon as I stumble upon a good deal.
As for now, I will enjoy this good pair of shoes!
The Hoka Challenger ATR 2 in action