You can tell there is something special about the shoe when some people end up buying 13 (!) pairs. This seemingly simple low-top moc from Hey Dude is claimed to be the most comfortable shoe ever worn, according to thousands of people. With the accommodating fit and outrageous in-shoe comfort, it's a love from the first step.
Pros
Mind-blowing comfort
Cute as heck
Affordable
Roomy, wide-foot friendly
Easy on-and-off
Incredibly light
Breathable
Machine-washable
Cons
Lacks arch support
Not for narrow feet
Could be more durable
Who should buy the Hey Dude Wally Stretch
Smaller and lesser-known brands like Hey Dude often surprise us with hidden gems. One of such gems is the Wally Stretch moc. Don't go by this sneaker if you are looking for that bedroom slipper-like comfort. "Hands-down one of the most conformable shoes I have ever owned," "I might never take them off," "a godsend really" and thousands of similar comments are pouring from the happy wearers.
Some of the other primary reasons to get this Hey Dude shoe are:
Spacious fit for wide feet
Easy on-and-off
Affordable price tier
Who should not buy this moc
The Hey Dude shoes in general and the Wally Stretch, in particular, fits rather wide and would end up too loose for gentlemen with slimmer feet. In that case, see if the Vans ComfyCush Slip-On would make a better fit for you.
The Wally Stretch is also not recommended to men who need extra arch support for flat feet or overpronation. Consider shoes from Vionic. They are priced higher than Hey Dudes but are highly praised for their ergonomically-designed soles.
And if you like the laid-back styles like Wally and are ready to pay extra for a more durable pair, check out some walking shoes from OluKai.
Comfort is off the charts!
The number of praises that the Hey Dude Wally Stretch received for its comfort is just endless. People claim it to be by far the most comfortable shoe they have ever worn. Here are some of the more descriptive statements:
"Husband who is very picky about shoes was amazed"
"Put them on and didn't take them off until bedtime"
"More comfortable than my house slippers!"
For some, this Wally shoe has even become a new obsession. With the number of different styles and color options available, they want to get each one!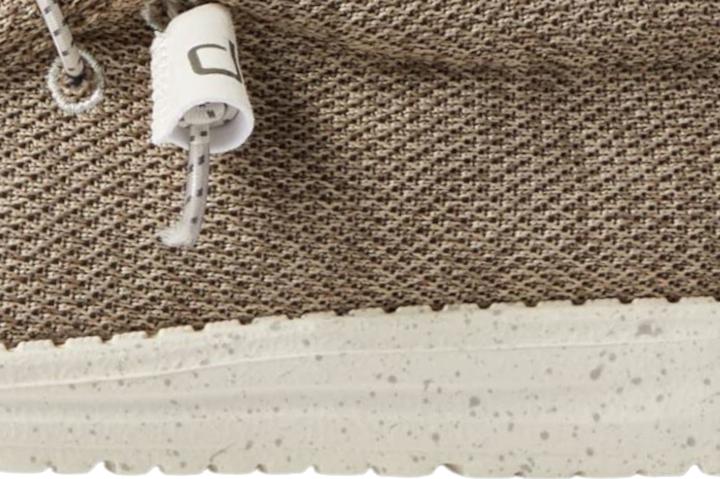 Even the heavier guys have found plenty of comfort in these Hey Dudes. One example is a guy who is 6'4 and 250 lbs with flat feet and joint pain. He finds it hard to get quality shoes for him but these are "Unbelievable. No need for the endless inserts either."
A stylish slip-on for any occasion
With its slightly rustic canvas upper, the Wally Stretch gives off a traditional and even classy look. But at the same time, there is also nothing too much about the shoe, making it easy to match with anything. Plenty of wearers say that the moc gets them compliments all the time. A more senior reviewer even mentioned that it "makes [him] feel young again."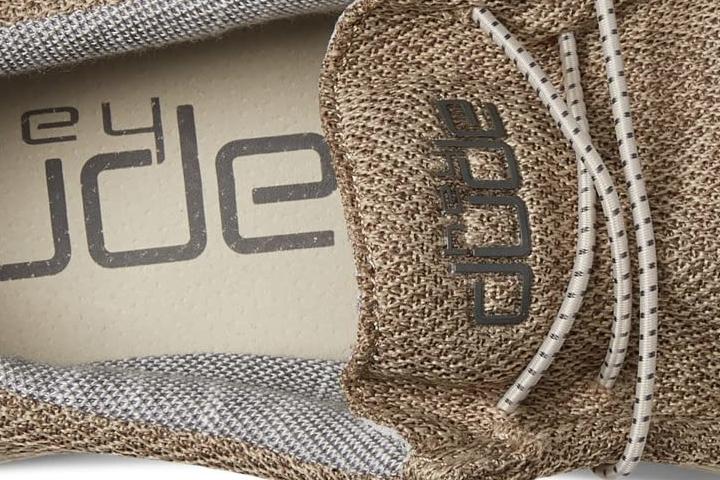 "Wide Fit" is truly wide in the Wally Stretch
Those with wider feet simply raved about how happy they were to finally find an accommodating sneaker. Even those who typically have to get a 4E Width in shoes say that the Wally Stretch fits the bill!
"Perfect fit for my son who has Hobbit feet"
"

Husband has THE HARDEST time finding cool shoes that fit his EEEE feet and these fit!"
In case the shoe's wider fit is a problem for you, one of the buyers has shared a lifehack of how you can tighten it up a bit. You need to untie the knots at the ends of the laces and make new knots, closer inward, to make the shoe a little more snug.
Another blessing of this Hey Dude is how easy it is to just slip on and go thanks to the Easy-On elastic laces. People who have a problem bending over to tie laces find this pair of slip-on shoes to be a life-saver.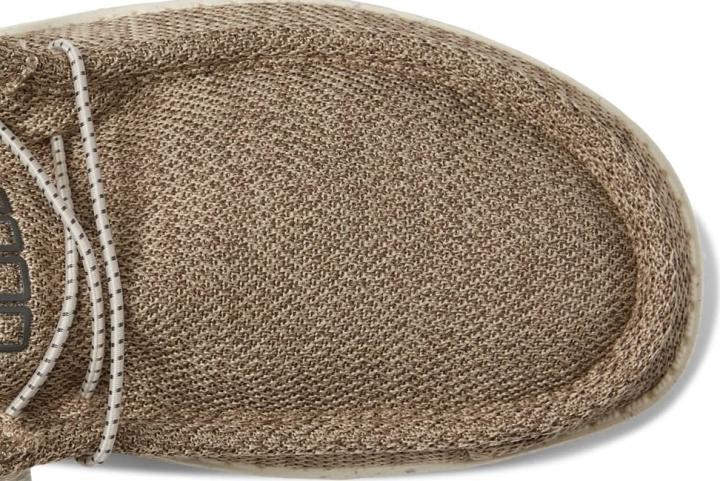 An all-day wear pair from Hey Dude
Most people who spend a lot of time on their feet are happy with how the Wally Stretch behaves for that. Some of the cases include 6-10 hours of working and the shoe remains comfortable! More than a few also mentioned that their feet felt great at the end of the day.
Contributing to the pleasant experience is how incredibly light the Wally Stretch feels. And despite the canvas upper, it is rather breathable. "Definitely won't make my feet sweat," says one of the reviewers.
However, not everyone ended up happy with the shoe's performance for a full day of walking. And that's due to the lacking arch support.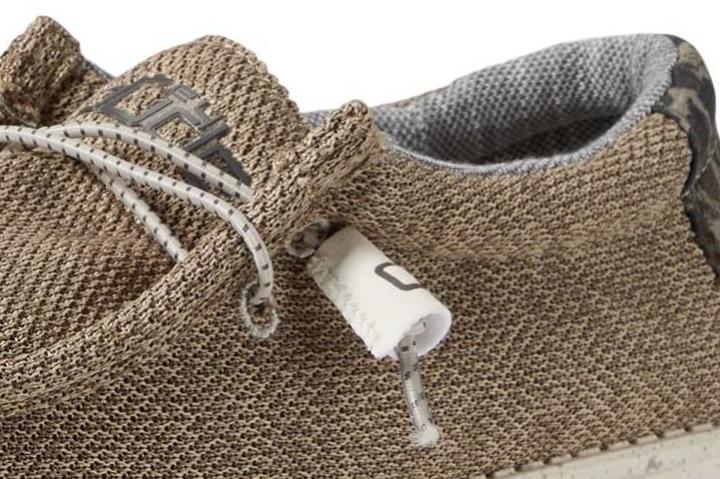 Hey Dude Wally Stretch has no arch support
Unfortunately, it is not the type of sneaker you would aim for if you have flat feet and/or overpronation. The wearers have expressed that it has "zero arch support" and even just a little bit of added support would make it great.
One remedy that could be suggested for this shortcoming is the removable insole. It can be easily taken out of the shoe and replaced with your own custom orthotic.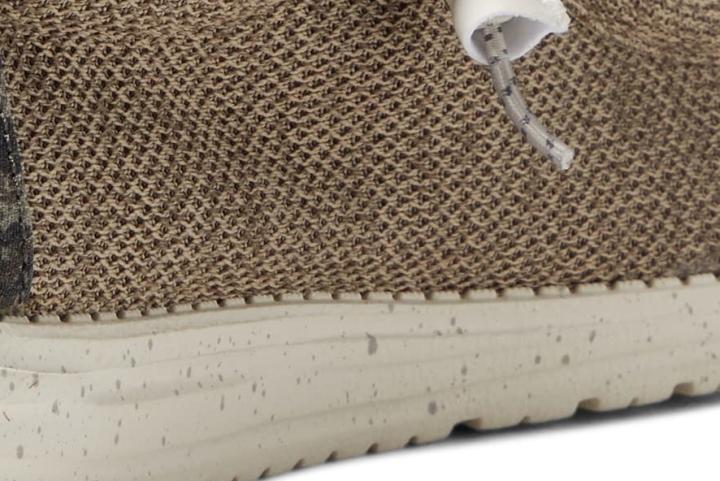 If only it was a bit more lasting but it's a budget shoe
While some people mentioned that the Wally Stretch "held up longer than expected" and "appears to be well made," most still wished for more durability in the shoe:
"I walk over 4 miles a day. It's only been 2 weeks and they are noticeably worn down."
"Soles aren't as durable as I would like"
"Poor construction"
Well, in the shoe's defense, for the asking price of $60, you cannot really expect the highest durability either. The average price of all sneakers on the market is $110.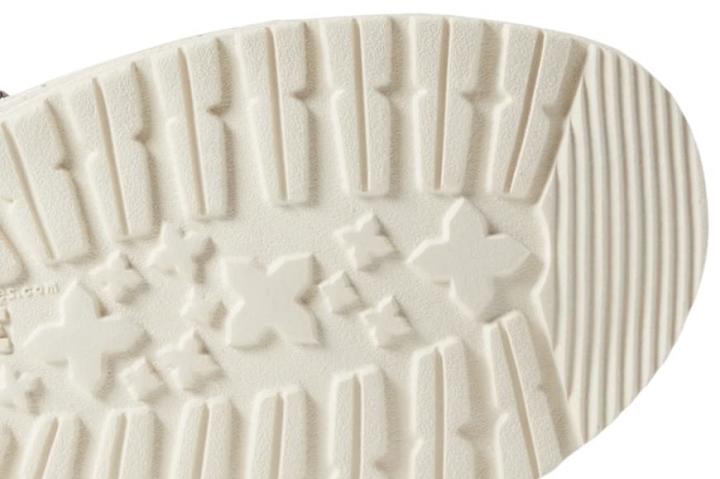 Good news: it's machine-washable!
It couldn't be easier to clean the Hey Dude Wally Stretch. Just throw it into the washing machine but be sure to use cold water. After that, leave them out to air dry.