Who should buy the Hanwag Sirius II GTX
It's no surprise Hanwag Sirius II GTX owners would let their friends know about their awesome experience with this product. It is a solid option if you:
Prefer a mountaineering boot that is highly suitable for ice climbing.
Need a mountaineering boot that keeps users warm even at temperatures as low as –15 °C.
Updates to :name
The Hanwag Sirius II GTX is a versatile boot designed for high-alpine mountaineers. As a Hanwag category D boot, is made for challenging terrain where glaciers, ice, and firn are found. It is suitable for ice climbing.
The Sirius II GTX retained most of the features of its predecessor, the Sirius GTX. The most prominent differences between the two models lie in the sole system and upper material.
The earlier version, the Sirius GTX, uses a separate Vibram Alpin outsole and memory plastic. On the other hand, the Sirius II GTX uses a Vibram Alpin Light sole unit.
The previous iteration uses Bergrind leather that's known most for being water-repellent. The latest version uses cowhide leather. This material has a rugged appearance.
Sirius II GTX is suitable for trips in cold regions. It has added insulation in the upper and sole unit which Hanwag keeps users warm even at temperatures as low as –15 °C.
Size and fit
Hanwag Sirius II GTX is available in standard sizes. It fairly runs true to length. The boot is built on Hanwag's Alpin Wide Last. Its wide forefoot zone prevents pressure points that happen during walks and climbs.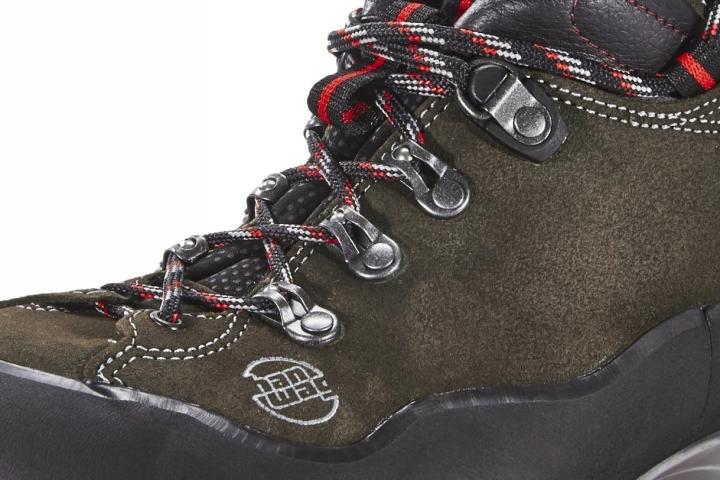 The Click Clamp special clamping eyelets allow different lacing tensions in the mid to forefoot region and around the ankle. Its lace-up closure, consisting of D-rings in the midfoot zone and hooks above the ankle, lets the wearer achieve a snug and custom fit.
Hanwag Sirius II GTX's debris-free
The Vibram Alpin Light sole unit features a self-cleaning tread in the outsole. The tread helps keep detritus, snow, water, and mud off the soles. A debris-free outsole grants sufficient traction on the trail.
Hanwag Sirius II GTX offers torsional stiffness
Sirius II GTX features a midsole with torsional stiffness. This property limits the twisting and turning of the shoe during hikes and climbs.
Shock-absorbing cushioning
The component responsible for shock absorption is the PU wedge. There's also a PU heel that grants extra cushioning. Also found at the heel and front end of the midsole are crampon notches.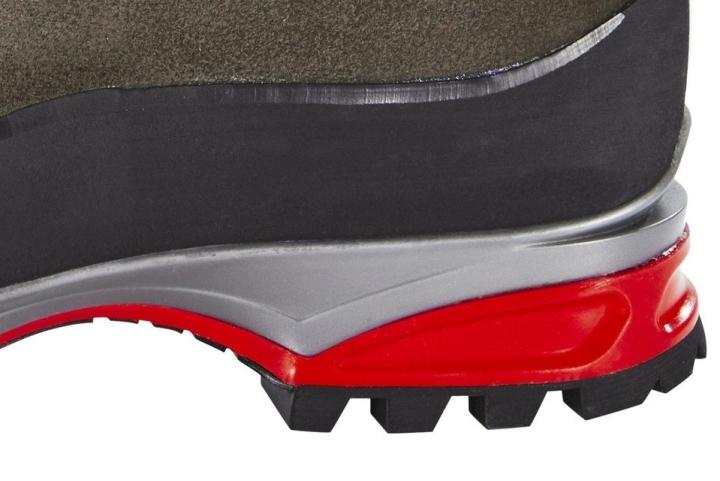 Abrasion-resistant
An added TPU tip makes the boot resistant to abrasions. Thermoplastic polyurethane is a material that has wear-resistant properties.
Hanwag's Sirius II GTX uses 3 to 3.2 mm thick suede cowhide leather for foot protection and shoe durability. This material is as durable as it is thick. Also, it is less likely to rip compared to other animal skins. It is easy to maintain and has resistance to dirt and water.
Full-padded comfort
The upper has fewer seams that help reduce the risk of rubbing and pressure points. This special technique lessens the number of seams in some of their shoes. The cuff is fully padded and gives comfort.
Waterproof yet breathable
The Sirius II GTX features the Gore-Tex Laminate Duratherm and Sierra, an ultra-lightweight, microporous membrane that provides a combination of waterproofness and optimized durability. The lining keeps wearers dry while still providing breathability.
The upper has the Elevated Brim, a rubber rand that goes around the base of the upper. It protects the leather from scree and rocks. This feature also helps in increasing the durability and stability of the boot.
Additional Info
Hanwag Sirius II GTX is cement-lasted footwear. This technique allows resoling several times. Resoling is the process of removing worn-out soles and attaching or cementing a new sole unit.
The Sirius II GTX is compatible with step-in crampons (also called rigid step-in, clip-on, or automatic crampons). Step-in crampons provide a secure attachment and are ideal for technical mountaineering, ice climbing, and ski mountaineering.
Compare popularity
Interactive
Compare the popularity of another shoe to Hanwag Sirius II GTX: