3 Best Wedge Sneakers For Women in 2021
Wedge sneakers are considered a once-forgotten trend that is making a huge comeback to the current fashion world. Whether you want to boost your regular look or simply need a little lift, look no further as RunRepeat got you covered.
After rummaging through a stockpile of wedge sneakers for women, we've come up with fail-safe recommendations to consider in one easy spot.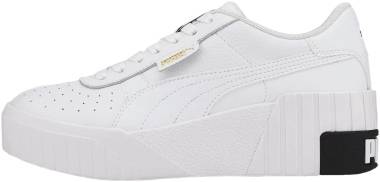 Puma Cali Wedge
No offers available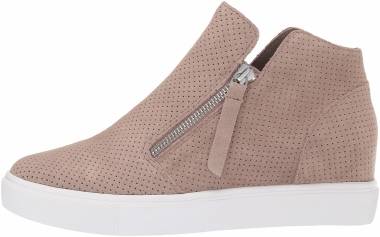 Steve Madden Caliber Wedge
No offers available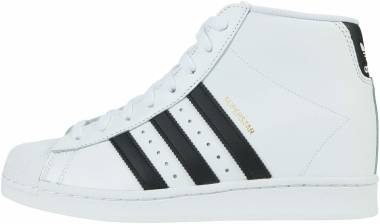 Adidas Superstar UP
No offers available
See all 7 women's wedge sneakers
Overview of this guide
How we pick the best wedge sneakers for women
To give you honest and unbiased reviews:
We buy these sneakers using our money.
We put these wedge trainers through countless tests, assessments, and comparisons.
All available reviews found all over the internet are gathered.
Using these data, we rank each sneaker using our CoreScore System from 1-100. This will give you a gist of how this wedge sneaker performed for the majority.
Best low-top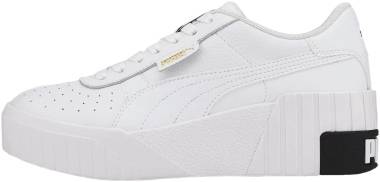 Puma Cali Wedge for women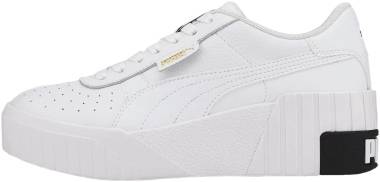 No offers available
Top pick
Bagging our top recommendation among the low-top women's wedge sneakers available on the market is the Puma Cali Wedge. Beating the rest of the wedge models on our list, we've got heaps of reasons why you must add this to your sneaker arsenal.
Displaying a stand-out style stirred from Puma's classic iteration, the Puma Cali Wedge truly is a pair fitting if you want to update your regular wardrobe. It may be showcasing a minimalist upper, but its bold wedge sole works as a statement piece to your overall look.
Comfort-wise, this model did not disappoint us. After wearing it all day for our errands, we did not feel any pain at all. We highly recommend this footwear, especially if you're on your feet all day.
Its construction is a real deal! We were flabbergasted by its clean stitching and premium materials, without the need to fritter away! You read that right; this sneaker is sold at a budget-friendly range! Now, with the Puma Cali Wedge, you don't need to touch your rainy day's fund just to look stylishly cool and awesome.
See our full review and facts
Best mid-top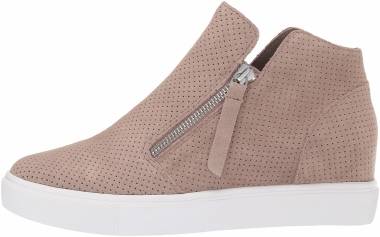 Steve Madden Caliber Wedge for women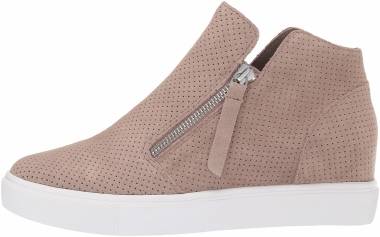 No offers available
Top pick
Topping our list of best mid-top wedge sneakers for women is the Steve Madden Caliber Wedge. Featuring a can't-be-missed style, this kick truly deserves our top recommendation.
As soon as we laid our eyes on this model, we were astonished by its stylish flair. We adore its suede upper that is peppered with perforations. It keeps our feet well-ventilated throughout the humid days, while its suede material provides an extraordinary amount of coziness.
While mid-top sneakers may not be everybody's cup of tea, the Caliber wedge is an exception. Its stylish cut delivers just the right amount of ankle hug, boosting its overall coziness and support feel.
Its style, meanwhile, is extremely attractive. We love its minimalist style with a bold twist, thanks to its wedge sole.
Please don't feel intimidated by its premium vibe, as this Steve Madden sneaker is sold at an affordable price range! The brand did its job excellently by releasing high-fashion iteration without sacrificing its affordability.
See our full review and facts
Best high-top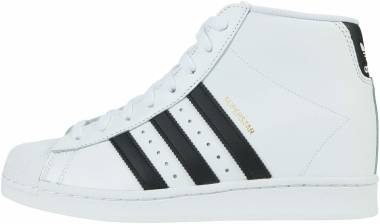 Adidas Superstar UP for women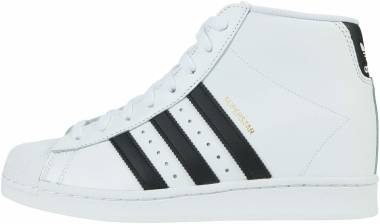 No offers available
Top pick
After checking, assessing, and comparing heaps of wedge sneakers for women, the Adidas Superstar UP leads our recommendation. In the high-top category. Do you want to know why? We've listed below our review of why this sneaker deserves the top spot.
Comfort-wise, this sneaker feels incredibly comfortable. We get to roam around the urban trails without any discomfort. On top of this, this kick comes with a removable insole that you can easily replace with your preferred orthotics. It is indeed a sneaker to beat!
We enjoyed how it instantly added a few inches to our heights! The wedge sole boosted not only our vertical measurement but also our confidence.
Its style is also a hit! Many onlookers can't help but give us unsolicited compliments. It displays a clean yet bold aesthetic that suits countless attires. Plus, this sneaker is available in oodles of colorways, prints, and material! There's definitely a pair or two that matches your personality and style.
With its unique style and fantastic comfort, this sneaker deserves a spot in your sneaker collection.
See our full review and facts
Other buying guides