5 Best Water Hiking Shoes in 2023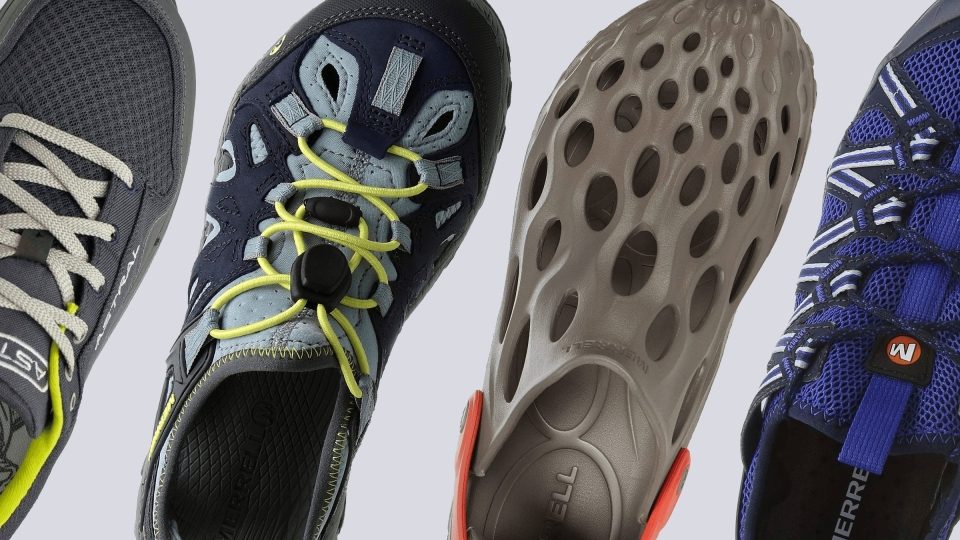 We earn affiliate commissions at no extra cost to you when you buy through us. Why trust us
This guide is just for you: hikers gone amphibian - hikers who want to cross all those rivers, canyons, streams, and creeks. We'll show you the best water hiking shoes on the market and which features to look for when buying water hiking shoes. We know what the top-running pairs are in various categories because we personally tested the water-hiking shoes on our feet. We also scrutinized them even more in the lab so we can give you nothing but the greatest.
Comparison of the 5 best water hiking shoes
| | | | | | | |
| --- | --- | --- | --- | --- | --- | --- |
| Best | | | | | | |
| CoreScore | | | | | | |
| Users rating | | | | | | |
| Experts | | | | | | |
| Best price | | | | | | |
| Ranking | | | | | | |
| Popularity | | | | | | |
| # of colorways | | | | | | |
7 features to look for in water hiking shoes
Water hiking demands a certain shoe feature set because of the specific hiking conditions. Otherwise, people would just pun on their Crocs and set out for an amphibian adventure.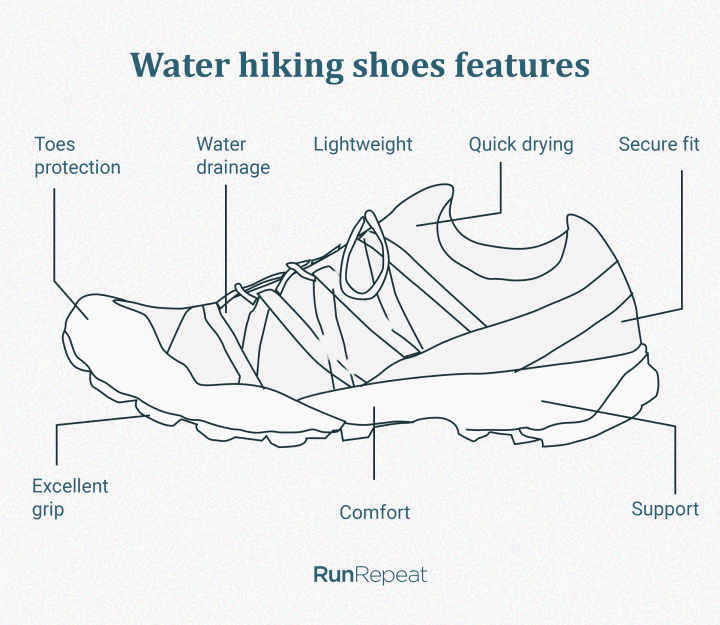 To be on the safe, comfortable, and responsible side, it's recommended to look for this feature set in water hiking shoes:
Comfort - Always #1 when buying new footwear. This is important in order to avoid discomfort and injuries, especially if you plan to build up the mileage in these shoes.
Traction - An excellent grip is a must when it comes to slippery surfaces.
Water drainage - While some might think that water hiking shoes should be waterproof, it's just the opposite. They need to allow the water to get back to where it came from. This means that shoes usually have drainage holes or large mesh areas: they allow the water to leave the shoe and prevent the dirt and rocks from getting in the shoe.
Quick-drying - It's important that, once the water leaves the shoe, your feet and shoes start drying out as soon as possible. Inner sole and upper materials are responsible for this: they are usually made of quick-drying synthetic materials. This feature prevents frostbites when water hiking through really cold waters.
Toe cap - These shoes should keep your toes safe from debris and rocks. Toe caps come in different shapes and sizes and are in charge of this.
Lightweight - So you move with ease, both when dry and wet.
Secure fit - Your feet should not slide around in the shoe.
Of course, if you have any specific requirements (e.g. stability features, cushioning) regarding your foot condition, don't put them on the side. We've covered these basics in the chapter below.
How to buy the right water hiking shoe
If this is your first hiking shoe, there are certain things that need your attention so that the hiking shoe is your perfect fit. Also, you might want to learn more about hiking shoes: read our guide for hiking shoes.
1. Duration of your hiking trip
Water hiking shoes aren't made for long multi-day hiking trips with heavy backpacks and demanding terrain.
You can use them on your short hikes - whether it's a 200meter creek crossing or canyon-exploring that lasts a whole day.
Keep in mind that, the longer the water hike, the better support you need. This means you should look for more stability features and cushioning.
2. Weight of your backpack
The same rule applies for the duration of your hiking trip. We bring heavier backpacks on longer hikes. Water hiking shoes aren't meant to support you in these adventures completely, only up to a degree. That's why, if possible, change your hiking shoes, use the regular ones while you're on (dry) land.
If you know you'll be carrying a heavier backpack, look for stability features and cushioning.
3. Your arch type
Depending on your arch type, your feet might need different stability features.
High arches usually ask for neutral shoes, medium arches ask for neutral or stability shoes and low arches (flat feet) ask for motion control shoes. We've covered this in-depth in the next chapter.
4. How the shoe fits
To make sure you choose the good-fitting shoe, follow these steps:
Go shopping in the afternoon. Your feet are swollen then, which happens regularly on hikes
Try the shoe on and check for pressure points. The shoe should feel snug, but not restricting.
Use the ramp and walk up and down. Crossing water is rarely monotonous. Usually, the terrain is dynamic with a lot of obstacles, ups, and downs. Your heel should not rise more than a ¼ of an inch. Your toes should not hit the front of the shoe when going downhill.
Arch type and stability features
The type of your arch matters because it offers guidelines for choosing the adequate shoe type. Whether it's a neutral, stability, or motion control shoe - they all offer different stability features that your feet need when hiking.
Shoe wear test
Things you can do: look at your used hiking shoes and compare how the outsoles have been worn with the "Shoe wear" section below.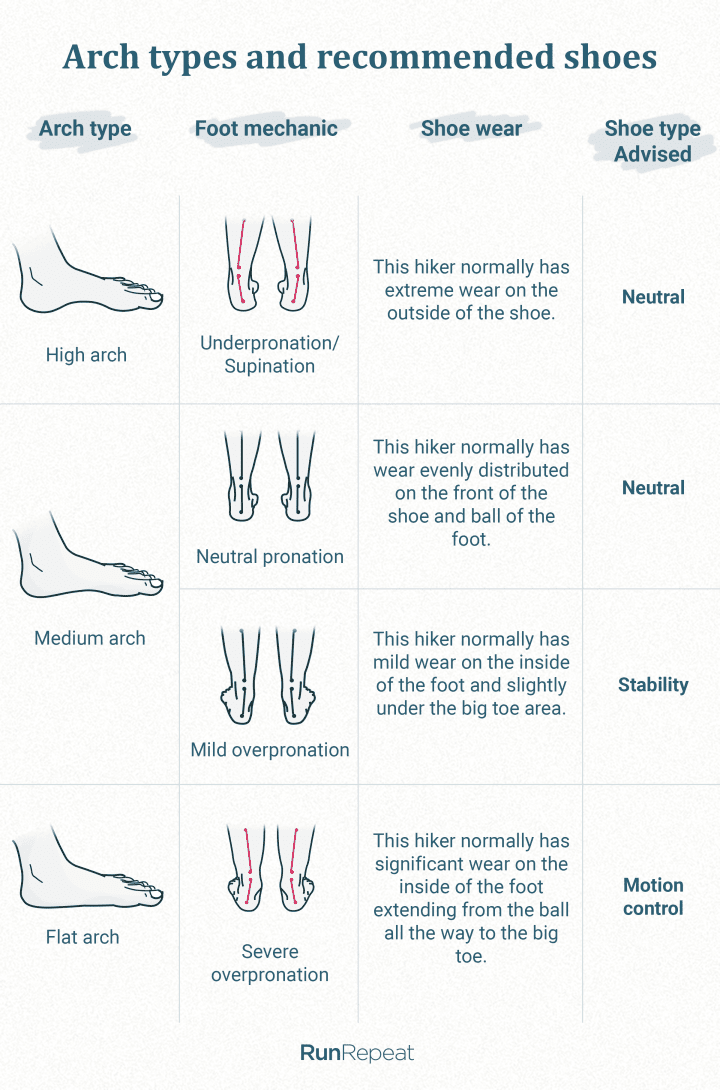 If you're overpronating, you can look for overpronation hiking shoes. If you're a neutral pronator or a supinator, browse through the neutral hiking shoes database.
Wet test
There is also another way to discover your arch type and it's called a wet test.
You should: wet the sole of your foot (ideally both of them, one at a time), then stand on a piece of paper while allowing the moisture from your feet to sink into the paper, and step off.
Look at the shape of your footprint and compare it to the ones shown below.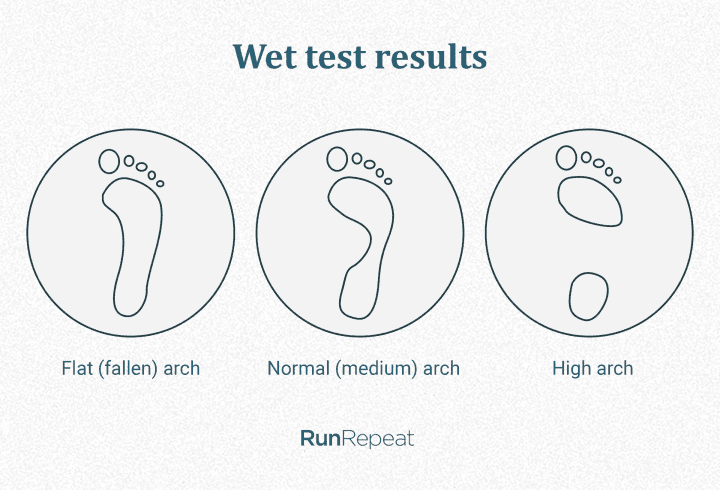 If you're not confident about this test or feel your feet need more attention, consult a podiatrist. They implement a holistic approach by looking at your barefoot movement, pronation, tibia rotation, and heel deviation.
Comfort and cushioning features
What does "look for cushioning" actually mean?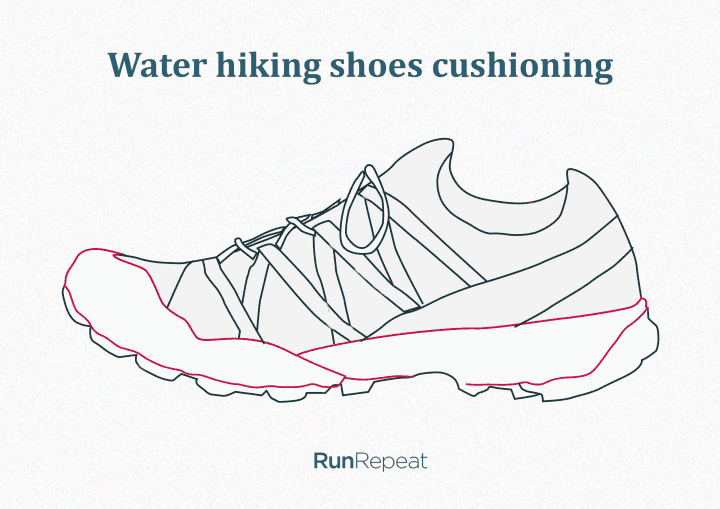 Facts:
Water hiking shoes are usually lacking cushioning features or at least a great amount of cushioning. The general advice is to look for more cushioning (again, yes) if the water hike is longer and planned for demanding and dynamic terrain.
Short water hikes, light backpacks, and soft or monotonous surfaces can be done in water hiking shoes that are flatter and offer less cushioning.
While with running shoes you have so many options - where padding (extra cushioning) is placed, how much of it, how bouncy it is, what's the energy return,... - with hiking shoes it's simpler.
Expert advice for water hiking shoes
If you know you'll be crossing waters with a lot of tiny rocks or debris, look for water hiking shoes without drainage holes. If the holes are placed on the upper part of your shoes, they might let unwanted materials into your shoes. You don't want to waste time getting the debris out of your shoes or getting blisters because of them.
As soon as you're done with crossing waters or with your hike, take your shoes off. Clean them and let them dry at an airy or sunny spot. If your shoes have removable insoles, the shoes will dry even quicker if the insoles are taken out.
In most cases, you can clean your water hiking shoes with hot water and baking soda. But, always check for brand-recommended advice - cleaning process, special detergents, etc.
When hiking on mixed terrain, it's better to take your water hiking shoes with you and use them only when crossing water. That's why it's important for them to be lightweight, so you can hang them on your backpack and keep pushing further, without feeling them wearing you down.
Dry bags or dry sacks prove to be of great value when crossing water! Keep your stuff safe from water (splashing, waves, rain) and pack everything in them.
Weight and price of water hiking shoes
When compared to the other types of hiking shoes, water hiking shoes are the cheapest and lightest.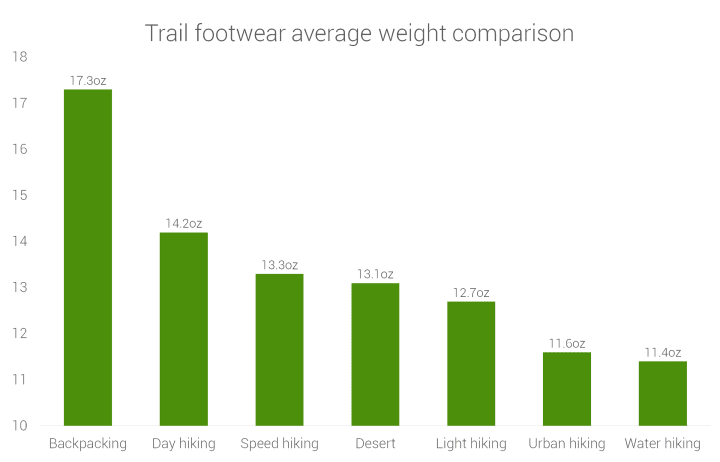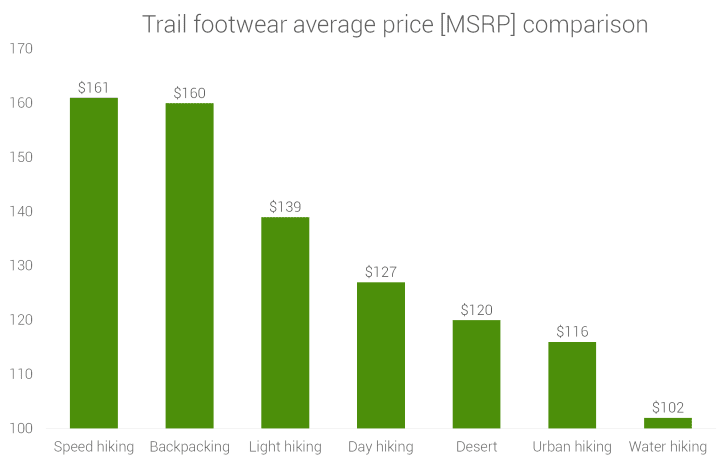 Keep in mind that these prices are the manufacturer's suggested retail prices, meaning that's how much the shoe costs once it hits the market. We always encourage people to find a great deal.
Tips for finding hiking shoes at cheap prices
Here are some tips to help you land a good deal.
Browse online stores. Usually, they allow for shoes to be filtered by price or discount.
Browse online shoe databases. Much more comprehensive than regular online stores. RunRepeat database is updated on a daily basis and offers to sort by discount (from less than 30% to more than 70%).
Use "price drop" email alerts. Some shoes are worth waiting for, so why not get an email once their price drops.
Pay attention to older models, they tend to be discounted more often than new models. Especially if you're offline shopping, smaller shops might have those models on sale.
Exercise caution if buying on Black Friday. Turns out sneakers are cheaper on 66% of days throughout the year than they are on Black Friday. Worth keeping in mind when buying hiking shoes too.
How we test hiking shoes
We've all been there: trying to find a perfect shoe and finding only a few of them listed on top-10 lists, without transparent reasoning, but highly backed with behind-the-screen promotions. That's why we've personally tested every shoe that we review!
For us to be able to test the shoes, we have to acquire them first, of course. But the thing about us is we REALLY BUY the shoes. We do not accept sponsorships and those sorts of things.
And then we proceed with the actual hiking with the shoes. We did different activities on them on treks and streams, making sure that we log a minimum of 30-50 miles before we even give our honest opinion about the shoes' various features.
Finally, we go back to our lab and perform loads of testing on the shoes. One example is checking the shoe's breathability, thus also verifying its waterproof ability. To do this, we use our smoke machine to pump smoke inside the shoe. From there, we rate how much smoke escapes. Another test involves our bright source of light and microscope. Using the two, we confirm how tightly or loosely woven the upper is, telling us its level of permeability.