7 Best Track & Field Shoes, 100+ Shoes Tested in 2022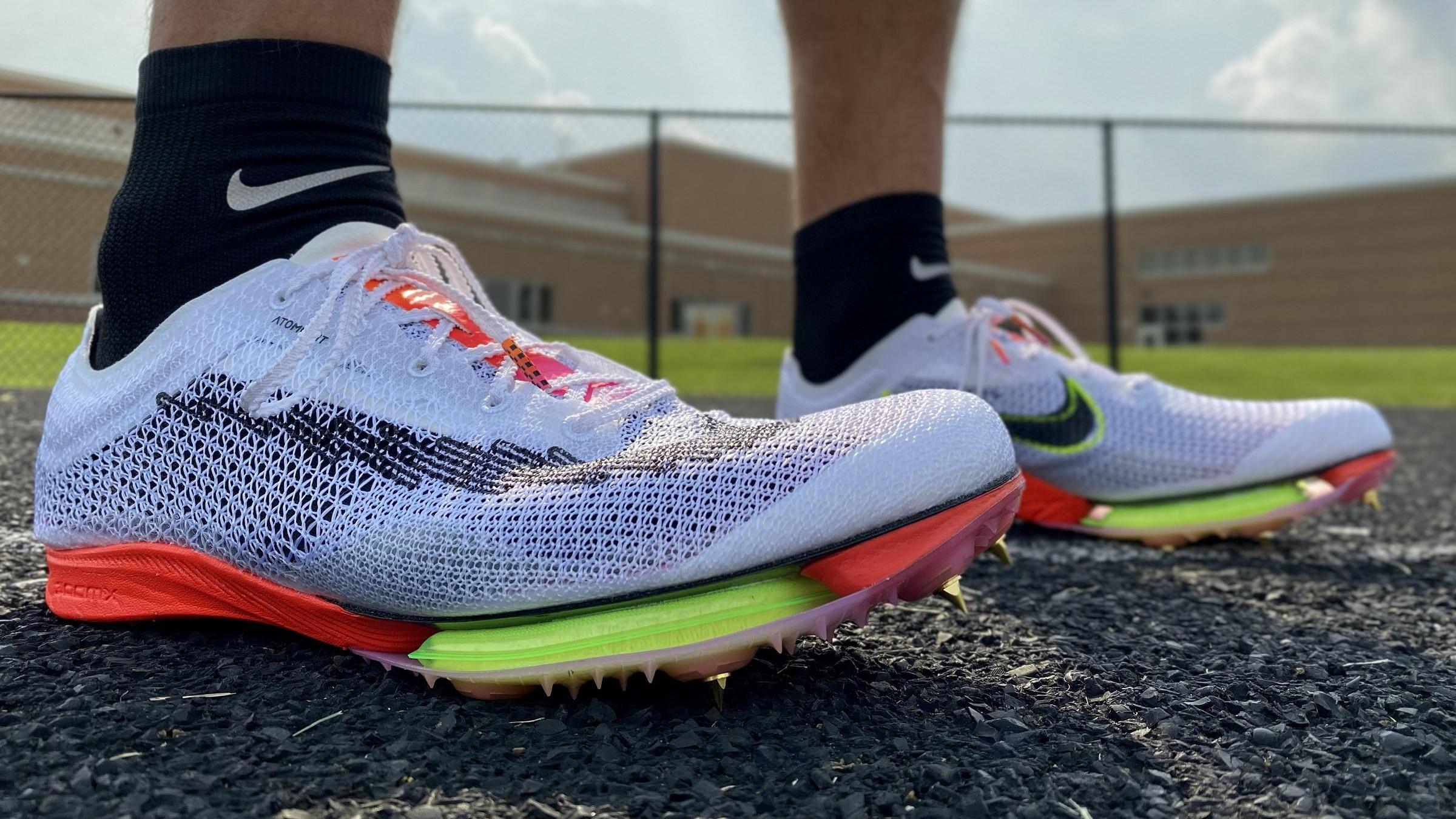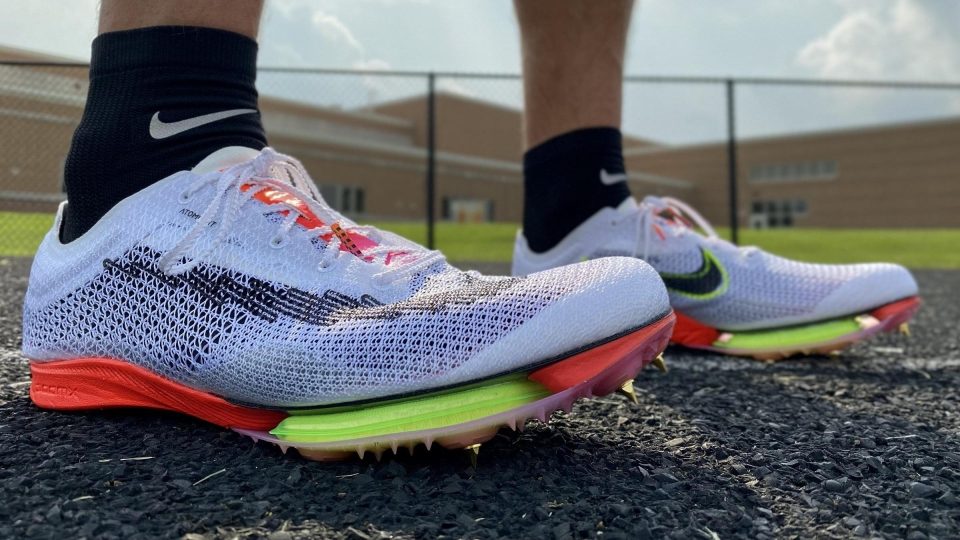 A well-selected pair of track and field shoes can be a real performance booster or even help you set a new PB.
We have reviewed over 60 pairs of track shoes for running, jumping, and throwing to help you buy the best one. No matter if you are an advanced athlete looking for a premium shoe or a beginner on a tight budget, we've got some top picks for you.
How we test track & Field shoes
RunRepeat provides the user with recommendations for the best track and field shoes based on user ratings and expert reviews. These data are aggregated to form the Corescore, which is a numerical value (from 0 to 100) that indicates how well-liked a shoe is.
We have 3,000+ user reviews for over 180 track and field shoes
Each track shoe product page has been done with around 7 hours of research on shoe details and reviews
Why use a track shoe
Here are some of the distinct components of a track and field shoe that make it more efficient for the sport than other types of athletic shoes: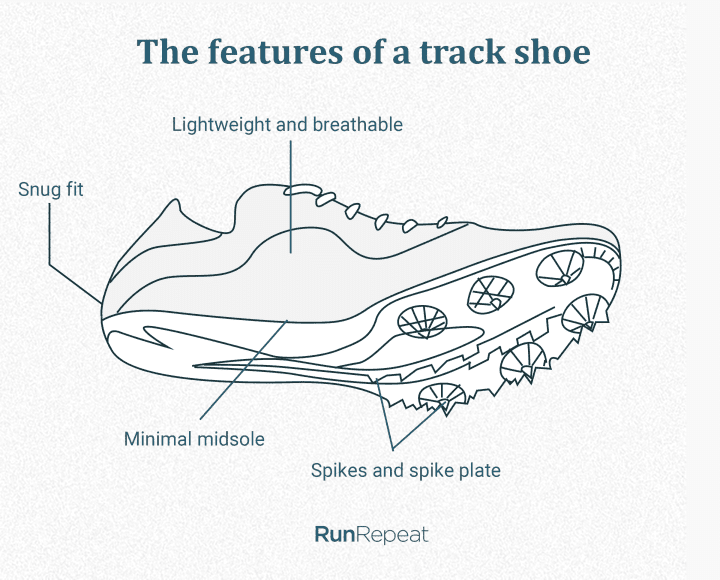 Lightweight and breathable: Track and field shoes are light and airy because of the thin mesh upper that usually accompanies them. usually have a rigid upper construction to provide a snug fit.
Snug fit: Aside from a thin mesh, the upper of track shoes have a rigid structure to provide a snug fit and keep the foot in place.
Minimal midsole: Unlike other cleat-type footwear such as those for football and soccer, track shoes usually have a midsole that is thin and minimal. It acts as both underfoot cushioning and impact absorber.
Spike pins and spike plate: Some track shoes use spike pins. These are small pointed attachments on a plastic plate that aid in gripping the track surface. Spike pins vary in type, size (pin width), and number depending on the event it is used for.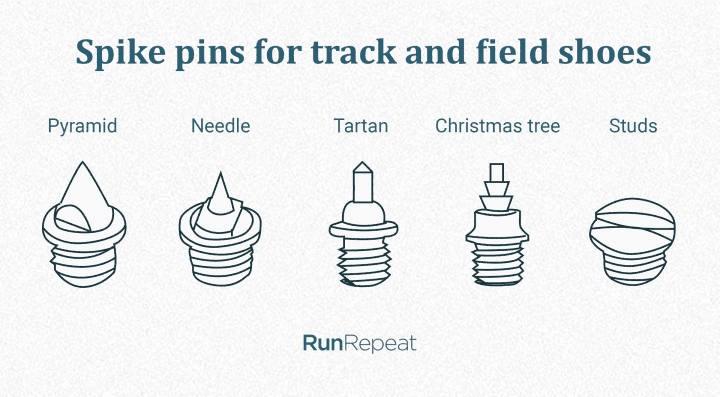 Track shoes vs running shoes: 3 key differences
Although track-and-field as a sport includes running events, the shoes used for those are different than the typical running shoe. Each shoe has its particular design and purpose, which we can differentiate through the following:
Weight: Track and field shoes are significantly lighter than running shoes. They use fewer materials and are relatively smaller in figure because they intend to boost the athlete's momentum.
Cushioning: Track spikes for running events are thin and minimal. On the other hand, running shoes are plush and substantial as their focus is on underfoot cushioning and arch support.
Overall appearance: The most noticeable difference between track shoes and running shoes is the use of spikes. Track shoes for running use spike pins to make the forefoot higher and promote better traction.
Track and field shoe categories
The various events within the track-and-field sport are distinctive from one another and, as such, require the use of different shoes. Here are the types of track spikes and the notable qualities of each one:
Running events
Jumping spikes
Jumping
Long-jump / Triple-jump
High-jump
Pole vault

has an extra layer of cushioning for protection
usually flat in the heel area for more stability and power during the jump

uses a sturdy upper material for durability during varied movements
has a midfoot strap to keep the foot in place during run-up and take-off
employs spikes in the heel for increased support and traction

underfoot structure is the most rigid among all jumping track shoes
heel area is more padded compared to other jumping shoes

See long-jump and triple-jump shoes
See high-jump shoes
See pole vault shoes
Throwing events
Throwing
Javelin / Shot put / Discus throw / Hammer throw

Throwing shoes are versatile and can be used in any of the sports included in the throwing events
These shoes do not use spike pins as throwing events include circular and pivoting motions that do not require the additional grip
Slightly bulky, to keep the athlete firm on their position without unnecessary movements
Has a smooth (but not slippery) outsole to allow for a fluid spinning motion

See javelin shoes
See shot-put shoes
See discus throw shoes
See hammer throw shoes
Frequently asked questions
Are spike pins important in track shoes?
There is no absolute rule that track and field shoes should be used with spike pins. Additionally, not all track shoes are used with spike pins. When used accordingly, spike pins improve traction and support.
Are socks important?
You might be hesitant to use socks because track shoes are intended to fit snugly on its own. Socks are not important. Many athletes prefer not to wear socks because it makes the fit of the shoe too tight and the movements uncomfortable.
Other buying guides