3 Best Slip-on Sneakers in 2023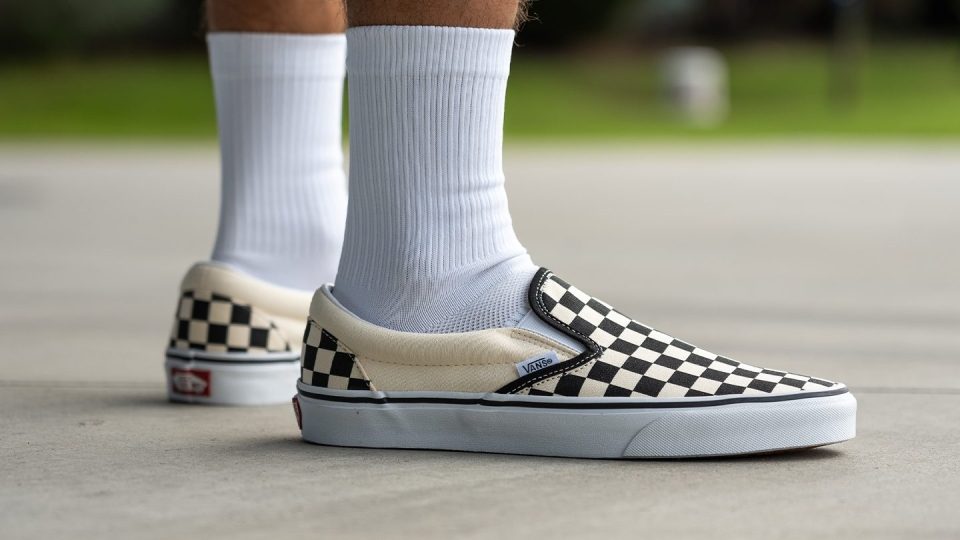 We earn affiliate commissions at no extra cost to you when you buy through us. Why trust us
If you're bothered with laces, Velcros, and straps, slip-on shoes are the most suitable for you! In case you're thinking of getting one, look no further as we have them all here. We have tested and chosen the slip-on sneakers that are well-deserving to be on your wardrobe. And the hassle-free putting on of each kick is just the tip of what we examined.
After meticulously reviewing piles of slip-on shoes with various features, we have narrowed it down and concocted this guide to help you find the best pair.
Best slip-on sneakers overall

What makes it the best?
In our meticulous method of testing slip-on sneakers, the DC Villain outmatched all the other pairs in both quality and performance. We verified that donning and doffing this sneaker is a piece of cake, not demanding much effort from us. Also, the walking satisfaction brought by the DC Villain makes it stress-free to be on our feet for hours.
We discovered that wearing DC Villain is just like wearing slippers except better: it is lavishly padded from tongue to collar! It felt so light as a cloud and it caused us no foot exhaustions, whatsoever. We also wore it during sultry weather and needless to say, our feet stayed sweat-free and cool as a cucumber.
Additionally, we are even more dumbfounded to learn that DC Villain has a lasting quality that can put up with day-to-day wear conditions. At such an affordable rate of $60, which is 48.9% more wallet-friendly than the average cost of sneakers, we can really say this is an unbeatable deal.
However, if there is an area in which DC Villain lacks, it is traction. Therefore, we want to give you a heads-up before using it on slippery floors. We suggest taking extra caution when walking on smooth surfaces or opting for other stickier pairs if you really prioritize grip.
Pros
Trendy style
Both for casual and formal occasions
Comfortable all-day wear

Easy to put on and off

Lightweight construction
Breathable
Durable
Cons
Poor traction

Lacks cushioning
Full review of DC Villain
Slip-on sneakers with the best on-and-off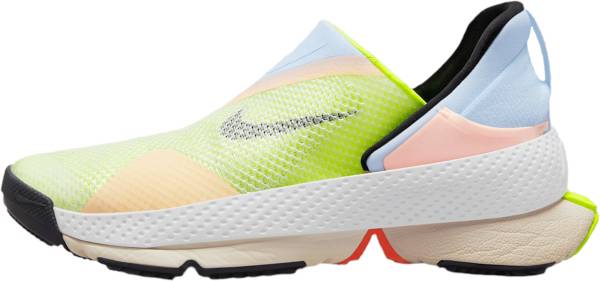 What makes it the best?
With Nike Go FlyEase, the days of battling with shoelaces and bending over backward just to achieve the locked-in fit are over, which is why it is our top choice for an effortless on-and-off experience in sneakers. We also love how inclusive this kick is as it is ideal for different individuals from busy bees to those with mobility challenges.
We had a firsthand experience of how trouble-free the process of putting on this sneaker. We didn't have to use our hands – we just had to put and push our feet on and we were already good to hit the streets. The great news is even though it's also a breeze to take off, we felt that our feet were tightly fastened inside without dislodging unintentionally.
Additionally, we discovered that all-day trips in the Nike Go FlyEase are divine. We found that one of the reasons behind this is the sneaker's flexibility which allowed us to walk seamlessly. However, at a $120 price, we understand that some would find this steep although it is only 2.2% more expensive than most sneakers. If you have a limited budget, we suggest looking for other more economical slip-on pairs.
Pros
Easy entry
Innovative
Anchored feet
Hip
Cozy
Flexible sole
Breathable
Full review of Nike Go FlyEase
Best minimalist slip-on sneakers

What makes it the best?
Upon doing our research, we discovered that the quintessential 'less is more' slip-on sneaker is the Vans Slip-On. The minimal yet classic style of this kick is immortal in the sneaker scene, as it's prevalent since its release in the 70s. When we realized how heavenly it is on the foot and how sturdy it is even in skate sesh, we finally understood why.
Vans Slip-On boasts elastic bands on the side of its tongue, allowing for a lockdown fit even in the absence of shoelaces. We discovered that whether in and out of the skateparks, this sneaker is persistently comfortable all day long. Also, we were even surprised to find out that there is no need to worry about exposing this sneaker to heavy use, as it is resistant to wear!
In addition to its comfort and practicality, we appreciated how it exudes the perfect combination of sporty and classic through its minimalist profile, which we also found ideal for daily casual wear. However, we didn't expect this sneaker to have poor ventilation, given that it is a slip-on with a canvas upper. If your feet tend to get sweaty quickly, we suggest using this in cool weather or wearing it with socks during summer.
Pros
Extremely comfortable
Easy on and off
Timeless style
Clean and versatile
Durable
Compliment magnet
Time-tested quality
Pocket-friendly range
Cons
Poor ventilation
Stiff at first
Full review of Vans Slip-On
Comparison of the 3 best slip-on sneakers
| | | | | |
| --- | --- | --- | --- | --- |
| Best | | | | |
| CoreScore | | | | |
| Users rating | | | | |
| Best price | | | | |
| Ranking | | | | |
| Popularity | | | | |
| # of colorways | | | | |
How to choose slip-on sneakers
To the untrained eye, a classic slip-on is often considered not much more than a casual loafer. But in the modern era, slip-on sneakers have become more than just an iconic fashion staple found in every person's wardrobe.
In this guide, we will take a closer look at what we think are the best slip-on sneakers.
What to look for when buying slip-on sneakers
As easy as they are to wear, if you're looking at investing in the best slip-on sneakers there are a number of factors you should first consider:
Fit: As with all sneakers, getting the right fit is critical to getting the most out of them. They should be snug but not too tight.
Material: Slip-on sneakers are available in a wide range of materials from canvas to leather, suede to synthetics. Choose the materials and style that is most appropriate for your needs. For example, a keen skateboarder will likely look for canvas shoes while someone who enjoys gym sessions would best look for synthetics.
Comfort: Of course, comfort is critical and is one of the primary attractions for people who are in the market for a pair of slip-on sneakers. Look for support, shock absorption, flexibility, control, and stability.
Brand: Certain brands like Nike and Vans are notorious for making good sneakers and if they offer a slip-on version of the model you like most, you may benefit most by starting there.
Are slip-on sneakers really suitable for sports?
For some slip-on sneakers are fine to wear during sports, for others, they aren't really appropriate at all. When considering your chosen activity more than likely your instincts will tell you what is right and wrong. To further expand on why that might be the case, consider the level of support, cushioning, and stability you require. Ask yourself - can I find a pair of slip-on sneakers that meet my requirements?
If your typical exercises include lower-impact activities such as yoga, pilates or gym work slip-on sneakers could be a good option. For higher-impact activities like running or basketball slip-on sneakers may only be an appropriate option if they are made specifically for that activity; it's best to check the manufacturer's recommendations.
Which sports do slip-on sneakers suit best?
Slip-on sneakers can be worn for a variety of sports and physical activities, but just how suitable they are for you will depend largely on the specific demands of that activity. Some examples include:
Casual sports: In many instances, slip-on sneakers are great for casual sports such as walking, light jogging, and yoga. Nothing beats a dog walk along the beach esplanade on a summer's day wearing a nice comfortable pair of slip-on sneakers.
Skateboarding: Slip-on sneakers have long been popular among the skating community due to their laid-back good looks and comfortable fit.
Tennis: While traditional tennis shoes are designed for high levels of support and stability, slip-on sneakers with a good outsole can be a great idea for a casual match or hit with friends. (See also: Our guide to the best tennis shoes.)
Golf: Traditional golf shoes with spikes are generally better for grip and stability but if you're not at that golfing level a pair of slip-on sneakers will make a great alternative.
Sore back? Slip–ons offer effortless sneaker entry
Slip-on sneakers may be a stylish casual choice but they're also great for people with limited mobility including lower back issues — or anyone who wants a quicker way to get going. The design allows you to step into the shoes rather than reaching down and pulling them on. The ease in which you can put them on and take them off makes slip-on sneakers an attractive option for sports people with lower back issues and other mobility or dexterity limitations.
The versatility of slip-on sneakers makes them an ideal travel companion
Slip-on sneakers are an excellent choice for sports people and athletes who travel because they are lightweight and easy to pack. They don't take up much space in your overnight duffel or gym bag, and are a convenient choice for many activities - whether on the courts and fields, or just for general everyday use.
The technology of slip-on sneakers
Gone are the days that they are simply an outdoor version of slippers, slip-on sneakers are ever improving in line with the technology that allows them to do so. Two major improvements recently include knitted uppers and memory foam cushioning.
Knitted footwear technology uses high-strength fibers created from a complex manufacturing process that involves computerized knitting machines to create shoe uppers. Nike's Flyknit models are the market leader in this design and are additionally popular for their comfort and style.
Cushy memory foam allows an athlete to enjoy their sneakers for hours on end without any unnecessary discomfort or foot stress. An example of a product that nails that is the Puma Prowls, which has lightweight memory soles for excellent underfoot comfort.
Slip-on sneakers to meet the modern man's lifestyle demands
Slip-on sneakers are a proven timeless style and an essential addition to any man's collection. Blending comfort, style, and convenience they are a go-to choice for various outdoor activities. Investing in a pair of slip-on sneakers not only enhances your style but also allows you to live your modern lifestyle with the flexibility of a pair of shoes that transitions between so many needs.
How we test sneakers
With thousands of slip-on models available on the market, we are saving you from the trouble of browsing through each slip-on model from various brands. To do so:
We buy all sneakers using our own funds to stay impartial in our reviews.
We carry on with our lifestyle inside and outside our homes while using these slip-on sneakers. Not only do we value convenience but also functionality and quality. So we make sure that we get the most use out of each sneaker to collect more deets about its wearability, durability, and other essentials.
We put these sneakers through actual lab tests and comparisons to yield authentic results - not just based on brand descriptions. Some of these tests necessitate shoes to be cut in half to produce more correct measurements, so we do!