3 Best PUMA Soccer Cleats in 2023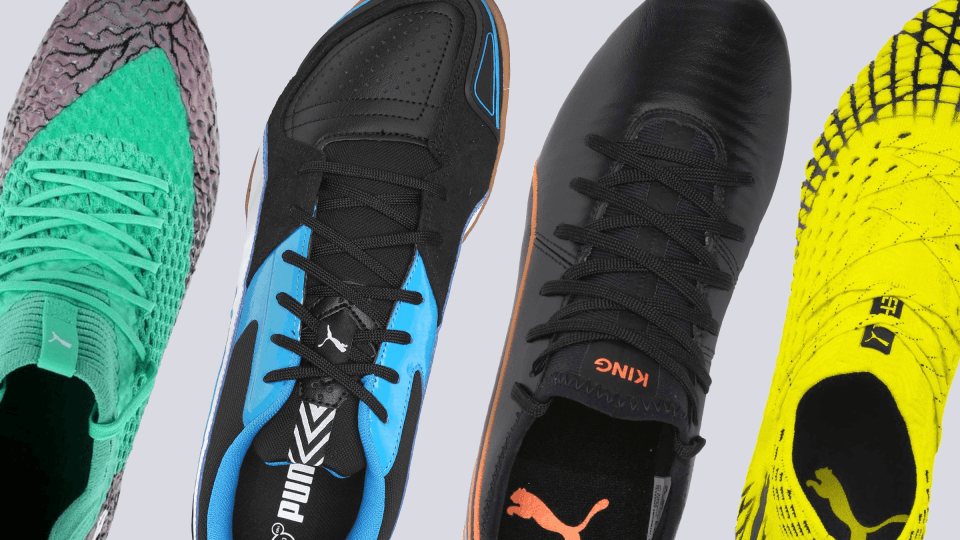 PUMA started with soccer, so it is no surprise that it is among the most trusted when it comes to soccer cleat construction. From indoor soccer cleats to boots for turf, this Germany-based brand makes sure that each release is as effective as it can be. They are also in healthy competition with the likes of Nike and Adidas when it comes to shoe research and innovation.
For sure, there are now a lot of PUMA soccer cleats available in the market. We help you make the most profitable choice by displaying here the best soccer cleats from PUMA.
How we test soccer cleats
Each PUMA soccer shoe in our inventory is assigned a Corescore. This numerical rating is the weighted average of all the scores that we get from our in-house experts, other experts, players, and buyers from all over the web. The higher the Corescore, the better of a performer a shoe is.
Aside from a quantitative assessment, we also share with you a concise description of each shoe's performance on the pitch. You can rest assured that these reviews are based on actual experience. We also did not get any sponsorship from PUMA or any other entity to avoid bias when we make our judgment.
Best PUMA soccer cleats overall
PUMA King Top di Firm Ground
Zappos
Free shipping & returns
Pros
Great durability
Stylish design
Nice grip
Easy to clean
Great value for money
Cons
A little tight
Flimsy stitching
Verdict
For a soccer cleat that succeeds a classic, the PUMA King Top di Firm Ground did not disappoint. It's iconic black-and-white design and fold-over tongue caught the eye of old-school players. It is innovative, comfortable, and durable for goalkeepers, wingers, and defensive-minded players. If you are someone who wants value for your money, then the PUMA King Top di Firm Ground might just be the right soccer cleat for you.
PUMA King Top di Firm Ground full review
Best value PUMA soccer cleats
PUMA King Pro Firm Ground
Amazon
Prime & free shipping
Pros
Comfortable fit
Reasonably priced
Good ball touch and control
Great traction
Sleek look
Decent heel lockdown
Cons
Needs break-in period
Difficult to wear
Verdict
As historic as the PUMA King line is, it's hard not to expect great things from the silo. And, once again, with the PUMA King Pro Firm Ground release, the brand has not disappointed its long time patrons. With its sleek-looking design, the pair is able to capture the nostalgic feel of the famed silo without overlooking performance. Comfort, ball control, traction, price - it's hard to look for faults in this pair.
PUMA King Pro Firm Ground full review
Most popular PUMA soccer cleats
PUMA King Platinum FG/AG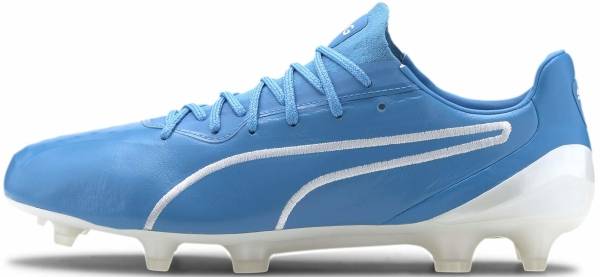 Pros
Soft kangaroo leather upper
Sleek and classy design
Lightweight
High-quality
Great ball feel
Barefoot feel
Cons
Lacks durability
Expensive
Verdict
The PUMA King Platinum FG/AG soccer cleat is undoubtedly a much-anticipated release, and it did not disappoint. Upholding the reputation of its silo, quality is paramount for this soccer cleat. Starting with the soft and snug kangaroo leather upper down to the Sprintspeed outsole, one can confirm that this shoe is definitely worth the hype as well as its price.
PUMA King Platinum FG/AG full review