4 Best Platform Sneakers in 2023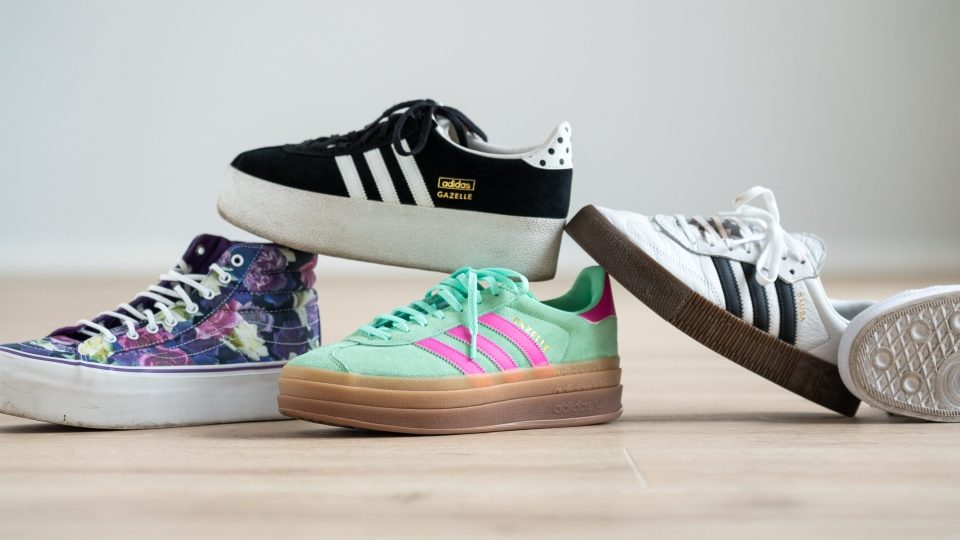 We earn affiliate commissions at no extra cost to you when you buy through us. Why trust us
IDEALLY, the best-fitting pair of platform kicks will let you park your wedges and ramp up your look while giving you an added inch or two of height, PLUS the confidence to pull off your style.
BUT you'd hardly get the right pick of platform sneakers just by judging them based on the images. We're here to help you get the right choice minus all the headaches.
No pair of sneakers from our listing here skipped our full-scale wear test. Yes, all 100+ of them!
At the end of the day, we want you to stand (a bit taller) and be prouder that you clinched the best fit, style, and value for a pair of platform sneakers.
Comparison of the 4 best platform sneakers
| | | | | | |
| --- | --- | --- | --- | --- | --- |
| Best | | | | | |
| CoreScore | | | | | |
| Users rating | | | | | |
| Best price | | | | | |
| Ranking | | | | | |
| Popularity | | | | | |
| # of colorways | | | | | |
Platform sneakers act like the perfect blend between boots with height and sneaker-comfort, when a sassy but confident attitude meets athletic aesthetics. Pretty quickly it becomes obvious why these are a popular choice, a product which has a very clear 'best of both worlds' inspiration.
But how do you figure out what's best? With so many options on the market it's hard to know what to look for and why, but that's where we come in.
We've looked at all the top platform sneakers from all the big brands, so we know exactly how each of them… err… stack up. Let's get into it.
How to define platform sneakers?
Platform sneakers are best defined by their thick soles (more than the regular 1 inch thick, but normally no greater than 4 inches), combined with their sporty 'sneaker' style.
Platforms or flatforms
Quite often you'll hear the term 'flatform' interchanged with 'platform' for seemingly no reason. However, there is a key difference to be aware of:
A platform has a thick sole and a raised heel,
A flatform also has a thick sole but it is level.
Some manufacturers prefer to either ignore or merge the distinction, meaning you might see them advertise their 'platform sneakers' with a 'flatform design', for example.
Platform sneakers vs platform shoes
Platform sneakers differ from platform shoes because they are less dressy but more suited to an active lifestyle. A hybrid mix, 'best of both worlds' if you will.
Platform sneakers vs regular sneakers
Platform sneakers differ to regular sneakers because of their thick soles which adds height to the person wearing them, while regular sneakers are have a much thinner sole (less than one inch thick) which is more suited to sports people who need to accurately judge their foot movements and 'feel' more connected to the ground, allowing them to adjust their gameplay or running style accordingly.
6 reasons to wear platform sneakers
Want to knock your Instagram game out of the park? Here's why you might love wearing some platform kicks:
1. Height: For fear of stating the obvious, these thickened soles make you a few inches taller. This is most noticeable at a concert or a crowded place as you tower over everybody and see the world from a different perspective. Or at least just that little bit higher than normal.
2. Comfort: So you want to wear high heels because they make your legs look great and they match your outfit, but they're uncomfortable AF? Platform sneakers to the rescue. Sure, you can't wear platform sneakers with a formal gown but assuming that's not your daily style then their versatility is surprising.
3. Iconic fashion: With roots firmly in the 1970's fashion spectrum, they've become a fashion icon that seemingly lasts the test of time. 'Gram it up, baby!
4. Monster athleisure style points: Nothing says athleisure quite like a pair of sweet platform sneakers. They resemble sport sneakers used for athletic activities, as they both are similar in shape, and are made of the same materials.
5. Versatile dress code: Unlike most sneakers, platform sneakers are often accepted in higher dress code situations like clubs and dance bars. The convenience of wearing sneakers when you're on your feet all night, without the discomfort that comes with wearing dress shoes.
6. Versatile lifestyle: It's not just dancing all night where platform sneakers come into their own. If you find yourself on your feet as a busy modern individual keeping up with the busy modern world, platform sneakers can be a great choice. No more carrying your super-uncomfortable heels when things get too enduring, platform sneakers means you can rock your style whatever you're doing.
But with that extra thick sole comes some pitfalls you need to be aware of…
And 6 reasons NOT to wear platform sneakers
1. Weight: Sometimes the benefits get outweighed by the cons, and sometimes the biggest con of all is the weight. Big, thick soles means more materials. And while some foam soles are incredibly lightweight and barely noticeable, others are not. Some platforms are heavy and you'll notice it all day as every. Single. Step. Seems. To. Be. Harder. And. Longer. Than. Normal.
Ok, you get my drift but my point remains: be aware of the weight of these bad boys before envisaging yourself strutting down the sidewalk. Speaking of which…
2. A change of gait: When wearing platform sneakers you may notice your gait, or walking style, might change a bit. This is because the muscles in your feet and legs are working overtime to compensate for the thick soles.
3. Posture adjustment: For the same reasons your gait may change, your posture might adapt to ensure your body remains upright. Meaning, your body might change positions in order to stop you from falling over.
4. Instability at height: As a sneaker gets thicker and thicker, the wearer has to use more energy and muscular control to stay upright, and with that comes greater risk of catastrophe (ie. falling or injury). Most platform sneakers are well balanced as manufacturers have considered that issue already, but maybe you hadn't yet.
So before you break out the biggest, thickest platform sneakers you could find, ask yourself this: "is this actually a good choice?"
5. Not always suitable: Platform sneakers might always look great on Insta with reactions coming in hot and heavy, but walking into a boardroom with hopes of making a deal with some powerful middle aged men? The look may appear too casual and not go down so well. Know your audience.
6. Not always comfortable: Some platform sneakers, heck some shoes of any variety, just aren't comfortable. Simple as that. Whether they don't gel with your feet or the sizing isn't quite right, discomfort is exactly that. It matters not how much you love them, uncomfortable shoes suck. And uncomfortable platform sneakers amplify the pain. Always buy comfortable platform sneakers.
How each platform creation stacks up
Aside from the obvious style factor when it comes to platform sneakers, have you ever wondered what gives the sneakers that extra height? What is it that goes into the actual sole across different brands and models of these shoes to give that extra height. The ideas that these manufacturers have come up with might surprise you:
Making those soles thick
The most obvious platform style is, of course, when the sole is simply made thicker than usual. No special layers or gimmicks, just straight up sole thickness. "Thicc", if you will. At the start of the shoe making process, each element of the shoe is considered into what is known as the shoe's last. This last acts like a mold for the manufacturing process of the sneaker itself. In instances of thick platforms, additional thickness is simply added by injecting more cushioned foam into the sole body. The end result? A set of platform sneakers as clean and as high as you want.
The Vans Old Skool Stackform sneakers nail this thick design technique, and it's with little surprise that Vans have chosen "stack" to be part of the product name - there's plenty of it! This sole is the traditional platform ideal, it's simply one thick piece of foam filled cushioning. The base has a layer designed for traction to complement the active lifestyle Vans expects the wearer to participate in.
Multiple variant platform layers
What would happen if you got two or more different types of outsoles and stuck them together, thus making a mega platform sneaker? This technique of using multiple layers of different variants is the most popular amongst manufacturers. It means shoe designers can have a lot of fun with their designs but it also means the lucky wearer gets to express their individual style. Shoes with these designs will make you stand out - in both senses of the expression.
The multiple variant layer method is seen in the Air Jordan 1 Elevate Low sneaker. On that particular shoe the midsoles are what has the height. That has been permanently adhesively attached to the undersole, which is easily identified with its contrasting color. The leather uppers are then stitched on using a contrasting stitch again. The final result makes for some pretty sweet looking kicks.
Duplicate stack
Stacking up layers of the same outsole repeatedly like long bricks may not seem like an obvious construction solution when seeking maximum height in a pair of sneakers, but when done so well it seems to really work.
The inspiration of elevation
The world of platform shoes draws decades of inspiration from a diverse range of sports and activities, including skateboarding, tennis, and basketball. These athletic influences have been seamlessly integrated into the fashion landscape, resulting in platform sneakers that offer both style and performance elements.
Skateboarding's edgy aesthetics and clever use of canvas have influenced platform sneakers with an urban-grunge appeal. Often these platform sneakers are directly modeled from the original skate versions, the only major change being a big platform sole.
Tennis, known for its traditions and elegance, contributes to platform designs that prioritize ease of movement and a refined look.
Meanwhile, basketball's iconic high-top designs and cushioning technology have found their way into platform sneakers, adding a touch of urban flair and superior comfort. Should you be surprised? Of course not, every basketballer has wanted to be taller.
Not looking for platform sneakers today? Check out our guides to the best skate shoes, tennis shoes and basketball shoes to satisfy those sneaker cravings.
Slip on or lace up
Lace-ups stand out as a popular choice among platform sneakers, offering a classic and adjustable fit. However, for those seeking the convenience of slip-on footwear, they also occupy a prominent place in the platform sneaker niche, providing a hassle-free option that often doesn't compromise on style nor comfort.
24/7 function
Platform sneakers can be worn all day or all night, depending on the occasion. If you want a pair to last you through the entire workday into a night out, then you'll want to invest in a comfortable yet versatile pair.
But, if you just want a pair for a special outing, such as brunch, a date, or even just to run errands, you'll want to find a pair that'll match the type of look you're going for, which can lean more toward current trends versus a classic style.
Break in your platform sneakers instead of breaking your feet
Sadly not every pair of platform sneakers will be comfortable straight out of the box. Some will feel stiff and require 'breaking in' - a process of wearing them for short periods initially, allowing the materials to soften and adapt to the contours of your feet.
This process helps prevent blisters and discomfort during longer wear. Gradually increasing wear time allows the shoes to conform to your feet's shape, eventually allowing you to wear them when you like, for as long as you like.
Frequently asked questions
How thick is the average sole?
The average sneaker sole thickness is between about half to one inch.
The average thickness for platform sneakers is about one to four inches, and some sneakers are even more than that - although with that stack height walking can become awkward rather quickly.
Are there any rules about sole thickness?
In the real world, you can of course wear whatever you want in most situations. However in certain circumstances rules do apply.
For some places like corporate offices or formal events dress codes may be enforced. So if your platforms look more sneaker than shoe they might not be accepted. Worth reading up on the specific rules in advance.
Speaking of rules and preparation, competitive athletics not too surprisingly do have rules about footwear. Current regulations allow for shoes to have maximum thickness between 20mm - 25mm (0.78in - 0.98in) depending on the event, and up to 40mm (1.5in) for road races [1].
Are platform sneakers flattering?
Yes. For most people extra height is highly (pun unavoidable) regarded. An additional two or three inches in the sole makes you look taller overall, and particularly in the legs.
The only person a pair of platform sneakers may not be suitable for is if you are graced with naturally very long legs and/or are very tall already. If this is you, platform sneakers might look a bit out of place making you appear even taller with even longer legs. For the rest of us short-legged individuals, some platforms can really help make you look great.
References
World Athletics: Athletic Shoe Regulations - Effective from 1 January 2022 (https://worldathletics.org/download/download?filename=b723c6b6-7d1f-40ad-8b27-1d3f956c6c99.pdf&urlslug=C2.1A%20%E2%80%93%20Athletics%20Shoe%20Regulations%20)
How we test sneakers
We purchase all the platform sneakers with our own money. We don't let the brands dictate our views on the shoes.
As a team of sneaker specialists, we spend several weeks wearing the sneakers. We scrutinize the shoes based on fit, breathability, flexibility, durability, and most especially, comfort.
We take the platform sneakers to our lab and we do different tests that measure a number of parameters. We collect data and compare them to the mean values to give you more idea of where the shoe stands depending on which parameter. Moreover, we cut the shoes into pieces so we can see everything in detail.