10 Best Oboz Hiking Boots in 2021
Hiking in some of the world's most powerful hiking boots is what you're bound to get in Oboz's fine selection. Our top picks from this brand cater to a wide audience, ranging from elevating all-rounders to something you can get at an absolutely steal price.
We've thoroughly tested 10 high-quality Oboz hiking boots to eke out the bests of the pack. The ones that made the cut await you down below.
Overview of this guide
How we test and review Oboz hiking boots
Here at RunRepeat, we make and value reviews that ooze with quality and objectivity. To ensure that we deliver on that goal, we uphold the following:
While outdoor footgear can be expensive, we buy them, including Oboz hiking boots, with our own dollar.
We test every Oboz pair on a variety of surfaces and terrain in both wet and dry conditions.
To make our extensive reviews quite comprehensive, we include in the fold hundreds of Oboz shoe reviews from regular individuals and professional testers alike.
We come up with our exclusive CoreScore with all that in the mix. This scoring system is a huge factor in determining the best kicks Oboz has to offer.
Best overall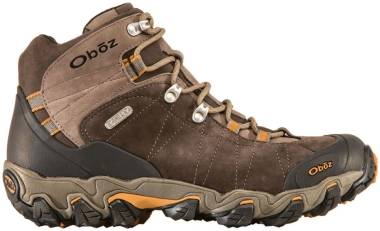 4 colorways available
Top pick
Hold on to your fresh socks because the king of the Oboz ring is here—the Bridger Mid BDry!
Ok, the moment we locked our sights on this hiker, we thought, "Wow, that's beefy!" And we weren't wrong, although we preferred the expression "unapologetically mighty."
As tough as it looks, the Bridger Mid BDry is soft on the inside. By soft, we mean comfy, comfy, comfy! We had no encounters with the dreaded blisters and the equally irritating hotspots in this fantastic hiker. And have we mentioned that everything that touched our feet was pampering from the box?
Its BDry membrane was a real blessing throughout the course of our adventures. Wet environments didn't stand a chance—not even a drop found a way inside the Bridger Mid BDry. And the cherry on top in all this talk of waterproofing? The hiker, at the same time, managed to keep our feet sweat-free!
"Tremendously grippy" is how we'd describe the Bridger Mid BDry's aggressive outsole. Going up and down muddy inclines was quite a cinch in this masterpiece. We were also floored by how much scrambling purchase we got out of it on rocky sidehills.
The crown on top of the Bridger Mid BDry's proverbial head is its durability. It braved through everything the outdoor threw at it, only taking in a few light scratches after our week-long testing.
Do yourself a favor and get this doozy of a boot right now!
See our full review and facts
There's nothing quite like taking on trails with great control. If that's what you're after, the Sawtooth II Mid BDry is for you.
Comfortable from the get-go, this Oboz hiker didn't hold back in giving our tootsies the pampering we needed. In all this comfiness talk, however, we are compelled to give extra credit to the Sawtooth II Mid BDry's snug heel and applause-worthy roomy toe box.
We can't deny its mighty secure collar. Yes, shaky ankles have no place in the Sawtooth II Mid BDry! Make no mistake, though: Its supportive shaft is by no means restrictive. That's right—you can still be your agile self in this super-fine alternative!
How did it prove its worth to us on the trail, you ask? Well, it didn't relent on rugged terrain, nor did it cause us to lose footing on this slippery incline we had to scale. On wet slab, we'd give the Sawtooth II Mid BDry's traction flying colors, too!
Just like our top pick, the Sawtooth II Mid BDry impressed us on the waterproofing front. That said, we wish it had more breathability going for it.
Nonetheless, the Sawtooth II Mid BDry is something we highly recommend in case our top pick is nowhere to be found. Simply shell out a measly $150, and this bad boy is yours!
See our full review and facts
Best lightweight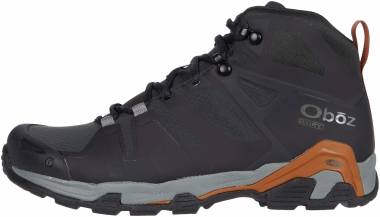 Top pick
Are you a big fan of Oboz? Do you prefer traveling light? If you answer YES to both, don't forget to add the Arete Mid BDry to your shopping list!
Weighing no more than 465 g per boot, the Arete Mid BDry is all for bigger, unshackled strides. Its lightness, however, should not be mistaken for flimsiness. Quite the contrary, in fact, in that our time with it was marked with incredible underfoot and forefoot protection. Extra credit goes out to its rubber bumper for shielding our piggies from bumpy obstacles!
On the inside, our feet were welcomed with grand comfiness. Throughout our day-long adventures-slash-tests, the Arete Mid BDry proved to be extraordinarily plush. Its heel, its padded cuff, its instep—every inch felt great.
Its woven mesh shell held its own in wet conditions, too. The way the Arete Mid BDry's upper blocked out moisture through wet grass and creeks was remarkable!
Underfoot, the Arete Mid BDry was a homerun for us. Props to its midfoot support, our arches came away pain-free after our half-a-day trip with lightly loaded packs in tow. This fantastic supportiveness was also coupled with unrelenting grip, whether on dry ground or muddy sections. Amazing!
See our full review and facts
Best budget boot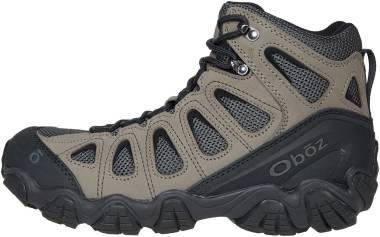 Top pick
Are you down for the best Oboz hiker without crossing out other items on your to-buy list? If so, may we recommend the Sawtooth II Mid!
With a 130-dollar price tag, the Sawtooth II Mid puts most of its kind in a tight spot price-wise. Of course, its affordability comes with a slew of performance merits to make your purchase even more worthwhile.
In the area of surface traction, the Oboz Sawtooth II Mid was magnificent. We went up and down slopes, whether muddy or dry, without ever slipping. Negotiating rocky hillsides and patches was also quite reassuring in this humbly-priced beast!
A big part of what made our excursions enjoyable was the Sawtooth II Mid's jaw-dropping comfort level. Its confines were plush and snug without giving us that "squished feet" feeling. We also experienced no hot feet in this hiker, thanks to its amazing breathability.
At around 490 g per boot, we'd qualify the Sawtooth II Mid as among the lightest kicks under the backpacking category. That said, we are not discounting its supportiveness around the midfoot, which saved us completely from achy arches after our day-long test.
See our full review and facts
Other buying guides