3 Best New Balance Tennis Shoes in 2023
We earn affiliate commissions at no extra cost to you when you buy through us. Why trust us
Like other sports performance shoes produced by New Balance, its tennis shoes are the go-to option for players with broad feet. And though New Balance tennis shoes are pretty underrated compared to other big labels like Nike, ASICS, and Adidas, some of these kicks excel on the court.
We took time to scrutinize and actually playtest heaps of NB court shoes meant for rocking it on the hardcourt and multiple tennis surfaces. We spent no less than 16 hours a week finding out which NB shoes landed among our top picks. From the two-week drill test, we had the chance to sift out which tennis shoes are superbly cushioned, light and agile, and the cheapest. Check out our verdict below.
Best New Balance tennis shoes overall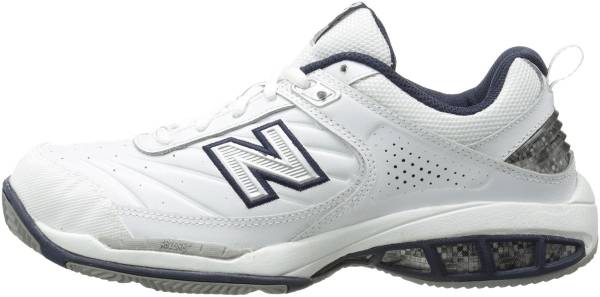 What makes it the best?
The pinnacle of New Balance tennis shoes, the New Balance 806, defined eminence in the sport with its unmatched functionality inside the court. Needless to say, it elevated our gameplay with its amazing combination of stability and traction, blended with sensational cushioning.
Even during our vigorous court battles and exertive maneuvers, we didn't encounter any foot rotating and twisting with the New Balance 806. We stayed steady on our feet, and we avoided the risks of injuries. Also, executing precise movements was the total opposite of challenging, because of the super grippy outsole. We also didn't mind the repetitive toe scuffing, as we discovered that the New Balance 806 is exceptionally hardwearing.
The cushioning of this shoe is also heaven-sent as we felt so at ease playing in the pair. We found that all the impact from our foot strikes is muted by the midsole, thus offering us even more comfort. However, the catch is that the New Balance 806 is heavy. If you prioritize a lightweight feel for a shoe, we suggest exploring other NB tennis pairs.
Pros
Exceptionally stable
Amply cushioned sole
Excellent court grip
Adorable classic design
Long-lasting outsole
Durable
Cons
Heavy
Long break-in time
Too narrow
Full review of New Balance 806
Best New Balance tennis shoes for recreational players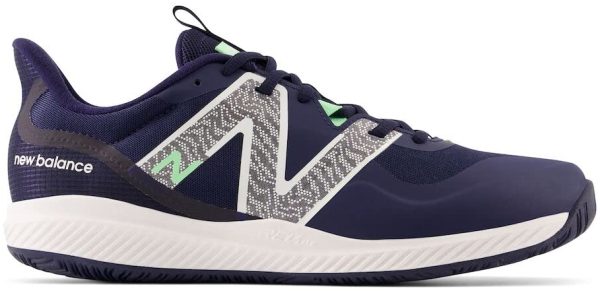 What makes it the best?
Non-professional players still deserve an incredible shoe that can meet the requirements of the sport and boy do we have the greatest pair from New Balance. We vouch for the New Balance 796 v3 for people who play tennis for enjoyment because it is a very easygoing and fun shoe to sport despite its competitive features.
We discovered that this shoe has a shank-free construction, which we found to be generally good news for recreational players for two main reasons: it's less intimidating and it makes the shoe more flexible, which allows for more natural foot movements. Even though 796 v3 doesn't employ a shank, the good news is we still felt well-supported and balanced in the shoe during our side-to-side and forward motions.
Also, the low price point of this shoe is ideal for leisure players because, at $90, it's much cheaper than the average walking shoe by 25.5%. However, checking on its padding and cushioning, we discovered that there isn't much. If you prioritize plushness all over your feet, we recommend trying out other extra padded and cushioned pairs.
Pros
Provides support
Gives excellent stability
Allows trouble-free movement changes
Zero break-in
Super lightweight
Superb indoor and outdoor court traction
Affordable price
Cons
Unexpected tight fit
Skimped on padding and cushioning
Full review of New Balance 796 v3
Best New Balance tennis shoes for speed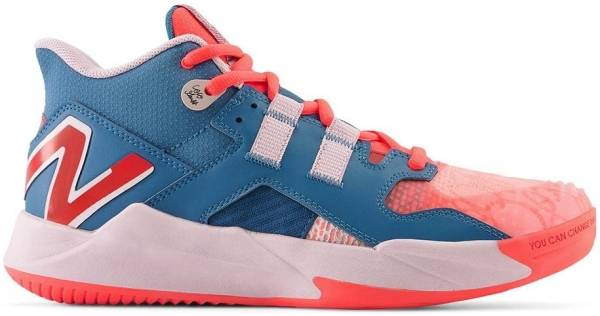 What makes it the best?
For lightning-fast performance, the only New Balance tennis shoe we trust is the New Balance Coco CG1. Our footwork and defensive plays are at their peak, thanks to the ultra-light framework of the shoe that made it seem like it's one with our feet. Additionally, despite our rapid direction changes, we remained firmly planted on the court.
Because of its featherweight build, we enjoyed fast-paced mobility in Coco CG1. While we were liberated from weight, our movements were not left unsupported. In fact, the sidewalls and the mid-top collar of the shoe took care of our unhampered stability in the court.
The lightness of the shoe also didn't lead to the shoe flying off our feet. It was actually firmly affixed to our feet, eliminating all the chances of us slowing down. However, we noticed that even though we were zooming in on the courts, we didn't feel any air rushing through our toes. Therefore, if you value breathability, we advise considering other shoes that have superior ventilation.
Pros
Superior comfort
Extra bouncy cushioning
Enhances speed
Highly stable and supportive
Lightweight
Available in Wide
Astonishing design
Cons
Pricey
Lacks breathability
Full review of New Balance Coco CG1
Comparison of the 3 best New Balance tennis shoes
| | | | | |
| --- | --- | --- | --- | --- |
| Best | | | | |
| CoreScore | | | | |
| Users rating | | | | |
| Experts | | | | |
| Best price | | | | |
| Ranking | | | | |
| Popularity | | | | |
| # of colorways | | | | |
Born in the heart of Boston, New Balance is a quality brand that is both underrated and understated, and especially so with its tennis range.
Despite this, those who are familiar with the brand know that their commitment to comfort, performance, and innovative technology is highly regarded. In this RunRepeat exclusive guide we'll delve into the essential characteristics and cutting-edge technology that define New Balance tennis shoes.
Whether you're a seasoned pro or a beginner looking to up your game, understanding what to look for (and what to avoid) in tennis footwear can make or break your game. So buckle in - or should that be lace up - and get straight into it.
How to identify a pair of New Balance shoes
New Balance shoes are easily identified by their oversized "N" logo on the outward facing side of each shoe, which is sometimes mistaken for a "Z". Elsewhere on the shoe you'll see the official New Balance logo which is characterized by the letters "N" and "B," representing the brand's name. Modern versions will see four slashes across the "N" in the logo, demonstrating speed, although earlier versions may have several more slashes.
Understanding the New Balance model numbers and letters system
You may notice that New Balance uses a unique model number system for the majority of their shoes rather than model names like most of their competitors. The theory behind this is that it helps customers see each model as being equal, but designed for different purposes.
The number defines the type of shoe, the activity it was designed for and whether the shoe was built for stability, speed and so on. Here's a basic summary that makes it relatively easy to understand:
Gender
The letter 'M' means they are men's specific shoes.
The letter 'W' means they are women's specific shoes.
The letter 'U' represents unisex, meaning they are a gender neutral model.
Kid's specific identifiers
G = grade school
P = preschool
I = infant
Y = youth (preschool and grade school)
Activity
Tennis is normally represented by the letter 'C', which is more generally representative of court (hence 'C') shoes - which includes pickleball and squash.
Other activities have their own letters associated, for example the letter 'T' represents trail shoes.
By now you should know that the letters "WC" stands for "Womens Court" (ie. womens tennis shoes).
Place of manufacture
If you see the letters 'US' that's an indication that model is made in the United States
Continuing our example, "WCUS" represents a model of womens tennis shoes which are made in the US.
First one or two numbers
The model numbers in New Balance's naming convention play a significant role in conveying key information about their footwear styles. These numbers are typically divided into two distinct components. Firstly, the initial one or two digits serve as an indicator of the level of technology incorporated into the shoes.
As a general guideline, higher numbers signify a greater degree of technological advancement and overall quality. For instance, among the currently most sought-after models, you'll find numbers ranging from 3 to 19. However, it's important to note that comfort is not solely determined by these numbers. Some of the most comfortable sneakers, such as the 530 or New Balance's iconic 574, belong to the 5-series, defying conventional wisdom. Your choice ultimately hinges on personal preference.
Next two numbers
Conversely, the last two digits of the model number signify the style series. For instance, consider the 574 and 577, both of which incorporate similar technology. However, the higher number (77) indicates a newer style series within the range.
Colors
The letters after the numbers generally represent the shoe's primary colors.
For example, 'WB' indicates white and blue, while 'BK' indicates black.
Do not mistake these letters for width indicators. Width is normally printed next to the size of the shoe, on the outside of the box or on the inside of the tongue.
Version control
Finally, the model number is sometimes completed with a "v" number. "The "v" indicates the version number of your shoes. For example, the New Balance Fuel Cell 996v5 has received multiple updates (v2, v3, v4…) since its first release, and the "v5" means it's up to the fifth version.
This is handy to know if you're seeking a bargain (look for earlier versions) or the latest iteration (look for the highest 'v' number).
Endorsed by no one… until now
In the late 1980s New Balance made a business move that can only be described as being the opposite of the direction that their competitors took, in that they adopted an "Endorsed by No One" philosophy to not sponsor any athletes.
This allowed them to focus on their resources in research, design and domestic US manufacturing rather than paying celebrities to wear their product. They eventually went to the lengths of legally protecting that phrase, a trademark they retain today [1].
However in recent years New Balance have allowed themselves a little bit of slack and finally went against that decision, presumably to allow them to grow. New Balance have since sponsored players such as American stars Coco Gauff and Tommy Paul, plus the likes of Canadian tennis player Milos Raonic and the British number one, Heather Watson.
New Balance Technology
In the ultra-competitive world of tennis footwear, giants like Nike, Adidas and Asics have long been synonymous with innovation. Yet, amid the competition, New Balance has forged a unique path, driven by an unrelenting commitment to quality and using cutting-edge American technology. In this section, we'll take a closer look at the technology New Balance uses for their tennis shoes, exploring the innovations that are created to give you an edge on the tennis court.
FuelCell
New Balance's innovation in athletic footwear is perhaps nowhere more evident than in their revolutionary "FuelCell" technology, designed for responsiveness and energy return in tennis shoes.
Made of a unique foam compound engineered so that when you're sprinting across the court or making quick lateral movements, you're not just expending energy; you're getting a return on your effort. The result? Enhanced speed and agility.
Despite its sometimes chunky appearance, FuelCell is surprisingly lightweight, ensuring that your shoes won't slow you down. Whether you're serving, volleying, or chasing down a drop shot, these shoes provide the responsiveness you need without sacrificing comfort.
Impressively, New Balance hasn't just rested on its laurels with this tech which it continues to refine and improve. As a result, newer models featuring FuelCell are constantly being introduced, offering players the opportunity to stay at the forefront of performance.
REVlite
New Balance's REVlite is a game-changing cushioning technology engineered to provide a responsive and lightweight feel without sacrificing support or durability.
One of the standout features of REVlite is its exceptional lightweight nature. Compared to traditional foam cushioning, REVlite manages to reduce the shoe's overall weight without compromising on comfort. This reduction in weight can make a significant difference, allowing players to move swiftly and effortlessly, especially during intense rallies.
REVlite foam quickly rebounds, providing a burst of energy that propels you forward. Whether you're sprinting to reach a drop shot or making a sudden change in direction, this responsiveness can give you a distinct advantage on the court.
Fresh FoamX
Comfort can be the difference between a great game and an enjoyable one that might even get cut short. New Balance recognizes this and created a solution in the form of "Fresh FoamX", which is a proprietary cushioning technology designed to deliver the player comfort and responsiveness. With this technology New Balance aims to provide a comfortable, cushioned feel without compromising on support or performance.
But Fresh FoamX isn't just about the soft cushioning feel; it's about responsiveness too. With each step, the foam quickly rebounds, providing a burst of energy that propels you forward. Whether you're sprinting for a drop shot or making quick lateral movements, Fresh Foam X delivers the responsiveness you need.
NDure
NDure is New Balance's proprietary technology designed to reinforce and protect high-wear areas of tennis shoes, making them more resilient against the rigors of the game.These high-stress zones, such as the toe and medial side, are reinforced with NDure technology, creating a robust shield against abrasion and damage.
New Balance incorporates NDure technology into select tennis shoe models, allowing players to choose footwear that suits their style and preferences. If you prioritize durability and longevity, keep an eye out for the NDure feature.
Ndurance
Ndurance was created by New Balance to reinforce the outsoles of their tennis shoes, and therefore extend their life. It's no surprise then, that New Balance chose a moniker of the word 'endurance' for this technology, as this outsole type provides superior traction and durability to help get more wear out of the shoe.
OrthoLite insoles
Most New Balance tennis shoes are supplied with OrthoLite insoles out of the box. These insoles are third-party insoles which are sold by New Balance under license, meaning you don't have to buy them separately. The unique open-cell structure provides long term cushioning, moisture management and high level breathability - all ideal for tennis. On top of that they are extremely lightweight and machine washable.
How to look after your tennis shoes
Regular maintenance of your New Balance tennis shoes helps ensure you maximize your footwear, plus of course looking good while doing so. Here's a recommended cleaning routine:
Gather supplies: Begin by assembling your cleaning materials. A light bristle brush, such as an old toothbrush, is an excellent choice. You'll also need a mild detergent, some water and a clean cloth.
Spot check: Before applying the detergent, it's advisable to spot-check a small, inconspicuous area of the shoes. This helps ensure that no unexpected staining will occur during the cleaning process.
Gentle scrub: Using the brush and the detergent combined with water, gently scrub the surface of your tennis shoes. Pay close attention to any scuffed up areas or stains.
Wipe clean: After scrubbing, take a damp cloth and wipe down the shoes. This step removes any residue and leaves your shoes looking refreshed.
Air dry: Once cleaned, allow your tennis shoes to air dry naturally for about 24 hours. Avoid exposing them to direct heat sources, as some shoe materials can be sensitive to high temperatures.
Avoid machine washing: Putting your tennis shoes through a washing machine cycle is not recommended. Some shoe materials may not withstand exposure to heat or being fully submerged in water for lengthy periods, which could compromise their quality and performance.
Frequently asked questions
Are New Balance shoes really made in the USA?
Where the domestic value is at least 70% of production, New Balance label their shoes "Made in the USA", manufactured in five facilities throughout Maine and Massachusetts. New Balance is one of very few sports footwear brands that makes some of their shoes in the US.
Is New Balance an ethical company?
Like many footwear companies, New Balance is somewhat hampered by its ability to be ethical and remain competitive at the same time, and for that reason has received its fair share of criticism over the years. That said, the brand has made some significant promises [2] to improve this regard, including:
To source 100% preferred leather and 50% recycled polyester, and
To source 100% renewable electricity for owned operations, and
To eliminate use and discharge of hazardous chemicals, and
To achieve zero waste to landfill in their footwear factories, and
To cut emissions in half.
Additionally, New Balance is a member of RE100 and a signatory to the UN Fashion Industry Charter for Climate Action and the ZDHC Roadmap to Zero.
References
2002, United States Patent and Trademark Office: Trademark Registration Number 2605355, Serial Number 75881697, Word mark "ENDORSED BY NO ONE" - New Balance Athletics, INC.
New Balance: Sustainability commitments 2023 (https://www.newbalance.com/sustainability/)
How we test tennis shoes
Coming up with unbiased reviews takes effort. Here is the procedure we follow before providing our top picks:
New Balance didn't supply us with the shoes. We buy ALL the shoes from our funds; we examine and playtest them objectively.
We assess them based on performance, playability, comfort, durability, and traction. We consolidate the results of our two-week wear test and we produce a detailed review out of them.
We take the shoes to our lab and we find evidence for the things we felt and experienced during the play test. We quantify their parameters and compare the values to the mean to extract more meaningful data. Also, we cut the shoes in half to obtain a comprehensive view of their techs and deets.