6 Best Mountain Bike Shoes in 2023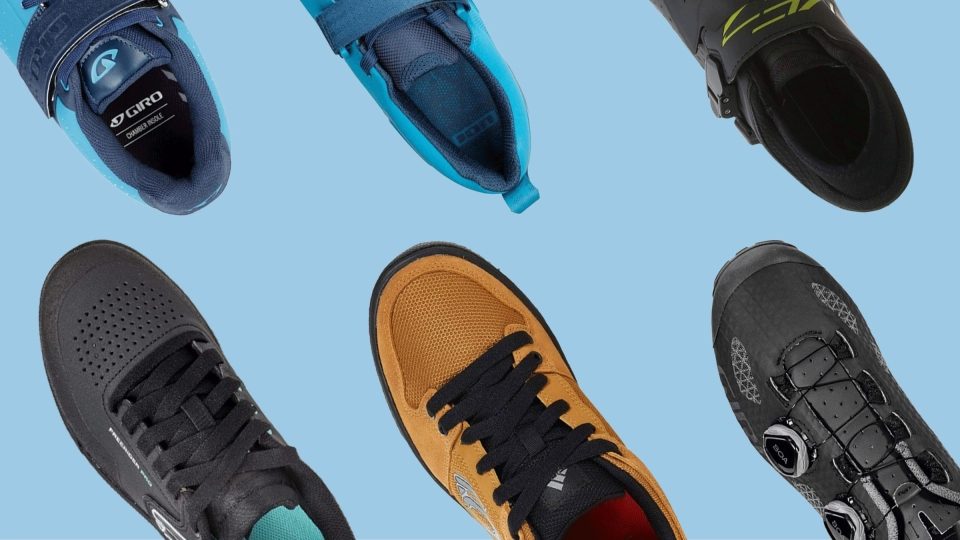 We earn affiliate commissions at no extra cost to you when you buy through us. Why trust us
Getting the best MTB shoe for you is vital for a good time out on the trail. But we know that searching for a suitable pair can be baffling.
To help you find the best option for your rides, we have reviewed over 40 models of MTB shoes. Flat or clipless, cheap or premium, we've selected our top picks in five different categories.
And if you need more guidance on the types of MTB shoes, the various cleat and closure systems, scroll down to the guide sections below.
How we test mountain bike shoes
Unlike most top 10 lists that feature products based on popularity, RunRepeat takes pride in going the extra mile to make sure we include items on account of their performance.
Here's what we do:
We are a team dedicated to immersing our waking days in the nuts and bolts of over 150 mountain bike shoes.
Our test encompasses all cycling brands, riding styles, and areas, from cross country to downhill and everything in between.
We spend an average of 7 hours per shoe to truly figure out and identify a model's benefits and disadvantages.
After that's done, each pair is given a CoreScore of a number between 0 to 100 based on its performance. The ten highest scored shoes make it to the list.
Comparison of the 6 best mountain bike shoes
| | | | | | | | |
| --- | --- | --- | --- | --- | --- | --- | --- |
| Best | | | | | | | |
| CoreScore | | | | | | | |
| Users rating | | | | | | | |
| Experts | | | | | | | |
| Best price | | | | | | | |
| Ranking | | | | | | | |
| Popularity | | | | | | | |
| # of colorways | | | | | | | |
Why wear mountain bike shoes?
A lot of mountain cyclists mistakenly think that wearing grippy skate shoes is enough for riding the rugged trails of the mountain. However, this could cause serious injuries in the long run, among other things.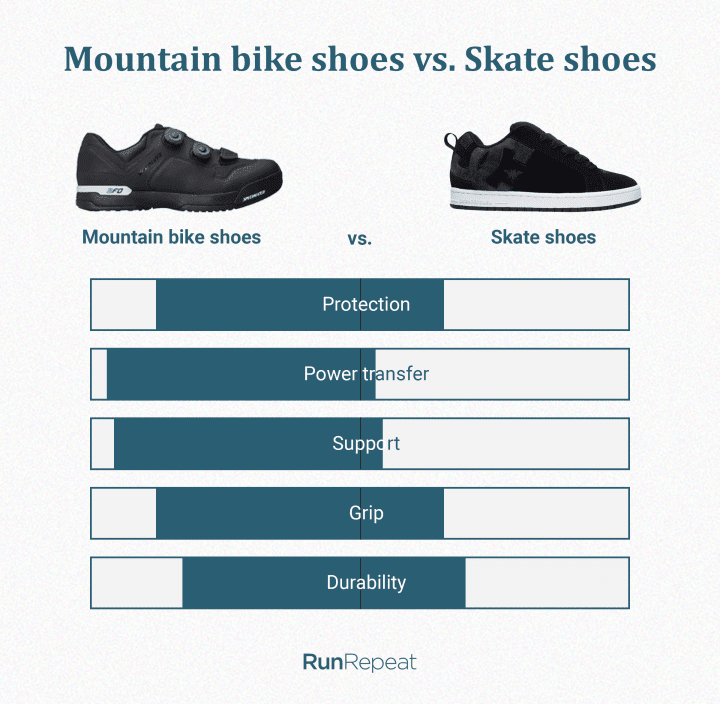 In instances like light trail cycling or BMX riding, skate shoes can be enough. But if you aim to improve on your skills or simply to have more efficient, safe, more fun on the bike, mountain bike shoes are best.
How do MTB shoes work?
Mountain bike shoes are designed from top to bottom to withstand rigorous cycling outdoors. Most of them display a rugged exterior to match the trails.
The upper is especially designed to prevent injuries by using impact-resistant and long-lasting materials.
Perforation details also help keep the foot feeling cool during warmer weather.
Flat and quite pliable soles provide hike-a-bike comfort and prevent foot ailments
Excellent traction keeps you upright in slippery areas.
A rigid sole and cleats on XC shoes ensure efficient transmission of power to the pedal, and prevent foot slip
Choosing your ideal mountain cycling shoes (5 steps)
Following the 5 steps below can make your search easier and quicker.
Consider your cycling activity
Choose the pedal type
Select a suitable closure system
Figure out the appropriate stiffness level
Test for the most ideal fit
1. Type of mountain cycling you plan on doing
Your activity and purpose are the first crucial point you need to figure out as there are plenty of MTB shoes for different mountain biking. Below are the primary MTB activities.
Purpose

Description

Cross-country

Cross-country

Cross-country (or XC) shoes stray away from beefy design. They are characterized by the following:

Minimalist and lightweight upper design
Stiffer soles for maximum power transfer
Often compromise foot protection for lighter weight
Aren't comfortable for long hike-a-bikes

All-Mountain/Trail

All-Mountain/Trail

(model: Specialized 2FO ClipLite)

With All-Mountain riding's long hours in the trail and a lot of hike-a-biking and descents, these shoes have:

Relatively flexible soles for outstanding walkability
Excellent traction
Moderate impact protection
Relatively lightweight

Enduro

Enduro

(model: Five Ten Kestrel Pro BOA)

Enduro cycling entails pedaling uphill but focuses more on the descents. With this, shoes tend to be:

Bulkier and heavier due to excellent foot protection
Relatively lighter than Gravity shoes

Gravity/Downhill

Gravity/Downhill

(model: Five Ten Hellcat Pro)

This activity focuses mainly on cycling down the mountains as fast as possible. Shoes for this endeavor have:

Relatively stiff soles for efficient pedaling
Adequate flex for walkable comfort
Excellently protective upper design

Casual/Commute

Casual/Commute

(model: Five Ten Sleuth)

With the rise of casual cycling or commuting via bike, specialized footwear are also on the rise. Casual cycling shoes:

Look like sneakers
Don't have much technical features
Have better durability and sole stiffness than everyday beaters
2. Pedal choice
Cyclists can choose between clipless and flat MTB shoes. Both types have advantages and disadvantages and deciding which one is better lies solely on your personal preferences.
Here's the difference between the two.
Flat

SPD Clipless (2-holes)

Pros

Easy planting of foot on the ground when needed
More natural walking experience
Foot placement on the pedal can be altered whenever

Secure pedal connection
Promotes direct power transfer
Most leg muscles are being used, preventing long-term injuries

Cons

Pedaling slips are possible, which could cause injuries
Weak power transfer compare to clipless
Fewer leg muscles being activated

Spontaneous foot planting isn't possible, making crashes a bit more daunting for newbies
Walking could feel less natural
Mud build-up in the cleat area can cause problems
Can be loud and cause damage on the floor when indoors
3. Closure System
Mountain cycling involves rough trails, mud, and unpredictable bumps, chafing, and impacts. These scenarios should be considered in choosing which lockdown mechanism to go for.
Pros

Lightweight
Tried and tested design
Cheap and easy to replace

Fit adjustment while on the bike
Lightweight
cheap

Incremental adjustments for most accurate fit
Replaceable
Mid-ride fit adjustment

Cons

Fit can't be adjusted mid-ride
Laces can go loose and get caught in the bike

Velcro can loose grip over time
Not all shoes provide replaceable strap parts

Most expensive to replace
Not as available as the other two closure systems
Parts have a big chance to break while in the trail
Mud can get stuck in it
Sometimes brands also use 2-3 closure systems in one model to provide the most ideal fit and variety.
4. Outsole material and rigidity
While upper materials are also crucial in mountain cycling (level of protection and breathability), this guide will focus more on the outsole design.
The two factors that led me to choose outsole instead are the difficulty to quantify and that, essentially, the upper's protection depends upon the shoe's purpose (which is seen above). Also, MTB shoes are already generally protective in nature.
Now that's out of the way, back to the outsole material. One key factor to look out for in the sole material is its stiffness level.
Note that these units are measured generally, meaning not all shoes with a specific material have the exact rigidity level stated above.
5. Find the right fit
Getting the correct fit can make or break your cycling experience. Here is the tried-and tested advice you can follow to get the most ideal fitting MTB shoes:
When you're going to try out a pair, schedule it in the afternoon. Human feet are known to swell as the day passes. This practice will accommodate that swelling.
Wear the usual socks you regularly use. This way, the fit will really be accurate.
Walk around with the shoes on and sit on a bench and mimick the motion of pedaling. Pay close attention to your feet while doing these. Make sure there are no pressure points, rubbing, or digging.
If you do a lot of hike-a-biking, be mindful of the sole stiffness while walking.
Pay close attention to how your heel fits in the shoe, especially when choosing XC shoes. The heel should fit in nicely and the shoe should hold it firmly.
Top MTB shoe brands
The brands included in this section are the ones with the best-rated mountain bike shoe models. Learn more about each company's unique offering and strength in the table below:
Brand

Description

Five Ten or 5 10 MTB shoes are very popular for their grippy outsoles. Mountain bikers who are into flat pedal MTB shoes are the company's main market.

Their footwear displays a sneaker/skate shoe aesthetic that most cyclists love. Check out their best-selling classic Five Ten Freerider.

Giro's MTB shoe category houses both sneaker-looking and road shoe-looking options. What stays the same is their signature sleek and minimally designed uppers.

The company is also credited for bringing back lace-up cycling shoes to the market.

Shimano's MTB shoes include all types of mountain cycling. From cross-country ro enduro and all-mountain, they have it.

The company also collaborates with Michelin in creating grippy MTB shoe rubber outsoles.

Sidi's mainly known for their superbly crafted bike shoes - Sidi MTB shoes are no different.

Apart from the excellent quality, some of the brand's well-loved footwear features are the Sidi heel cup for excellent foothold and serviceable parts for practicality and longevity.
Can mountain bike shoes be used for spinning?
Simple answer: Yes, but not all.
Most indoor cycling or Spin studios employ indoor bikes with SPD (2-hole) cleat pedals. And since MTB shoes also come with the same cleat design, indoor cyclists can choose to wear an MTB shoe for their studio time.
However, one thing to check is if the MTB shoe is too rigid. Spinning doesn't require much stiffness. In fact, the more flexible ones are recommended to keep walking around the studio comfortable.
You can check out this in-depth indoor cycling shoe guide to learn more about how to choose your ideal Spin shoes.