3 Best PUMA Soccer Cleats For Men in 2023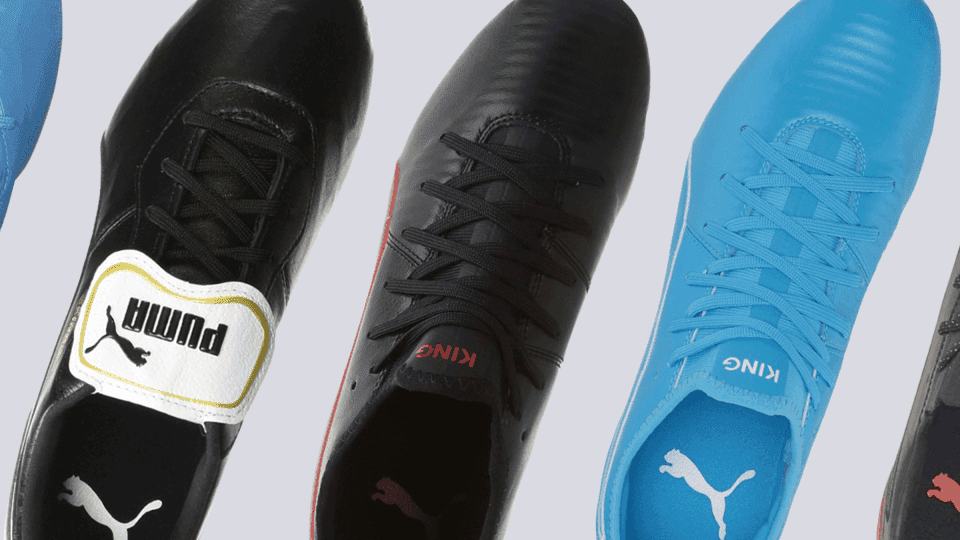 We earn affiliate commissions at no extra cost to you when you buy through us.
PUMA soccer cleats have been worn by superstars and icons of the game such as Diego Maradona, and Pele, and rising stars like Antoine Griezmann. As a pioneer in the industry, the brand is among the most trusted when it comes to innovative and cutting-edge soccer cleat construction.
From Sala Indoor and Pro Soft Ground soccer cleats to Allround turf boots, the Germany-based manufacturer ensures that each release lives up to its heritage and reputation as one of the best in the business. Each model is carefully crafted for stronger players and feared strikers on the pitch.
With several great options available, picking the perfect pair can be time-consuming. To help you save energy and time, we've highlighted our best picks after putting each model through meticulous testing and selection process.
How we test soccer cleats
Each pair of PUMA soccer cleats on this list is thoroughly tested before we make our final assessment. That means subjecting each model to the pressures and demands of the sport. After each playing session on the soccer field, we discuss and compare notes with other testers.
Here's how we approach it:
To provide a concise and in-depth profile for each PUMA shoe, we test them in actual games. This is the best way to get a real-life feel of its comfort, traction, precision, touch, and control, among others.
We do our due diligence of real-world wear testing on the pitch while playing real games. We also examine very closely every nook and cranny of each pair to be more comprehensive.
We have a "No play, no review" policy at RunRepeat. We don't only wear-test every model. We actually play in the soccer cleats to determine how they perform.
In the end, we use our numerical rating system called the CoreScore. After we have the necessary data, we calculate all variables and assign each PUMA shoe in the database its overall score, which ranges from 0 to 100.
Best men's PUMA soccer cleats overall
PUMA King Top di Firm Ground
Zappos
Free shipping & returns
Pros
Great durability
Stylish design
Nice grip
Easy to clean
Great value for money
Cons
A little tight
Flimsy stitching
What makes it the best overall?
For a soccer cleat that succeeds a classic, the PUMA King Top di Firm Ground did not disappoint. It's iconic black-and-white design and fold-over tongue caught the eye of old-school players. It is innovative, comfortable, and durable for goalkeepers, wingers, and defensive-minded players. If you are someone who wants value for your money, then the PUMA King Top di Firm Ground might just be the right soccer cleat for you.
Read our full review of PUMA King Top di Firm Ground here
Best value PUMA soccer cleats for men
PUMA King Pro Firm Ground
Amazon
Prime & free shipping
Pros
Comfortable fit
Reasonably priced
Good ball touch and control
Great traction
Sleek look
Decent heel lockdown
Cons
Needs break-in period
Difficult to wear
What makes it the best value?
As historic as the PUMA King line is, it's hard not to expect great things from the silo. And, once again, with the PUMA King Pro Firm Ground release, the brand has not disappointed its long time patrons. With its sleek-looking design, the pair is able to capture the nostalgic feel of the famed silo without overlooking performance. Comfort, ball control, traction, price - it's hard to look for faults in this pair.
Read our full review of PUMA King Pro Firm Ground here
Most popular PUMA soccer cleats for men
PUMA King Platinum FG/AG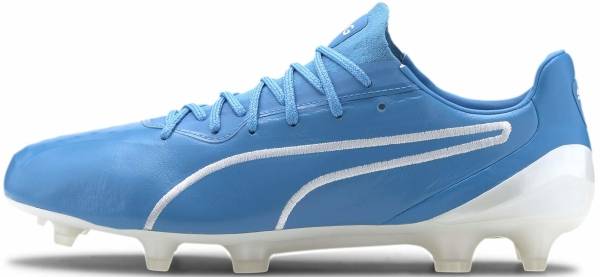 Pros
Soft kangaroo leather upper
Sleek and classy design
Lightweight
High-quality
Great ball feel
Barefoot feel
Cons
Lacks durability
Expensive
What makes it the most popular?
The PUMA King Platinum FG/AG soccer cleat is undoubtedly a much-anticipated release, and it did not disappoint. Upholding the reputation of its silo, quality is paramount for this soccer cleat. Starting with the soft and snug kangaroo leather upper down to the Sprintspeed outsole, wearers confirm that this shoe is definitely worth the hype as well as its price.
Read our full review of PUMA King Platinum FG/AG here