3 Best K-Swiss Tennis Shoes in 2023
There's something about K-Swiss tennis shoes that will pull at your heartstrings if you love the classic style and how memory foam cradles your foot. Now, if you're uncertain which K-Swiss shoe will suit you best, we went ahead to playtest every available shoe model in the market.
After giving each shoe a rigorous two-week drill test, we had the opportunity to filter which of them outperformed the rest. If you are scouring for the best from this brand that isn't bottom-heavy, stable through long rallies, or won't rip you off your entire savings, take time to skim through our top choices below.
How we test tennis shoes
Brand advertisements don't influence our selection process in any way. And we don't blindly pick which shoes land among our top choices. Instead, we follow this process:
We buy each pair with our money to remain unbiased.
We systematically rake all possible reviews from verified users and experts and extract all the positives and negatives.
Our Corescore system methodically ranks each rated shoe from 1 to 100.
Our tennis experts evaluate each shoe's overall build and conduct uncompromising playtests, a minimum of 16 hours a week for two weeks.
Our final verdict consists of consolidated analyses from the amassed reviews and scoreboard results of our experts' playtests.
Best K-Swiss tennis shoes overall
K-Swiss Hypercourt Express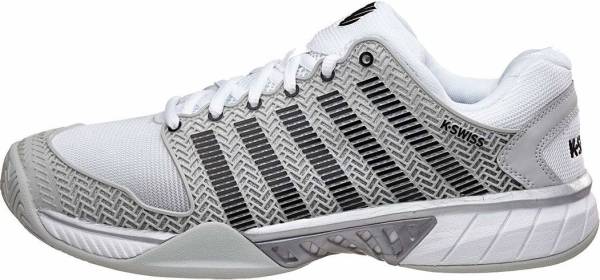 Pros
Plush cushioning
Excellent stability
Offers ample room
Lightweight
Excellent ventilation
Comfortable straight from the box
Offers exciting colors
Excellent level of traction
Cons
Toe jamming
Thick tongue padding
Verdict
A popular pick among avid club players, the K-Swiss Hypercourt Express is raved about for its underfoot comfort, support, stability, and ventilation. Going into the specifics, this footgear is engineered with a sufficiently padded collar and cushioning. This trainer is also fused with a breathable exterior membrane, stabilizing DuraWrap, and reinforced forefoot.
K-Swiss Hypercourt Express full review
Best value K-Swiss tennis shoes
K-Swiss Ultrashot 3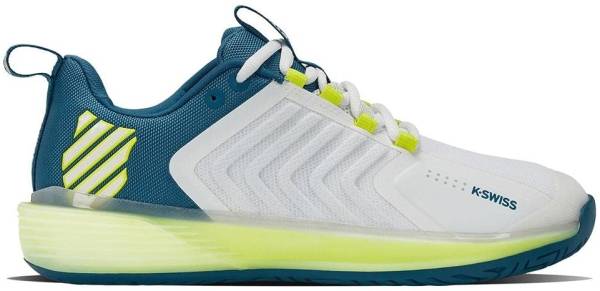 Amazon
Prime & free shipping
Pros
Phenomenal bounce and energy return
Stable platform
Durable outsole
Superb traction
Durable toe box
Clean and sleek looking
Cons
Lack of breathability
Thin tongue
Verdict
The K-Swiss Ultrashot 3 offers nothing but true improvements. It is one of the most durable and stable tennis shoes from the K-Swiss line. It is supportive enough for quick court movements and grippy enough to change directions smoothly. While the looks are admirable, the Ultrashot 3 is not breathable. If breathability is a deal-breaker for you, consider a pair from Adidas or New Balance.
K-Swiss Ultrashot 3 full review
Most popular K-Swiss tennis shoes
K-Swiss Hypercourt Supreme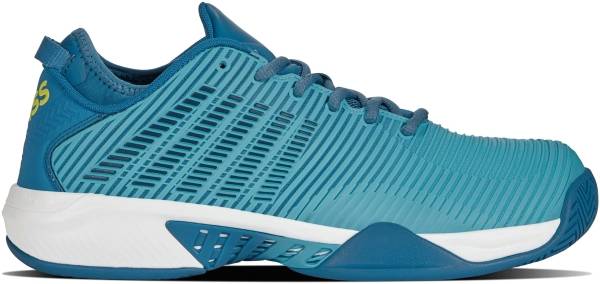 Amazon
Prime & free shipping
Pros
Lightweight
Excellent ankle support
Solid traction
Comfortable cushioning
Extremely durable
Visually-appealing
Verdict
The K-Swiss Hypercourt Supreme is a cushioned tennis shoe for different playing surfaces. It has received positive feedback from most users because of its supportive and lightweight design.
K-Swiss Hypercourt Supreme full review