7 Best Insulated Hiking Boots in 2023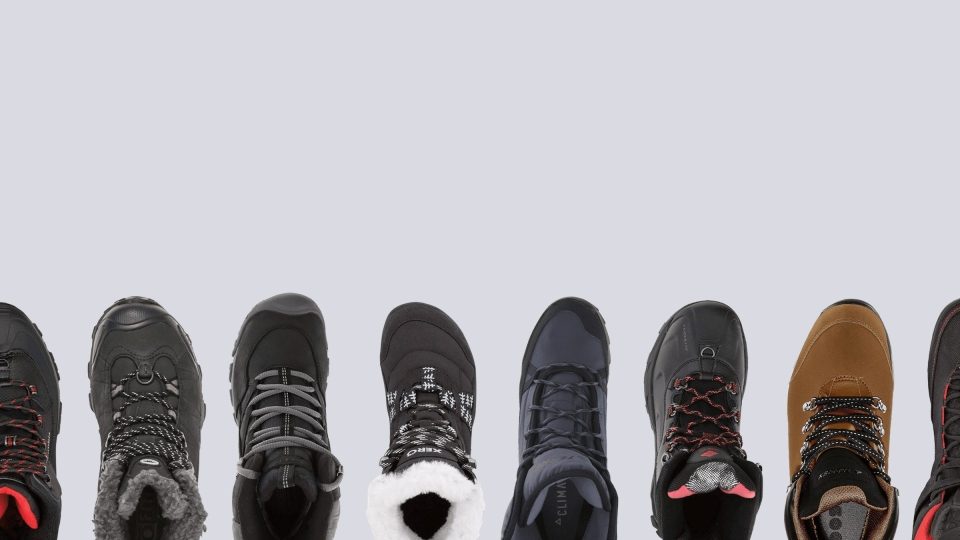 We earn affiliate commissions at no extra cost to you when you buy through us. Why trust us
Explore the winter wonderland with these best-rated insulated hiking boots. Whether you are strolling a snowy trail or heading off into the backcountry, trudging through deep snow and slushy mud, wearing a dependable pair of boots is crucial to your comfort and protection.
Seasoned hikers and backpackers would tell you that more insulation is better on subzero temperatures. If you'll be heading out on a long cold trip with a heavy pack, having the right winter hiking footwear that is grippy, warm, and comfortable will be a lifesaver.
To find the very best, we've rounded up and tested 60+ insulated hiking boots from different top brands out there. After hours of testing in cold and snowy conditions, we've highlighted our favorite picks below for your quick reference.
Comparison of the 7 best insulated hiking boots
| | | | | | | | | |
| --- | --- | --- | --- | --- | --- | --- | --- | --- |
| Best | | | | | | | | |
| CoreScore | | | | | | | | |
| Users rating | | | | | | | | |
| Experts | | | | | | | | |
| Best price | | | | | | | | |
| Ranking | | | | | | | | |
| Popularity | | | | | | | | |
| # of colorways | | | | | | | | |
How to choose insulated hiking boots
No matter how cold the temperature or harsh the weather, insulated hiking boots will provide a comfortable environment for your feet. With their specially designed insulation technology, you'll stay warm and protected from the elements.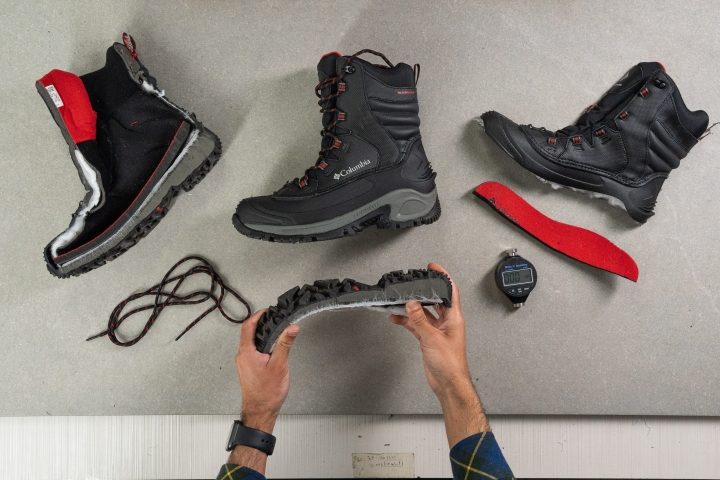 Here's all you need to know to find the best-insulated hiking boots to suit your needs.
The benefits of insulated hiking boots
When heading out on a hike during winter, insulated hiking boots are perhaps the important piece of equipment that you'll bring. In cold and icy conditions, they keep your feet warm and dry, providing you with comfort and protection from the elements.
A specific tool for a specific job
Insulated boots are built specifically for winters, so they often provide extra traction on slippery surfaces like ice or snow to help prevent falls. They also add extra cushioning for greater foot comfort, helping you to stay on your feet longer.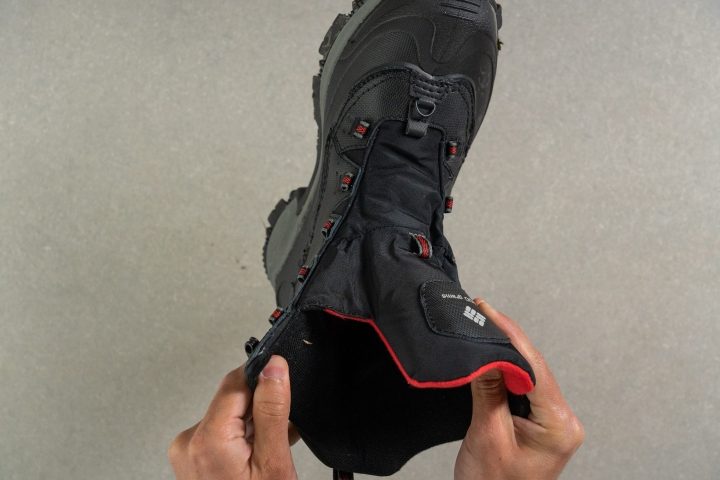 The best insulated hiking boots let you hike further and stay outside longer during the colder months, so you can maintain your fitness, see more incredible places, and enjoy hiking year-round.
How do insulated hiking boots work?
Insulated hiking boots use a combination of different insulating materials to keep your feet warm and dry. The best insulated boots are usually made from a mix of quality leather, nylon, and synthetic fabrics like GORE-TEX or Thinsulate, or natural materials like wool. This helps the insulation work more efficiently by blocking out moisture and sealing in warmth.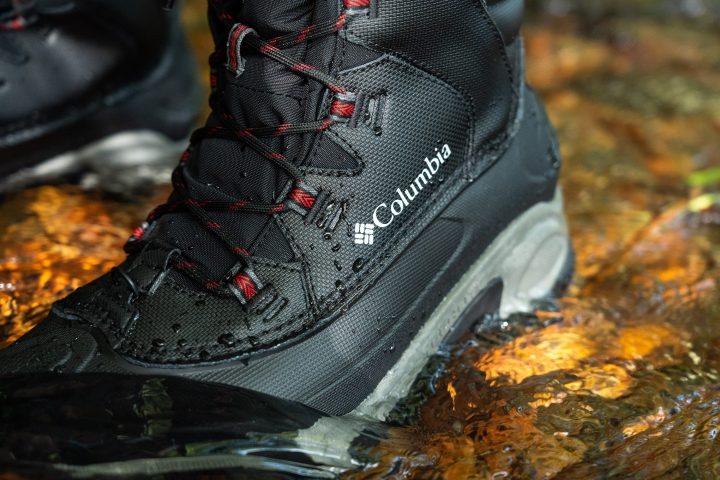 Hiking boot insulation ratings explained
Some boot brands make boots for bitterly cold conditions, while others make them for milder temperatures, but you'll often see both of these boots all marketed as 'insulated hiking boots'. So to fully understand what conditions they're suitable for, we need to look at the insulation rating. Insulation usually comes in 5 different weights:
100g for an urban boot
The lightest type of insulation is great for your daily driver pair of boots if you live in a region with cold winters. They're perfect for walking to the shops or running errands about town. Unless you live in a place with mild winters, they're usually not insulated enough for long periods outdoors.
200g for short winter hikes
With double the insulation of the 100g boots, these warm hiking boots are best suited to short hikes, walking the dog outside, or exploring the outdoors. They're still lightweight enough to be worn every day and will be a great choice for most people.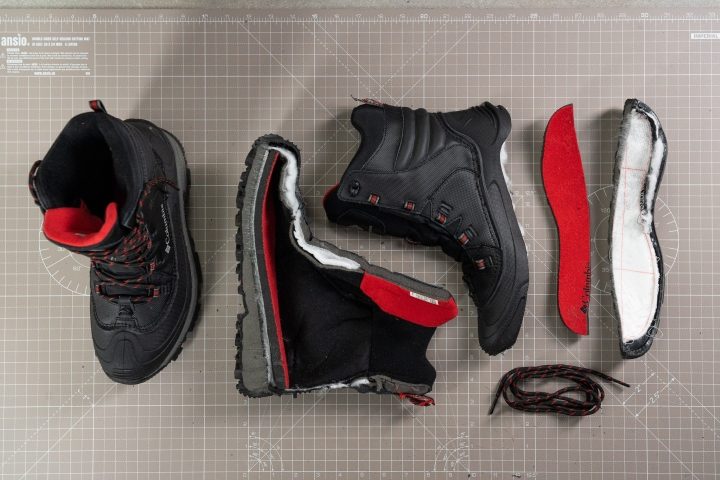 Example: Columbia Bugaboot III (200g insulation)
400g for long winter hikes
With 400g of insulation, these boots are often specialist hiking boots, meaning that they're built for long winter hikes, being in the snow for extended periods of time while being durable. They're often heavier and not best suited for walking about the city.
600g for winter backpacking boots
Stepping up to 600g, you'll find this level of insulation in lots of work boots and winter backpacking boots. They're strong, warm, and durable, but heavy. This level of insulation can be too warm in any season but winter.
Example: Columbia Bugaboot III XTM
800g for mountaineering
Planning on a trek up Mount Everest? Then you'll be looking at boots with 800g of insulation. This is overkill for anything but the coldest and most extreme situations.
Synthetic insulation materials
Winter hiking boots come with a range of levels of insulation, from lightweight to heavily insulated. Some insulated boots have synthetic materials and technologies to help keep your feet warm in temperatures down to -30°C. Here are two of the most common technologies that you're likely t encounter.
Thinsulate technology
Thinsulate technology is patented insulation that helps keep your feet warm even in extreme temperatures. It contains millions of tiny fibers that trap air, providing superior warmth without the bulkiness or weight of traditional insulated boots. Thinsulate is lightweight and breathable, so it won't weigh you down while keeping your feet warm and dry.
PrimaLoft insulation
PrimaLoft insulation is designed to keep your feet warm while also providing additional cushioning. It's lightweight and breathable, so it won't weigh you down or feel too bulky in your boots. PrimaLoft also wicks away moisture and dries quickly, helping to keep your feet feeling dry and comfortable even in wet weather.
Natural insulation materials
Some of the best insulated hiking boots use natural insulation to keep your feet warm and comfortable in cold temperatures. Some organic materials are naturally insulating, breathable, and lightweight so they don't feel bulky.
Shearling is great in extreme cold
Shearling sheepskin is a popular natural insulation used in insulated hiking boots. It's made from the hide of sheep, which has been tanned and then sheared to create a soft, lightweight material. Shearling sheepskin is naturally insulating, and breathable, and helps keep your feet warm even in extremely cold temperatures. It also provides extra cushioning and comfort, making it a great choice for winter hiking boots.
Wool is a natural insulator
Wool is another popular natural insulation used in the best insulated hiking boots. Wool is also naturally insulating, breathable, and lightweight so it won't weigh you down. It also wicks away moisture which helps to keep your feet dry and comfortable even in wet weather.
Key features of insulated hiking boots
There are a variety of features that make insulated hiking boots best suited for winter hiking that we'll explain in detail below.
Generally, you'll want to make sure you have:
a decent level of waterproofing, designed to keep your feet dry even in wet conditions
insulation to help keep your feet warm; reinforced toe caps and midsoles for extra protection against rocks and roots
traction systems like lugs or cleats to provide extra grip on slippery surfaces
Insulation to stay warm
As we've mentioned, insulation is one of the most important features when looking for the best insulated hiking boots. Insulated winter hiking boots come in a variety of options, containing varying amounts of insulation to best suit your needs. In general, you'll want something that will keep your feet warm and comfortable in cold temperatures. The amount of insulation needed largely depends on how cold it is where you're hiking, as well as your personal preference.
Waterproofing to stay dry
Another important factor to consider is waterproofing. You'll want your hiking boots to be designed with a waterproof membrane, like Gore-Tex or eVent. This helps keep your feet dry even in wet conditions, so you don't have to worry about cold and soggy feet during your hikes. If you're wet, it won't be long until you're cold.
Breathability to let moisture escape
Breathability is important when it comes to hiking boots, as it helps to control your foot's temperature and keeps them from getting too sweaty. If your feet are constantly wet or clammy, then this could lead to blisters or other issues on the trail. A breathable pair of boots will let you naturally regulate your temperature.
Durability to last
Durability is an important factor too, as hiking in winter can put a lot of strain on your boots and you'll want them to last for many, many hikes. Look for boots with reinforced toe caps, durable midsoles, and tough outsoles that can handle any terrain you might come across on your outdoor adventures.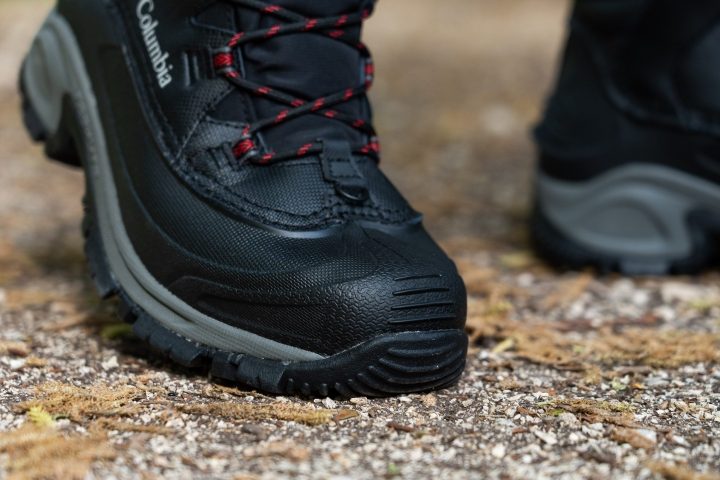 Traction to cross icy patches
Traction is essential when it comes to hiking in freezing temperatures, as icy and wet surfaces can be slippery and dangerous. Look for a boot with a good grip system, like lugs or cleats, that you can trust to keep your footing on slippery trails. They should also provide cushioning and shock absorption to help prevent fatigue over long hikes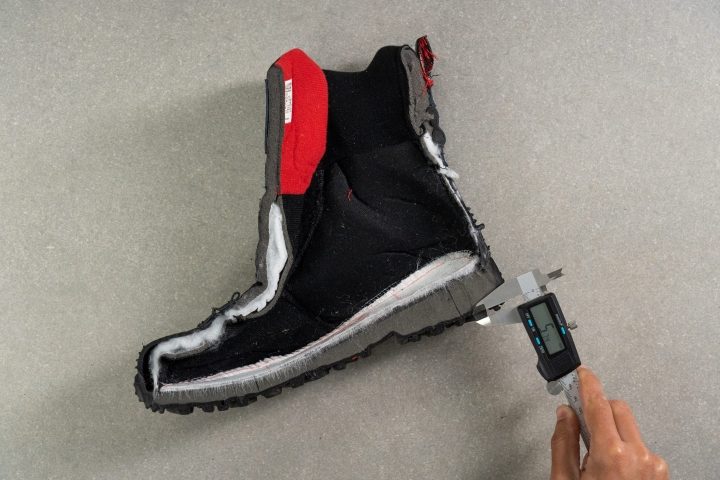 The right fit for comfort
Comfort and fit are essential when it comes to any type of hiking boots, as you'll want to wear them for long periods of time without discomfort. But when it comes to boots that you'll wear in winter, look for boots with inner linings made from materials like wool or synthetic fabrics that help keep your feet warm and comfortable in cold temperatures.
Always make sure your boots fit properly, as an ill-fitting pair of boots can lead to blisters, soreness, and other issues. They should also be lightweight and flexible enough to keep you agile on the trail.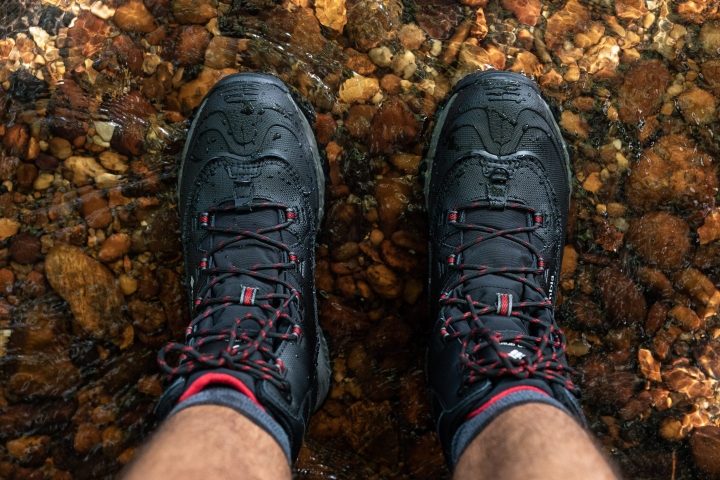 Pros and cons of insulated hiking boots
Unfortunately, there is no one perfect boot that does all jobs brilliantly, instead, we need to carefully consider what it is that we're trying to achieve and pick the best tool for the job.
Pros:
Keeps feet warm and comfortable even in cold temperatures
Waterproof membranes help keep feet dry
Breathable to regulate temperature
Durable, reinforced toe caps and midsoles for extra protection
Traction systems like lugs or cleats provide extra grip on slippery surfaces
Cons:
Can add weight to your feet
Not good for warmer climates
More expensive than regular hiking boots
Can cause blisters if not fitted properly
Require extra care and maintenance for the best performance
FAQs about insulated hiking boots
How do I break in my insulated hiking boots?
Breaking in insulated hiking boots is a process that you should plan for before you hit the trail. Start by wearing your new boots around the house to get used to them and form an idea of their fit and support. Once you feel ready, venture out on short hikes, gradually increasing the time and distance as your feet become more accustomed to the boots.
Do insulated hiking boots make noise?
Yes, insulated hiking boots can actually make more noise than regular hiking boots when being broken in due to their thicker materials and insulation. This extra sound is usually just a bit of extra creaking or squeaking from the boot's construction and materials rubbing together as you move.
What should I do if my insulated hiking boots get wet?
If your insulated hiking boots get wet, it's best to dry them as soon as possible. First, remove the insoles and laces and air-dry in a well-ventilated area. You can also use a fan or hair dryer on cool setting to speed up drying time. If your boots still feel damp after air drying, use a boot dryer to eliminate any remaining moisture. Waterproofing your insulated hiking boots with a spray or wax can help protect them from water damage.
What are some common problems with insulated hiking boots?
Common problems with best insulated hiking boots include discomfort due to an incorrect fit and reduced breathability due to the thicker materials. If your boots are not waterproofed properly, they can become soggy and heavy when exposed to rain or snow.
Are insulated hiking boots waterproof?
Most insulated hiking boots feature a waterproof membrane that helps shield your feet from wet conditions. They're often treated with durable water repellent (DWR) which acts as an additional layer of protection against moisture. For the best results, you should waterproof your boots periodically with a spray or wax.
How we test hiking boots
We rate each model based on several factors such as the quality of materials, technological innovations, and actual performance in the field. All the boots in the database go to the same process in lab analysis and comprehensive wear tests in real-life winter hiking adventures.
Our selection method involves the following:
Investing our own money buying insulated hiking boots across a wide range of brands. This makes sure that our reviews and top rankings are all based on objectivity.
Hiking at least 30 miles for each winter boot to have a solid assessment of its fit, waterproofing, insulation technology, and comfort trudging through challenging snowy trails. We also take note of its traction, durability, other protective features, and more.
Assessing all other aspects of the boots and their overall performance and reliability in extreme outdoor conditions.
Taking into account the reviews and testimonials from other backpacking experts and outdoor enthusiasts.
We complete the process by finalizing the overall rankings of all the insulated hiking boots. The CoreScore will show you the top-ranked models in this selection.