7 Best Golf Shoes in 2023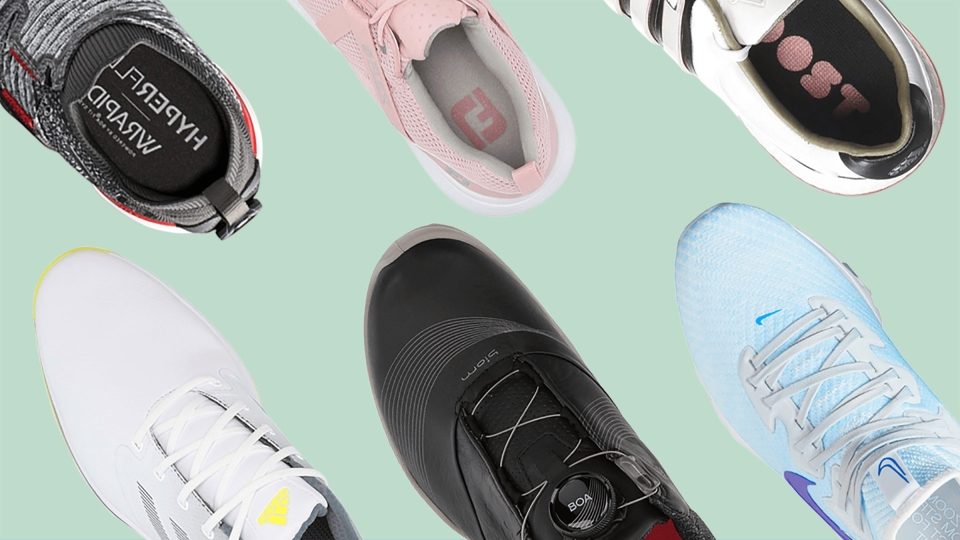 We earn affiliate commissions at no extra cost to you when you buy through us. Why trust us
Adidas, Footjoy, Nike, Callaway, ECCO and over a dozen more sports brands are currently competing in the golf shoe arena. To the consumer's benefit, this translates to a few hundreds of golf trainers that cater to every taste and style.
We aim to cut through all the marketing fuzzbuzz to find out which models truly shine on the golf course. Having reviewed over 80 models, we offer our top picks of golf shoes in five different categories.
Spiked or spikeless, premium or budget-friendly, you can choose what fits your needs the most.
How we test golf shoes
Before giving the final verdict, we consider all available golf shoe models on the market. Our experts treat both coveted and less known brands equally to offer an unbiased overview.
Spending 7 hours per shoe on average, our team studies all the nooks and crannies to understand what real benefits each trainer gives to the wearer. We also summarize thousands of user reviews to understand the shoes' strong and weak points.
Once all the work is done, each model is given a CoreScore, a number from 1 to 100, which indicates its overall performance. Ten golf shoes with the highest CoreScore make it to this ranking.
Comparison of the 7 best golf shoes
| | | | | | | | | |
| --- | --- | --- | --- | --- | --- | --- | --- | --- |
| Best | | | | | | | | |
| CoreScore | | | | | | | | |
| Users rating | | | | | | | | |
| Experts | | | | | | | | |
| Best price | | | | | | | | |
| Ranking | | | | | | | | |
| Popularity | | | | | | | | |
| # of colorways | | | | | | | | |
Choosing the right pair of golf shoes
Signs of wearing the wrong golf shoe
You have the wrong golf shoe if you experience any of the following:
feeling unstable when making a swing or while walking on hilly terrain
getting soaked from wet grass or rain
having sore feet after walking through all 18 holes
To ensure your comfort and performance on the course next time, you need to consider the following features:
Traction: spiked or spikeless?
Upper material: leather, synthetic, knit
Moisture protection: water-resistant, water-repellent, waterproof
Fit regulation: laces vs. BOA
Style: traditional or athletic?
Spiked or spikeless ?
While spiked golf shoes come closest to the original metal cleats, they are not a must nowadays. The more contemporary spikeless alternatives have also earned a spot among the golfing community.
There is no straightforward answer to which one is better, each one comes with a set of pros and cons. The choice depends on what features you value the most:
Spiked golf shoes

were originally made of metal but because of the damage they cause on the course, current spikes are made of ceramics or plastic

Spikeless golf shoes

were introduced in 2010; have a flat outsole with rubber nubs or dimples; golf companies are still experimenting with this design

Advantages:

More grippy and stable

when the terrain gets wet, spiked pairs can help avoid slip, especially when performing a swing or walking up and down the hills

More lightweight and flexible

the absence of spikes keeps the foot closer to the ground; the ground can be felt better

Replaceable spikes

adds on to the shoe's longevity

Can be worn off the course

the style and construction is closer to a regular sneaker

Disadvantages:

Heavier

which may not be ideal for those who prefer walking through the 18 holes

Less grippy

on wet and upland conditions

Cannot be worn off the course

spikes can be damaged and also make it uncomfortable to walk on hard surfaces

No replaceable spikes

once the rubber tread gets damaged the entire shoe needs to be replaced
Because spikeless golf shoes are still a relatively new design, they tend to draw more attention and interest from the players. To find out more about this category, see our guide on spikeless golf shoes.
Choosing the right upper material
Once being the only material used on golf shoes, leather is still loved today for its exquisite appeal, natural waterproofing, and longevity. The use of synthetic materials added a slew of breathable and lighter options to the market. Finally, the knit trend has not passed by golf shoes either.
Breathability

Flexibility

Durability

Moisture protection

Dirt-resistance
Go for synthetic golf shoes if you want a middle-ground of all listed features.
Waterproofing in golf shoes
Since golf is an outdoor sport, there is a high chance of dealing with rainy weather. If you see yourself playing in wet conditions, consider getting a shoe with one of these protective features:
for light rain, morning dew, and wet grass

for moderate rain; might leak when pressure is applied

for heavy rain, snow, and stepping into water

Protection

Breathability
*Some waterproof golf shoes employ a high-performance Gore-Tex lining that provides full waterproof protection without sacrificing breathability too much. Some brands also offer shoes with a waterproof warranty.
Laces vs. BOA
The good old laces didn't seem to be enough for the shoe brands. Today we can see the cutting-edge BOA closure system slipping into the realm of golf. But with the heavier price tag of these BOA models, is it worth the upgrade?
Advantages:

cheaper
easier to replace

faster to tighten and loosen
keeps the hold permanently
doesn't get in the way of movement
resistant to water, mud, ice

Disadvantages:

less durable
may lose hold, get untied, lead to tripping and stumbling
takes time to adjust the fit

harder to replace
more expensive
Bottom line: The BOA definitely offers a host of upgrades compared to a standard lasing system. But it also comes at a higher price point. Thus, it can be recommended to the more professional players or those who want to stay on top of the newest tech.
Otherwise, laces are still a solid option, especially if you are just starting out with golf.
Traditional or athletic: pick your style
To keep up with modern times, golf shoe manufacturers have been shifting away from the classic look towards the more athletic, sneaker-like designs. Traditions, on the other hand, are still being kept to live as the sport's legacy.
You have the option to choose what resonates best with your game and style:
only come with spikes
have a similar look to dress shoes, can be identified as oxfords or saddles
typically come in natural leather

come in both spiked and spikeless forms
have a casual and street-ready style, look more like sneakers or running shoes; trends are most welcomed in this category
feature all kinds of materials - natural, synthetic, and knits
Frequently Asked Questions
Are golf shoes necessary?
Yes, if you are going to play golf regularly.
It's okay to wear your regular pair of shoes for a trial game or if you play the sport very rarely. But to illustrate the difference between a regular sneaker and a dedicated golf shoe, let's compare a silhouette which comes in both casual and golf-ready options: the Nike Roshe.
(casual sneaker)

(spikeless golf shoe)

(spiked golf shoe)

Protection

Regular mesh upper
Gusseted tongue prevents debris from getting inside the shoe
Synthetic leather with a waterproof quality keeps you dry in wet grass and rainy weather

Traction/Stability

Flat outsole with thin treads is slippery on grass.

Sharper lugs get even more aggressive in the circular pods

These pods help to stabilize the player as they are placed at the pressure points of a golf swing

Strategically placed spikes grip all golf course surfaces, both even and hilly

Wider base with outriggers increases contact area and surefootedness during a swing
What shoes to wear golfing if you don't have golf shoes?
As some golf courses can be strict about their dresscode, it's better to check with them beforehand. But in most cases, an athletic low-top shoe should suffice. You can wear any of the following:
It's not recommended to use slip-on footwear or the one that easily loses hold when twisted. Before the game, mimic a golf swing in your pair to make sure the fit stays tight.
Heels and metal cleats are prohibited.
Do golf shoes need a break-in period?
The right-sized pair should not require any breaking in.
The best golf shoe models are designed to accommodate your foot shape from the start. If it doesn't happen, try going a half-a-size or a size up, consider getting a different width is it is available, or simply go for another model.
In some individual cases, the shoe might cause discomfort during the first wear. Here are some firs-aid tips to soften the material without going through the ordeal:
Wear an extra thick sock or an anti-blister sock to have an additional cushion.
Putting a shoe tree breaks in the shoe faster than usual.
Athletes also attest to blister balms. They reduce friction and prevent excessive rubbing.
A padding roll can also be wrapped in the areas that are prone to blisters. This item is thick enough to protect the skin and expand the material.
Some golfers also use blister patches. They are designed like a band-aid, only thicker.
When is it time to buy a new pair of golf shoes?
In general, golf shoes are meant to last for a long time. However, they are not intended to last forever. There's no exact timeline for each pair's life span. It depends on how often it is worn, the course conditions it is used on, and how it is maintained. Here are some of the indications that a new one is already needed:
Water that seeped on the insides of the shoe is quite hard to reverse. However, it depends on water damage. For minor ones, then the insoles can be substituted, but for extreme cases, a replacement is a better option.
When a previously grippy shoe is losing its spark, then looking into a new one should be a priority. Traction, as we know, is essential. And, frequenting slips are definitely a no-no.
Comfortable footwear that suddenly causes foot pain should be taken a look at.
Spikeless pairs that lose nubs might be hard to fix. Cleated golf shoes, on the other hand, can be replaced.